Marty Sklar, center, poses for a photo after his presentation at the Festival of the Arts in Epcot in February. From the left are Julian Robinson, Chuck Schmidt, Marty, Janet Schmidt and Gail Robinson. [Courtesy of Gail and Julian Robinson]

"One little spark, of inspiration, is at the heart, of all creation." – Richard and Robert Sherman
Inspiration comes in many forms. Sometimes, all you need to be inspired is just one little spark.
Take, for example, the young woman who told an inspirational story during a question-and-answer session at a recent Festival of the Arts workshop conducted by Disney Legend Marty Sklar in the Odyssey Festival Center in Epcot.
"This is more of a comment than a question," she began. "I was trying to decide what type of career path I wanted to take when my college professor suggested that I read your book, One Little Spark! I did, and it inspired me to pursue a career as an Imagineer. I'm currently working as an intern with Walt Disney Imagineering."
Add that woman to the very long list of people Marty Sklar has inspired over the years. And, in a roundabout way, add Marty Sklar to the list of people the woman has inspired during her still-young career. More on that later.
The artwork of both Herb Ryman, above, and Mary Blair were on display at the Odyssey Festival Center at Epcot during the inaugural Festival of the Arts. [AllEars.Net]
Marty's workshop at the Festival of the Arts was part of a troika of appearances by the former creative leader of Walt Disney Imagineering at his beloved Epcot: There was the sold-out presentation at the Odyssey on Feb. 11, then a book signing on Feb. 12 in the Art of Disney at Epcot, and finally a return to the Odyssey on Feb. 13 for a talk about the artwork of Disney Legends Herb Ryman and Mary Blair.
During his Feb. 11 workshop, Marty talked about his two books, Dream It! Do It! and the aforementioned One Little Spark!
"My first book was sort of takeoff on one of my favorite songs, '50 Ways to Leave Your Lover,' by Paul Simon, although that in no way reflects my real life. My wife Leah and I will be celebrating our 60th anniversary on May 12th.
Bob Gurr and Marty Sklar have done a number of Disney events over the years, the most recent being a presentation at the Texas Transportation Forum. [AllEars.Net]

"It was more about 50 ways to get started. Nothing I had done prepared me to write Dream It! Do It! I first had to come to grips with the question: 'Do I really have something worthwhile to say?' In the end, I found out that writing a book takes a lot of patience, research and flexibility.
"And every writer needs a good editor and I was fortunate to have been able to work with Wendy Lefkon from Disney Editions. Her support and help, particularly with accessing material from the Disney Archives, was very important."
His follow-up book, One Little Spark!, took a deep dive into the world of Imagineering. It also provided a guide map for people aspiring to join the Walt Disney Company's much-heralded and respected creative wing.
Both of Marty's books have been unqualified successes and have resulted in book-signing tours over the last few years that have literally spanned the globe … from Shanghai, China, to Toms River, N.J. "I just signed a contract with a Brazilian publisher for Portuguese editions of both books," Marty said. "Dream It! Do It! already has Japanese and Mandarin Chinese versions."
I asked Marty if there is another book in the works. That's when I learned that inspiration can be a two-way street.
"Yes, I've started working on another book, but it's hard to get motivated," he admitted. "But the Festival of the Arts audiences — including my separate book signing on Sunday — have inspired me to get moving."
During his workshop on Saturday, Marty said he was "really excited about the first-ever Festival of the Arts. It's wonderful to see the works of the Disney artists on display her at Epcot. Forgive me if I get a bit emotional. I worked on Epcot from 1973 until it opened in October of 1982 … almost 35 years ago. Today, Epcot is the sixth-most visited park in the world. It's great to see the arts have joined in the fun here."
Inside the Odyssey, some of the works of Legendary Disney artists Herb Ryman and Mary Blair were on display, serving as a fitting backdrop to Marty's presentation, as well as the Festival in general.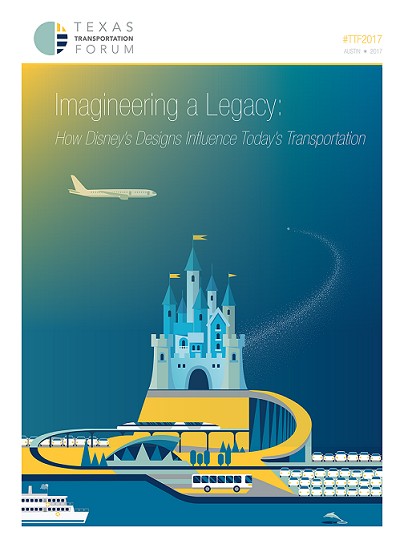 A poster advertising the Texas Transportation Forum had a very Disney feel to it.

Marty's appearance at Epcot capped off another whirlwind stretch for the now 83-year-old. Prior to his Epcot stint, he and fellow Disney Legend Bob Gurr, who is 85, gave presentations at the Texas Transportation Forum, which ran from Feb 5-7 in Austin.
The title of their keynote talk was "Imagineering a Legacy: How Disney's Designs Influence Today's Transportation." Who better to talk about transportation issues than two of Imagineering's guiding lights, two Disney giants who were always pushing the envelope and developing creative and forward-thinking solutions to a myriad of problems?
Both Marty and Bob gave perspective and context on how Imagineering's "great sense of innovation can be applied to the transportation problems of today," according to the event program. "The Imagineers had to think outside the box to overcome many issues, including developing new and innovative transportation systems."
"I guess we were a big hit." Marty said. After their presentation in front of 1,500 people, "another 500-600 were at our Breakout Session. They said some of the government people [doing other Breakout sessions] were not thrilled — we had by far the biggest audience!"
"Yes, we both had a blast," Gurr added. "1,500 Texas government folks, all friendly Republicans. Well organized and ready for tall tales from Disney's past more than issues of transportation. The panel presenters did all of that, while we made up stories."
Stories that no doubt inspired those in attendance to dream up new and creative ways to tackle many of today's pressing transportation issues.