Every time I pass by the Canadian Pavilion at EPCOT I find myself marvelling at the amazing job the Imagineers did in capturing the essence of Canada!
How did those gifted designers figure out that we all enjoy wearing checkered lumberjack shirts? Who could have told them that after a long, tiring work-week we Canucks just can't wait to grab an axe and chop down a tree . . . or enter a log rolling competition? How could they know that every Canadian rock band has a lead singer who plays the bagpipes?
I often find myself looking around in wonder, shaking my head, and thinking, "Boy, they sure do understand Canadians. They nailed it, EH?"
So imagine my delight when I sat down at Le Cellier several years ago and cracked open the menu. There, part way down the listing of side dishes, was a classic Canadian dish . . . poutine! "Wow" I thought, "I love poutine, this just has to be good!"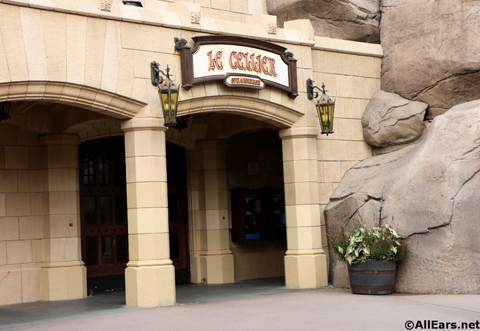 Now, I know that most of you reading this are not Canadian so you are probably thinking, "Poutine? Poutine? What the heck is poutine?"
Poutine is classic Canadian cuisine! It's Canadian comfort food. There are four basic food groups in Canada, maple syrup, beaver tails, butter tarts and poutine!
Poutine originated in the Province of Quebec in the 1950's and quickly became a national favourite! Quebec is predominantly French-speaking and the French pronounce it "pooh-tin". The English populace pronounce it "pooh-teen". But no matter how they say the word, all Canadians agree that poutine is delicious!
There are several theories that try to explain how poutine came to be. My favourite version involves a Montreal cardiologist whose medical practice was floundering. He wasn't sure how he was going to make the next payment on his Ferrari . . . so he whipped up a batch of poutine and let a local restaurateur have a taste. He started with some crispy French-fried potatoes, covered them with fresh cheddar cheese curds, then smothered it all with steaming-hot brown gravy. The restaurateur just loved the gooey mess and immediately began selling it in his restaurant. Before you could say "quadruple bypass" poutine sales were booming, arteries were hardening and the cardiologist's practice was thriving!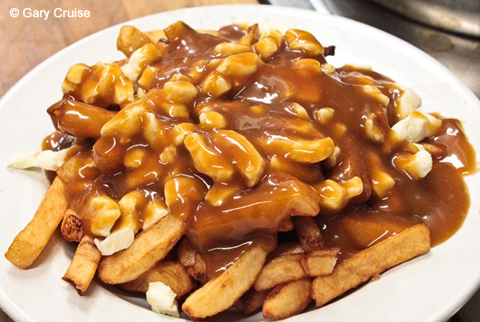 So that's what poutine is. It's a very simple recipe, crispy hot fries, cheddar cheese curds and piping-hot brown gravy. Carol and I have sampled a few unique variations over the years. Some chefs have added pulled pork or smoked brisket. We've even had a delicious version that was topped off with chunks of smoked meatloaf, but they all contained the three basic ingredients, fries, cheddar cheese curds and brown gravy.
Imagine my shock when I read the description on the Le Cellier menu! Fries, gruyère and a red wine reduction. What? Gruyère? Does gruyère even have curds? And wine reduction? Where's the gravy?
It sounded nothing like poutine, in fact both Carol and I thought it sounded disgusting. We were skeptical but we decided to trust the chef. We cast common sense to the wind and ordered up a batch of "poutine". Yuck! It was worse than disgusting. It was embarrassing. Not a proud moment for this Canadian!
I swore I would never order poutine again at Le Cellier, but as I wrote this blog, I checked the Le Cellier menu again. The poutine is now described as "fresh-cut fries, Gruyère, caramelized onions, French onion gravy $10". I'm torn, the gruyère is still there, but at least there's gravy. It might be worthy of a second chance someday! Maybe . . .
Last fall, as Carol and I explored a new area at Disney Springs, behind the Lego Store, a sign caught my eye.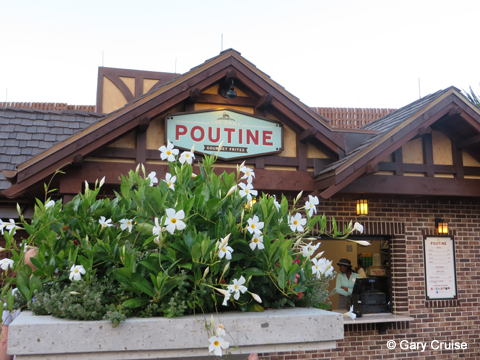 Could it be? Real authentic poutine?
I checked the ingredients . . . the "Classic Poutine" sounded good. The ingredients were correct.
All the others . . . they sounded nasty — just nasty. There is no place in poutine for Bolognese Sauce or Mushroom Cream Sauce. And fried yucca? Nope — that's just all wrong!
Those variations are just pretentious imposters foisted on the public by snooty chefs who know nothing about poutine! To my untrained palate they sound about as appetizing as a Brussels Sprout Smoothie, Roasted Red Pepper Ice Cream or Pumpkin Pie Spiced Mashed Potatoes!
But once again Carol and I decided to give the "Classic Poutine" a try.
Big mistake . . . it was disappointing! Very disappointing.
The curds should melt in the gravy and make a gooey mixture that clings to the fries. That didn't happen; the curds we had were cold in the middle. I don't mean that they were cool — they were almost frozen. They were hard and chewy and just totally wrong.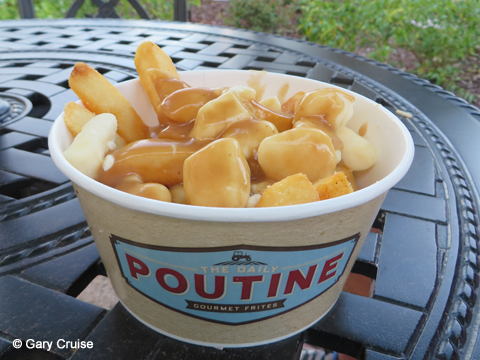 We tried to like the poutine, we really did, but we threw out more than half of the order they served us! Ugh!
So here's my advice folks!
If you want to try genuine poutine, if you want to sample a real Canadian delicacy, skip the stuff they serve at Le Cellier . . . when you see that kiosk behind the Lego Store, just walk on by!
Come to Canada instead . . . then go to any McDonalds, Burger King, Wendy's, DQ, KFC, A & W, New York Fries or any of the Canadian fast food chains. They all serve great poutine.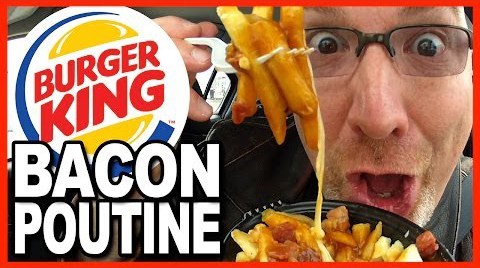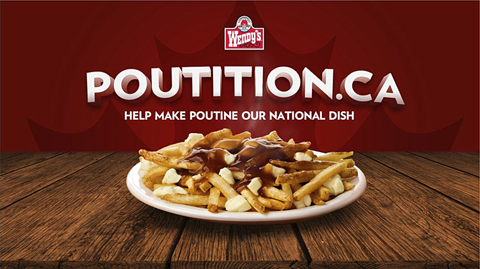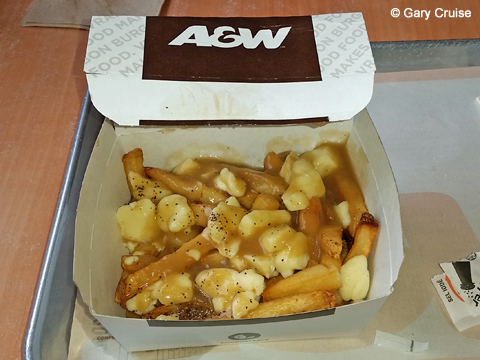 So do all street vendors and food trucks from coast to coast. And none of them use Bolognese Sauce, Mushroom Cream Sauce or fried yucca. That's just WRONG. That's not poutine!
I hope to see you up here in the Great White North real soon!