We're halfway through the inaugural Epcot International Festival of the Arts, and if you're a Disney fan, you've probably read or watched plenty about what the festival has to offer guests. (Our own Deb Koma has written a detailed review that is informative.) But maybe you're wondering whether kids will enjoy these extra offerings at Epcot. My children, ages 12 and 14, and I have visited the festival on two separate weekends in order to find out the answer to that question. Here are some of our thoughts: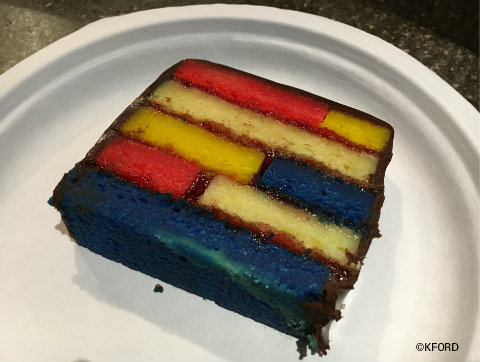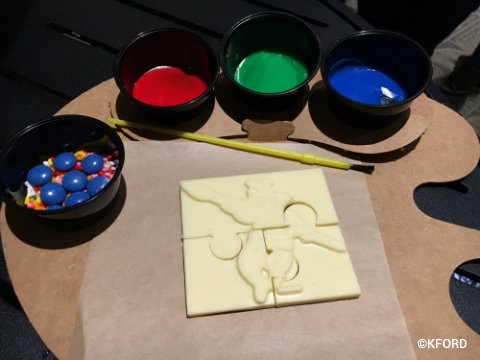 ** We all were pretty excited to try the Food Studios. After all, like many Walt Disney World regulars, we look forward to Epcot's other festivals — Food & Wine and Flower & Garden — that feature the walk-up kiosks with appetizer-sized portions of dishes and samples of beverages. There are fewer foods to taste at the Festival of the Arts, so my family and I tried most of them on our two visits. And although we liked most of we sampled, I can't say there were things that just wowed us. That's different from our experiences at the Food & Wine and Flower & Garden festivals. We have left those culinary experiences raving about certain foods and planning our return to get them again. So, if you're like us, you might enjoy having dinner somewhere other than the Food Studios and then visiting the booths for dessert, which are cleverly themed.
** Each evening at the America Gardens Theatre, there are three Disney on Broadway shows that feature professional Broadway singers performing Disney favorites. The shows take place at 5:30 p.m., 6:45 p.m. and 8 p.m. Friday through Monday of each festival weekend. We saw Kerry Butler and Kevin Massey perform songs from Disney's Beauty and the Beast, Tarzan, Newsies and Aladdin, and we thoroughly enjoyed the half-hour show. The stage is beautifully lit and set up for each story. Butler and Massey return for additional performances Feb. 3 to 6.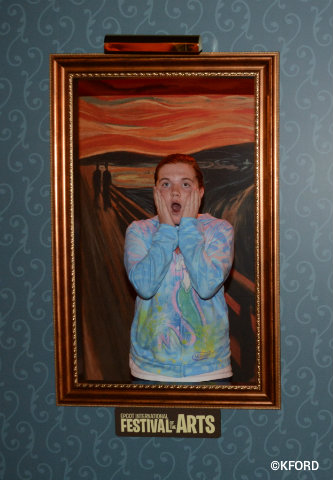 ** One of the best surprises, we think, are the large-scale photo backgrounds that allow guests to step into art masterpieces. My daughter loved posing for Edvard Munch's The Scream and Leonardo da Vinci's Mona Lisa. There are four such opportunities this year, and I hope they add more in the future for the Festival of the Arts.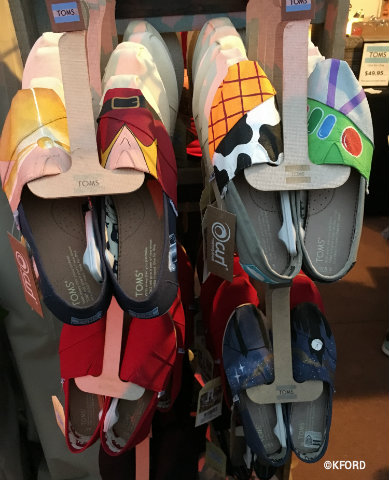 ** Although my son has long been engaged in creating two-dimensional art and my daughter is in the performing arts, neither was especially interested in perusing the art featured in the tents around World Showcase for the festival. I'd like to think that's because, for kids especially, there are many more exciting things to do at Epcot, like ride attractions. Some unconventional art did attract my daughter's attention, however. On both visits, she stopped at the TOMS shoes booth to see the hand-painted Disney designs.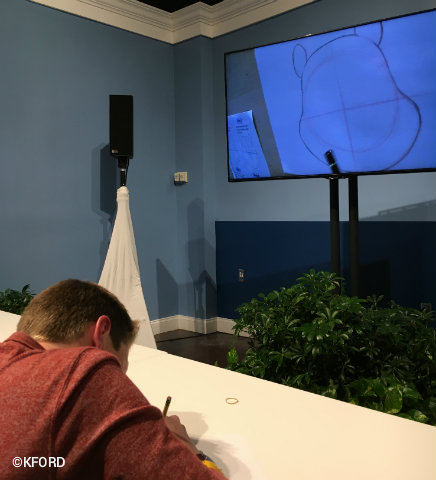 ** On the other hand, both of my children enjoyed the Animation Academy, which takes place in Innoventions East from 9:15 a.m. to 6:15 p.m. daily. This is just like the attraction at Hollywood Studios that was closed to make way for the Star Wars Launch Bay, and there also is a similar experience at DisneyQuest. In these sessions, which can last 10 to 20 minutes, a cast member teaches the class how to draw a popular Disney character. My kids have been going to these sessions since they were little and they still find them worthwhile.
Overall, we did appreciate Disney's new festival dedicated to the arts and would recommend checking it out if you're going planning a visit to Epcot with children. I'm just not sure this is yet a festival that has enough appeal for families to make a special trip JUST for the festival. That said, this is the first year for the Epcot International Festival of the Arts, and we look forward to seeing what Walt Disney World adds in the coming years to expand its offerings.