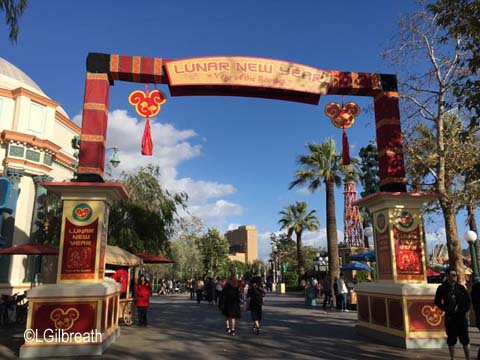 In 2017, Disneyland has expanded the Lunar New Year Celebration to 17 days, from January 20 – February 5. This year celebrates the Year of the Rooster. All events take place at Disney California Adventure. I attended a media preview on January 19.
A map in the area shows the locations of the different events.
There are special Lunar New Year-inspired food items available at more locations this year. The Paradise Garden Grill has a special seasonal menu during the celebration, with selections like stir-fried vegetables and noodles, grilled short ribs with kimchi, pho, cassava-coconut cake, and almond milk tea.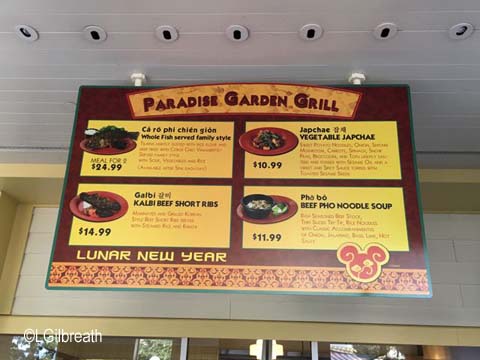 Three marketplace booths offer items inspired by Korean, Chinese, and Vietnamese cuisine. These include sugar cane shrimp skewers, kimchi vegetable fried rice, turnip cake and pork soup dumplings, and sweet items such as sweet rice and dried fruit cake, egg tart, and a sweet potato macaron. Various alcoholic and non-alcoholic beverages are also available.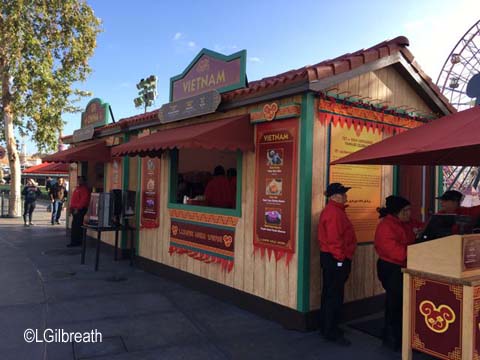 A special glow cube shaped like a lotus blossom is available for $5, either by itself or in a specialty beverage.
During the preview I sampled several of the food items and one of the beverage offerings. My favorite by far was the Vegetable Japchae, which is available at Paradise Garden Grill. Sweet potato noodles with vegetables and tofu, with a sesame oil sauce and toasted sesame seeds. It was really good.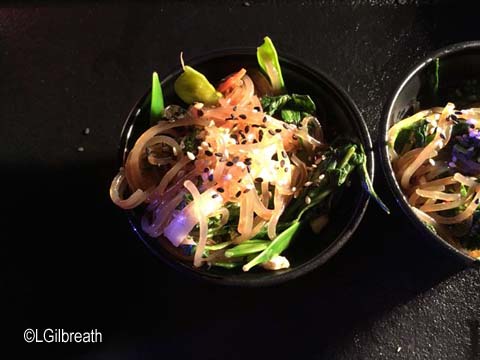 The Banh chung – sticky rice cake with pork – from the Vietnam booth was also really good. It was wrapped in some kind of leaf.
I thought the Yachae Mandu – steamed vegetable dumplings from Korea, had a nice flavor, but they were a little too spicy for me.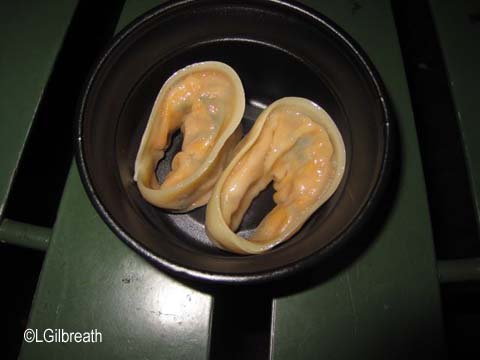 I was intrigued by the Xiao Long Bao – pork soup dumplings – from the China booth. They actually have liquid inside! But I thought they were just ok. They needed a sauce, but I didn't care for the black vinegar-ginger sauce that came with them.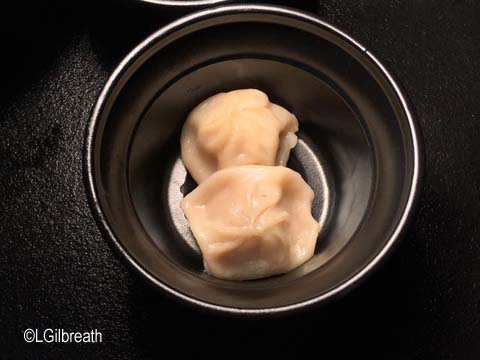 There are a couple of places near us that serve Luo Bo Gao – turnip cake – and we really like it. This one, from the China booth, is topped with pork sausage and oyster sauce. When I've had it before it's topped with egg. The oyster sauce made it taste fishy to me, and the turnip cake by itself was a bit bland (not surprisingly).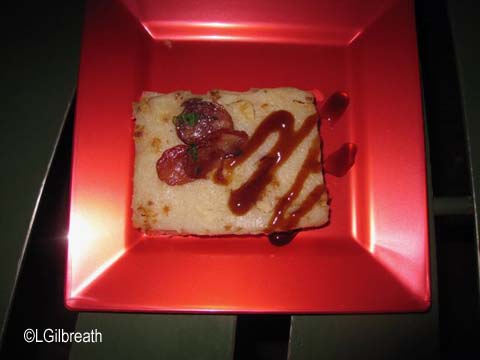 I also tried the Passion Fruit Green Iced Tea with popping pearls. I don't have a photo of it. I didn't really think it tasted like passion fruit – mostly it just tasted sweet. But I enjoyed it – the pearls are always an interesting sensation.
Other samples that were available that I didn't try were the Beef Pho Noodle Soup: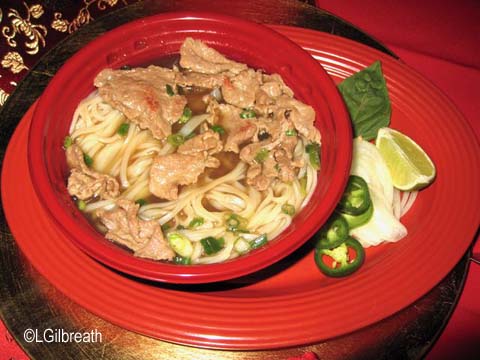 And the Kalbi Beef Short Ribs. Both available at Paradise Garden Grill.
One of the other entrees available at Paradise Garden Grill is the Whole Fish Served Family Style. It looks a little intimidating: it's a whole tilapia, deep fried and served with soup, vegetables, and rice. Served after 5:00. It's $24.99 and will easily feed two or more people. Very traditional dish, but very non-traditional by Disney standards!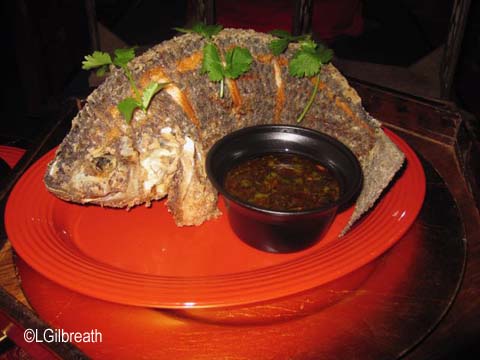 Chef John State was part of a panel discussion we saw later, and spoke about how they developed the Festival food offerings by speaking with cast members and diversity groups, and looking at authentic family recipes. They explored flavors and textures. He was especially proud of how they are serving the whole fish dish out of a counter-service restaurant kitchen, when it's really something expect from a full-service restaurant.
Most Lunar New Year activities take place in the Paradise Pier area. In front of Ariel's Undersea Adventure guests can get their face painted.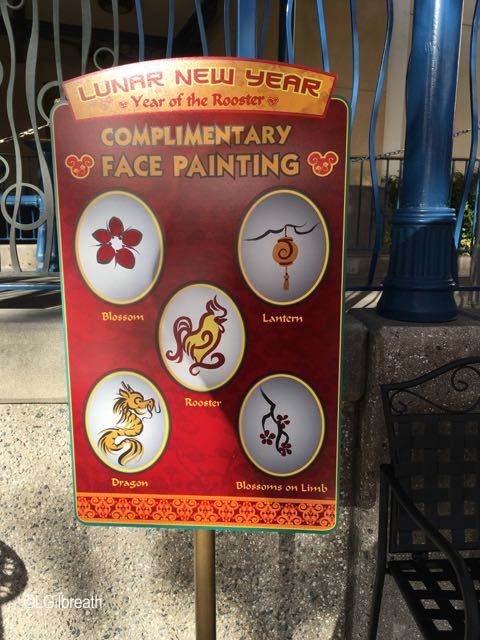 They can also decorate a paper lantern.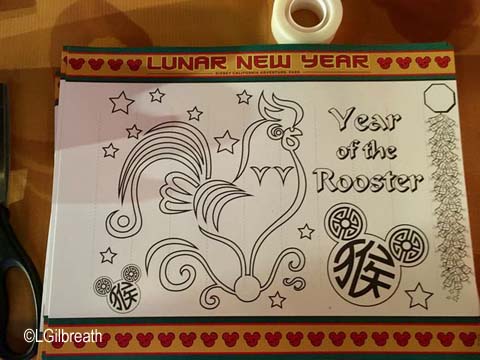 In Paradise Gardens local artisans will craft a custom Chinese calligraphy for guests. The one on the left is my name, and the one on the right has the symbol for the Year of the Rooster on top, and good wishes for the new year below it.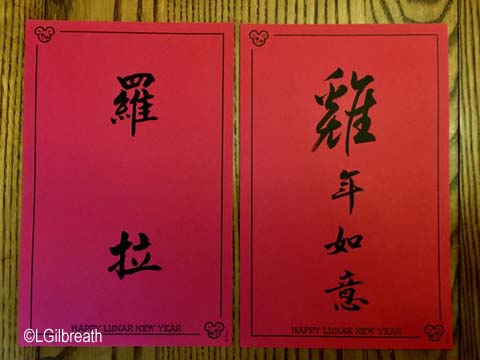 Next to Goofy's Sky School is the Lucky Wishing Wall, where guests can add their own wish for the coming year.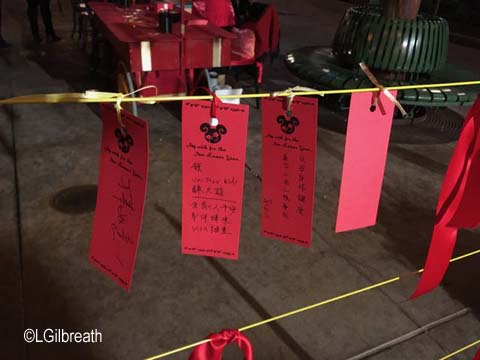 For Annual Passholders, the AP Corner between Paradise Garden Grill and Boardwalk Pizza and Pasta offers a special photo opportunity, a wishing well, and an AP Adventure.
Lunar New Year merchandise is available at Seaside Souvenirs and carts in the area. I thought the t-shirt was very nicely designed.
A number of entertainment offerings are also available throughout the day.
A special character greeting area is available in Paradise Gardens, where Mickey, Minnie, Chip, Dale, Mulan, and Mushu, dressed in Lunar New Year costumes, will pose for photos with guests.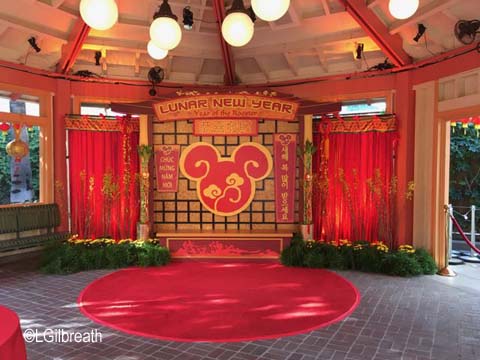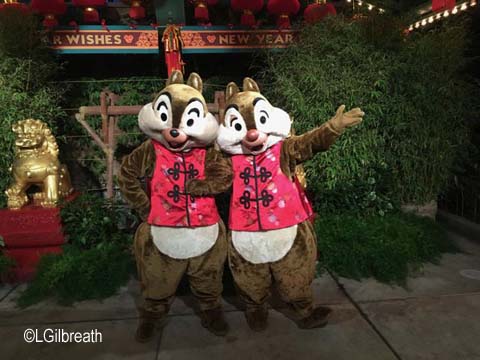 The Paradise Garden Bandstand will host performances by several different Asian musicians during the celebration, including classical guitarist Dat Nguyen and Jie Ma, who plays the Chinese pipa instrument.
At the Paradise Bay stage the Acrobats of China perform multiple times each day, engaging in gravity-defying acts of athleticism. They were not performing at the preview.
Mulan's New Year Procession is hosted by Mulan and Mushu who lead a number of performers to the music from the "Mulan" movie. This offering is scheduled twice a day on weekends, once per day on weekdays. I really enjoyed this, but I'm quite surprised that there are so few performances, as compared to Viva Navidad! or Elena's Grand Welcome.
The ideal viewing area for Mulan's New Year Procession is a pretty narrow area between Jumping Jellyfish and the entrance to Paradise Gardens – a very limited number of guests will have a really good view of it.
My favorite part was the dragon dancers.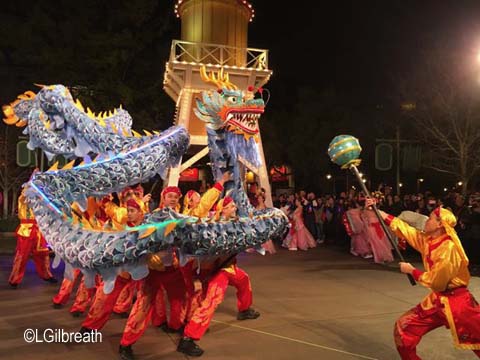 But the fan, parasol, and ribbon dancers were quite beautiful.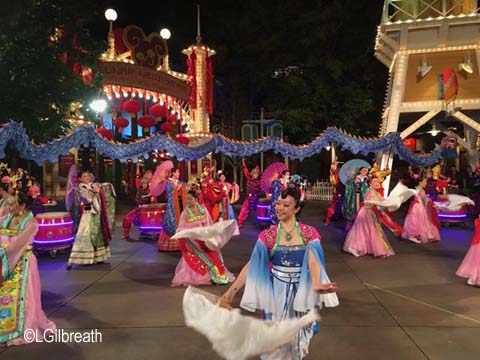 And the martial artists (who performed to "I'll Make a Man Out of You") were fun to watch.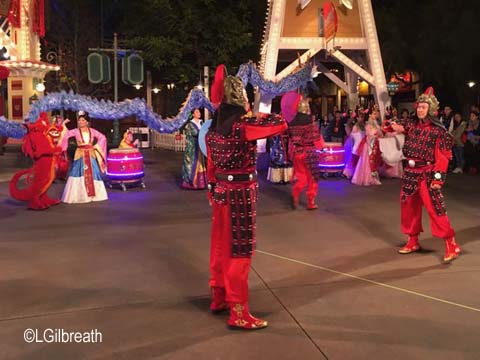 Each night, a special 6-minute pre-show will precede each performance of World of Color. Hurry Home features Mulan, Mushu, and a little lantern who is making its way home to celebrate the new year with family. This is an original story with all new animation in two different styles as well as the water fountains and special lighting effects. The accompanying music was originally created for the opening ceremony of Shanghai Disney Resort by Tan Dun.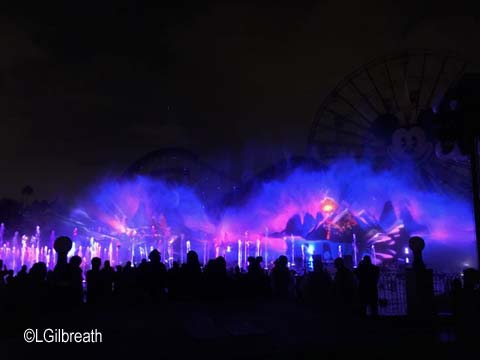 Show Producer Jennifer Magill spoke to us about the new production. There are three different sequences, illustrating elements of the Lunar New Year celebration. In the first, the little lantern plays and has fun with Mushu, animated in a paper animation style.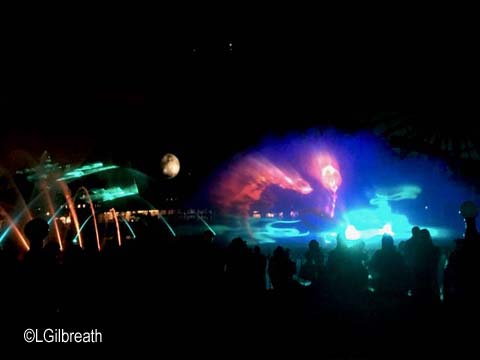 The second part features the food. The lantern dreams of rice, dumplings, and other foods – and is pursued by mischievous chopsticks.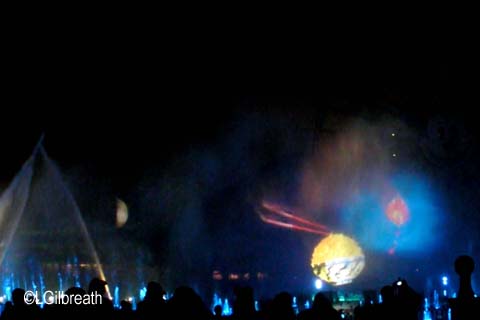 The third sequence focuses on the New Year tradition of reflecting back and looking forward. It features Mulan, and Lea Salonga recorded a new version of "Reflection" for it.
Eventually the lantern makes it home and is welcomed by family.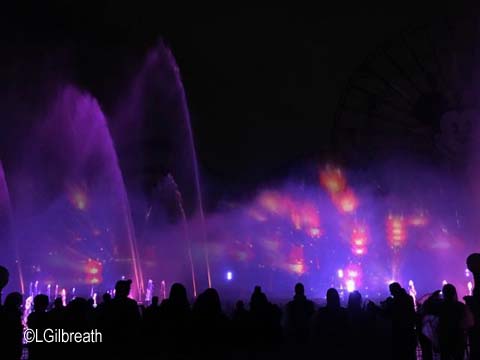 The end of the show featured actual fireworks – I was surprised to see that. But as Ms. Magill said – you can't have a New Year celebration without fireworks!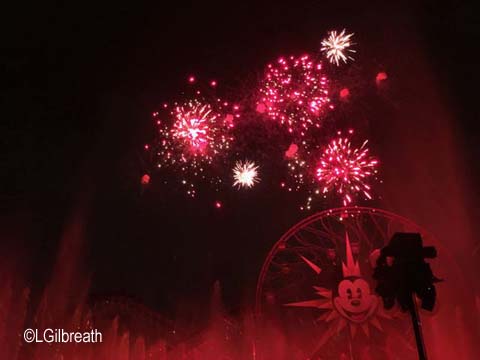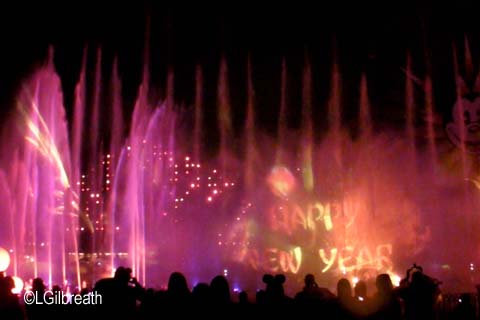 It was a very sweet story, and I enjoyed it. You can see the video below.
I was very impressed by all of the different offerings available during the celebration. There are quite a few different things to do, and it would be easy to spend a good portion of a park visit enjoying all of the different entertainment and some of the food.
* I was an invited Media guest to a preview of the Lunar New Year Celebration. My opinions are my own.