Santa Claus has been listening to wish lists for about a month now at Walt Disney Springs, and if you haven't checked if you're on the Naughty or the Nice List, what are you waiting for? You can find the Jolly Old Elf at various locations around the resort at different times.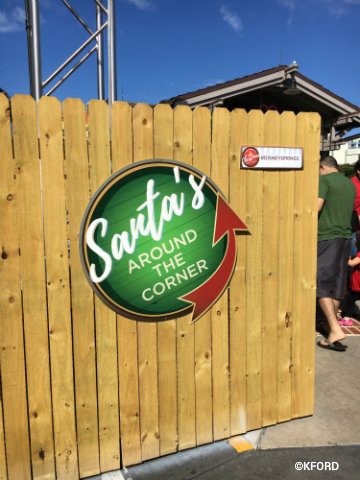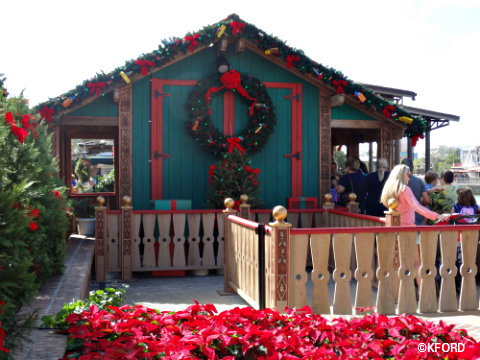 As is a long-standing tradition, Santa's Chalet is stationed at the Marketplace at Disney Springs, the former Downtown Disney shopping and dining district. It's located to the side of the stage, across from Ghirardelli Ice Cream & Chocolate Shop. There is no cost associated with Santa's Chalet, and you are not obligated to buy Disney's photos. Cast members will use your camera or cell phone to take photos, and professional photographers will capture the moment, as well. If you have purchased a Memory Maker package or have certain Walt Disney World annual passes, free downloads of the photos are available with your account.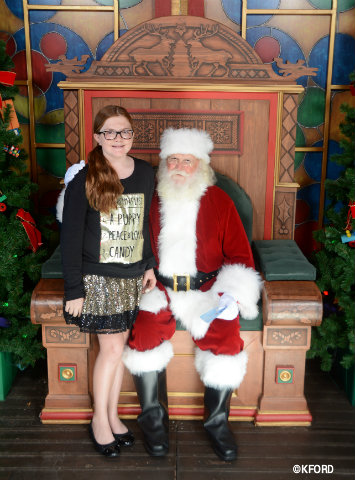 If not, the Disney PhotoPass prices are reasonable, compared with visiting Santa at many malls and events. I speak from a decade's worth of experience of meeting Mr. Claus when I say this. You can order a download of your favorite photo on My Disney Experience for the regular price of $15. Once you download the photo, you can make as many prints as you wish.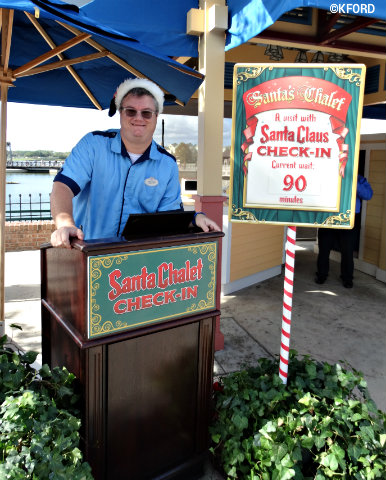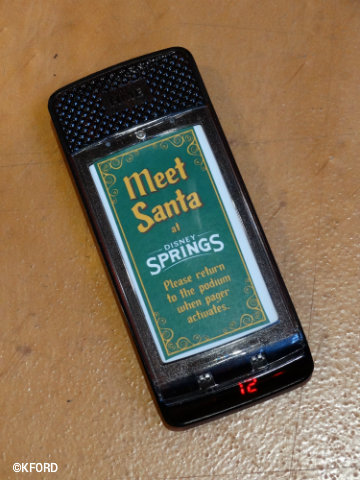 Don't be put off by the long wait times posted at Santa's Chalet at Disney Springs. All guests are asked to check in at the entrance, and they will be placed in a virtual queue and given a pager. So, even if Santa may not be available for another two hours, you won't have to spend that time in a physical line. You can shop, grab a bite to eat, or even just rest your tired feet. I'm told the pagers work from Fulton's Crab House to Earl of Sandwich. Guests are asked to return to the podium within 10 minutes of being paged.
Santa Claus will be at the Disney Springs Chalet from noon to 10 p.m. daily through Dec. 24. Santa Goofy takes over Dec. 25 through 30 during the same hours.
Despite his busy schedule before Christmas, Santa Claus will be making other appearances at Walt Disney World. It would seem impossible, but the Big Man can be found in these additional locations: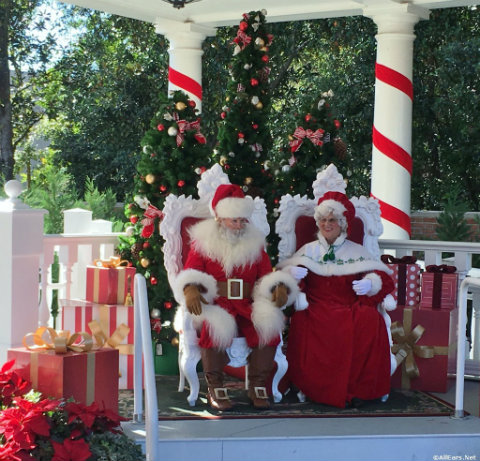 ** Epcot: Santa and Mrs. Claus meet guests and pose for pictures for 90-minute sets at 1:30, 3:30, 5:30 and 7:30 p.m. daily through Dec. 24 at The American Adventure. Plus, each country in the World Showcase also features storytellers who describe local holiday traditions. In many countries, the storyteller is a representation of Santa, such as Pere Noel in France and Father Christmas in England.
** Hollywood Studios. Step inside Once Upon a Time to find Jolly Old Saint Nick greeting good girls and good boys in a glamorous area from 10 a.m. to closing (with some scheduled breaks, of course) through Dec. 24. If the wait is longer than 30 minutes, guests are given pagers that work along Sunset Boulevard so they can do other things besides standing in line while their spots are held in a virtual queue. This location is new for 2016.
** Magic Kingdom: Santa meets with guests during the day through Dec. 24 and at Mickey's Very Merry Christmas Party, where he also makes an appearance at the end of Mickey's Once Upon A Christmastime Parade. Admission to the party requires a separate ticket.
If he's not called back to the North Pole, Santa likely will visit most Walt Disney World hotel lobbies in the evening on Christmas Eve.