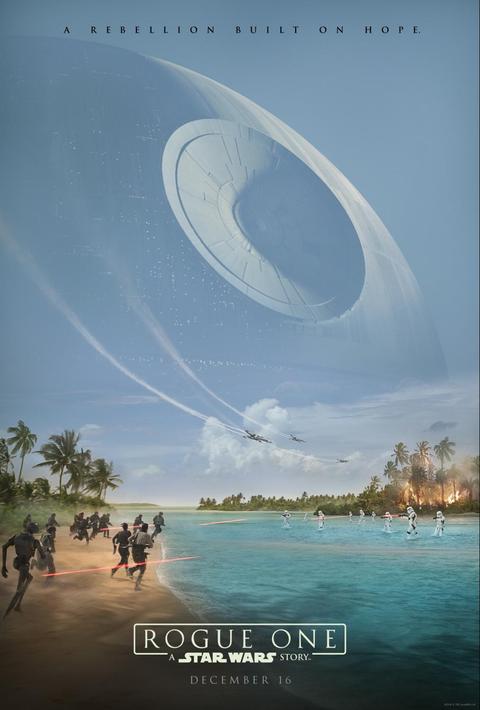 This last weekend, Lucasfilm and director Gareth Edwards screened 28 minutes of "Rogue One: A Star Wars Story" up at Skywalker Ranch. While the footage seemed deliberately cut to avoid major spoilers, it was enough to get some preliminary impressions.
*If you want to go in completely spoiler free, now is the time to cut out.*
1. As a move likely intended to distinguish the anthology story "Rogue One" from the main legacy movies, the film does not begin with the usual Star Wars title crawl–just the traditional "A long time ago in a galaxy far, far away.."
2. What I gather: Our heroine Jyn Erso's story begins when her family is fractured by Director Orson Krennic and his Death Troopers who need her dad, Galen Erso, to work on a secret Death Star project. In a jump forward, we then see a Rebel Alliance desperate to get the plans for the Death Star from Galen. In a bid to contact him, they recruit an adult Jyn to help them assemble the people they need–Bodhi Rook, a defector pilot, and Saw Gerrera, a militant rebel offshoot leader and Jyn's old protector.
3. Asians! For those of us who remember when JJ Abrams was asked at SDCC when Asians would figure into Star Wars, and his response was "go Asians!" Lucasfilm finally delivers with Donnie Yen's Chirrut Imwe–a blind monk who is one of the few remaining believers in the Force. As you'd expect from the martial art star, his fight scene in the clips we saw was suitably impressive.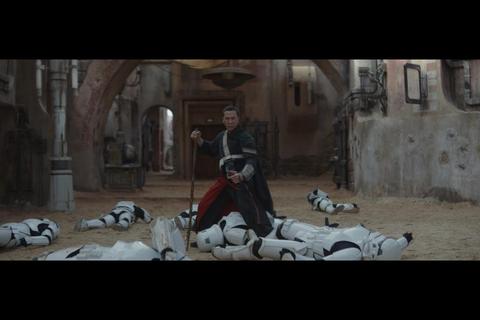 4. "Rogue One" is clearly designed to show a grittier, morally complex side to the Star Wars Universe. Far from the black-and-white 1930's film serial view of heroism that influenced Episode 4, the rebels here have apparently accepted that war means occasionally distasteful compromise.
5. Alan Tudyk continues to earn his keep as Disney's good luck charm–his K-2SO droid is a hilarious CGI blend of HK-47 from "Star Wars: Knights of the Old Republic" and Marvin the Paranoid Android from "Hitchhiker's Guide to the Galaxy." Easily my favorite part of everything I've seen so far, he is BB-8 for the disaffected set.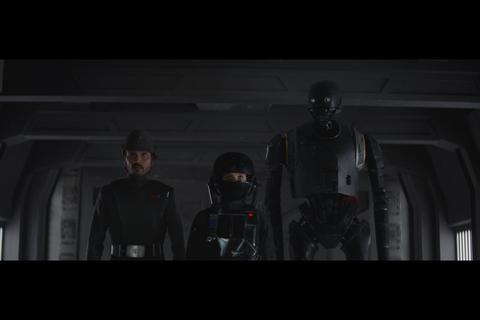 6. Things continue to be grim if you are a mom in a Disney movie.
7. Stormtroopers are still questionable shots.
"Rogue One" enters general release December 16, 2016.