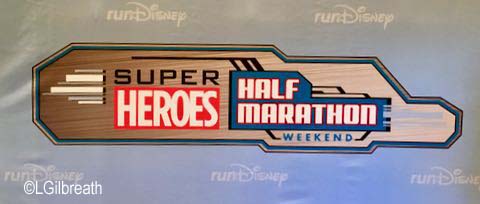 After a 10K/half marathon race challenge weekend at Walt Disney World followed by a four night Disney cruise, what would you do? How about running a 10K at Disneyland? At least this year we did only the 10K and not the half marathon, too!
We had initially not planned to run any of the events of the Super Heroes Half Marathon weekend at Disneyland. But when runDisney announced the theme of the 10K was Dr. Strange, then Lee really wanted to do that. And I love 10Ks – it's my favorite distance.
Friday, November 11
We got off the Disney Dream on Friday morning, took a bus to the airport and caught a flight to John Wayne Airport. As we did last year, we'd flown out of that airport instead of San Diego, and left our car there. (By the way, I recommend snagaspace.com to find good prices on airport parking. The last two years we have parked at the Marriott near John Wayne Airport and had an excellent experience – the parking and shuttle staff at the Marriott is so nice!)
We had an earlier flight this year and arrived at the airport earlier than we did last year. So we did not have the horrible Friday afternoon traffic that we experienced last year. We arrived at Disneyland a little after 4:00 and went straight to the Expo.
It felt strange to only be picking up a 10K bib and not a Challenge bib. We didn't need to get our photo taken this time. As usual, the bib pickup area was not too busy and we were in and out quickly. As in Florida the week before there wasn't a big printed race program, but this time they gave us a brochure at bib pickup that had all of the really useful information like course maps and time schedules.
The main part of the Expo was upstairs in the Disneyland convention center. There were some new super heroes added to the banners this year.
We picked up our shirts…yet another maroon long sleeve shirt. With a large rubber graphic on the front. Come on, runDisney – most of your race participants live in California and Florida! PLEASE give us some short sleeve shirts!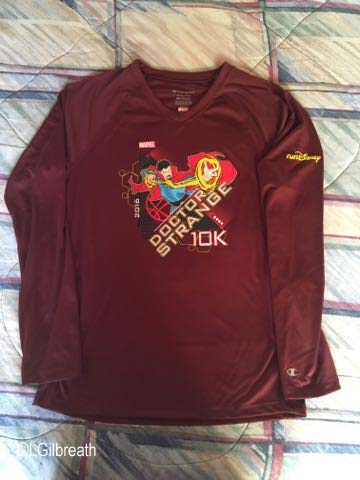 Nesquik was one of the sponsors this year (Nesquik chocolate milk was available to runners at the end of the half marathon on Sunday), and the Nesquik bunny was in the booth when he wasn't posing for photos with guests.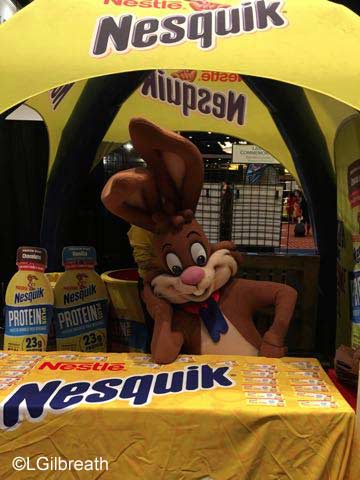 The Expo seemed to have most of the usual vendors, though there were a few new sponsors this year, like Nesquik and Misfit.
We heard an announcement about a special offer for Annual Passholders at the runDisney booth, so we went to check that out. They looked at our passes and then put a sticker on our bibs and told us there would be a special AP tent in the finish area of the 10K and half where they would have a special gift for us. Interesting!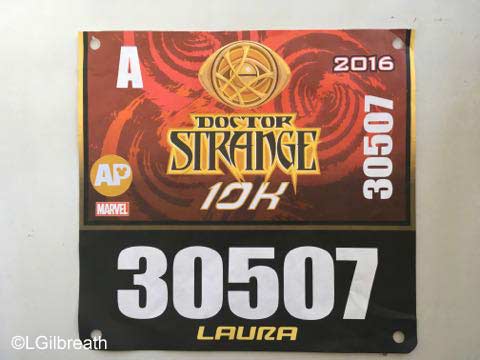 The runDisney booth also had the medals for the upcoming Star Wars – the Light Side weekend in January. Everyone seems to be very excited about the BB-8 10K medal! He spins!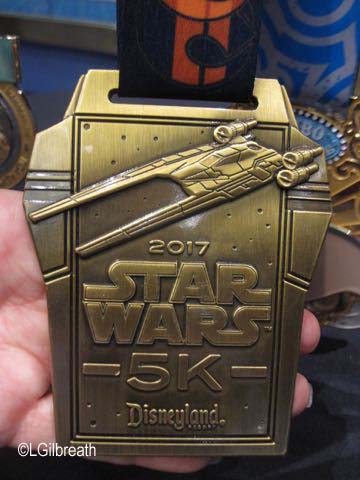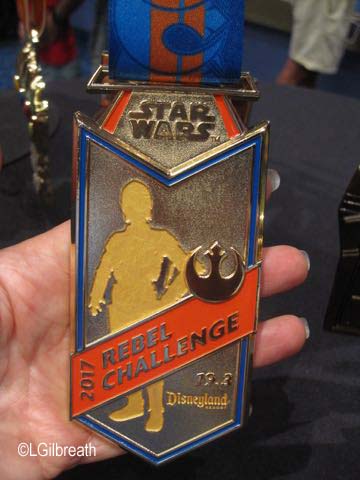 There was no line to get into the Official Merchandise area. And it seemed as though they still had everything left – I didn't see a lot of space that had been filled by generic merchandise as I often do. All of the items that I usually look for were still there.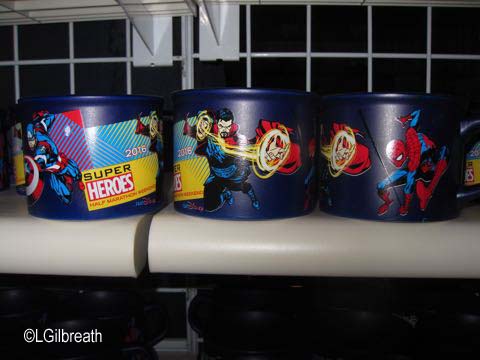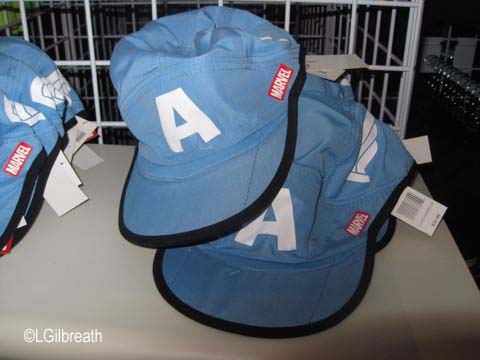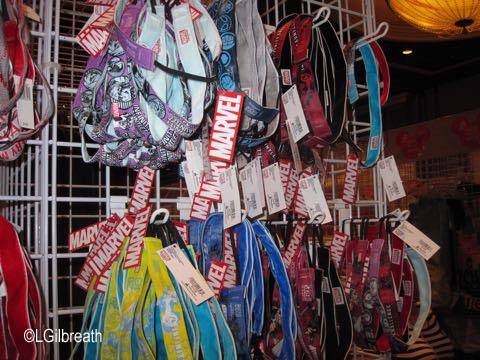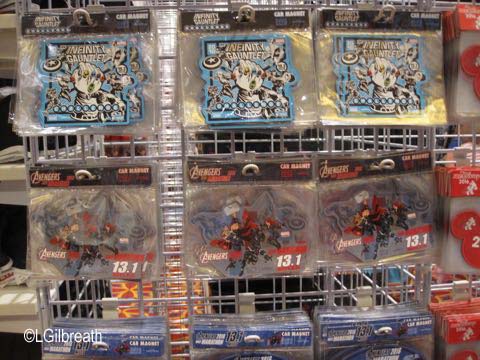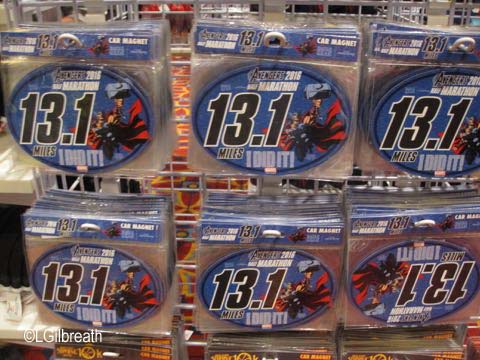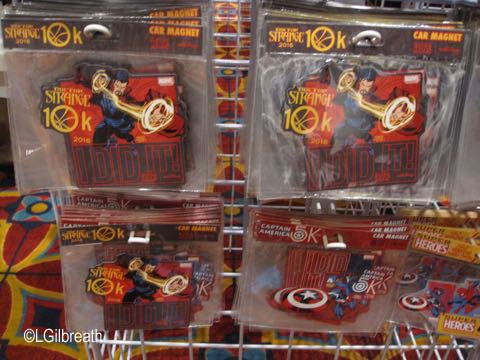 There were lots of different shirts – even more than in the photos below.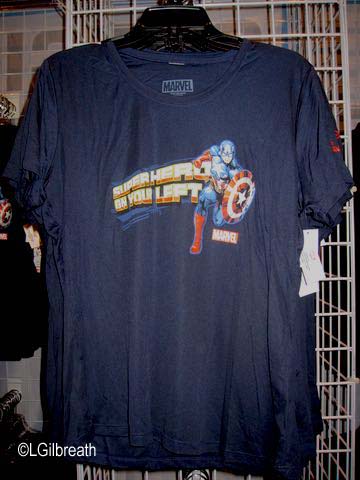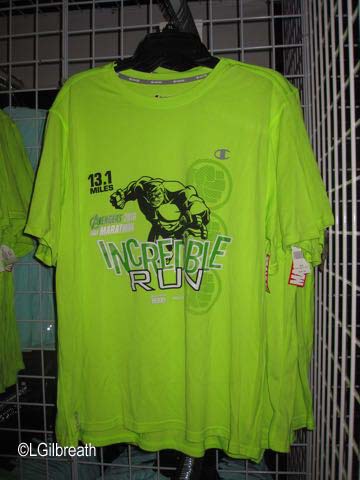 All of the "I Did It" shirts were available, though a cast member told me that in the 10K shirts they were out of small-sized shirts and only had a few mediums left.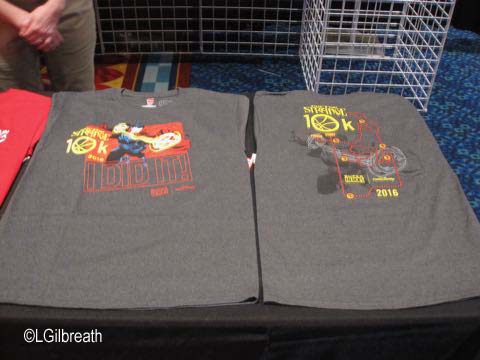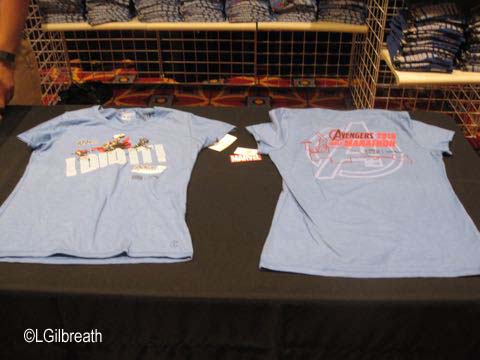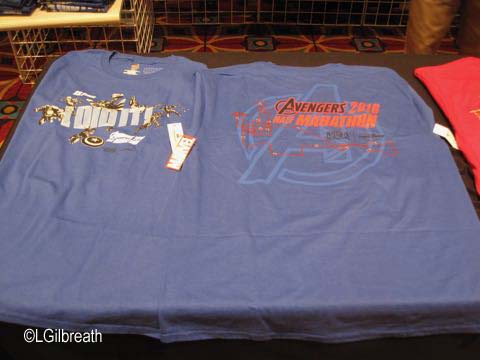 There were a number of Infinity Gauntlet items available, though most of the shirts were (as usual) for women.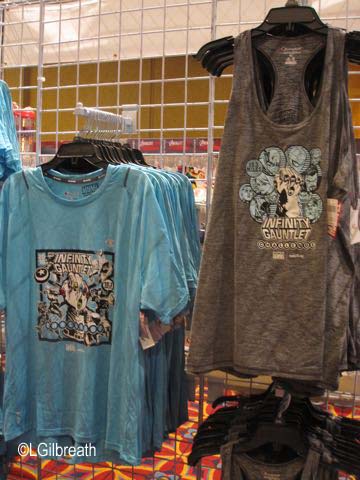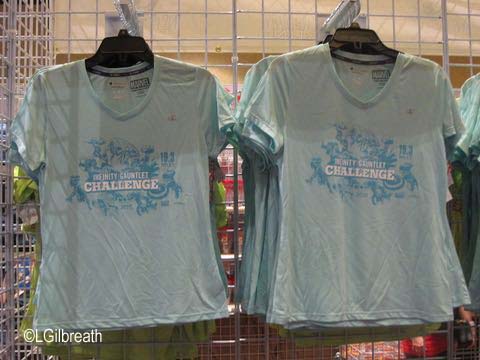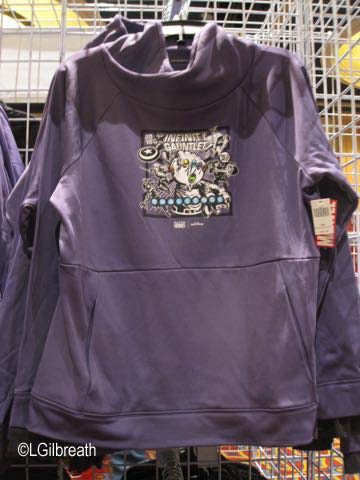 There wasn't as much 10K merchandise – the mini medal pin, a hat, and a couple of shirts.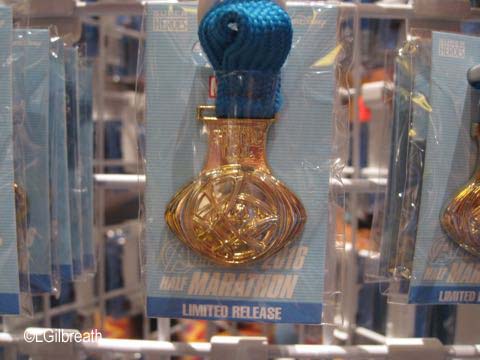 Lee really liked this shirt so he bought it and wore it the next day for the 10K.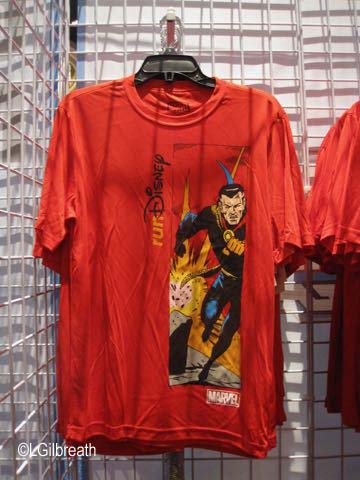 Nice to see Black Widow get some attention. Now, when does SHE get her own race?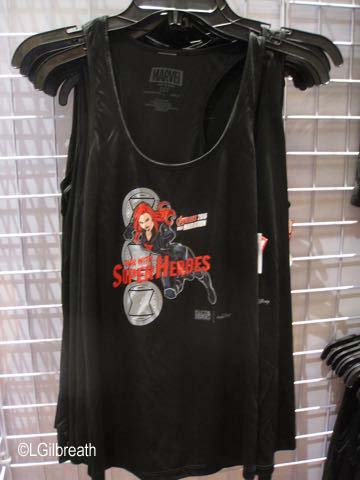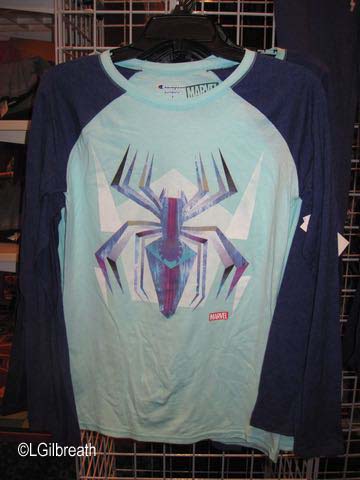 We were surprised to see a few items from the previous weekend's Wine and Dine Expo.
For dinner that night we went to Disney California Adventure and checked out the food booths at the Festival of Holidays (as I wrote about in this blog). Maybe not the best pre-race dinner, but it was only a 10K the next day. 🙂
For once jet lag worked in our favor – we'd come from the east coast and were tired from a long day of travel. So we went to bed at 8:30 and actually fell asleep quickly.
Saturday, November 12 – Dr. Strange 10K
We'd set the alarm for 4:15, but we were both awake before that. This might be the first time I've ever gotten a full night's sleep before a race!
I know I say this every time, but if you're new to my blog you won't have seen it before: I love race weekends at Disneyland. The race logistics are SO much easier! Everything is within walking distance of the hotels (even many of the neighboring hotels), so there's no need to catch a bus at an insanely early hour. We pushed it more this year than we usually do – the race started at 5:30 but we didn't get up until 4:15, and left the hotel at 4:45. And we still had plenty of time to get to the start corrals. Short/no lines for the porta-potties, too.
I wore my Agent Carter costume again, and Lee wore his new Dr. Strange tech shirt.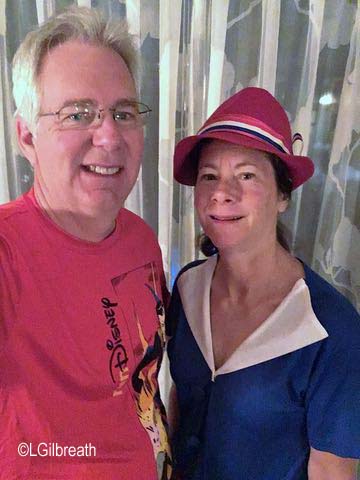 Dr. Strange is one of Lee's favorite super heroes, but to be honest I'd never heard of him, and didn't know anything about him until we saw the movie on the Disney Dream a few days before the race.
I was hoping that there would be some photo ops in the pre-race area before the race but there wasn't anything other than some race banners.
We were in Corral A, but I thought this collection of balloons for the other corrals was pretty.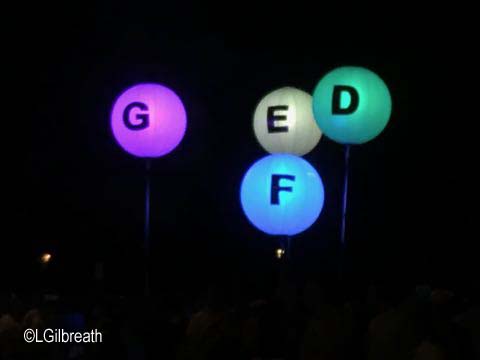 Dr. Strange actually came out on stage before the race. We hoped that meant that we would later see him on the race course. After that they showed us the preview for the movie – and reminded us that it was showing at the AMC Theaters in Downtown Disney. 🙂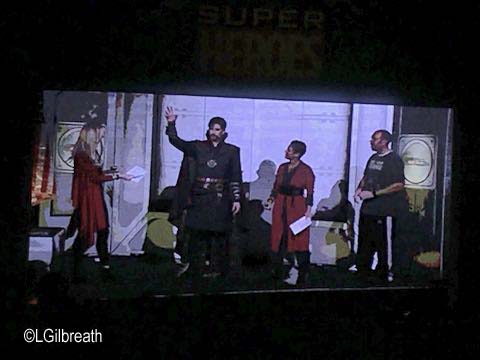 While the talented Disneyland cast member was singing the national anthem I noticed that there was a special pattern on some of the lights!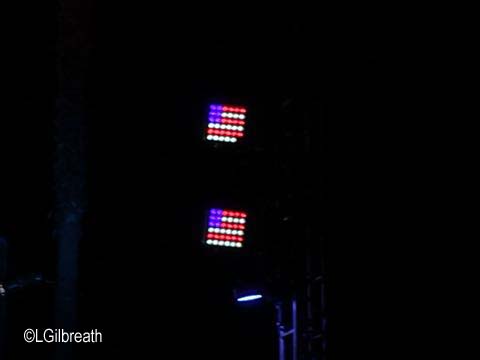 The race started about a minute late. No fireworks at Disneyland – just some colored puffs of smoke.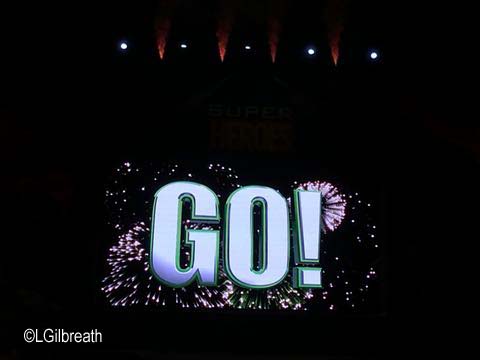 The course was different this year, thanks to Disneyland construction, though the first part of it was the same with the first two miles off Disney property. We ran down to the Convention Center on West Street, then cut across and over to Harbor Blvd, and back north to Disney Way, then went backstage at DCA. That was about mile 2. Having the first two miles outside the parks really helps spread the runners out. We didn't find that the course felt crowded at all.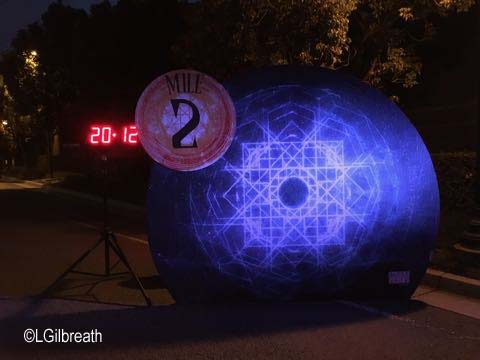 While we were winding around backstage there were some interesting projections on some of the buildings.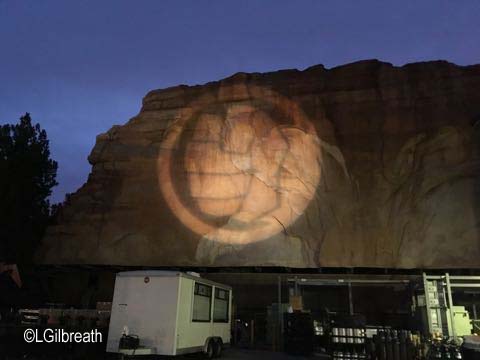 The first character we saw was Thor, near the Wine Country Trattoria. The line was a little long, so we didn't stop. We were hoping for shorter lines further on, since we had started so far forward.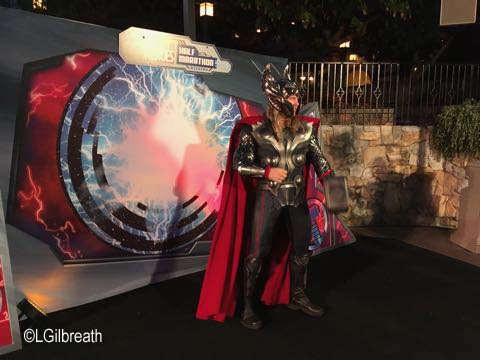 We ran around Paradise Bay, and past the mile 3 sign. Almost halfway done! There's that symbol again on California Screamin'.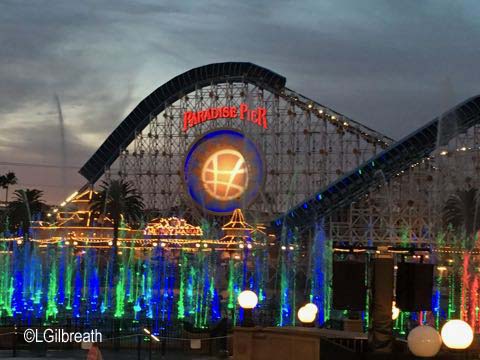 Captain America was just outside Soarin'. The line was maybe 20 deep, but it was Captain America! I got my hug again, but I didn't get swept off my feet like I did last year. 🙂
As we ran down Hollywood Blvd near the Animation Building a cast member was telling us that Spider-Man was ahead to the left. The race course turned right, and since he was on the other side and kind of hidden behind a building I think a lot of runners didn't see him. The line was pretty short.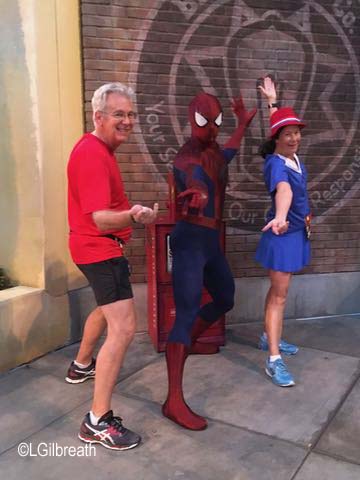 We ran backstage next to the Tower of Terror. The sun was coming up and there was a beautiful sunrise!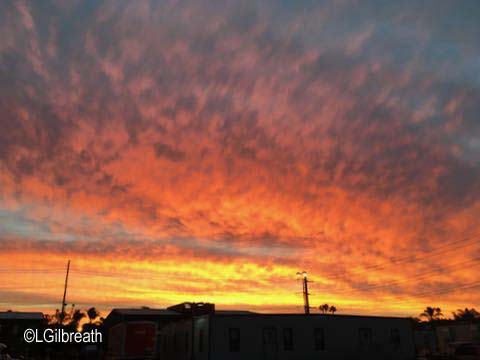 A high school band was performing back there. The majorette was doing some pretty good baton tricks, but I didn't manage to get a photo of that. There were just a couple of bands along the course – since so much of the course was on property there wasn't really any place for them to set up.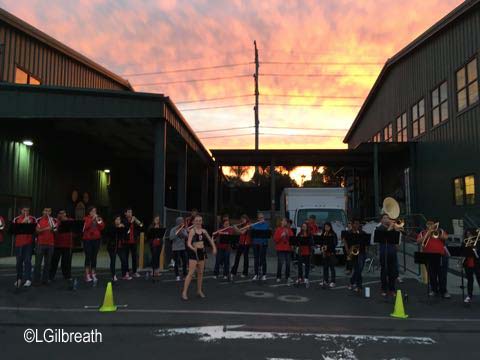 For most of the next mile we were backstage – we ran through the tunnel that goes under the bus area and connects DCA and Disneyland, and then wound around backstage at Disneyland, finally entering the park in Toon Town.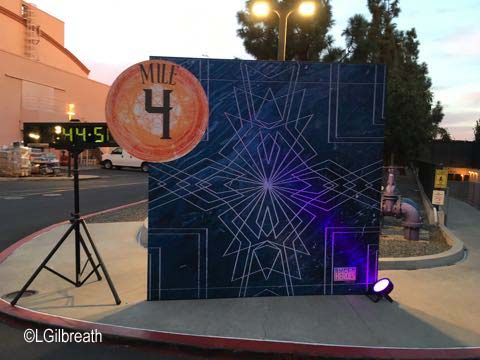 Mile 5 – only 1.2 to go. We were still feeling really good. A 10K is so much easier than a half marathon!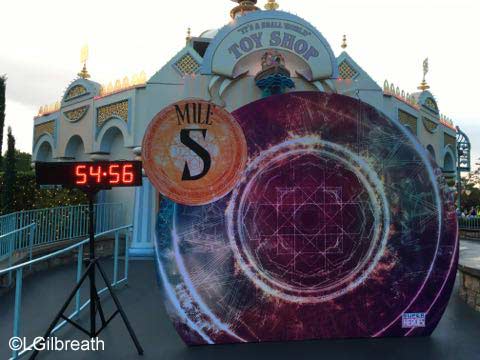 It was getting light out, but we could still see the lights on "it's a small world" Holiday.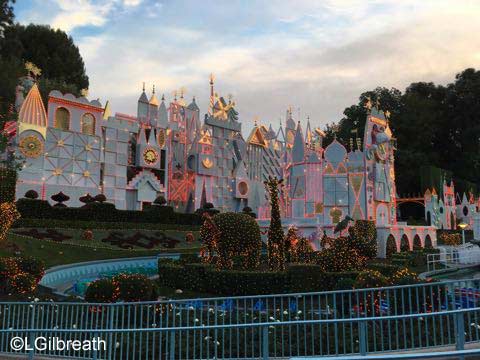 Black Widow was in front of "small world", and there was almost no line!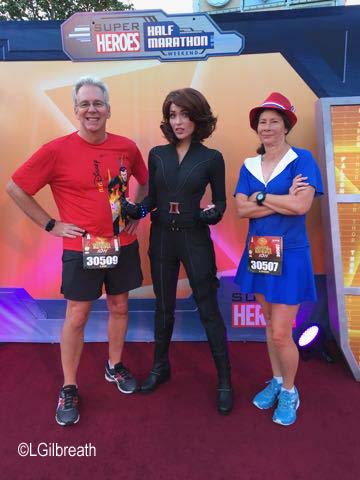 Not too much further away was Hawkeye. That's been Lee's costume in previous years. There was one person in front of us. I think we were in the sweet spot where the serious runners who don't stop for characters were ahead of us, but we were running fast enough that we were ahead of most of the other people who do stop for photos. However it worked out, it was a great place to be.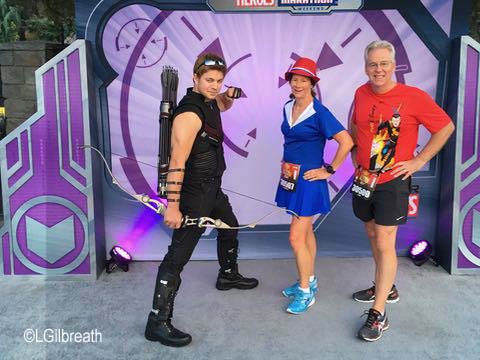 As we ran around the Matterhorn, we saw Dr. Strange!!! There was a line there, but only about 10 people in it. We were really happy to get our photo with him. He was very much in character, and SO serious.
We really didn't spend much time in Disneyland at all – didn't run through the castle, Frontierland, or Adventureland. After seeing Dr. Strange we ran to the hub and down Main Street and out of the park. As we ran under the train station the villain from the Dr. Strange movie, Kaecilius, was standing on the bridge above us. He had a microphone and was making in-character comments to the runners, though I don't remember what he said.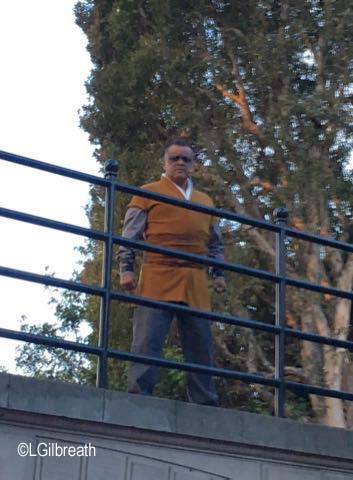 The course finished through Downtown Disney and ended at the usual finish line near the Disneyland Hotel. I got lots of cheers for my Peggy Carter costume throughout the race, and especially towards the end where there were more spectators, and that's always fun.
We finished in 1:09:38, which I thought was really a good time considering we stopped for five character photos plus a few other shots. This was a smaller race than the Wine and Dine 10K. Less than 10,000 entered, with 8245 finishers. I thought it was interesting that the male-female ratio was not quite so skewed as it is in many Disney races. There were still more females, but it was 4861 women to 3384 men.
Since as Annual Passholders we get free downloads of our race photos, we stopped to get our post-race photo taken.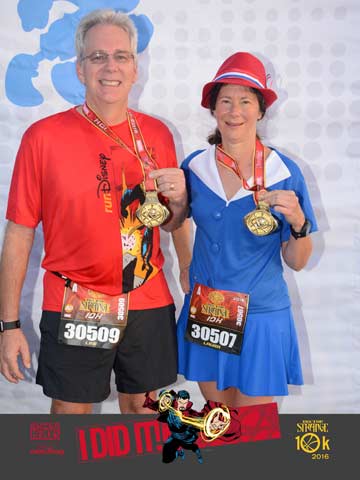 We went to the Annual Passholder tent to get our gift – it was small cans of Coke with several of the Avengers on them. We were told they would have Iron Man the next day after the half marathon.
One not-so-good thing about the Disneyland 10Ks: trying to get back to your hotel afterward. Since the courses finish through Downtown Disney you have to cross the race course. Even though they have cast members controlling the crossing points it can take some time. One thing we learned is that when staying at the Grand Californian, you do not want to try to go through Downtown Disney to the usual hotel entrance. If you do you'll have to cross the course three times! So we cross the course once and go right towards the Paradise Pier, then cross Disneyland Drive and go into the hotel via the main entrance. If you're staying at one of the hotels on Harbor Drive then you don't have much of an option, though.
I really enjoyed this race! It was nice to see six character stops on the course instead of just the four they've had for this race weekend in the first two years. And we really lucked out with the character lines not being too long.
I think my biggest issue with the race was the limited time in Disneyland, and that so much of what we did have was backstage. Still, for the most part I liked this course. I'd much rather have the miles outside the park be at the beginning of the race rather than at the end. I think having that two miles for the runners to spread out really helps with the congestion and the overall enjoyment of the course.
The rest of the day felt a little strange (so to speak) because we weren't preparing to run a half marathon the next day. So we didn't have to worry about what we ate or drank, or about trying to go to bed early – which was why I'd scheduled the World of Color Dessert Party for that evening. 🙂
That night for a change we actually had to pay attention to the road closures map that was left on our door, and the phone message about the race that had been left on our phone. We were planning to leave around 8:00 on Sunday morning – the half marathon wasn't going to be over until about 10:30. Everything we read indicated that we should be able to get out of the parking lot by 8:00, though. And that proved to be the case. The only issue we had was getting our room key to work to open the automated parking gate. 🙂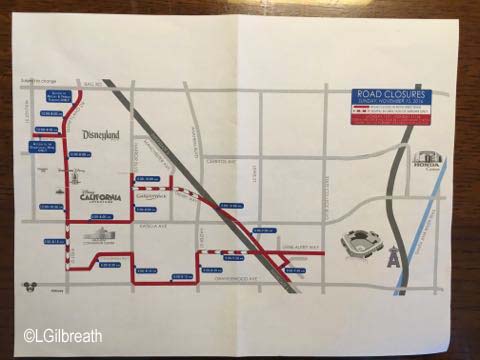 As we drove down Disneyland Drive we went under the start line…that was as close as we got to it. I thought I might be more bothered that we hadn't done the half marathon, but I really wasn't.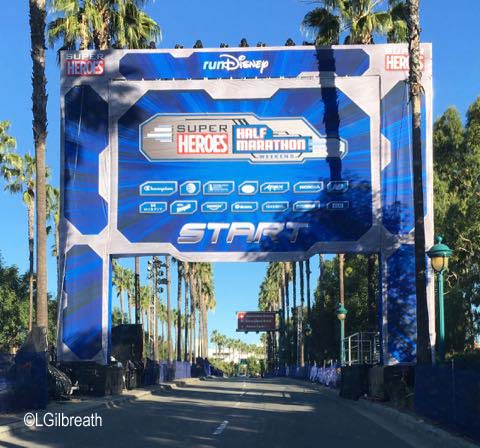 We had no problems getting out of the resort, but the same was not true for those trying to get to the resort. Traffic was backed up on I5 both north and south – it was quite a mess. But some of the freeway exits were closed because of the race course, so I think there was only one way in, and everyone was trying to use it.
It was nice to do only one race – and a shorter one at that – and we really enjoyed the race weekend. If you haven't done a race weekend at Disneyland, then I highly recommend that you try it. I find that it's just a lot easier. There are fewer runners than in most of the Walt Disney World races and everything is closer together – walking distance, really. No buses required unless you are staying way off property. Think about it!