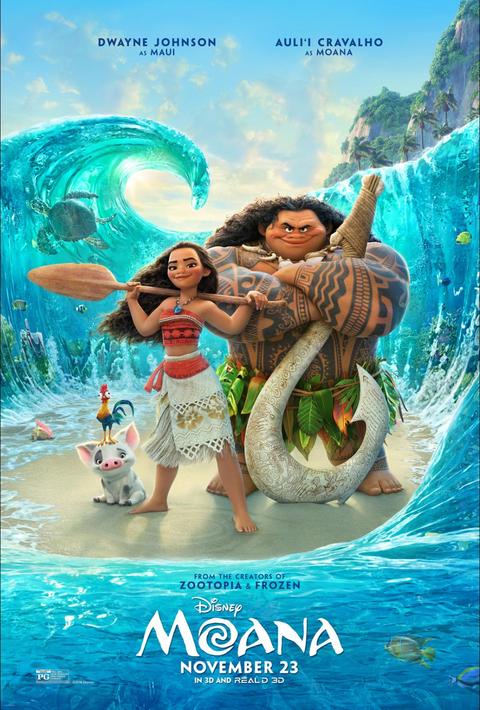 On November 23rd, Walt Disney Animation will debut its next Disney princess in "Moana"–a story of a young girl who must cross the ocean on a quest to save her island from a withering death. To accomplish this task, she must surmount any number of impediments, including a reluctant, egotistical demigod, coconut-wearing pirates, a shiny crab, a demon of earth and fire, and an intellectually challenged rooster.
[All non-attributed photos and video courtesy of Disney.]
At a recent press junket, a collection of the impressive talent behind "Moana" gathered to talk about the film's creative process. In attendance was Dwayne (Maui) Johnson, Auli'i (Moana) Cravalho, Lin-Manuel (Original Songs by) Miranda, Ron (Director) Clements, John (Director) Musker, Opetaia (Original Songs by) Foa'i, and Osnat (Producer) Shurer.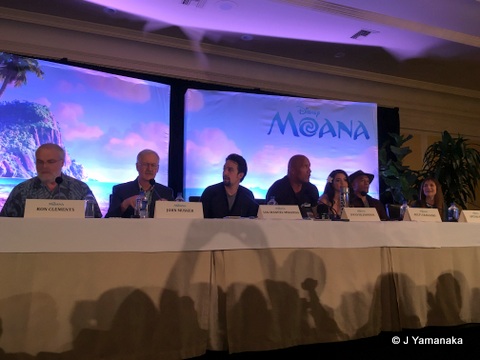 Select moments from the video above:
Miranda on getting The Rock to sing: "I get a lot of questions from reporters this week being all 'how did you get The Rock to sing?' That's not what happened here. When Dwayne accepted the role, he said, 'so what are you giving me to sing?' He was really excited for this, and for me–I went to YouTube, where the answers always lie, and…I'm a big fan of his wrestling days and there was a time…where he would pull out a guitar and taunt whatever town he was in. And so I got a really good sense of his vocal range from that ten minute supercut, and then the rest of it was just writing lyrics that embody the spirit of Maui, who is this amazing demigod/trickster god…and once I had the title 'You're Welcome," which only Dwayne can pull off and still have you love him and root for him, we were off to the races."
Johnson: "…One of the best times I've ever had in my career was working on this project and certainly working on that song, because also like–we all love challenges, and this was a challenge that the bar's set so incredibly high in a Disney film to sing!"
Musker: "Dwayne's the new Angela Lansbury."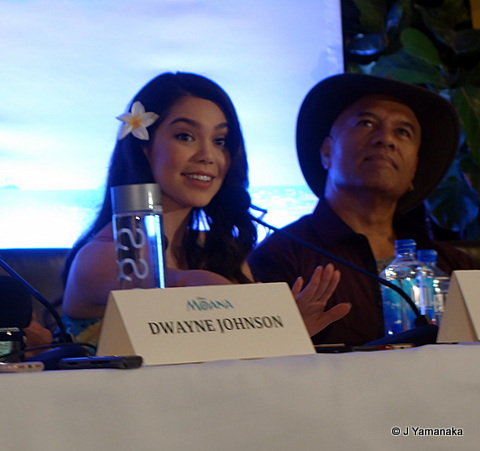 Cravalho on what it means to be Moana: "This is my first job. It's been an incredible journey for me. I'm fifteen going on sixteen, and I'm working with the best people in the entire world of whom are making a film inspired by my culture–a culture I have lived every day of my life. That is something so incredibly special for the rest of the world to see…for me, as someone who is hoping to continue in show business (now that I'm in 'show biz,' which is really exciting)…I was wondering how would I continue in this and still be Polynesian? And that might be an interesting concept…As I might potentially leave my home, what does that make me? Does that still keep me Polynesian? Am I still grounded and rooted in the way that I want to be? And I can honestly say 'yes." Because being surrounded by my family and by the Hawaiian culture every day, it seems as though I would never lose it. But to have a film like this that will inspire me, and to have a character that will inspire others as well to become rooted in who they truly are…that's something that inspires me and that I hope will inspire others as well."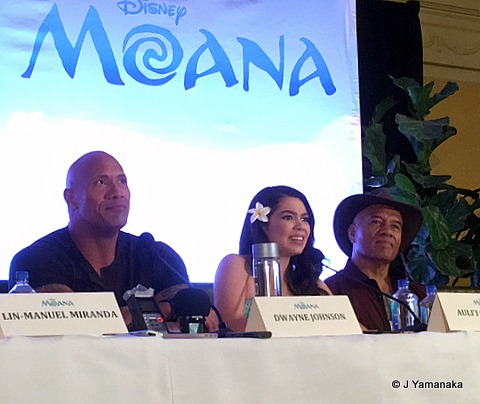 Foa'i, Johnson, and Cravalho on what they hope Polynesians get out of "Moana:"
Foa'i: "My journey has been from the village to the city…There are many other cultures that will see this movie and be interested in it, but there are also, there will be Polynesians who were born in the cities who will then start the journey back to the village. That's what I'm thrilled about."
Cravalho: "I'm really excited for everyone to see this film. I know my friends are thrilled, my family is thrilled and I think we're all very proud of this film. I will admit, and I will admit this truthfully, that before I was working on this film, I was a bit wary of it. Because I think when anyone thinks of someone making a film inspired by their culture, they want it to be done right. And Disney has done a wonderful job–the Oceanic Trust that has been put together, as well as the research trips that Ron and John and Osmat were on as well. All of that has created such a wonderful well-rounded film that I'm excited for my people to see and for everyone else to see as well as they'll hopefully be inspired to research on our culture. Because our culture is, like, awesome!"
Johnson: "What Opetaia said, I think, is very resonant in the pride that they will have in the film. And there were a lot (and understandably so)…there was some hesitance from a lot of people in our culture about 'well, what's going to happen if our culture's going to be showcased for the very first time on this level, this capacity from Disney? What's going to happen?'
"I feel like the Polynesian people are going to be incredibly proud of this movie. Overall, all cultures by the way…I think what's going to touch upon all of us, regardless of where we're at in the world, where we're from, cultures, class, religion, is the voice. So, our world today, so relevant in this moment, so full of noise, there's so much noise that's happening in our world, but
the little voice that you've always gotta listen to, your gut, your intuition…you can do things. You can go beyond boundaries. And you have to trust that gut and instinct. So those are the things I think our people are going to take away and the rest of the world will take away."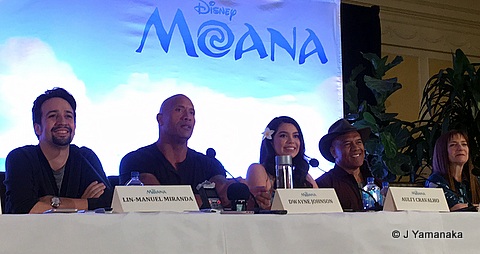 After the "Moana" presentation, Director Leo Matsuda and Producer Sean Lurie gave a short presentation on "Inner Workings," the terminally adorable short that will play in theaters before "Moana." Taking a stylistic reference from the acetate anatomy diagrams that used to figure heavily in encyclopedias back in the day, the short demonstrates the perpetual battle between the responsible anxieties of the brain, and the careless hedonism of the heart.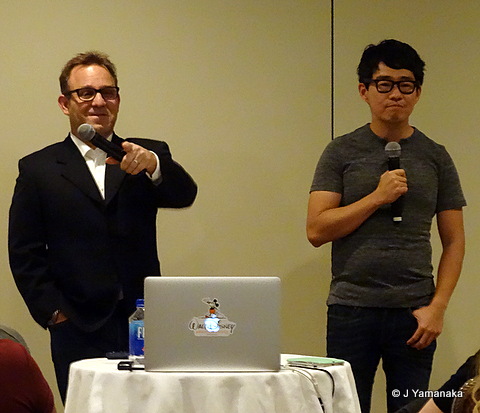 "Moana" will open in theaters November 23, 2016.