This year, The Walt Disney Co. is giving fans two extra holiday television specials in November in addition to its traditional Christmas morning show — and taping begins this week at Walt Disney World.
Filming will take place beginning tomorrow (Nov. 9) through Sunday (Nov. 13) at all four Walt Disney World theme parks, according to multiple media outlets. The Christmas parade will be taped only at Disneyland in California, which means only musical performances and other segments will be recorded in Orlando. No dates for taping on the West Coast have been announced so far.
For about a decade now I have attended — and written about — tapings of musical performances Walt Disney World that are seen in the Disney Parks special that airs on Christmas morning. Typically, performances take place in front of Cinderella Castle or on a stage set up in Town Square at the Magic Kingdom.
Walt Disney World used to invite various groups, such as passholders, sports volunteers and even the general public, to apply for free tickets to the tapings. In exchange, ticketholders agreed to be in the audience for a block of time. For the last several years, however, only cast members were eligible for the tickets, and that is the case again this year.
But even if you don't have one of the complimentary production tickets, you still may be able to take part in the tapings — or at least see some of the acts. The Magic Kingdom, where many tapings take place, opens to the public at 8 a.m. on Nov. 9 to 13. Passholders and guests who pay admission may enter the park, and if there is room in the roped-off areas for the pre-selected audience — which usually happens later in the afternoon — they may be allowed to join cast members.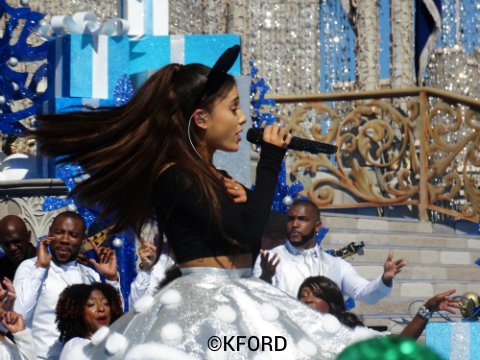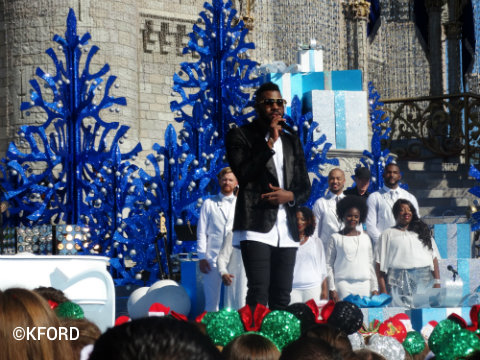 Last year, my son and I arrived when the park opened and easily were able to join the crowd in front of Cinderella Castle to see a few performers, including Jason Derulo and Ariana Grande.
A word of warning: This is an actual television production, which means that songs are sung multiple times to get the desired images from the correct camera angle. For example, on one of Ariana's takes, her mouse ears fell off, so the crowd got to see her perform the song again. We weren't complaining, especially because it was a song from her new album. Know that you most likely will spend more time waiting than viewing the events, and you shouldn't expect to see a seamless concert. I speak from experience when I say this can be a tedious process. Still, it can be a worthwhile experience if you know what to expect.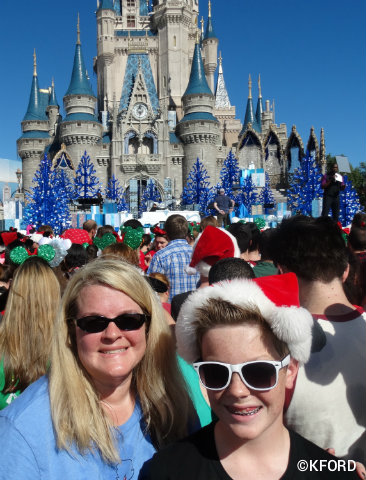 So, who are the celebrity performers for 2016? Here's what we know so far, courtesy of the Disney Parks Blog. No word on which stars are taping in California or Florida. More performers are expected to be announced in the days ahead.
"The Wonderful World of Disney: Magical Holiday Celebration" on ABC on Nov. 24, from 8-10 p.m. EST. Emmy Award-winners Julianne and Derek Hough will serve as hosts for this two-hour special from the Walt Disney World Resort, which will also feature "Descendants 2" star Sofia Carson, a duet by Trisha Yearwood and Garth Brooks, and a performance by Kelly Clarkson.
"Disney Parks Presents: A Descendants Magical Holiday Celebration" on Disney Channel on Nov. 25 from 8-9 p.m. EST. Musical performers include Dove Cameron, Cameron Boyce, Sofia Carson and Booboo Stewart, "Descendants 2" star China Anne McClain, Trisha Yearwood with Garth Brooks, and Kelly Clarkson. ABC stars and Disney Channel stars will also surprise philanthropic families around the country with once-in-a-lifetime experiences at the Walt Disney World Resort.
"The Disney Parks' Magical Christmas Celebration" on ABC on Dec. 25, from 9-11 a.m. EST. Join holiday hosts Julianne and Derek Hough for a magical ride down Main Street and beyond for a celebration that brings together the beloved Christmas day parade with magical musical performances, surprise celebrity guests and heart-warming family stories. Musical performers on tap are Trisha Yearwood and Garth Brooks, Kelly Clarkson, Sofia Carson and Jordan Fisher.