I didn't expect to like Doctor Strange as much as I did mainly because I don't feel a personal connection to the Marvel Studios' superheroes the way many comics fans do. But that was precisely what made the movie so good: a filmgoer like myself could get caught up in the story — and the thrilling way it was translated from a comic book — without needing a lot of detailed background for it to make sense and be enjoyable.
We are introduced to Stephen Strange (played by Benedict Cumberbatch) in the operating room, not as a patient, but as a cocky, brash surgeon. He's at the top of his game and doesn't hesitate to let everyone around him know that. He lives life in the fast lane, quite literally, which results in a devastating accident that robs the doctor of his profession when his hands are crushed beyond repair.
He hasn't lost everything, though, because his former love interest, Christine Palmer (Rachel McAdams), sticks around and is determined to help him accept his new reality. Strange, however, is not complacent and is looking for any way he can to return to the operating room. And he eventually finds it in the unlikely hands of the Ancient One (Tilda Swinton), her sorcerer Mordo (Chiwetel Ejiofor) and the librarian and guardian of ancient spells Wong (Benedict Wong).
But things are not always as they seem, and Strange is introduced to a world of mystic arts and struggles behind the scenes —- aspects of reality that he never knew existed. He must learn quickly and put his photographic mind to good use to combat the powers of evil as he tries to protect the physical world from renegade sorcerers.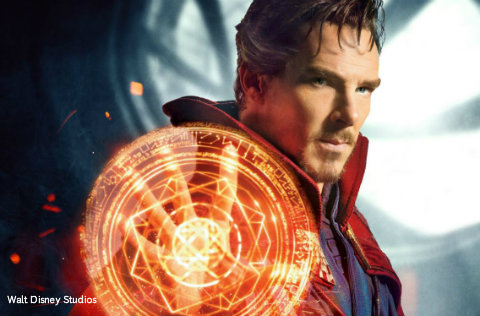 The battle scenes and those when Strange is learning to harness his power give the audience amazing visual effects. Among them is the characters' ability to bend matter and time, which appears on screen as if the audience is looking through a kaleidoscope. Watching objects that we perceive as immobile folding in on themselves is a feat that is difficult to tear your eyes away from. Director Scott Derrickson deftly handles the CGI work that makes Doctor Strange stand out. Be sure to see this movie in 3D because it's worth it.
Although Doctor Strange is sure to keep you on the edge of your seat, stay alert so you don't miss the cameo by creator Stan Lee, who appears in all the Marvel movies. Also, for a couple clues about what the future holds for Doctor Strange, you'll want to stay in theater for two stingers that appear during the credits.
"Doctor Strange," a Walt Disney Studios release, is rated PG-13 by the Motion Picture Association of America for "sci-fi violence and action throughout, and an intense crash sequence." Running time: 115 minutes.
Note to parents: My 12-year-old daughter reminded me that characters in this movie liberally use the word "a**hole." There are no F-bombs, but if such coarse language is a concern for you, beware. The violence is not overly gory, but just a natural part of the battles between good and evil. On the other hand, the movie does address positive themes, as well, such as refusing to give up and learning to accept something you didn't previously believe in.
DISCLAIMER: I viewed "Doctor Strange" at a media screening before its official release. This did not affect my review; my opinions are my own.