As my children — ages 12 and 14 as of next week — have gotten older, they have come to look forward to the annual Epcot International Food & Wine Festival almost as much as my husband and I do. So, as local Walt Disney World passholders, we plan several visits to the festival each fall.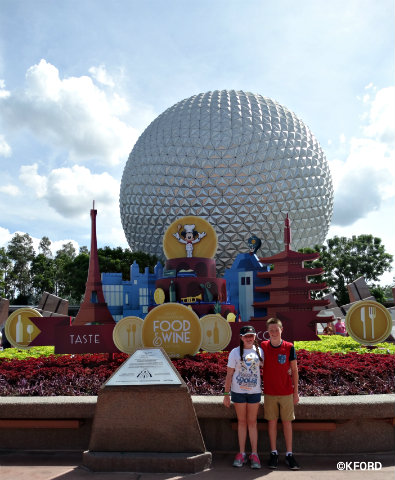 On Sunday, the kids and I had a few hours to make our way around World Showcase for dinner, and we couldn't pass up the opportunity to visit during opening weekend. We knew we would not be able to try everything we desired, so we actually tried a strategy new to us — we didn't have a strategy! We didn't study the menus, and I had not been to any media previews this year so I did not have any insider insight. Instead, we did what many festival-goers do: We followed our stomachs from marketplace to marketplace.
For this culinary trip, my kids and I focused just on the food and not the specialty (and alcoholic) drinks. We'll save those for the next lap around World Showcase when my husband is with us.
To begin our adventure, we purchased festival gift cards with wristbands at one of the festival kiosks that are located on either side of the planting bed that features Minnie Mouse in a hot air balloon. (The gift cards also are available in the Festival Center in Future World. You cannot purchase the cards in World Showcase, but you can reload money onto them at any festival marketplace.) Over the years, we have found these cards to be really useful for this event; it's so much easier to swipe and eat than to have to dig out cash or credit cards at each marketplace.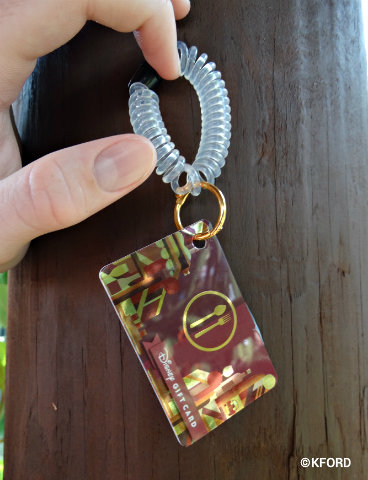 Plus, we allow the kids to wear the gift cards and pay for the food our family is sharing, which they like to do. We usually only add $50 at a time on each gift card to limit losses if a child misplaces the gift card. But Disney World has a system in place to help you recover lost gift cards, as well, so be sure to ask when you purchase yours. Also, know that if you have money left on your gift cards when you are finished eating and drinking, it can be used anywhere gift cards are accepted on Disney properties, and the cards do not expire.
We also grabbed a few of the complimentary Epcot International Food & Wine Festival passports. These pocket-size booklets have the menus for each marketplace, plus stickers for guests to keep track of when they have visited each country. This is different from past years when guests could collect stamps as they made their way around World Showcase. I'm not sure stickers hold the same cache because you're not required to visit the country, but they certainly will cut down on lines. And kids will enjoy the process, either way.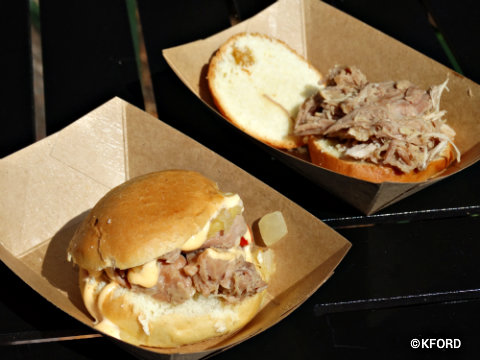 Gift cards on our wrists, we walked a few yards ahead to the Hawaii marketplace, the first on the right of the central walkway to the promenade. There, we each had what has become an annual favorite: The Kalua Pork Slider with Sweet and Sour Dole Pineapple Chutney and Spicy Mayonnaise.
Tip: Picky eaters and those with food restrictions should not be afraid to ask if a dish can be altered to suit their needs. I had the Kalua Pork Slider as is, but my son asked for the meat "naked," and my daughter asked for the mayo on the meat and the chutney on the side. Cast members were happy to oblige. Usually, you will pay at the register and then ask the cast member who is serving the food if your request can be accommodated.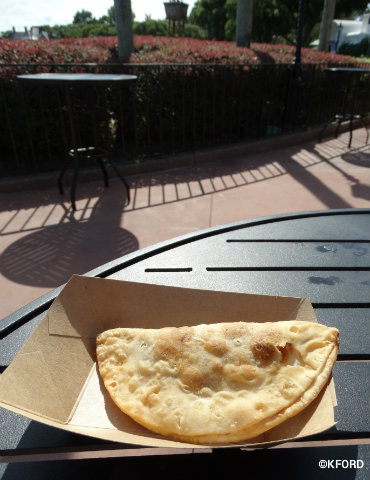 Next, my son and daughter got a beef empanada from Patagonia to share. They both enjoyed it, and it was what you would expect — a tasty beef empanada. There was nothing unusual about it, and that was just fine. They were hungry and wanted a dish they knew they would like.
Tip: If you are looking for foods that children are likely to enjoy, kid-friendly items are marked with a symbol in the festival passport. The beef empanada is one example.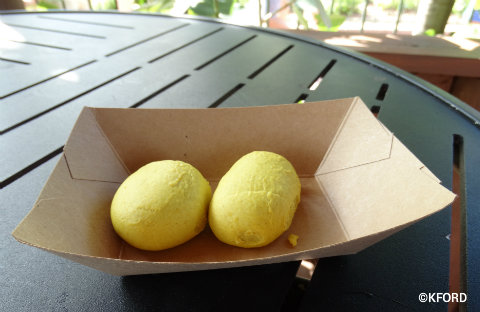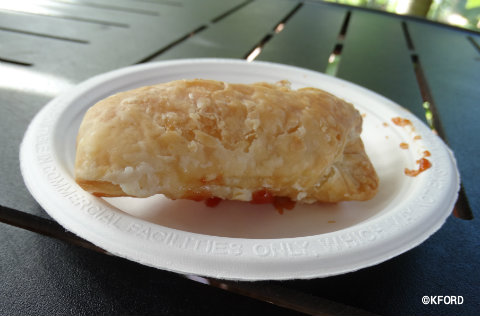 After Patagonia, we all wanted to try something from the new marketplace, Islands of the Caribbean. We chose the Jamaican Beef Patty and the Quesito, a puff pastry with sweetened cream cheese and guava sauce. My son liked the beef patties — there are two in each serving — better than my daughter did because they were a little spicy. My daughter, who has a sweet tooth, enjoyed the quesito more. I liked both dishes.
Tip: Islands of the Caribbean is located in the feature spot and can be accessed from the promenade in front of the lagoon or from Imagination Walkway, which runs parallel to the central path on the right if you are facing World Showcase.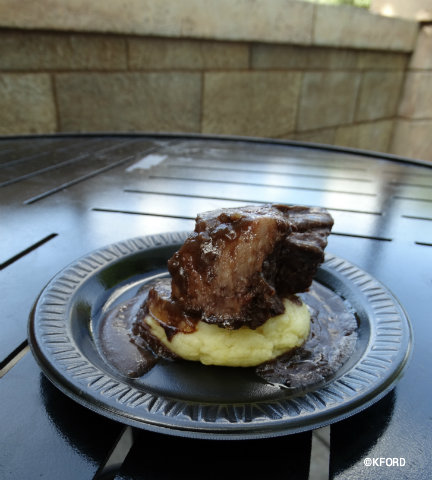 Then, we hustled over to France, where the marketplace is again serving my daughter's absolute favorite dish: Cabernet Sauvignon-braised short ribs with mashed potatoes. This flavorful dish is actually one that my whole family enjoys. Although we were tempted by the caramel and chocolate crème brulee, we skipped it in favor of sampling more hearty fare.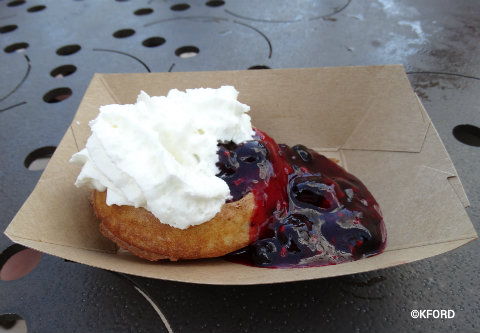 Another must-do for our family is the Belgium marketplace, where you can get Belgian waffles, of course. They are served with either berry compote or warm chocolate ganache and whipped cream. Both versions are equally delightful, though younger kids may opt for the chocolate topping over the berries.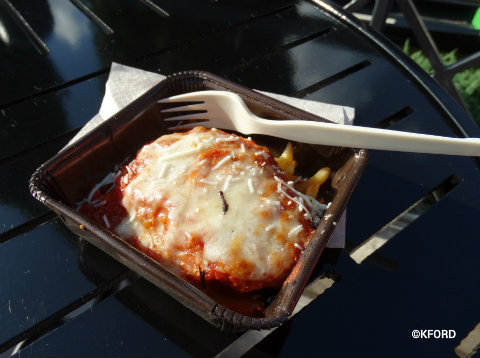 Although we hated to bypass Morocco and Japan, my son had his eye on Italy, so we pressed forward around World Showcase. My pasta-loving boy initially was disappointed to see ravioli had been replaced on the menu with a baked ziti and chicken parmigiana dish, but he decided to give it a try. Both he and his sister enjoyed the dish and would recommend it to other kids. They also said they would go back for seconds.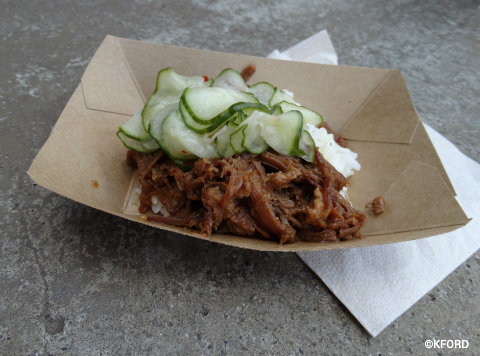 The Germany marketplace serves two kid-friendly dishes, and we usually do not skip the bratwurst in a hard roll, but the three of us were feeling full and we each had one more dish in mind to finish the evening. My son joined the line at the South Korea marketplace so he could try this year's version of the Korean-style BBQ beef. It's served with steamed rice and cucumber kimchi, which he didn't care for, but he practically inhaled the BBQ beef.
Tip: If you're like us and not sampling the specialty drinks or alcohol, bottles of water are available at most of the marketplaces. If you prefer a fountain drink, don't pass by the Refreshment Cool Post or the Refreshment Port, which are on opposite sides of the promenade.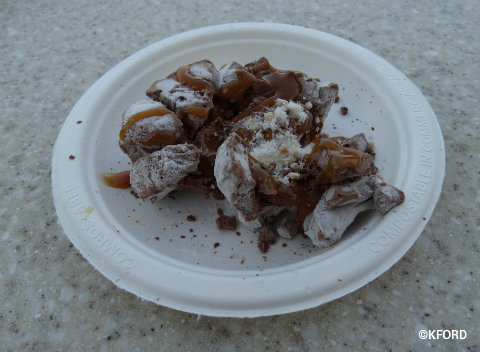 For our final dish, my daughter and I wanted to hit up the Chocolate Studio in Future World West. We both wanted to revisit the Liquid Nitro Chocolate-Almond Truffle with Warm Whiskey Caramel from last year. If you haven't tried this dish, it is, of course, very cold, which is perfect for these still-hot Florida days. The texture is like a hard ice cream, and the combination is delicious!
At that point, it was time to head out because none of us could eat another bite. But we'll be back — the Epcot Food & Wine Festival runs through Nov. 14.
You can see complete menus (and pricing) for the Global Marketplaces on the AllEars.Net resource page.