Take a look at some images from Disneyland and Disney California Adventure. The first photo is from the Haunted Mansion in New Orleans Square. In the stretching room, one picture shows an alligator with gaping jaws under a woman on a tightrope. Do any of the alligator's green, round scales form a classic, three-circle Hidden Mickey? (Thanks to Lisa Sentif, and Jason Gall.)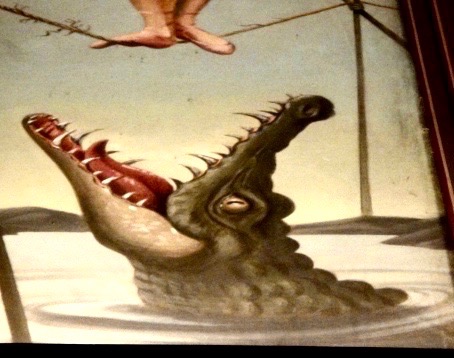 Inside the Silver Spur Supplies store in Frontierland, a photo of John Wesley Hardin (a notorious outlaw who became a lawyer) hangs on a wall in a room to the right as you enter the store. Just to the left of his right (as you face the photo) forearm, a design in the cabinetry woodwork has markings that resemble a face. Is it Mickey's face? (Thanks to Bobby Naus and friend).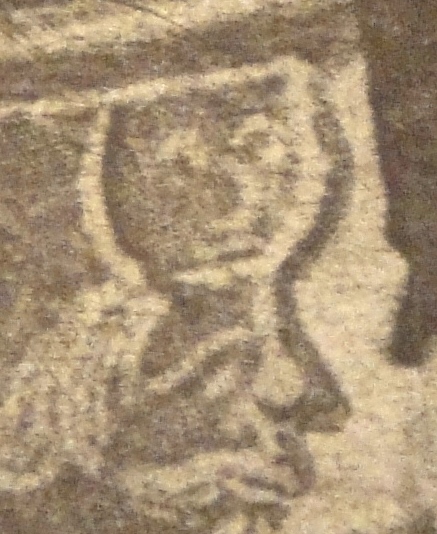 At Pacific Wharf in Disney California Adventure, order something sweet at Ghirardelli Soda Fountain and Chocolate Shop. While you're waiting for your just reward, study a mural at the right side of the rear wall behind the counters. A tree stands in a sidewalk along a street and to the right of a red trolley. Do the round leaf clusters at the top middle of the tree (or anywhere in the tree) make a classic Hidden Mickey? (Thanks to Sharon Gee).

In Cars Land, check out Sarge's Surplus Hut. As you enter, three green tarp rolls or mats are stacked high on a shelf along a wall to your right. An upside-down classic Hidden Mickey? (Thanks to Madison Dunn, and Sharon Gee).

Have fun with the search!