Today I attended a preview of the new Disney Vacation Club Member Lounge that's opening as part of the DVC's 25th anniversary celebration. This lounge is in the Imagination Pavilion in Epcot at Walt Disney World and can be accessed through the pavilion's merchandise store.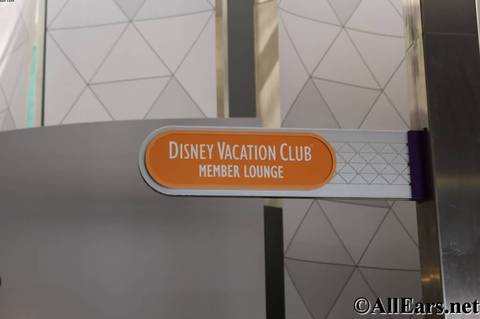 The lounge opens on June 6, 2016, and will operate from 10 a.m. to 6 p.m. daily through the 25th anniversary celebration, which will last through the end of this year. Disney Vacation Club Members will need their membership card as well as ID to enter. A Cast Member will be at the bottom of the stairs (there is also an elevator) to check in you and your party. I believe a member can bring in five additional guests. If the lounge is at capacity, you can leave your cell phone number, and they will text you when space becomes available.
The lounge will be staffed by a DVC Member Services Cast Member who can assist with any vacation planning you need for either your current trip or a future one. They can make dining reservations and assist you with FastPass+ and My Disney Experience. There will also be a representative from RCI to answer any questions you may have about other destinations and exchanges.
The lounge has charging stations with plugs and USB ports for your mobile devices, or you can use one of the iPad Pros that are available. Complimentary Disney Guest WiFi is available throughout the lounge.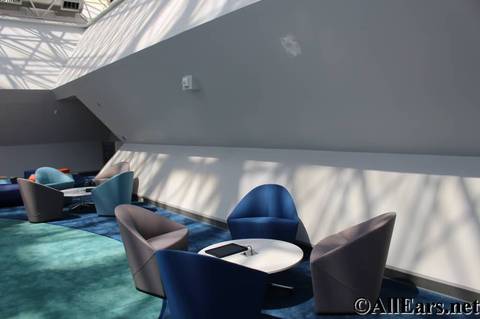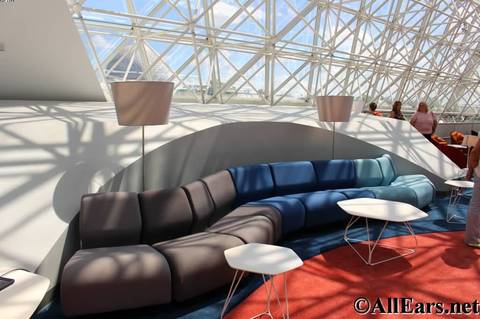 There are also two computers stations and a printer if you need to check email or print a boarding pass.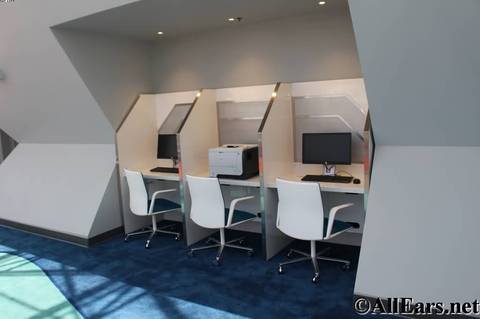 There is a kids' area showing Disney animated shorts on TV (similar to what's available in your DVC villa), as well as two Disney Infinity machines.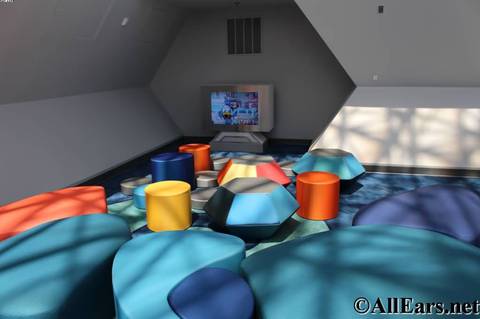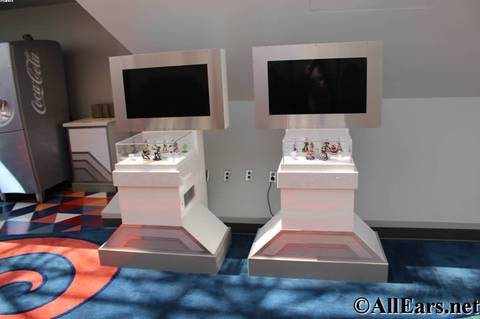 The beverage area has a Keurig machine and three Coke Freestyle machines, which offer more than 100 different soft drink flavor combinations.
After we had a chance to look around the lounge, Ken Potrock, Senior Vice President and General Manager of the Disney Vacation Club, spoke about the DVC 25th Anniversary Celebration, mentioning a few things that we hadn't heard before.
"We have long wanted to have a lounge for members in a theme park," he said. "As we began planning the 25th anniversary, we thought, 'What we could do to make things very special for our members?' "
"Special events are our way of celebrating our members and a way for us to interact with our members," he continued. "We already had two exclusive parties for our members at the Magic Kingdom. This summer we will have special events at Typhoon Lagoon. We will be having a special event for our members in California later this year and will share details at a later date."
Potrock noted that later this year there will be a private showing of Aladdin on Broadway in New York City for DVC Members. Tickets for this event were offered at a reduced price. DVC will also continue to offer Member-Only trips on Adventures by Disney and Disney Cruise Line.
He also talked about the new DVC Personal Vacation Advisors that will be available to members planning their trips. You'll now be given the specific extension number for your Persal Vacation Advisor, which will allow you to speak to the same person each time you call.
Potrock also spoke of the success of the DVC website's overhaul, and promised even more changes for the coming year, reiterating that the overall goal was, "We want our members to feel special and valued."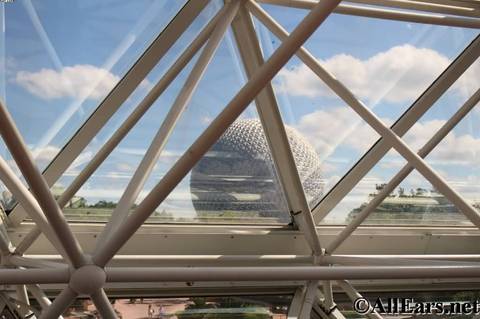 Here's another look at the DVC Member Lounge:
As a DVC member, I was excited to check out this new space. It will be a nice respite from the park, especially on hot days.
DISCLAIMER: I was an invited guest of the Disney Vacation Club and our preview of the lounge included lunch, but my opinions in this blog are my own.