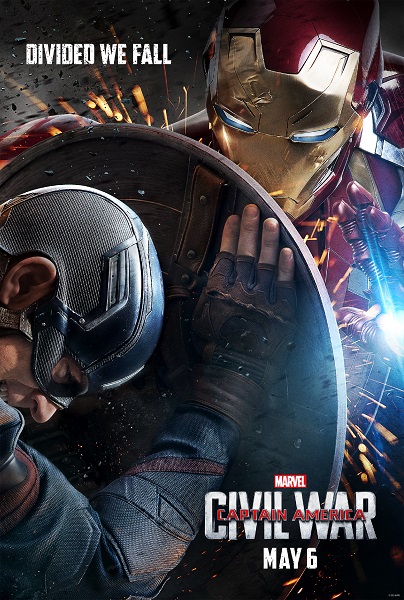 This May 6th marks the debut of Marvel Studio's latest film, "Captain America: Civil War." Directed by Anthony & Joe Russo, the start of Marvel Cinematic Universe's Phase III sees the Earth's Mightiest Heroes splintered into two factions over the question of government registration and oversight–Team Iron Man, advocating for accountability, and Team Cap, dedicated to free will and independence.
[All non-attributed photos and video courtesy of Disney.]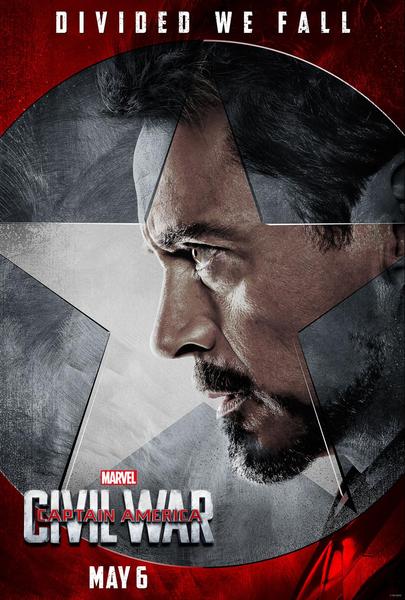 At a recent press junket the two sides made an appearance to discuss the new film–separately, of course. Team Iron Man was up first, represented by Robert Downey Jr., ("Tony Stark / Iron Man") Don Cheadle, ("James Rhodes / War Machine") Paul Bettany, ("Vision") Emily Van Camp, ("Sharon Carter / Agent 13") Director Anthony Russo, and Producer Kevin Feige. Guest Blogger Amanda Bulat attended for AllEars.Net.
Some points of note from the video above: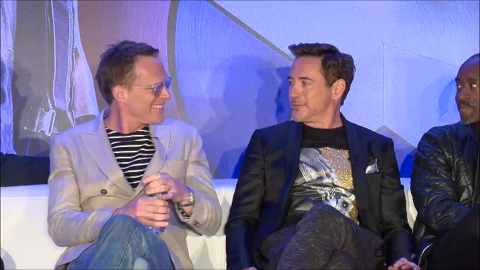 Robert Downey Jr. on Tony Stark's emotional center: "I'm still reeling from the fact that Paul Bettany was Jarvis and now he's Vision…If you just stop, you go 'so here's what's going on with Tony,' I go 'waitaminute. Did he make a guy?!' Look at him!"
Bettany: "Dad!"
Downey Jr.: "So proud of you."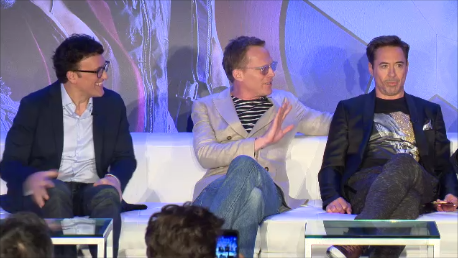 Anthony Russo on technological advances in film-making: "You sort of reap the benefits and you sort of push forward every film and this movie has a very remarkable sequence I think where Robert Downey Jr. plays a twenty-year old man…which, you know, is pretty incredible."
[Downey Jr. begins to have a stroke.]
Bettany: (Reassuringly) "Wait a second, I don't think it's that hard to believe!"
Russo: "I mean, he plays someone who's around the age he was when we all first saw him on the screen."
Downey Jr.: "Aw. It's nostalgic. Very expensive nostalgia, I'm told."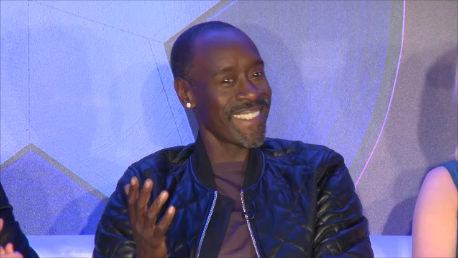 Don Cheadle on War Machine getting new upgrades: "Thank God somebody finally laid it bare…I think we'll see. It's not over…unless it is, 'cause I haven't seen the movie. Do…I live? Does War Machine live? (That's some hubris.) You'll see in the next one…wait a minute…"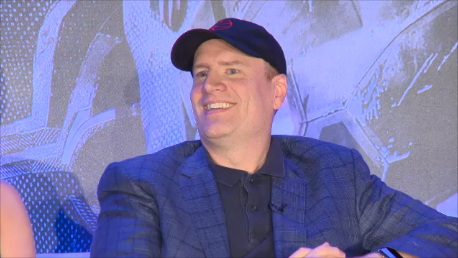 Kevin Feige on the casting of Black Panther: "It was relatively early on in the development process of the movie that Joe and Anthony and our screenwriters Chris and Steve thought it would be very valuable to have somebody…people who weren't quite as invested. We wanted somebody who perhaps was invested but didn't have allegiances to any one side. Who was essentially in it for very personal reasons himself. We knew we wanted to make a Black Panther movie at some point, but at that time we weren't sure exactly when that would be, but as these discussions were going on, we thought 'I think we're going to bring Black Panther into this movie…' I'm not kidding when I say Chadwick (Boseman) was the only choice. His performance in '42,' his performance in 'Get on Up,' how different those performances are…and my memory is that we called him on the conference room speaker when we were developing the movie, and…he was in his car either about to get out or had just gotten back in, and we said 'have you ever heard of Black Panther,' and he went 'YES. YES. WHY ARE YOU ASKING ME THAT.' And we said 'do you want to play the part,' and he was very excited.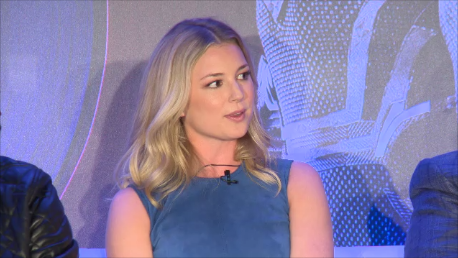 Emily Van Camp on hitting a stride in portraying Sharon Carter: "I think I was definitely slightly intimidated in the first one, in 'Winter Soldier,' you know, just kind of getting used to it. I think that lent itself well for the character, she was sort of more in like a rookie stage, and it's great to see her come back in a little bit more of a mature light, she's confident…"
Moderator: "And she's still good with guns, girl!"
Van Camp: "Still good with guns!"
Paul Bettany on Vision's process of finding himself while establishing relationships with other characters: "You find Vision in 'Age of Ultron,' he is just born and omnipotent yet naive, and then in this movie you find him trying to figure out what humanity is, and how you have loyalty, because logic doesn't afford loyalty. So I think he's really interested in working out what love is, and there's this woman who has a similar problem that he's facing, which is he doesn't know the limits of his power, nor does she. Of course, love can make you feel loyal, and at the end of this movie, I think it's double-edged sword, because his response at finally having a human response, is he makes a big mistake. Which is interesting."