Over the last few years, the Diamond Horseshoe in the Magic Kingdom's Liberty Square has been open during peak times with limited selection counter service lunch serving a basic BBQ chicken sandwich, turkey sandwich and a chef's salad.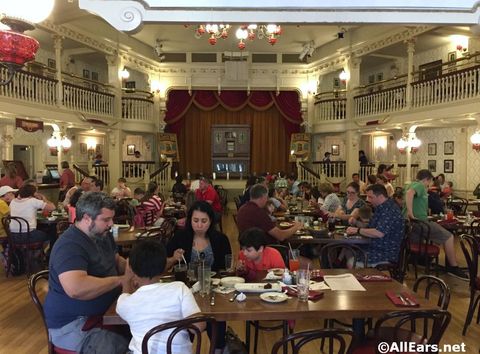 As of March 13, 2016, the Diamond Horseshoe is now open for an "all you care to eat" table service lunch and dinner. I tried this new dinner recently with my cousin, Kathie.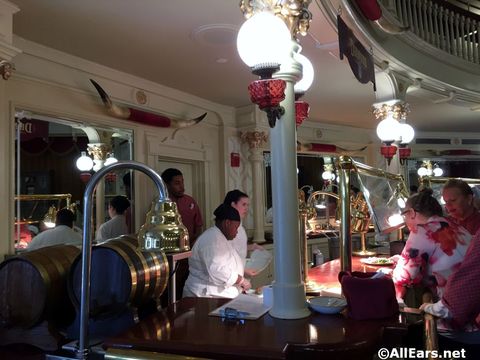 Kathie had a 4:50 p.m. reservation and we arrived a few minutes early. We were greeted in a prompt and friendly fashion and were told that we'd be seated in a few moments. There are some chairs to the right of the podium, but our wait was not long at all (about five minutes).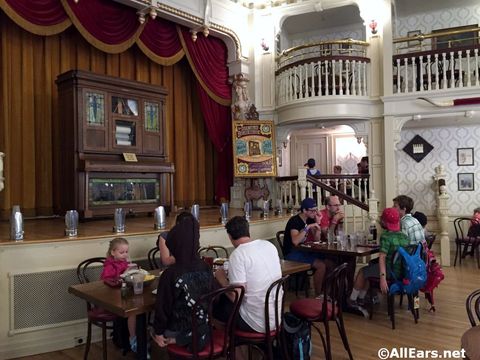 Our server, Randi, came over right away to take our beverage orders and explain how the meal works. Dinner begins with a salad and cornbread brought for the table to share. There are three entrees offered, and you begin by choosing one. After that, you may order more of the same entree or either or both of the remaining two options. After that, it's dessert time.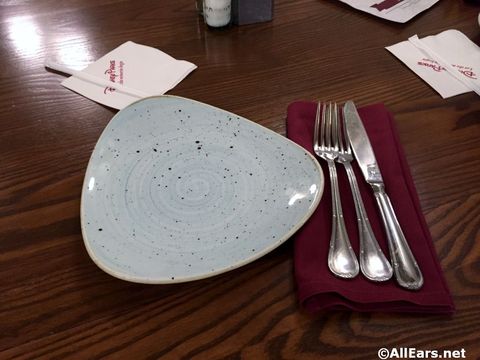 If the place-setting looks familiar, it's the same one used at the Liberty Tree Tavern. Honestly, the food, while not identical, reminded me of dinner at the Liberty Tree Tavern as well.
Soon after we placed our drink orders, our Frontier Salad arrived. It consists of tossed greens, tomatoes (on the side of the plate), onions (on top of the salad), roasted corn and cornbread croutons. The dressing is a house-made chipotle ranch. Don't let the chipotle scare you off. It was a flavorful dressing, but didn't have the typical chipotle kick to it that some folks dislike. We both enjoyed the salad and even asked for a second serving!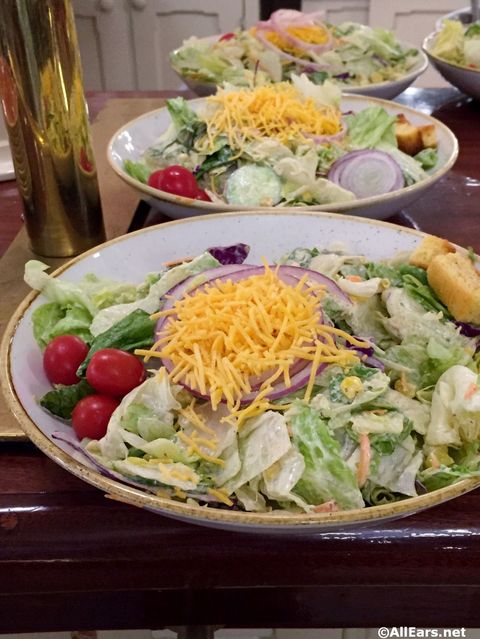 The cornbread is good and is served with a side of sweet whipped butter.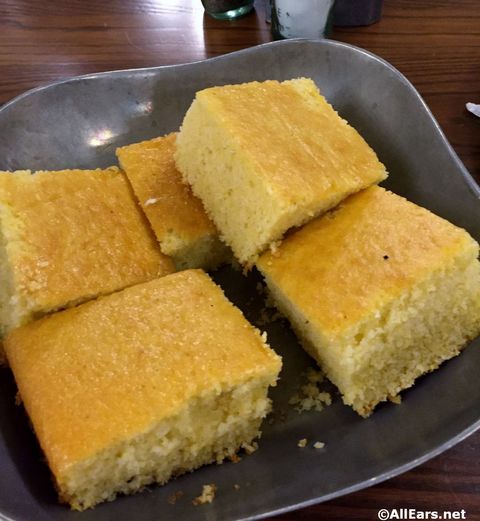 We each decided to order the turkey to begin the meal. I asked the server if we could receive smaller portions since we wanted to taste everything, but everything is the same size.
Of course, it really would have helped if I read the menu carefully. I have no idea why, but I was expecting sliced turkey. Imagine my surprise when BBQ turkey with jalapenos showed up! The turkey sat on top of a slice of cornbread and came with string beans.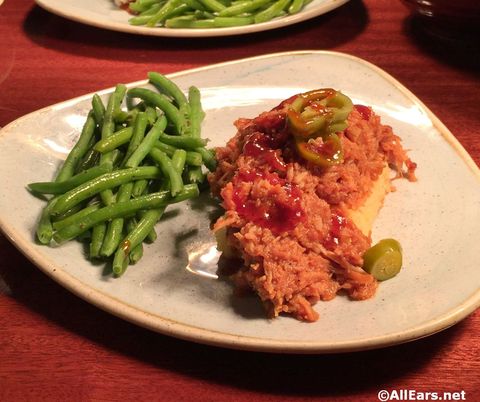 After pulling off the peppers, I started to eat the BBQ. I love BBQ, but this just tasted strange to me. Maybe it's because I was expecting sliced turkey, but I just couldn't wrap my head around turkey BBQ and didn't really care for it. Kathie liked it well enough, but agreed that it was odd.
Next, we ordered the spit-roasted ham with country beans and seasonal vegetables (again green beans). Again, I thought the dish was OK, but nothing special. Kathie, on the other hand, thought it was good.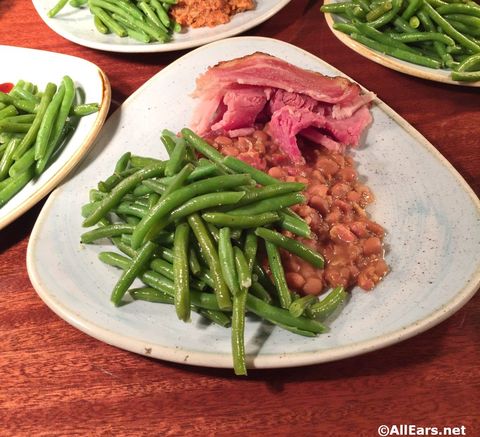 Finally we tried the stewed beef with mashed potatoes and, again, green beans. This was the winner to me, except it really wasn't a stew — more like a pot roast. It was VERY tender and had some flavor to it. I ate almost the entire portion of the beef.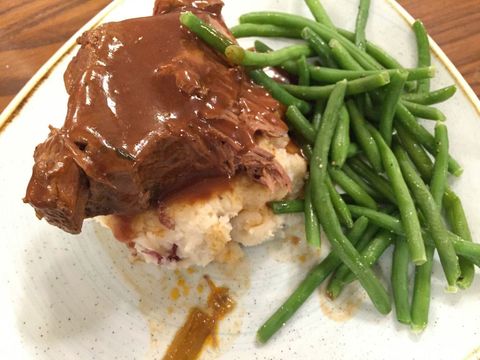 By this time we were both quite full and again commented how we wished the entrees had been available in smaller portions. From what we could see glancing around the room, the kids' portions appeared to be almost the same size.
There are two items for dessert, the Campfire Brownie and the Apple Tart. If you've eaten at Liberty Tree Tavern you've had the Apple Tart. The brownie was dense chocolate with a thin layer of toasted marshmallow on top, not exceptional. We both preferred the Apple Tart and found it quite tasty.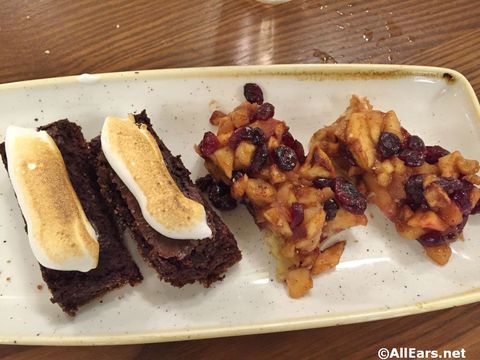 While there is no designated kids' menu, chicken tenders and grilled cheese are available.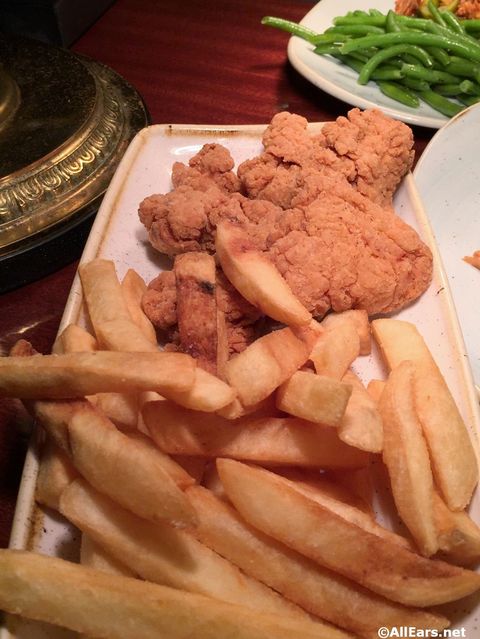 So what did we think?
If you are looking for basic, plentiful food, this is certainly a viable option. However, if you are like me, the Diamond Horseshoe might not be your best choice. Except for the beef I found the food average. It was a great place to escape from the packed Magic Kingdom and the air conditioning was nice and cool. As I mentioned before, our service was excellent. But I typically don't eat enough food to justify the cost of "all you can eat" dinner.
Speaking of cost, the bill for the two of us came to $83.97 ($33 per person plus tax and gratuity). Soft drinks, tea, coffee and milk were included. My Tables in Wonderland card was accepted for a 20 percent discount. (Kids ages 3-9 cost $19 plus tax and gratuity.)
Reservations are available for dates now to May 30th.
For a more traditional turkey dinner, you can dine at Liberty Tree Tavern for about the same price (depending on the season). Tony's Town Square will also run you about the same price (unless you order the steak.) The less expensive full service option is the Plaza Restaurant on Main Street (their food is good!). Your other full service/all-you-can-eat/buffet options in the Magic Kingdom are much more expensive: Be Our Guest, Cinderella's Royal Table and Crystal Palace. You can also dine at the new Jungle Navigation Co. Ltd. Skipper Canteen, but the food there is a bit more exotic.
So where would I go for dinner if I was spending time in the Magic Kingdom? If I planned far enough ahead for a reservation I'd go to the Plaza Restaurant. Otherwise, I'd probably head over to Columbia Harbour House for a much less expensive counter-service meal.
What are your thoughts on the full-service dining options in the Magic Kingdom?