Now in their fourth year, the Outdoor Kitchens at Epcot's Flower and Garden Festival are as much a part of the festival experience as the beautiful blooms. With multiple dishes and drinks at 13 kitchens, there is a lot of sampling to be done!
I attended the Tables in Wonderland preview on Friday, where I was invited to taste many of the new foods and beverages that will be available to the public, beginning Wednesday. Here are my thoughts about what you will find. Of course, different people have different palates, but perhaps my suggestions will give you a starting point in your culinary journey and help ensure you don't miss the best of what the festival has to offer!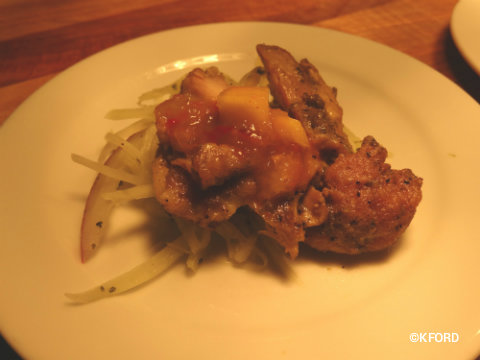 Jerk-spice Chicken
There are two new outdoor kitchens in 2016: La Isla Fresca and Cider House. La Isla Fresca is located on the World Showcase Promenade and will feature items inspired by Caribbean flavors. I tried the Jerk-spice Chicken with Mango Salsa Chayote and Green Papaya Slaw with Lime-Cilantro Vinaigrette and enjoyed it. Some guests at my table noted that the dish was a little spicy, but it did not seem overpowering to me. The booth also will have Jamaican-braised Beef with Pigeon Pea Rice and Micro Cilantro and, for dessert, Tres Leches with Guava Puree. Beverages will include Red Stripe Jamaican Style Lager and Frozen Simply Tropical Juice Drink (with and without Mango Rum).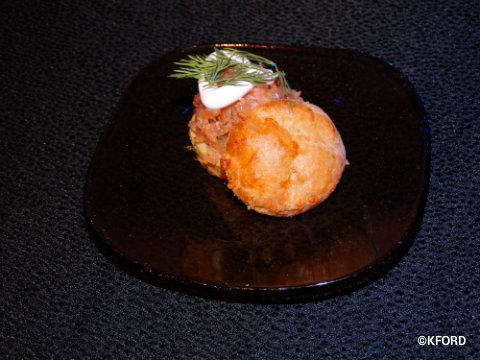 Cheddar Cheese Biscuit with Smoked Salmon Tartare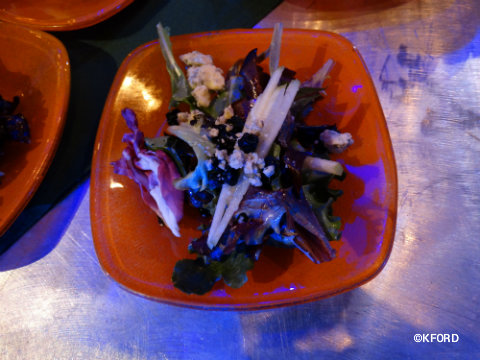 Land-harvested Field Greens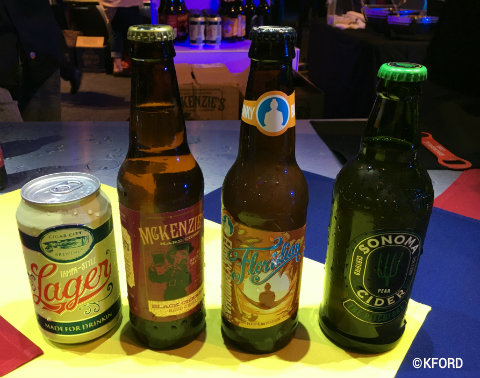 Cider House beverages
From Cider House, which is located in the United Kingdom, we could try the House-made Potato and Cheddar Cheese Biscuit with Smoked Salmon Tartare and the Land-harvested Field Greens with Apples, Dried Blueberries, Stilton Cheese and Apple Cider Vinaigrette. I'm not a big fan of fish so I skipped the salmon dish, but I really liked the salad and would purchase it at the festival. This kitchen also will feature Pear Cider-brined Shredded Corned Beef with Braised Cabbage and Pears and Branston Dressing and Freshly Baked Lemon Scone with Créme Fraiche and Mixed Berries. Cider House will, of course, have a selection of fruit-flavored hard ciders — pear, black cherry and blueberry — plus a sparkling cider. Guests also can try the Cigar City Brewing Tampa-style Lager by itself or mixed with McKenzie's Black Cherry Hard Cider to create a Snakebite. In addition, there is a beer and cider flight available.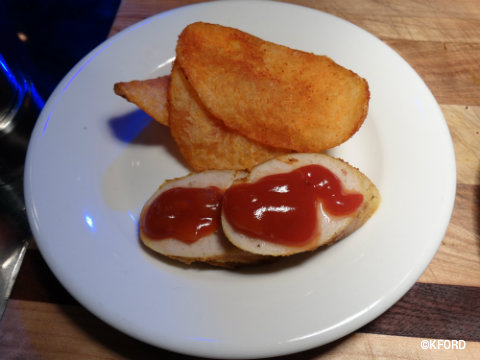 Currywurst with Paprika Chips
Armer Ritter
Bauernmarkt: Farmer's Market is returning to Germany after a two-year absence from the festival. At the preview, we could sample two dishes: Currywurst with Paprika Chips and Armer Ritter (Egg-battered Toast with Cherry Compote and Powdered Sugar). I didn't get a chance to try the currywurst, but I loved the Armer Ritter, which is like French Toast. The other new dish at Bauernmarkt is Chicken Fricassee with Green Asparagus and Peas served with Uncle Ben's Rice Pilaf. These items are paired with Hugo-Charles de Fere "Organic" Brut with Elderflower and Mint and a selection of lagers and beers and a beer flight.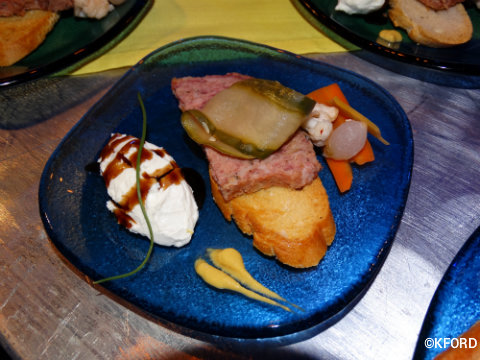 Florida Larder Board
The Florida Fresh kitchen has a new Florida Larder Board that contains all Orlando-sourced ingredients: Ricotta Cheese, Cahaba Farms Micro Onions, Extra Virgin Olive Oil and Balsamic, Country Pate and House-Made Pickles. I was told by pate lovers that this combination was delicious. Florida Fresh also has a new Kale Salad with Dried Cherries, Almonds, Goat Cheese and White Balsamic Vinaigrette that will be available at the festival. New drinks include Watermelon Cucumber Slush with Hendrick's Gin (or without), Sea Dog Acai Berry Hefeweizen and non-alcoholic Fresh-squeezed Watermelon Juice.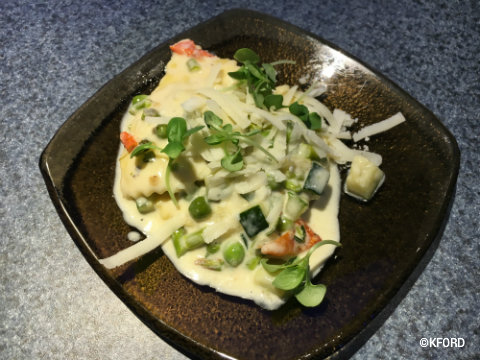 Mezze Lune Primavera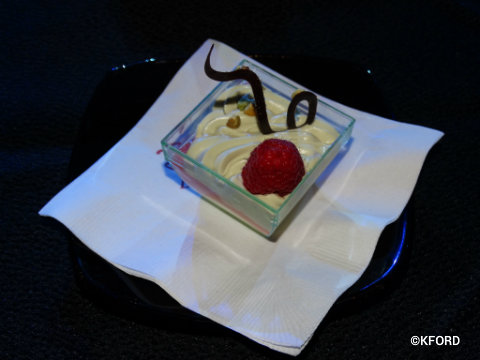 Cremoso al Pistacchio
Primavera Kitchen in Italy will be serving up a new version of its perennial favorite, ravioli: Mezze Lune Primavera (Egg Pasta stuffed with Ricotta and Spinach in a Creamy Sauce with Spring Vegetables and Pecorino Cheese). I tasted this at the preview lunch and enjoyed the mild flavors, which are sure to appeal to even the pickiest of eaters. The new dessert, Cremoso al Pistacchio: Pistacchio Cream, Strawberries and Mascarpone Cream, also offered muted flavors, but in this case, I found them to be more bland than tasty. The other new Italian dish guests can try is Pollo alla Parmigiana: Breaded Breast of Chicken, Tomato, Parmesan and Mozzarella Cheese.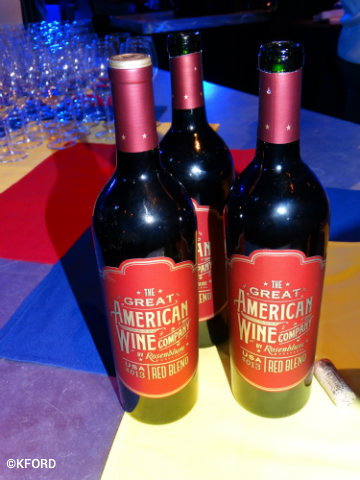 The Great American Wine Company Red Blend
Located at The American Adventure, The Smokehouse: Barbecue and Brews kitchen is always popular with festival-goers. There is one new meat dish this year — Smoked Pork Ribs with Roasted Corn Salad. Sadly, the Piggylicious Bacon Cupcake has been replaced with the Warm Chocolate Cake with Bourbon-Salted Caramel Sauce and Spiced Pecans. I'm sure I will try this new dessert at the festival, but the combination of flavors in the Piggylicious cupcake was something to look forward to all year. There also is a new beer, Orlando Brewing Company Uncle Matt's Organic Grapefruit Pale Ale, and a wine, The Great American Wine Company Red Blend.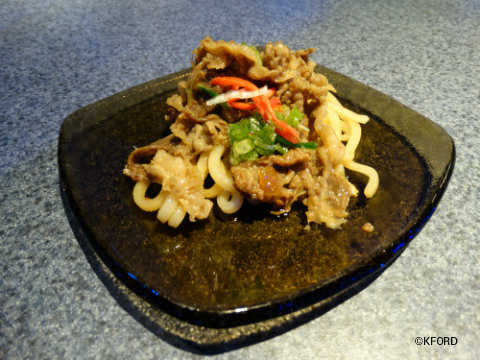 Beef Teriyaki Udon
At Japan's Hanami kitchen, be sure to try the new Beef Teriyaki Udon, which is thin-sliced beef, onions and noodles, tossed on the grill with soy and ginger. This dish was available at the preview lunch, and it was really delicious. Japan also is introducing Chicken Edamame Bun: Steamed Bun filled with Chicken and Edamame and topped with Curry Sauce and Suigei Sake this year.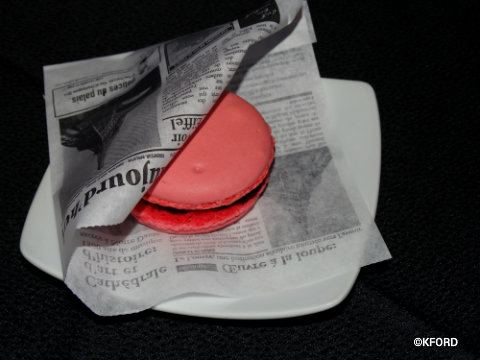 Macaron Chocolat Framboise
Even when it's not time for Epcot's Flower and Garden Festival, France is known for its mouth-watering desserts. But a new macaroon was so popular at the preview lunch that the station ran out before the end of the event! If you're a fan of macaroons, you'll want to make a beeline for the France kitchen to sample the Macaron Chocolat Framboise (Large Raspberry Macaron with Chocolate Fudge and Raspberry Jam). While you're there, you also might want to check out the new Tarte a l'Onion Alsacienne: Alsatian Onion Tart with Sauteed Onions, Fresh Thyme and Rosemary on a Flaky Puff Pastry Crust.
At the Tables in Winderland event, we also were treated to returning menu items that have become guest favorites. Among them: Watermelon Salad with pickled Onions, B&W Gourmet Farms Baby Arugula, Feta and Balsamic Reduction (Urban Farm EATS); Shrimp and Stone-ground Grits with Andouille Sausage, Sweet Corn, Tomatoes and Cilantro (Florida Fresh); and Beef Brisket Burnt Ends Hash with White Cheddar Fondue and Pickled Jalapenos (the Smokehouse). My family and I also look forward to the return of Frushi – Fresh pineapple, strawberries and melon, rolled with coconut rice, topped with raspberry sauce, sprinkled with toasted coconut and served with whipped cream on the side (Hanami); Pulled Pig Slider with Crispy Onions and Coleslaw (The Smokehouse); Beijing Style Candied Strawberries (Lotus House); and Pineapple Soft-Serve (Pineapple Promenade).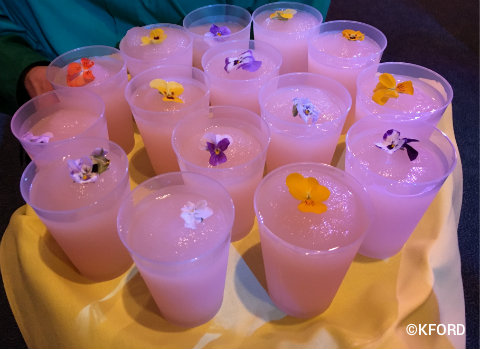 Frozen Desert Violet Lemonade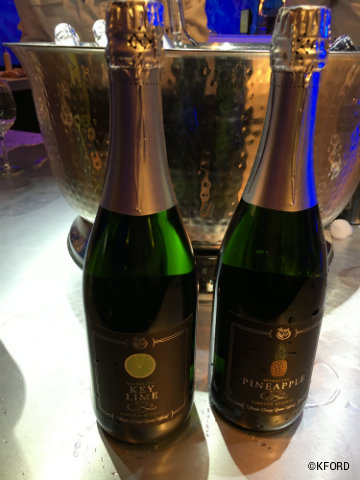 Sparkling Pineapple Wine & Key Lime Sparkling Wine
I also tasted three returning beverages that I somehow missed last year, and I won't make that mistake again when I'm strolling around World Showcase this year. Two of them are conveniently located at Pineapple Promenade at the front of the Showcase. Frozen Desert Violet Lemonade is a non-alcoholic drink that is presented with a real, edible flower garnish, and the Sparkling Pineapple Wine was appealing to someone who isn't a regular wine drinker. From the same winery, Florida Orange Groves in St. Petersburg, Fla., comes the Key Lime Sparkling Wine at Florida Fresh. Both wines were refreshing and sweet without being cloying.
Epcot Executive Chef Gregg Hannon gives his recommendations for guests with different food preferences in the video below:
Find out how to pair beverages with the dishes at Epcot's Flower and Garden Festival, as well as what not to miss this year, in the video below:
DISCLAIMER: I was a guest of Walt Disney World for its Tables in Wonderland Epcot Flower and Garden preview event. My opinions are my own.