The Walt Disney Co. has announced a new initiative that is designed to inspire girls in particular, and kids in general, "to realize their full potential and dream big." The "Dream Big, Princess" campaign launched last week with stories of real girls who share the qualities of other strong women, the Disney Princesses, and are role models themselves.
Over the next year, "Dream Big, Princess" will be celebrated with new themes each month tied to the Disney Princesses, such as kindness, friendship and adventure. Stories of girls who have dreamed big have debuted on the Company Clips channel at Disney Parks hotels and cruise ships. The first featured a 16-year-old pilot Canadian, Texas, and a 14-year-old world champion rock climber from New York City.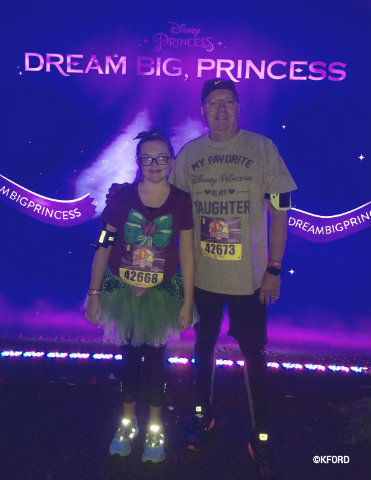 The campaign had a natural fit this past weekend with runDisney's Disney Princess Half Marathon Weekend at Walt Disney World. The campaign slogan was displayed on a photo background near the corrals for the 5K, 10K and half marathon races, and runners were invited to pose with photo props that had words of encouragement and congratulations.
The "Dream Big, Princess" campaign also was highlighted in Sunday's television special, "The Wonderful World of Disney: Disneyland 60." Actress Kerry Washington introduced a montage of clips from Disney Princess movies by saying, "From the beginning a hallmark of Disney feature animations and films has been starring roles played by strong, female characters. These heroines have gone far beyond battling the Evil Queens and Wicked Stepmothers. They believe their own paths; run kingdoms, or queendoms; and master powerful forces that leave us in awe, proving once and for all that girls do rule."
In the clips, celebrities talk about the importance of what girls see on the screen — and that it needs to be a reflection of themselves as well as the women they want to emulate. In addition, girls need to own their own power and to fight for what they believe in. In other words, they need to be strong and they can be anything they want to be; they dream big.
On Friday, Feb. 26, Disney Junior reaches out to the youngest princesses with its "Day of Big Dreams" from 8 a.m. to 2 p.m. on Disney Channel.
To support the new campaign, Disney Consumer Products has released quite a few products with the slogan. "Dream Big, Princess" is emblazoned on everything from nightgowns to coloring books. And kids can visit the official Disney Princess website and follow @TheDisneyPrincesses on Instagram for inspiration and a fun look at the princesses.