This week starts the official beginning of the holiday shopping season with Black Friday (the Friday after Thanksgiving Day in the United States). Though it seems each year, it is more like as soon as Halloween is finished, Christmas shopping commences. Well, no sense complaining as we jump into Holiday Shopping at Walt Disney World.
The Celebrity 5 & 10 shop on Hollywood Boulevard in Disney's Hollywood Studios has a place where you can get several kinds of gifts personalized by Cast Members.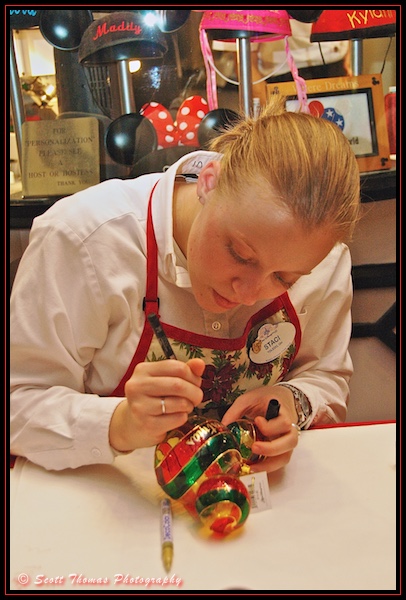 Disney's Hollywood Studios cast member personalizes a Christmas tree ornament for a guest.
Nikon D70/18-200VR, 1/60s, f/5.6, ISO 1600, EV +1.0, 38mm Focal Length.
Happy Thanksgiving and Happy Shopping this week!