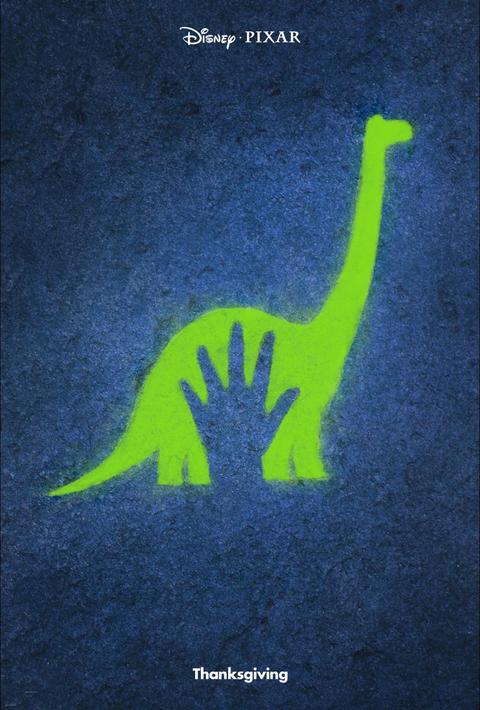 Coming out this week is Pixar's latest film, "The Good Dinosaur." Helmed by Peter Sohn, it follows Arlo the dinosaur as he tries to navigate his way past his fears in order to make his mark on the world.
[All photos and video courtesy of Disney/Pixar.]
At a recent press day, some of the cast and creatives sat for roundtable discussions about the movie and their thoughts on it.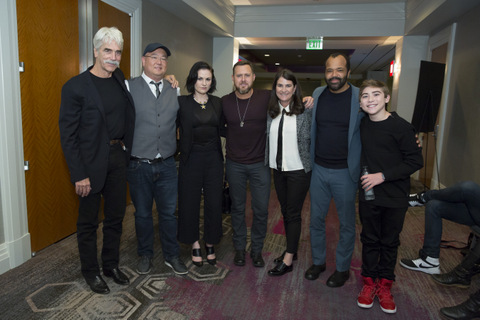 First up was Jeffrey (Poppa) Wright, and Raymond (Arlo) Ochoa.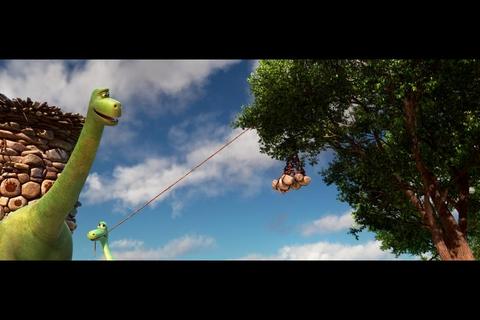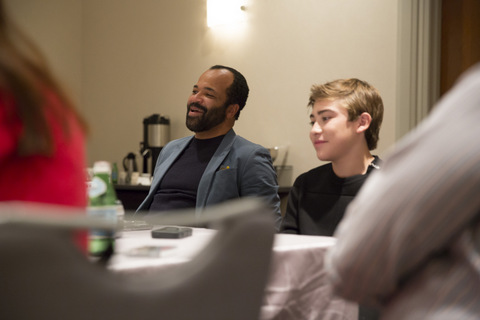 Jeffrey Wright: [On what the movie says about fatherhood.] "…That's the core issue/challenge for Papa, for my character. And so, what I tried to draw on in order to understand the emotions and the dynamics of…this relationship, was to draw on my relationship with my son and my daughter. And it's a lesson I think that, we all, if we're trying to be responsible parents, come up against in our work with our kids. It's really the central question of how–what level of encouragement or what level of…when pushing your kids does more damage than good. And how do you strike that balance between a nurturing posture and one that's a bit too overbearing? All parents go through that. And so that's what is so wonderful about this movie, because you are experiencing this movie through the relationships you have through either your parents or your children. So we, as audience members, therefore bring a lot to the table as we're watching this. I think it's a fantastic story to take in–for parents to take in with their kids, or for kids to take in with their parents.
"…And on Thanksgiving, too, I mean, come on. What else you gonna do, right?"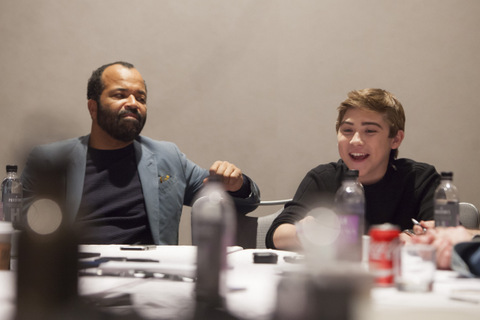 Raymond Ochoa: [On what he liked best about the movie.] "Well, on a movie side, where it's like, 'what is your favorite scene?' That was really when my Papa takes me out to the field and he shows me when you move your tail these fireflies come out…and I like that scene so much because I felt it was a bonding moment between me and my dad, and the reason why is because later on, I do the exact same thing to Spot. I show him the fireflies. And I felt like I connected with him in a bonding moment.
"…You know at the beginning of the movie, I hated Spot. I did not like him. So, to know the change in the level between you not liking him and bonding with him, like he's my pet, that's what I found so cool about it."
Following them was AJ (Nash) Buckley, Anna (Ramsey) Paquin, and Sam (Butch) Elliot.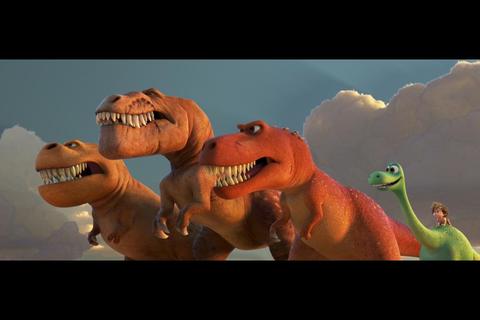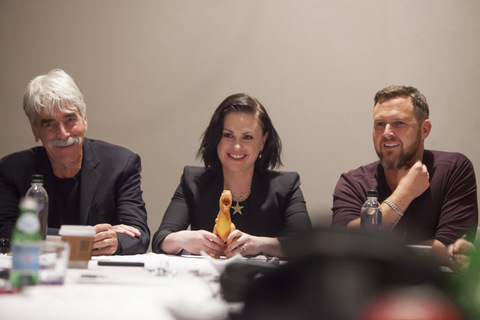 Anna Paquin: [On getting called to be a Pixar character.] "Well, I'd already said yes before they actually told me what I was about…and, I want to say that they seemed ever so slightly nervous that I might be offended that they wanted me to be this like, big, bad-ass T-Rex, that I was…I was so bracing myself to be like, some little thing like this, that's really wimpy, 'cause I'm a girl. And I'm like, 'That's fantastic!' And they're like, 'really?' And I'm like, 'yeah, that's awesome! I get to be, you know, one of the dudes.'
"Except a girl! Even cooler!"
AJ Buckley: [On developing his character.] "I asked (Pete Sohn) when we sat down, 'why did this happen?' He said, 'I saw your character on Justified, and I loved the sound of your voice.' And these guys were already cast, and they took scenes from Justified, and examined it, and mixed it with them, and it fit, and I was like, 'okay.' He said, 'I just want you to do Danny Crow,' and Danny Crow on Justified was this horrible, like, sociopath…And I'm like, 'Huh?' So…We were trying to find the voice and I was trying to figure out like, how to be a dinosaur…and so, my character on the show chewed–on Justified, chewed. So, I needed chew. And they only had Jolly Ranchers there. So I picked up a Jolly Rancher, and put the Jolly Rancher…in my lip there, and Nash came out."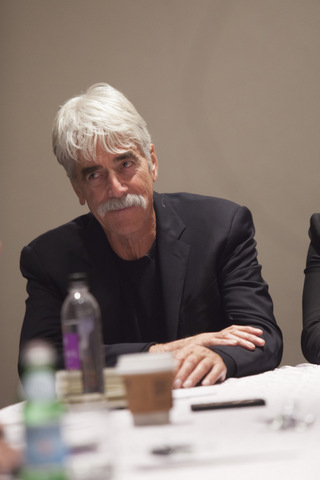 Sam Elliot: [On being part of the Pixar legacy.] "Well, I think it's huge. For obvious reasons. It's huge for me, personally, because the 25th of November, if my mother were still living–she passed away three years ago–would've been her 100th birthday. So that's like, a milestone for me. But, I mean, anytime you get to be involved with a company like Pixar, it doesn't matter what day it is, or date it is, or anything else. I mean, this is a gift. I just look at this as a gift, and a grand opportunity, over the long haul…and the great reward is gonna be on Tuesday. I'm going to be seeing it with an audience, see it with my family, and I know my mom's up there, thinking, 'that's my boy.' Pretty cool."
The next session was with Director Peter Sohn and Producer Denise Ream.
Peter Sohn: [On being the Pet Collector.] "Every character that Arlo meets was all in terms of support of Arlo's journey. In terms of the world, of the frontier, that he was kind of this…transient character that's been living out in the woods too long. But it was almost meant to represent…the end-of-the-line version of Arlo. Like, if he was stuck out in the woods, would he be afraid of everything…and so terrified that he would come up with these protection things that would project him from there. Like, would Arlo fall into this world. 'You have to keep him, so that he can protect you.' And never grow up, essentially."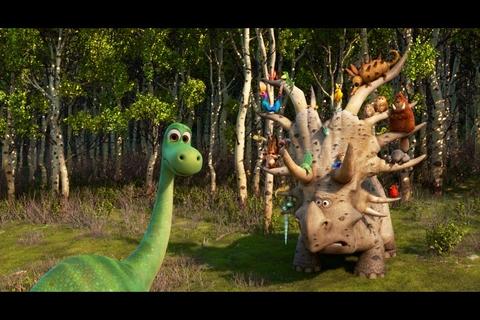 Finally, from the fantastic short "Sanjay's Super Team," we had Director Sanjay Patel and Producer Nicole Grindle.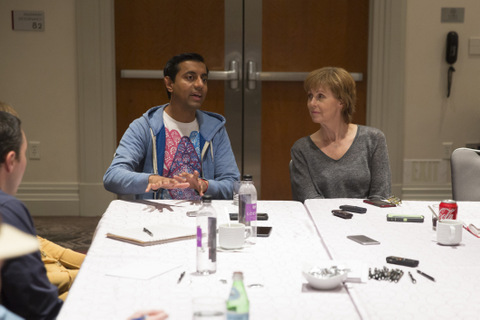 Nicole Grindle: [On conceiving the short.] " So, Sanjay has written a number of books. He's been at Pixar for 20 years, doing traditional Pixar animation, art, but over the years, he developed an interest in pursuing South Asian art and learning more about his culture, and that led to him writing these books, and that led to there being several shows of his work at the Asian Art Museum.
"And eventually some folks at Pixar sort of figured he was doing all of this cool stuff. And they said, 'oh. Let's bring your artwork in-house. Let's do a show at Pixar.' We do that every now and then. And when we did that, John Lassiter saw this show, this beautiful artwork, and said, 'Sanjay, you have to make a short film.' That's not usually how short films are chosen at Pixar. People don't usually get invited. So, Sanjay was invited to do this and he said, 'no,' at first. He didn't want to do it, it wasn't what he had set out to do. And he was eventually persuaded to do it."
Sanjay Patel: [On the emptiness of the portrayed home environment.] "This is an immigrant that left all of that ethno-stuff back in the home country, and they got nothing here in some part of Southern California…that choice was really, really important to me and the artists that we were explaining this to, they got it instantly. Especially the immigrants. They were like, 'oh, I had apartment like that, we got it.' And, you know, story-wise, there's other reasons why we did this…it's incredibly important that that room have–it's kind of like this room. There is…nothing in here. And it really creates a vacuum. So, imagine if there's a big-screen TV in here, playing awesome cartoons. Of course this kid's gonna escape into that world, because his home is just this beige-on-beige box, without detail, without color, without any kind of interest. We save all of that for when he wakes up in his daydream–that's the payoff. And that's also the truth of most immigrants. The truth of my parents' experience as well."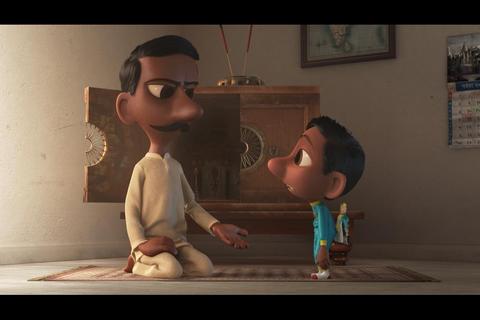 Sanjay Patel: [On the importance of representation.] "When you don't see any reflection of you, or your community, or your parents on TV, or in pop culture, other than a show, you just kind of figure out a way to exclude yourself. You figure out a way to…not be included, or you're suddenly told that you're…not important. You don't matter.
"This is the number one reason I wanted to make this short. This is the number one reason, that I have nieces and nephews, and…I make all this great stuff for Pixar, but they were never going to get stuff that had any reflection from–that looked like their families, and so the second I had this opportunity, that was the purpose for me."