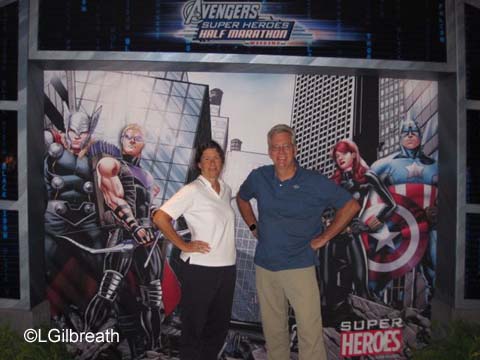 The third stop on our Eat, Drink, and Run tour was Avengers Super Heroes Half Marathon Weekend at Disneyland. Our first event was the 10K on Saturday. But we didn't get off the cruise ship until Friday morning. Makes for tight timing when have to fly cross country so you can get to the Race Expo before it closes on Friday.
When we first talked about this trip our friend Eddie had the brilliant idea that we should fly in/out of John Wayne Airport in Orange County rather than from San Diego – thus saving ourselves the hassle of trying to get from San Diego to Orange County during Friday afternoon traffic. It worked out great. By driving to John Wayne Airport (SNA) and flying from there we could leave our clothes/costumes for the Disneyland portion of the trip in the car (and Lee had a couple of large costume pieces), and have our car for transportation to Disneyland and then back home after the race on Sunday.
As an added bonus – SNA is a REALLY nice airport! We were very impressed. Even the TSA people were very nice!
I used snagaspace.com to pre-pay for parking at a hotel near the airport, which saved us over 40% of what we would have paid for airport parking. The hotel shuttles were very efficient and the process worked very well.
Friday afternoon traffic in Orange County was still a bear, and it took us almost an hour to get from the parking lot to the Grand Californian. Yikes. But we still arrived about 6:00 – plenty of time to hit the Expo and pick up our bibs and shirts.
I really liked the red (half marathon), white (10K), and blue (challenge) shirts! Just wish they were short sleeve.
We visited the official merchandise area. There was still some variety left, but a lot of things were sold out. I think all of the magnets were still available, but of the mini medal pins only the 1/2 marathon and Coast-to-Coast pins were left. And there were NO race pins at all. Apparently this time they were ONLY available as pre-orders. I know a lot of people were disappointed about that.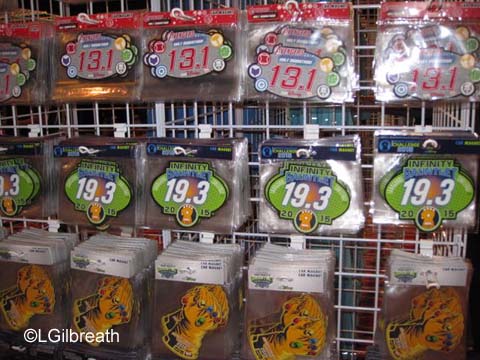 All of the "I Did It" shirts were available.
Eddie had picked up this Hawkeye shirt for Lee earlier in the day, just in case, but they were still on the rack when we arrived.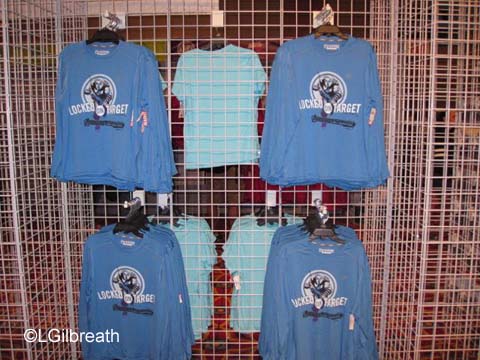 And Lee also liked this "Avengers Race Weekend" shirt.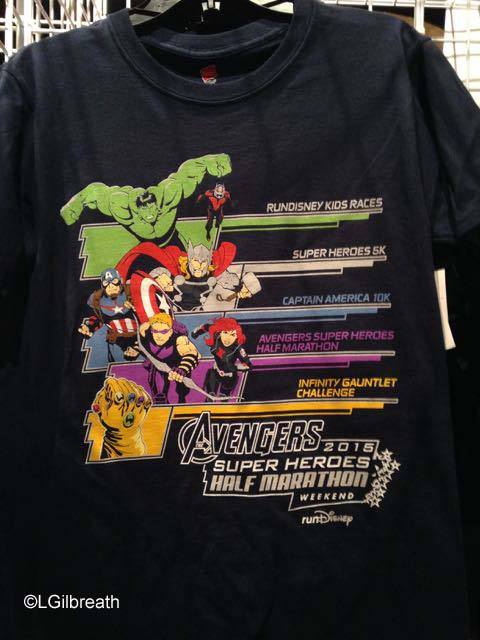 We didn't wander around the rest of the Expo because we still needed to check into the hotel AND we were hungry! It was going on 10:00 for us by then, since we'd come from the east coast.
After dinner we finished unpacking and getting our costumes ready for the next morning, and set the alarm for 3:45.
Saturday – Captain America 10K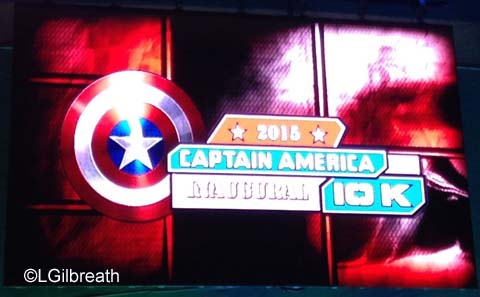 3:45 doesn't seem nearly as early when you've just come from the east coast. 🙂 We'd brought bagels and peanut butter, and had purchased yogurt in Whitewater Snacks the night before so we had something to eat before the race.
We met several friends in the pre-race area – four of us were in costume. Since it was the Captain America 10K, Lee dressed as Captain America (and he had the shield strapped to his back!), and I went as Agent Peggy Carter. As you might expect there were a lot of Captain Americas in the race, but I only saw a few other Peggys.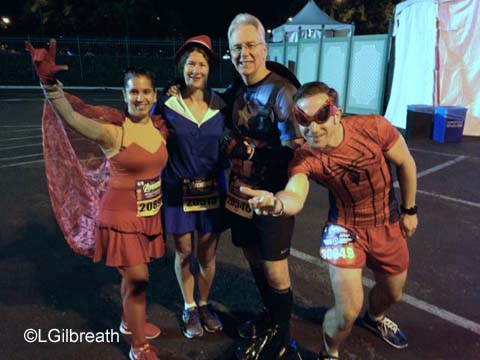 The weather was absolutely perfect! 52 degrees, low humidity, almost no wind. I wore a trash bag and arm sleeves while waiting for the race to start, but even without the trash bag I think I would've been ok. Once I started running I was very comfortable, and didn't need the sleeves after mile 2.
When we picked up our bibs the night before we were very surprised to find that we were assigned to Corral A for both races! The same proof of time had put us in D for Wine and Dine. There must be more serious runners in the Florida race. We had both worked pretty hard earlier this year to improve our time and ran a couple of fast (for us) races. We were about 2/3 back in Corral A, but it was still nice to get a better view of the pre-race festivities.
A wonderful trio called the "Nightingals" sang the National anthem.
And then we were off. Though this was a new 10K, it followed the same 10K course used by the Disneyland 10K. We ran down to the Convention Center, turned left, then came back up Harbor Blvd and went backstage behind DCA. That put us just about the two-mile mark. The rest of the course was on Disney property.
Because we were in Corral A, we were hoping the character lines wouldn't be too long and that we would be able to get photos with them during the 10K, since lines would be much longer during the half marathon.
The first character we saw was Thor. It took us over four minutes to get through that line.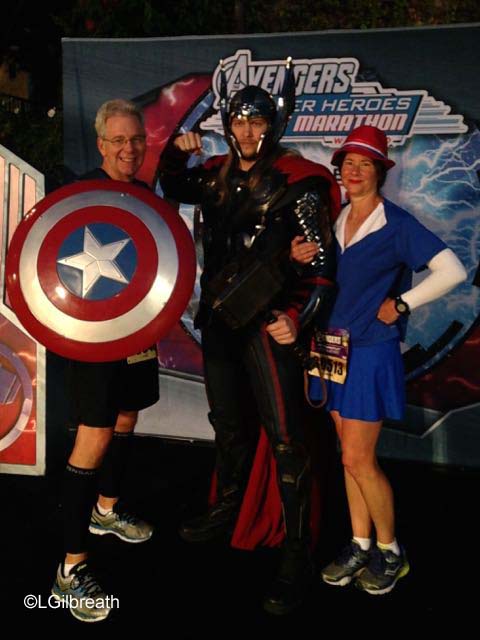 Next was Black Widow. That line was much shorter – only 8 or so people in front of us.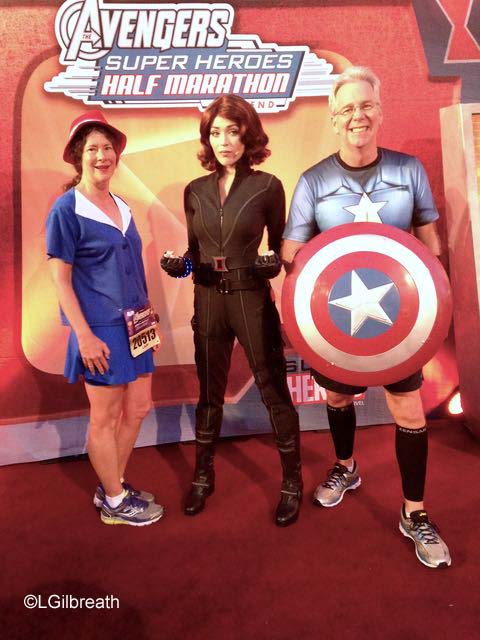 We crossed over into Disneyland, where we stopped for a photo in front of the new Super Hero HQ in Tomorrowland.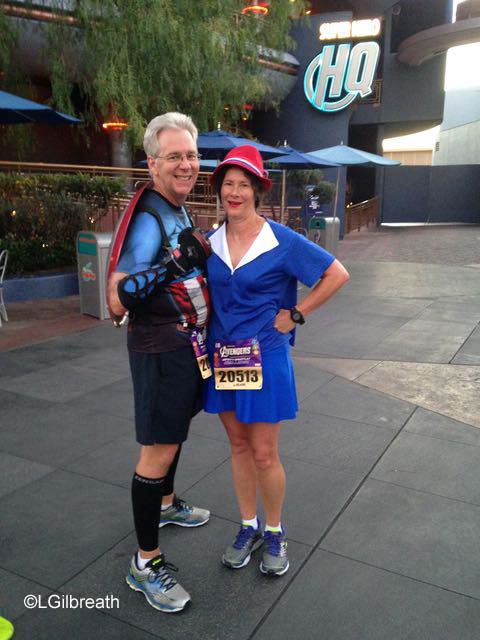 The line for Hawkeye was very short – just 4 people.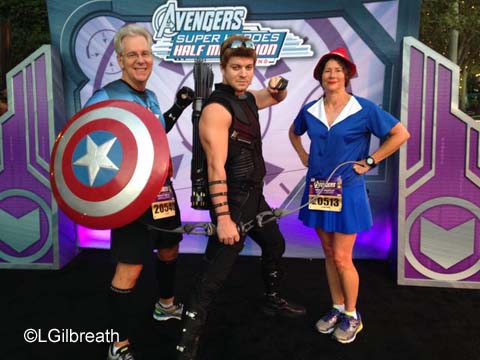 Then we wound around backstage for a while.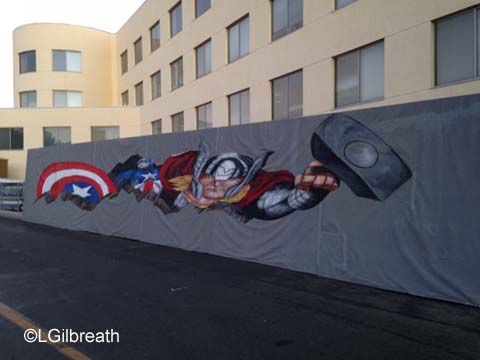 We passed the mile 5 sign in Fantasyland. All of the mile signs had Infinity Gauntlets with a different gem and word on them.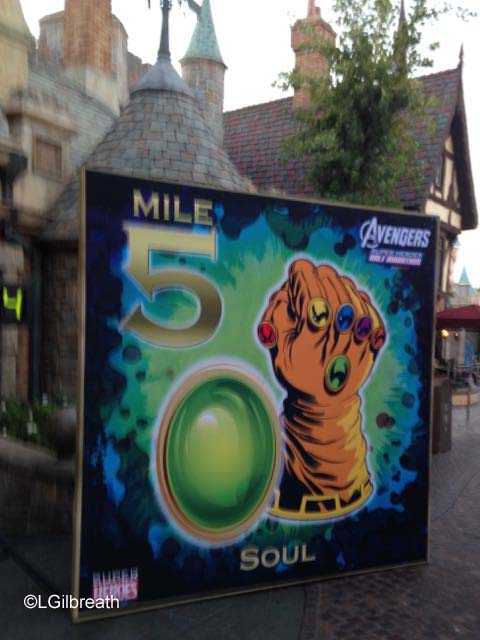 Captain America was in Frontierland. Given how we were dressed, we were going to stop no matter what, but the line was actually pretty short – only about 10 people in front of us. And it was the Best Character Stop Ever. 🙂 He greeted me as Peggy Carter and gave me a big hug. Then he decided that I needed to be on his other side so he picked me up (with one arm) and swung me around to the other side. The cast member who had my phone did a great job of capturing the moment. It was awesome!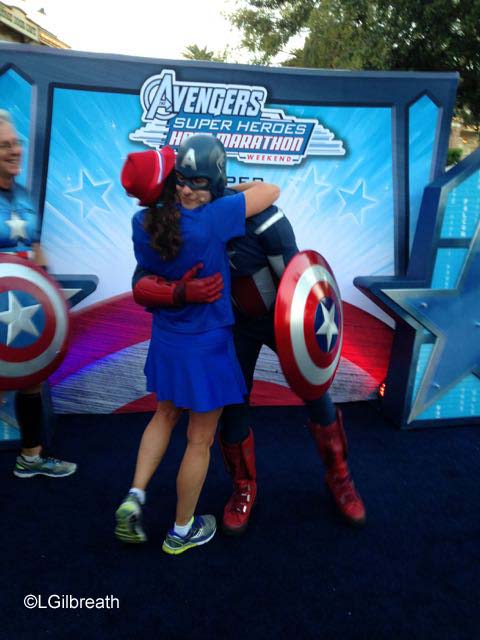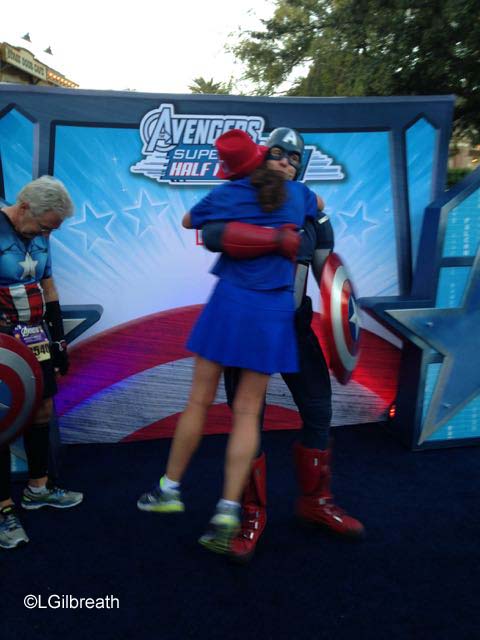 And then he posed with Lee, too. 😉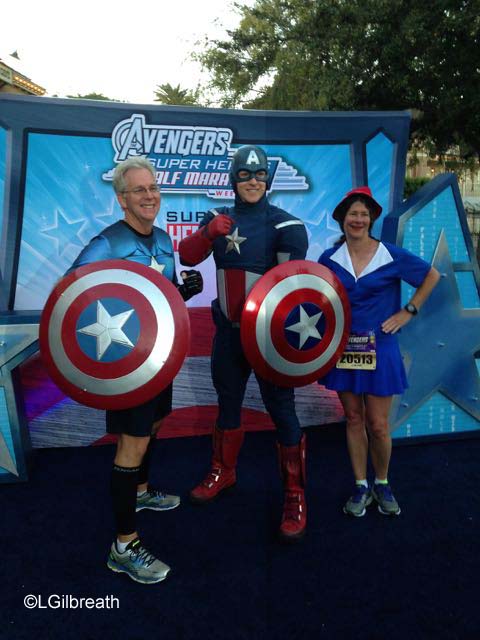 I think I floated for most of the remaining mile of the race…
We found our friend Beci cheering in Downtown Disney not long before the finish line.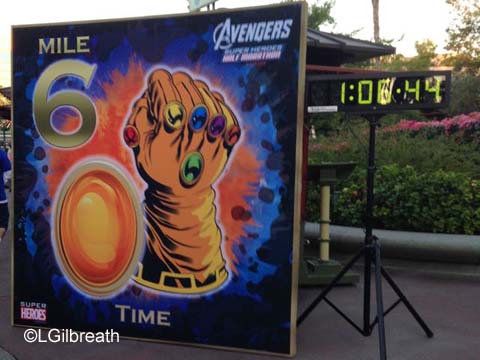 I got a shout out as Agent Carter when I approached the finish line – that was fun. Actually, during the race I had a number of people cheer me on as "Peggy" or "Agent Carter", so I was pretty happy with my costume choice!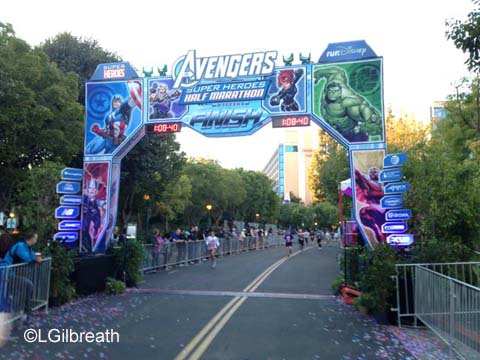 Even with our photo stops we finished in 1:07:52. I was very pleased with that! Amazing what cooler weather does for my speed.
It was still in the low 50s when we finished, so the volunteers were handing out mylar sheets in addition to our race medals. We didn't linger in the finish area – just took a couple of photos and then went back to our room.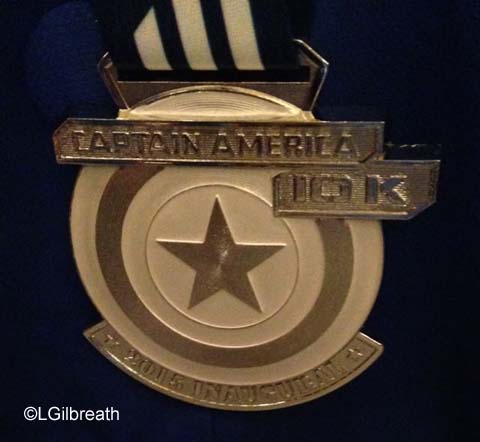 We had to cross the race course near ESPN – there was a S.H.I.E.L.D. agent there. We knew from previous experience that if we went left to get to the Grand from the Downtown Disney entrance we'd have to try to cross the race course at least twice more, so instead we went down to the Paradise Pier and crossed Disneyland Drive there and used the main entrance of the hotel. Much faster.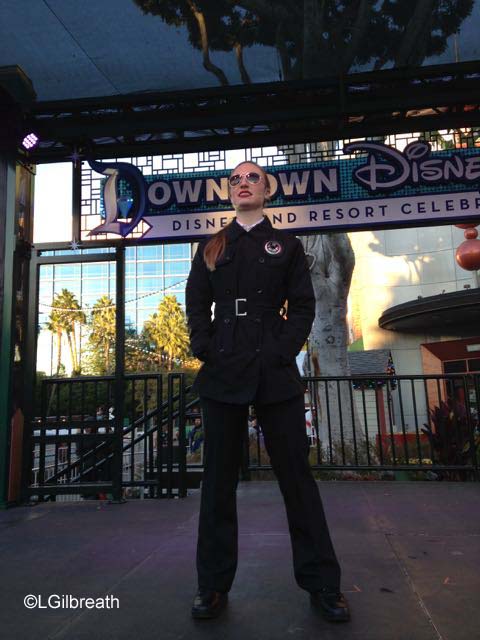 We went to the Hearthstone Lounge for some warm beverages and our friend Ellie spotted us in there and came in to say hi. It was wonderful to see her.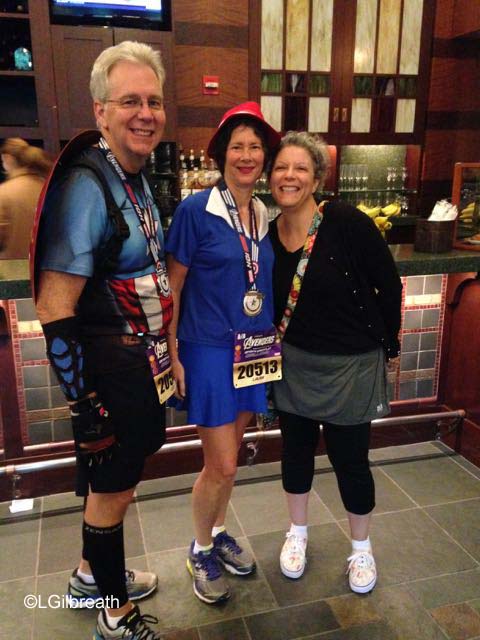 I had a great time in this race. I LOVE the 10K distance. The theme was a lot of fun, and I really like this 10K course. Having the first two miles outside the parks helps spread the pack out so that it's not so congested when we get inside the parks. This was also a pretty small race – just under 7,000 finishers. We had really good character interactions though had we been further back in the pack with longer lines I probably would not feel quite the same. (We heard that the lines later on were 30 minutes long!) My only real complaint is that there were only four character stops. No Disney characters on the course at all. Why couldn't they dress some of the Disney characters as super heroes, or at least bring out the Incredibles?
So…Part 1 of the Infinity Gauntlet Challenge complete – bring on the half marathon!