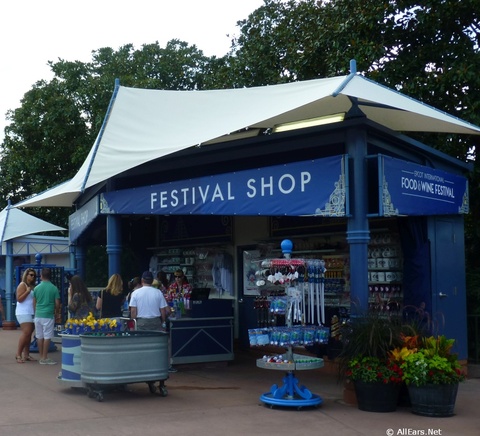 Even though I am, admittedly, not much of a shopper, I do like to poke around the shops during the special events at Epcot. Last week found me nosing around the Epcot International Food and Wine Festival's Festival Center shop and the other Festival Shops scattered around the theme park's World Showcase to see what new, unusual and festival-specific merchandise was available.
One of the first things that caught my eye was this adorable Figment plush ($14.95)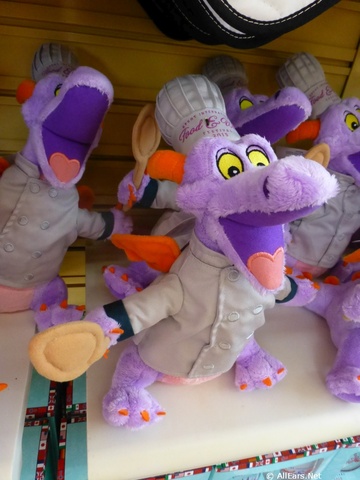 I know everyone loves Figment, and it turns out that Figment is the star of the festival character merchandise this year, along with Mickey of course. He is featured on all sorts of things…
This t-shirt ($24.95)…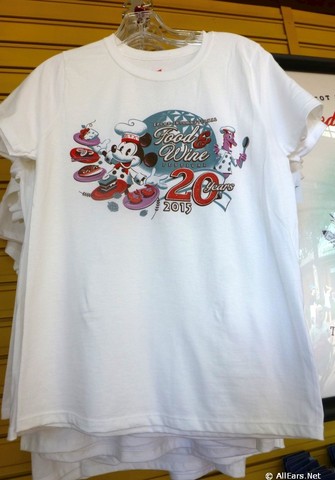 (You can also get the same shirt with sparkles for $32.95.)
Chef's toque ($19.95), apron ($26.95) and potholder ($12.95) …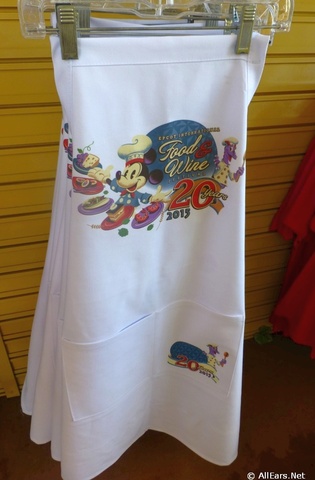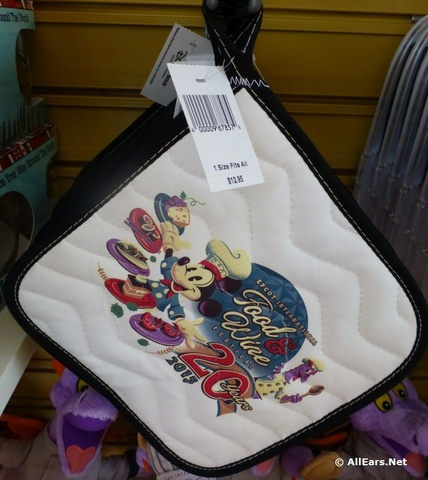 You'll find a lot of non-character merchandise that marks the festival's 20th anniversary, too. I especially liked this giant-sized coffee mug ($14.95), which just MIGHT hold enough caffeine to get me started in the morning: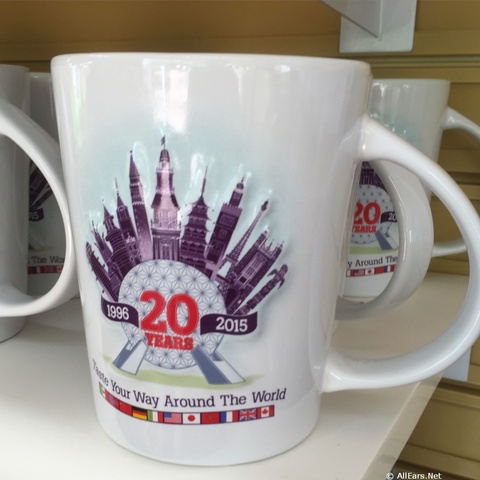 I also thought these logo trash can salt and pepper shakers ($9.95) were too cute!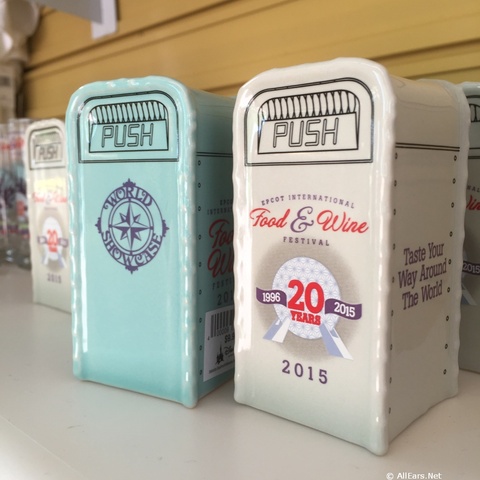 And of course there's the requisite t-shirts ($27.95):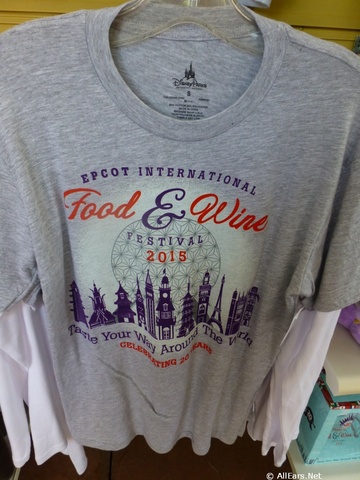 Caps…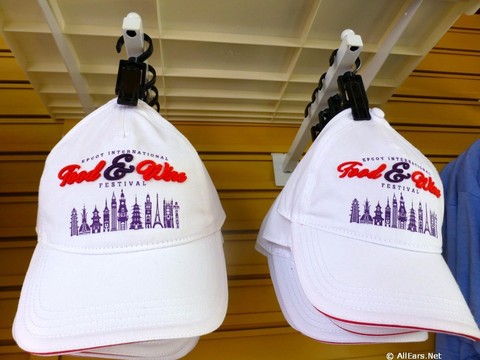 And assorted glassware (shot glasses, etc.) and other drinking vessels, including this fancy, dishwasher-safe, insulated tumbler that keeps cold drinks cold and hot drinks hot ($24.95):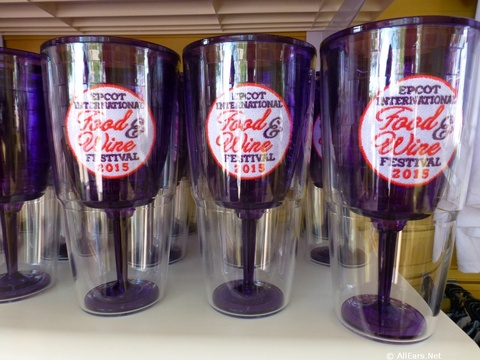 If you're looking for something new without the festival logo, you might want to go for the "Brews" line of merchandise. I think this line was started last year, but this year the items are really eye-catching, particularly this cap with a built-in bottle opener for those who never want to be caught unprepared ($24.95):
Of course, there are t-shirts to go with it ($27.95)…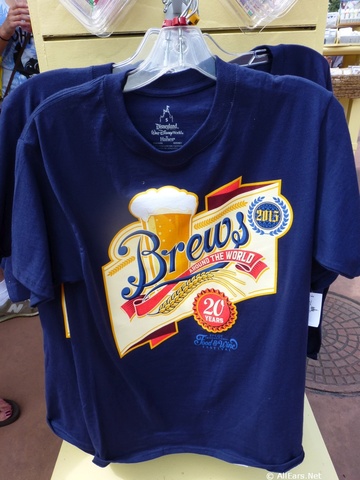 Each year, the festival publishes a cookbook with the recipes from the menu items found in the Festival Marketplaces. This year's book is a real item to treasure, though — it's a lovely hardbound book ($24.95), with a history of the festival over the past two decades. It's going on my cookbook shelf, for sure!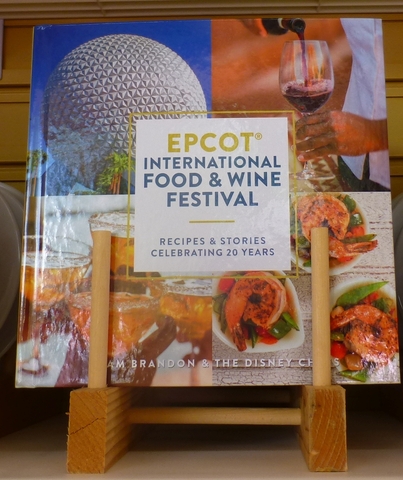 If you'd like to carry your own utensils with you, the festival has thought of that, too — the shops offer a branded plastic knife, fork and spoon set in a convenient container ($14.95).
I'd be remiss if I didn't mention the festival poster ($24.95, or $209.95 signed and framed). I apologize for the glare, but no matter where I went, it was a problem:
And of course there are Limited Edition festival pins — this one is $14.95: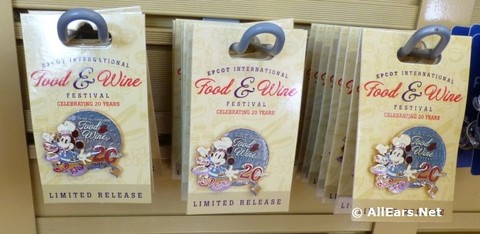 Speaking of pins, you have the chance to get some fun pins if you play the new Remy's Hide and Squeak scavenger hunt. Buy a map at the shop at the World Showcase Plaza for $9.95 then look for hidden Remy's around the International Marketplaces, affixing the appropriate sticker to the map when you spot him. Return the map, and receive your choice of one of eight different Remy pins. (Of course, party-poopers like me who don't have the time or desire to find the hidden Remys can pick up their pin when they purchase the game map!)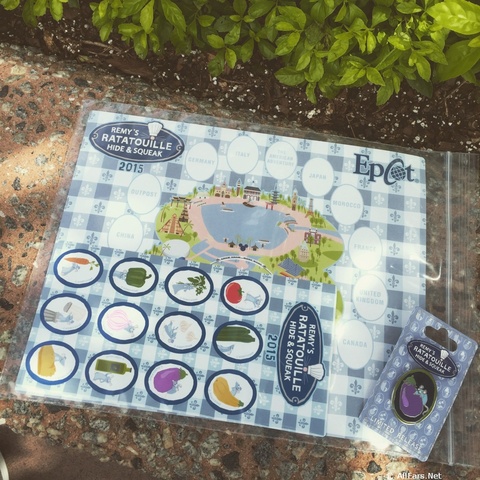 I had the chance to speak with Ashley Taylor of Park Event Operations about the merchandise and some of the festival's special packages, too. You can see our little chat here:
Hope this helps you decide what you're going to be spending your festival souvenir dollars on!
Happy shopping!