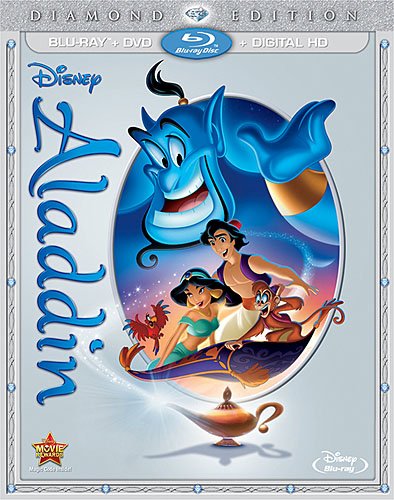 Discover How Three Wishes Can Change Everything in Disney's Timeless Adventure
for the Whole Family Available for the First Time on Blu-rayâ"¢ and Digital HD!
Enjoy This Magic Carpet Ride of Non-Stop Comedy on
Digital HD and Disney Movies Anywhere (DMA) — Sept. 29
and on Blu-ray Combo Pack — Oct. 13
Synopsis: Disney's beloved masterpiece will make your heart race and your spirit soar. Experience the laughter, adventure and Academy Award®-winning music (1992: Best Music, Original Song, "A Whole New World," Original Score) for the first time on Blu-ray and Digital HD. And now Aladdin shines even brighter with never-before-seen tributes to the enchanting talent of Robin Williams, the "Genius behind the Genie."
Voice Cast: Robin Williams (Jumanji, Night at the Museum) as The Genie, Scott Weinger (TV's "Full House") as Aladdin, Linda Larkin as Jasmine, Gilbert Gottfried (TV's "Saturday Night Live") as Iago, Jonathan Freeman (Aladdin: the Musical on Broadway) as Jafar, Douglas Seale (The Rescuers Down Under, For Love or Money) as Sultan and Frank Welker (Mulan, The Smurfs 2) as Abu.
Producers/Directors: John Musker and Ron Clements (Moana, The Little Mermaid, Hercules)
Writers: Ron Clements and John Musker (Moana, The Little Mermaid, Hercules); Ted Elliott and Terry Rossio (Shrek, Pirates of the Caribbean 1-4)
Music & Lyrics: Alan Menken – Music (The Little Mermaid, Beauty and the Beast, The Hunchback of Notre Dame), Howard Ashman – Lyrics (The Little Mermaid, Beauty and the Beast), Tim Rice – Lyrics (The Lion King, Evita)
Release Dates: September 29, 2015 (Digital) & October 13, 2015 (Physical)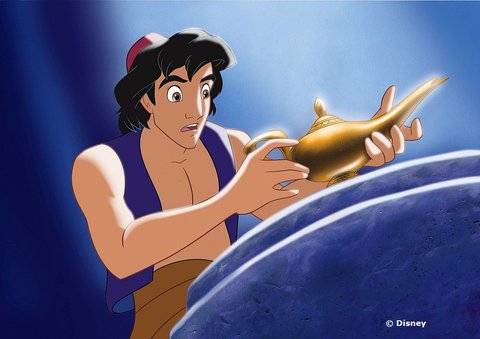 Blu-ray & Digital Bonus Features:
The Genie Outtakes – Robin Williams' Genie outtakes are magically brought to life
Genie 101 – Our host, Scott Weinger (the voice of Aladdin), takes us through the various transformations of the famous (and formerly famous) celebrity references of the Genie
Ron & John: You Ain't Never Had a Friend Like Me – Directors John Musker & Ron Clements sit down and discuss the experiences of their long-running partnership together at Disney
Aladdin: Creating Broadway Magic – Join host Darren Criss as we take "a new fantastic point of view" at the story of how Aladdin went from a classic Disney animated film to become Broadway's smash hit with composer Alan Menken and others
Unboxing Aladdin – Our host, Joey Bragg from Disney Channel's Liv & Maddy, explore the Easter eggs and hidden secrets of Aladdin in this unboxing video
Classic Bonus – ALL classic bonus from the original DVD release
DMA Exclusive: Deleted Song – "My Finest Hour" – Jafar takes the stage in this never-before-seen deleted song. Includes intro from Ron & John.
DVD Bonus Features: Select Classic Bonus, including:
– Deleted Song / "Proud Of Your Boy" (Original Demo Recording)
– Deleted Song / "You Can Count On Me"
– Deleted Song / "Humiliate The Boy"
– Deleted Song / "Why Me"
– Deleted Scene / "Aladdin & Jasmine's First Meeting"
– Deleted Scene / "Aladdin in the Lap of Luxury"