To all who come to this photo trivia game, Welcome! Along the way, the photos can make us relive memories and see details Walt's Imagineers put into everything we love in Walt Disney World!
Now for Challenge #392:

And here's the answer:


Copyright © Erin Blackwell
The sign for Fossil Fueler in DinoLand, Disney's Animal Kingdom!
Ken Jackson were the first to send in the correct answer! Congratulations to Ken and to all our winners this week! Donna Frank, Kristi Strembicki, Laurie W, Linda Ranatza, Sharon Pierce, Jim & Lorie Sonnen, Judy Simonsen, The Kertes Family, The Gunnels Gang, Carla C, Allison Caputa, Sandie Albrecht, Mary Beth Tarbet, Carol Ney, John Bickers, Bruce Hinterleitner , Andrea Kruszewski, Kris Nixon, Melissa Such , Grumpy's Groupies, Roxanne Kliebert, Jim Finley, Sarah Thomas, Devin Scribe, Melissa Rymer, Beth Mcmeekin, Herbie The Love Bug, Team Hill, Vanessa Stjohn, Scott Cullen , Janet Spiess, Nicole Berman, Duskin Henard , Olszak Family, Chris, Gretchen, And Katie Barnes, Pat Schwier, Christine Brown, Stefan Owens, Leslie Krysinel, Erin Yanuskevich, The Parker Family, Bob Patterson, Edward Suscreba, Cathy Derecola, Sarah And Chris, Eric Berger, Ken Daube, Courtni Brown , Ellen Sullivan , Kathy , Brooke And Kennedy, Kevin Jones, Wendy Barney, Bonnie Jean, Mark Donahue, Ken Savage, Jen Tremley, Gloria Martin, Dennis O'reilly, Ed Adams, Terri Vicknair, Pollyanna Buff, Kyra C., Amy Buettner, Maryann Romagnano, Gabriella, Terry And Matthieu, Bob Henriksen, Barbara Grammer, Robert Wescovich, Ronald Delorey 7 Parler St. , Chris Kelly, Angela Johns, Jessica Mccubbin, The Otts Family, Wendy T Faler, Carol Baranowsky, Tom Koval, Maureen Handy, Gina Smith, Stefanie Vandiver, Claire Gregory, Linda College, Jeremy Hardy, Deb Ragno, Lori Rienhardt, Lee Anastasi, Sands Family, Steve Knapp, Jennifer Rowell, Mike Malampy( Malampy Benco Family), Jennifer Walker , Larry Drum, Matt Petty, Matt Wildey, Carrie Knepper, Team Bonnie Sue, Candice Grimes, Linda Scrivano, The Filiater Family , Eric Johnson, Larry Sprenkle, The Long Family, Michael Mclucas And Jackie Mclucas, Elaine Kleinhenz, Josh Weiss, Diane Curfman, Andrew Carrieri, Megan Krainski, Brian Mcwithey, Ruben O'meara, Les Stewart, Carolyn Como, Theresa Rucando, Emma Ramsey, Justin Collins, Trish Roanm, Timothy Gallant, Mickey Eckert, Jeff Blank, Phyllis, Jason Skow, Cathy Connors, Wayne Chadourne, Ed Elder, Ed Elder, Melody Odonnell, Matt Holley, Mark Proper, Tricia Noble, John Casey, Jess, Terry Fleming, Christina Trigiani, Matthew Frey, Jeremy Reichelt, Jillian Lassiter, Daniel Record, Karrie Duffey, Tricia Petty, John Foggo, Kay Moss, Leach Family, Dave Carriere, Matt Earl, George Mundy Jr, Matthew Jadro, Tim Johansen, Alison Rosenberger, Patti Mccaffrey, Todd Johns, Andrew Pettit, Jim Thompson, Hunter Armstrong, Scott Sangston, Catherine, Erin Hammer, Ken Maikowski, Jamie Poynton, Hobbes And Snorky, Tom Donnelly, Mark Hardy, Mark Franklin, Smitty, Wayne Witherspoon, Helene Hair, Bill Cudney , Vincent Lieu, Alison White, Ron Harper, Jamesd (dzneynut), Les Whitten, Ken Rhinehart, Melissa Jones, Ruth Senecal, Matthew Cofone, Vera And Izzy Williams, Gallagher Family, Allen Jones, Heidi Goodhue, Ed Hogan, Jo Ann Bailey, Shelley Arri, Don Purney, Liz Moreau, Jackie Graebel, Sheila Bagg, Karen Adamakis, Andy Hickey, Kerri Coggins, David Ballard, Joseph M. Zafia, Jodi Cook, Jean Bussell, Chris Bauman, Margie Larmon, Tom Higbee Sr, The Dieuliis Family, Sherri Pell, Vicki Britt, Kerry A., Eileen Miller, Adolph And Kimberly Timm, Rebecca Keenan, Robert P. Flaherty, John Dupre, Wayne Kaufelt, Barclay Bakkum, Doug Olson Family, Mackenzie D., Demetrios Makres, Kristan Bertelmann, Melissa Baker, Ashley Collins, Walter N. Clark, Caroline Burmester, Eric Berger, Jim & Lorie Sonnen, Mary Beth Tarbet, Gabriella & Matthieu, The Gunnels Gang, Linda Ranatza, Carol Ney, Janet Spiess, Andy Hickey, Sharon Pierce, Joseph Slowik, Team Hill, Brenda Mclean, Torrey Beasley, Jen Tremley, The Parker Family, Kim And Kelly Sroka, Kye Layton, Nan Amor, Vera And Izzy Williams, Chris, Gretchen, And Katie Barnes, Ed Krol, Sandie Albrecht, Tricia Petty, Dennis O'reilly, Virginia Pierce, K Beasley, Christa , Phyllis, Brian Miller, Brian Miller, Kerry A., Les Whitten, Jennifer Rowell, Eric Johnson, Andrea Kruszewski, Jim Finley, Maureen Handy, Susie Howard, Emily Hudson, Bruce Hinterleitner, Carrie Knepper, Grumpy's Groupies, Larry Drum , Christina Trigiani, The Kertes Family, Laurie Walker, Ruben Omeara, Bonnie Jean, Chris Kelly, The Dieuliis Family, Kristan Bertelmann, Team Bonnie Sue, The Filiater Family, Kyra, Eric Enli, Theresa Rucando, Les Stewart, Jeff Blank, Pollyanna Buff, Wendy Barney, Kris Nixon, Jillian Lassiter, Jeremy Reichelt, Alan Mize, Patrick Broaddus, Kristi Strembicki, Tricia Noble, Matthew Frey, Carri Marotto, Smitty, Christopher Hall, Rebecca Keenan, Carla C, Matthew Jadro, Andrew Carrieri, Caroline Burmester, Rob Blundin, Renee Hardiman, Brian Yesutis, Wendy T Faler, Hillary Waldroop, Dave Carriere, Paul Ignudo, Margie Larmon, John Pasqueralli, The Rider Family, Tom Higbee, Deb Ragno, Dawn Bach, Jan Rosato, Christopher Thacker , Marguerite Garofalo, Claire Gregory, Jane Johnson, Stacy Guarracino, Linda College, and Patti Mccaffrey!
__________________________________ _____________________
Challenge #393 Where in the world is this?
So where are we this week?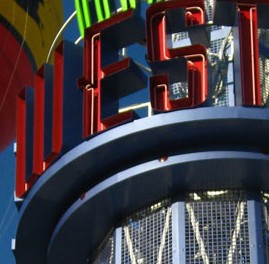 Do you know? Do you have a guess? Please send in your answer, before the end of the day on Thursday, August 13th, by clicking on the blue box below.
Please do not post answers using the Feedback Form link at the bottom of this post.
See you soon, Players!


_______________________________________________________________________
Everyone who sends in a correct answer to a Where in the World Challenge this month will be entered in a drawing at the end of the month for some special AllEars® goodies!