This week, our friend Steven Miller, Merchandise Communications Manager at Walt Disney World, has released details and photos of a new Disney collection of one of my favorite brands: PANDORA. I'm ready to head up the queue now!
PANDORA released its first Disney-themed collection in the fall. It included 16 Disney Parks-specific charms and a silver bracelet, plus 25 additional Disney charms. The Disney Parks charms — which are sold only at Walt Disney World, Disneyland and DisneyStore.com – have been so popular that they have frequently been sold out. (The other Disney charms are readily available at PANDORA retailers.)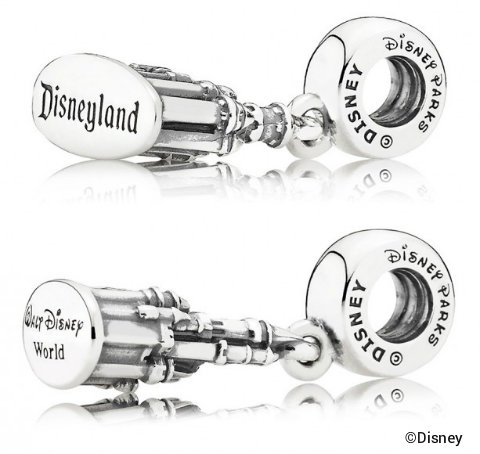 On March 12, PANDORA is releasing an additional six Disney Parks-specific charms and a safety chain. In the spring collection, shoppers will find sterling silver dangle charms in the shapes of the two iconic castles — Sleeping Beauty Castle at Disneyland and Cinderella Castle at Walt Disney World. Each castle has the resort name on the bottom of the base.
Each resort also will have another charm representing an attraction. For Disney's California Adventure, there is a silver-and-teal charm depicting Mickey's Fun Wheel. For Epcot, there is a silver replica of Spaceship Earth with the monorail circling the sphere.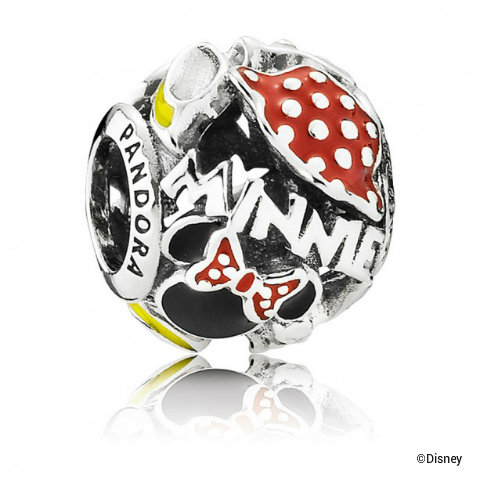 Additionally, the collection will include a "Minnie Mania" charm, which is the companion to "Mickey Mania" that was released in the original set. Both are colorful, featuring red, yellow, black and white enamel on a silver base. And the runDisney logo will appear on a dangle charm.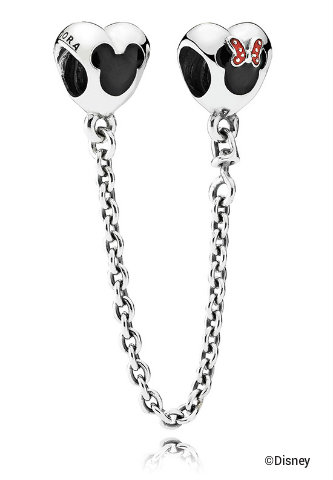 Plus, a safety chain – something I was looking for in the original collection – will be available. Each side has a heart bead – one with a Mickey Mouse icon and one with a Minnie Mouse icon. The safety chain is attached on either side of the bracelet's clasp so that if it opens without the wearer's knowledge, the bracelet does not fall off the wrist.
Although prices for the new PANDORA Disney Parks collection have not been released, the pieces are expected to be priced similarly to those released in the fall. Bracelets were listed at $67.50, and silver charms ranged from $45 to $65. Safety chains in the regular PANDORA collection start at $40. (Pieces with gold accents cost more.) Disney Parks-specific pieces can be purchased at Uptown Jewelers in Magic Kingdom at Walt Disney World and at La Mascarade d'Orleans in New Orleans Square in Disneyland, as well as at DisneyStore.com.
When the new PANDORA collection is released on March 12, expect the supply of previously released charms to be restocked online, Miller wrote on the Disney Parks Blog.
And as with the fall release, there will be new Disney PANDORA charms that are not Disney Parks-specific. Among those designs are Cinderella's pumpkin coach, Cinderella's dress and a "Frozen"-inspired snowflake, according to Miller. Those can be purchased at PANDORA stores throughout North America in March, as well as select Disney Parks locations.