We all have our own perspectives. Each day we spend in our world which might include family, friends, work or play. When visiting Walt Disney World, it seems the rest of the "real world" disappears for a few days. It is tremendously refreshing to me and I am guessing it is to you, too. After returning from a trip to Walt Disney World we bring something back. Souvenirs, clothing, life experiences and, of course, photographs.
Back in the day of film, we would have to wait a few days after returning to get the finished prints back from the lab. Sort through them and visit people or have them stop by to share our vacation photos. Things have certainly changed over the last twenty years. Today, we can share our experiences instantly via our smart phones and using services such as Twitter, Facebook and Instagram. Family and friends see our photos as we experience them. When I sit back and think about it, a person back in the 1980's would look upon what we do today with photographs as magic.
With that in mind, let me share with you the magic of a day in the Magic Kingdom. The day was February 11, 2015. It started out cool which had me in long jeans and a light sweatshirt. Cloudless blue skies with plenty of Florida sunshine promised good times ahead as I walked on Main Street USA towards Cinderella Castle. I heard the familiar sounds of the Main Street Trolley Parade. I had just missed the performance but I saw an opportunity to catch the trolley pulled by a white horse in motion.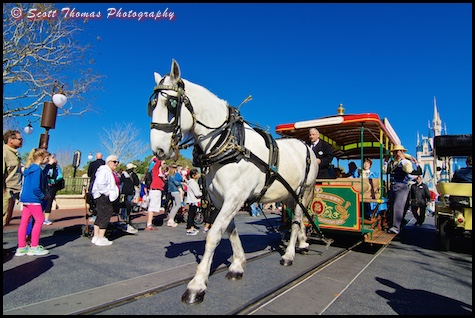 Horse drawn trolley goes by on Main Street USA.
Nikon D7100/Tokina 11-16mm, 1/250s, f/8, ISO 100, EV 0, 11mm focal length.
To add drama to our vacation photos, photograph at a low angle which is what I did here.
My party had a FastPass+ to ride Big Thunder Mountain Railroad next and after getting off, we decided to take a short trip on the Walt Disney World Railroad to relax after being on the wildest ride in the wilderness!. We got on at the Frontierland station and got off at Fantasyland. Most people go directly into Fantasyland from the station but there is a quiet little path which goes over to Tomorrowland. I always stop on the path and wait for a train to go by. The engineers love to put on a show for anyone with a camera.
WDW Railroad train putting on a show.
Nikon D7100/Tokina 11-16mm, 1/250s, f/5.6, ISO 100, EV 0, 11mm focal length.
This location is really the only good place to get a photo of the trains.
Doubling back to Fantasyland, I enjoyed a performance of the Main Street Philharmonic, a 12-piece brass and percussion ensemble, right outside the Dumbo entrance.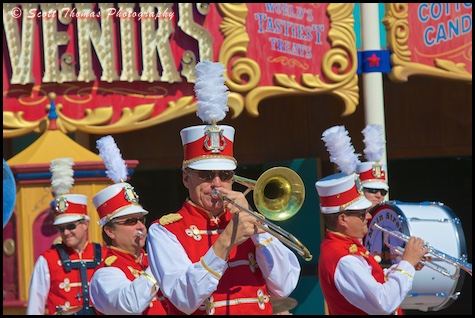 Main Street Philharmonic performing in Fantasyland.
Nikon D7100/24-120VR, 1/640s, f/6.3, ISO 100, EV 0, 92mm focal length.
Don't you love their uniforms?
After a late lunch it was time to head back down Main Street USA and find a spot for the Festival of Fantasy Parade which we all know starts at 3 o'clock. I photographed from the Main Street Train Station and got my spot about 90 minutes before the start of the parade. Remember the parade starts in Frontierland and takes about 20 to 25 minutes before the first float comes around Town Square. For this parade, I wanted to get close ups of the characters on top of the floats.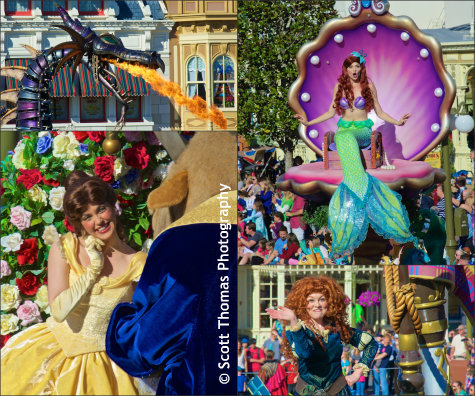 Festival of Fantasy parade (see text for caption).
From top left: Maleficent Dragon from Sleeping Beauty; Ariel from The Little Mermaid; Princess Merida from Brave and Belle from Beauty and the Beast.
After the parade, I took a leisurely walk back up Main Street USA, getting an ice cream at the Plaza Ice Cream Parlor along the way and watched a Dream Along with Mickey show on the Cinderella Castle stage.
Dream Along with Mickey stage show in front of Cinderella Castle.
Nikon D7100/24-120VR, 1/250s, f/6.3, ISO 100, EV 0, 110mm focal length.
The challenge I find with Mickey and the gang in this show are the moving eyelids. I take more photos of this show to make sure I get photos like this with all their eyes open.
With plans for dinner in Epcot later that night, it was time to end the day at the Magic Kingdom. Hope you enjoyed it and maybe you picked up a tip or two along the way.