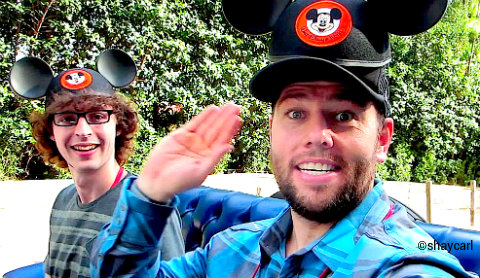 Carl Butler (right) recently was the Grand Marshal of a parade at the Magic Kingdom.
If you're not familiar with Maker Studios and its catalog of entertainers, you will be soon. The Walt Disney Company bought the multi-channel network and YouTube video supplier last year for a deal that could be worth almost $1 billion. Its stars already have begun making appearances at Walt Disney World.
This weekend, many popular YouTube celebrities, including Maker Studios co-founder and vlogger Shay Carl Butler, will be back in Orlando for Playlist Live 2015, a three-day convention at Orlando World Center Marriott that begins today. Though many of the vloggers aren't necessarily dedicated Disney commentators, they do often produce Disney-themed content. Zoella, The Daily Bumps and Olga Kay are among such performers. Playlist Live guest celebrity Teala Dunn is best known for her work on Disney TV shows such as "Dog With A Blog" and "Shake It Up!"
The event started four years ago in Orlando as a way for attendees to learn more about video production from experienced creators. It has grown to include meet-ups with popular stars, Q&As and short performances from featured guests, musical performances and a dance party, and an inflatable joust and interactive games.
Parents even will have their own lounge, much like similar facilities at rock concerts, so they can be on site if their children need them, but they're not tagging along with their cool offspring.
My 12-year-old son is attending Playlist Live for the first time, and he has been counting the days until he can meet his favorite YouTubers (besides the Debs, of course): The Shaytards. This family first attracted viewers with its daily video blogs. Among the other popular entertainers at the convention are Tyler Oakley, Bethany Mota and a slew of others. For many of today's teens (and tweens), social media stars are the celebrities they most want to meet, and Playlist Live gives them the opportunity to just that.
Although the convention quickly sold out, fans can peek in on the happenings online, of course, via the Playlist Live Virtual Experience. Fans can sign up HERE to be notified when the live streaming begins.
So, why would Disney want to acquire Maker Studios? As The New York Times pointed out, it's not necessarily for its established personalities, though they play a part.
"Maker brings to Disney a substantial digital audience, some of the biggest stars in the space and also a real understanding of how to manage big brands on YouTube," Brent Weinstein, who leads United Talent Agency's digital media division, told The New York Times. "Look at what Maker has done for Epic Rap Battles and Snoop, and imagine what they can do for Iron Man, Mickey and Yoda."
According to Variety, Maker gets about 5.5 billion views per month across its 55,000 YouTube channels.
"We can allow the Maker people to substantially improve the distribution and reach of shorter form video using these [Star Wars] characters and stories and add their expertise on the production side," Disney chairman and CEO Bob Iger told Variety.