To paraphrase Lao-tzu:
"A journey of 39.3 miles begins with a half marathon."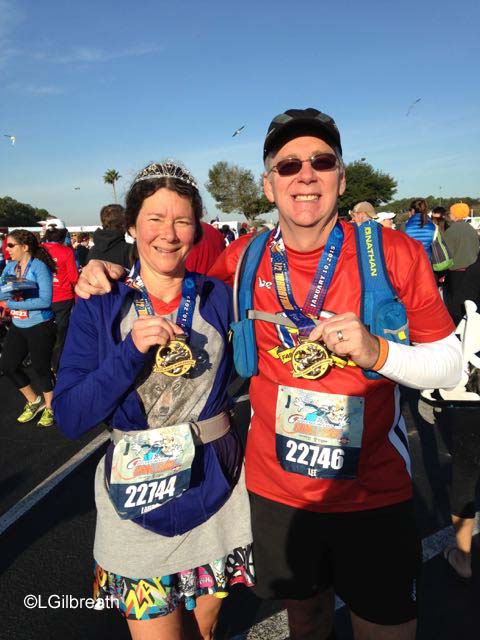 Part one of the Goofy Challenge successfully completed – the marathon is tomorrow. That's the REAL challenge.
As they always do, our race morning began far too early – 2:30 a.m. Or 11:30 p.m., as my Garmin informed me. We had breakfast in the room, and tried to prepare ourselves as best we could for the cool conditions. It was 46 degrees, and was supposed to go down to 44 around 6:00. Nice conditions for running, but difficult for waiting around. I'll take it over the heat and humidity, though.
We left about 3:30, and had decided to drive to Epcot. We were actually hoping for a bit of traffic so that we could sit inside our nice warm car, but there was very little, and we were parked by 3:45! We still sat in the car for a while before donning all of our warm clothes and heading to the start area.
No photos, because I was too bundled up, but I had my running skirt and shirt, a throwaway cotton t-shirt, calf sleeves, arm sleeves, and gloves. Also a new running jacket that my niece and nephews gave me for Christmas (that wasn't a throwaway; I thought I might need it later in the race if the wind came up). And over all of that a trash bag that went down to my calves. I also had "Hot Hands" to put in my gloves. Was I warm? Mostly, and I was fine while we were moving, but the last 10 minutes in the corral I was starting to shiver. (Remember, I am a native of southern California, and I have very thin blood!)
We had to go through bag check to enter the race area – trying to dig my running belt out from under all of that was a challenge, and I lost a glove in the process. Oh well, it was a cheap throwaway, and I still had the hand warmers that I hadn't yet opened. The bag check line moved well, and we were soon into the pre-race area.
It was already about 4:30 by then. We said hi to some friends, and made another potty stop. It seemed like there were a lot more porta-potties this year, both in the pre-race area, the runner's only area, and near the corrals themselves, and the lines weren't nearly as long as they usually are.
By 4:40 we were on our way to the corrals. This was a much more pleasant trip than it has been in some years. We could walk, and didn't have to shuffle along shoulder-to-shoulder – though this morning that might not have been so bad – it would've been warmer! 🙂 The path also seemed much better lit than previous years.
They had some cheerleaders and a DJ to entertain us along the way – first time I've ever seen cheerleaders in body suits and earmuffs. 🙂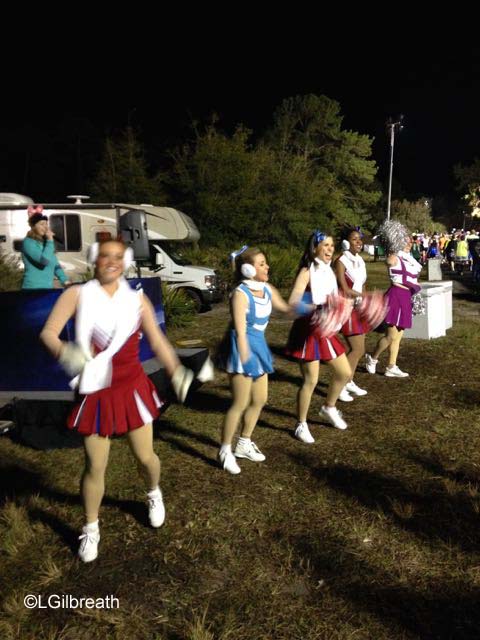 By 5:05 we were in Corral J – only 25 minutes until the start of the race! I was surprised that it wasn't more crowded – we were not too far from the front of the corral. We settled down on the ground to wait and rest our legs and feet a little bit.
We were too far back and not near one of the big video screens, so really couldn't see any of the pre-race "show" with the characters. A male vocalist sang the National Anthem at 5:25, and then the fireworks went off at 5:30 when they started the wheelchair racers, followed closely by the first corral.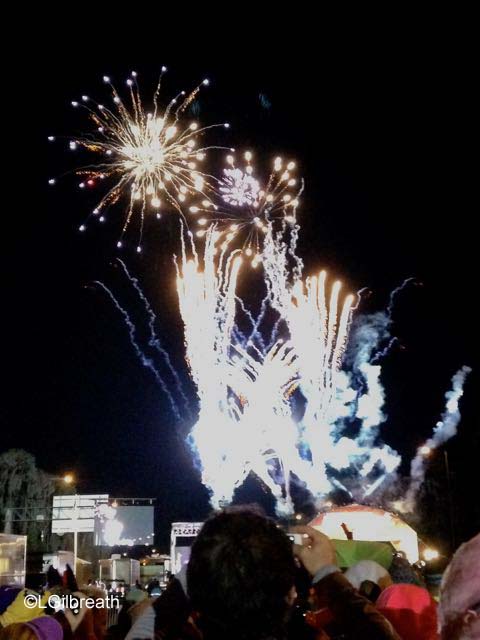 While we were waiting for our corral to begin moving we chatted with some runners around us – Richard, a mutual acquaintance, was right behind us. And hello to Michael, an AllEars reader who was next to us.
Once our corral started moving forward we found a break in the fence and left it so that we could make one last potty stop – the cold weather shrinks the bladder! There's no lines at that point, so it's pretty fast. We nipped back into line at the back of the corral, so we didn't lose any time in starting – well, except that we were at the back of the corral.
I'd removed my trash bag by then but that was all. Oh, and in the meantime I'd found a discarded glove to replace the one that I lost. 🙂 Lee was down one layer: he'd removed his lightweight pants and put them in his running pack.
Finally we were close enough to see the start line!
The race announcers were on-stage, though all of the characters had left by then. We were Corral J, and they still had to get all the way to P. At that point there were sending them off every 3 minutes, though I think for the larger corrals in back it's 5 minute intervals. As it was, the race had been underway for almost 30 minutes when we started. It's over an hour for those in the back.
It was a relief to be running, and have the opportunity to start getting warm! I had the hand warmers in my gloves, and those helped.
The course is the typical half marathon course that goes from Epcot to Magic Kingdom and back. With the usual narrow one-lane places. I didn't feel that we were unpleasantly crowded this time, but still, it was a relief to get to the first really wide section about about mile 1.5. When we were almost at the mile 2 marker the first elite runner passed us going back! That was about 50 minutes into the race for him, 23 minutes for us. Our plan was to do 4:1 run/walk intervals, and maintain an easy, steady pace since we still have to run a marathon tomorrow.
There were a number of character photo stops along the way to Magic Kingdom, but the lines were long and we didn't stop. I still hadn't discarded any clothes – it seemed like every time I'd start to think about doing that and unzip my jacket we would turn into the wind and I'd have to zip it back up. I'd taken my gloves off and put them in my jacket pocket but I still carried the hand warmers in the palms of my hands. That helps a lot to keep my hands warm.
About mile 5.25 we entered Main Street at the Magic Kingdom, where there were lots of people to cheer us on, including Beci and Bea!
We had to stop near the castle to have our photo taken with the beautifully lit ice castle in the background.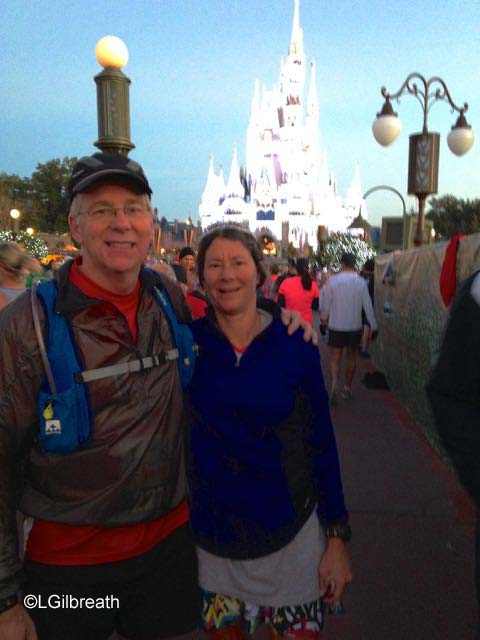 We ran around through Tomorrowland and Fantasyland. Anna, Elsa and Kristoff were hanging out on the balcony at the castle – guess Disney realized the lines would be unmanageable if they were actually available on the course.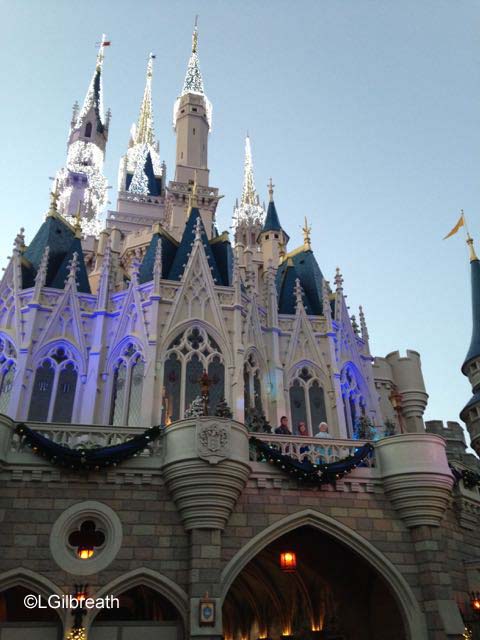 The course goes through Liberty Square and Fontierland, where the mile 6 sign is placed. We were almost halfway through the race, and still feeling pretty good. Lee had thrown away his outer shirt, but I was still wearing all of mine.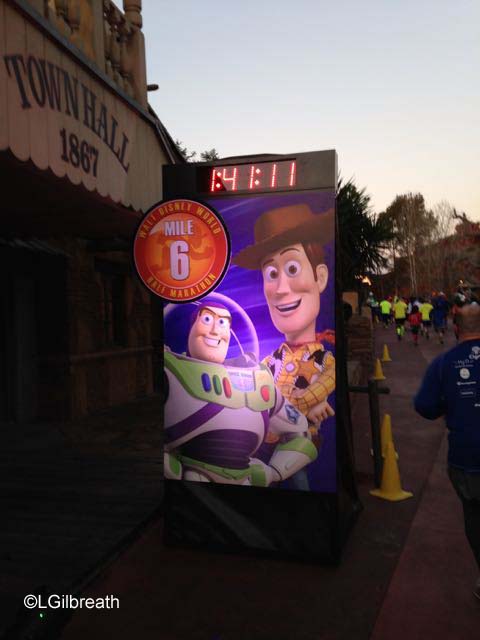 After exiting Magic Kingdom the course goes down the infamous "Cone Alley" for over a mile, past the Grand Floridian and the Polynesian. It was not as crowded for us this time, but I think that's because we hadn't stopped for any character photo lines and were still in the top 40% of runners. Most everyone around us was running a similar pace.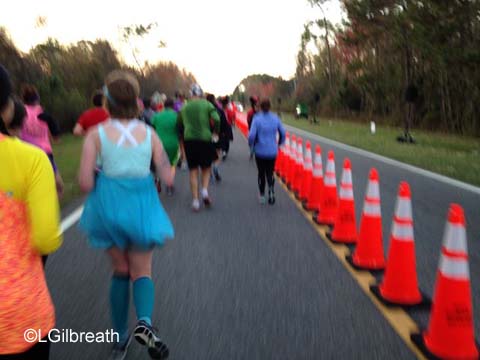 Our friends Gail and Julian were cheering in that section, and it was wonderful to see them.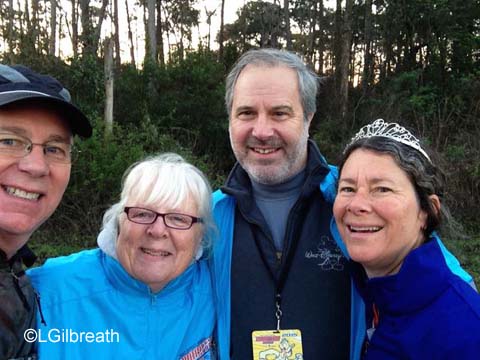 Around mile 8 we found Laura, another of our friends who was cheering the runners.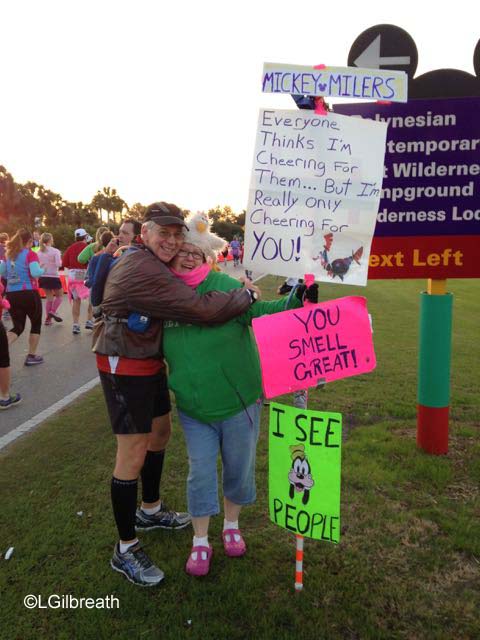 There were also a series of signs giving us some "Fun Facts" about Donald Duck, like the names of his parents and sisters, movies he'd been in, etc. Appropriate since Donald is the mascot for this race.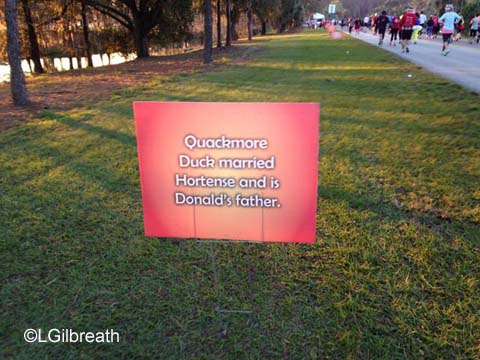 Lee broke out his dance moves when we passed one of the many high school bands who came out to cheer us on.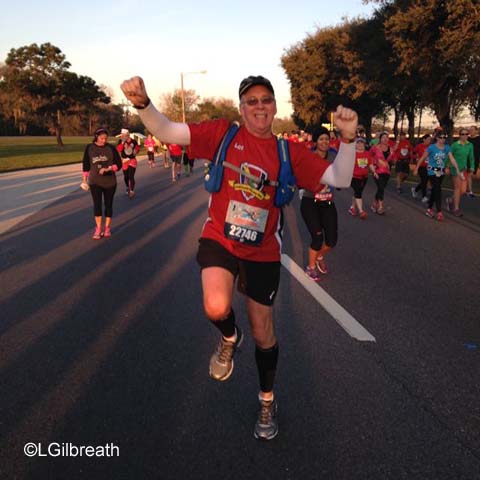 There was a nice runDisney banner on the course, but the wind was blowing it around so I couldn't get a good photo.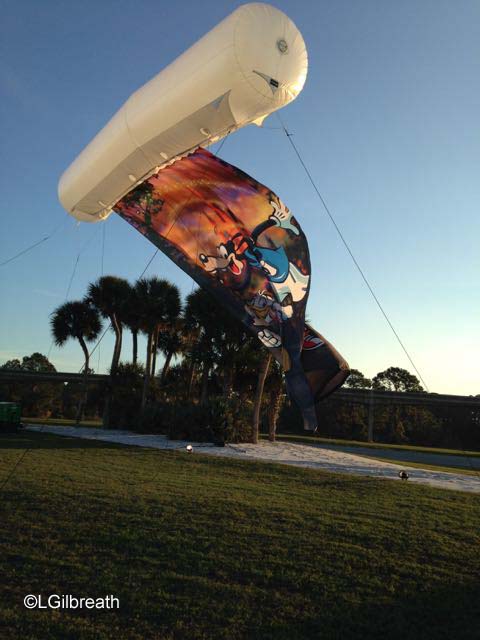 The sun came up – it had ended up being a nice clear morning. It was still only 48 degrees but it felt warmer once we had the sun on us. I could've gotten rid of my t-shirt at that point, but it was going to be more trouble to take it off than to continue wearing it. I'd been wearing my running belt with my race number on it under all of those clothes, and at least I finally moved that to the outside. My poor race number is already pretty beat up, and I still have another race to run!
Mile 10 is always a milestone for me in a half marathon – once I reach that point I know that I can do a 5K, even if I have to walk it. Mile 10 is at the start of a series of overpasses, so that two-mile section is a little challenging at the end of a race. Once we get to mile 12, in the Epcot parking lot, it's all flat from there.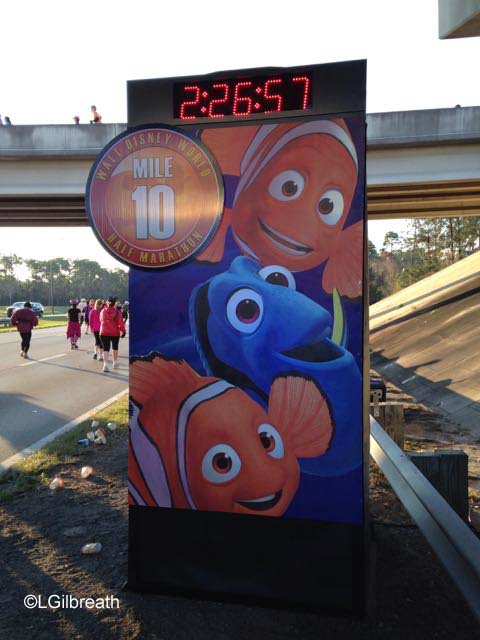 Our friends Eddie and Phill had finished quite a bit earlier, but had come out to cheer for the rest of us. They were enjoying a well-deserved adult beverage. 🙂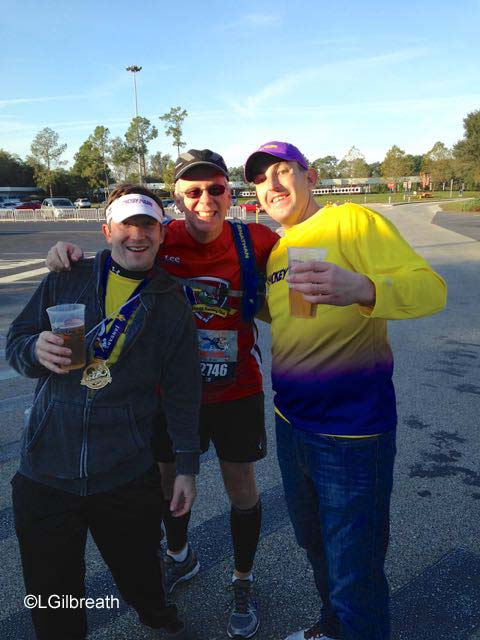 We ran into Epcot and did the loop around, stopping for a picture near the fountain. I always tell Lee that "there's no sprinting in Goofy", so we didn't sprint the last .3 miles, but we picked up the pace.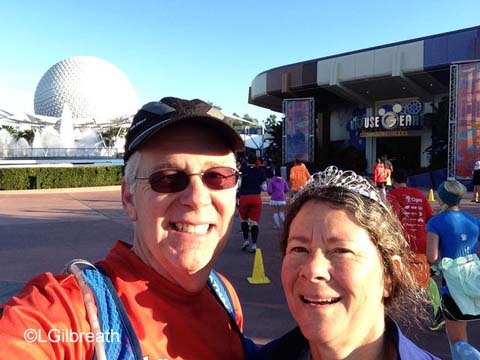 As we were crossing the finish line we got a nice shout out from race announcer Rudy Novotny, and Lee high-fived Mickey Mouse.
The nice volunteers gave us our Donald medals.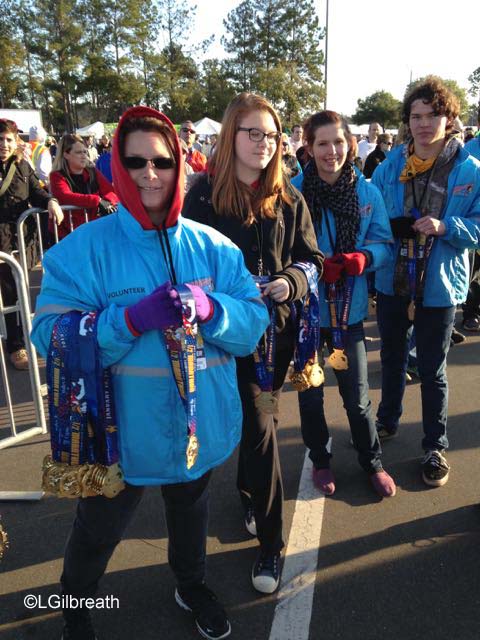 I was surprised that they were not handing out the runDisney mylar sheets at the finish area – it was still 48 degrees, and I started to get chilled pretty quickly once we stopped running.
We made our way through the refreshment area and picked up water/PowerAde and the runDisney MRE boxes. (I was happy to see the Goldfish crackers inside.) There were signs directing Goofy and Dopey runners off to one side, so we were expecting them to check our photos to make sure we were really the person who had picked up the bib, but they didn't do that. I guess that'll be tomorrow.
As I mentioned, it was chilly, so we didn't linger, and pretty quickly went back to our car. We'd both brought dry shirts and jackets to change into, and those felt very good!
My official time was 2:33:35. I was hoping to do 2:35, so that was right on target. We felt pretty good, though I can't say that I'm really enthused about doing double the distance tomorrow. After we returned to the room I took a cold bath (though Florida water is not that cold). My legs will thank me tomorrow. 🙂 We went to our traditional post-half marathon lunch at the Dolphin Fountain – they make an excellent turkey burger. We relaxed in the room the rest of the afternoon – even took a nap, since neither of us has slept well the last two nights.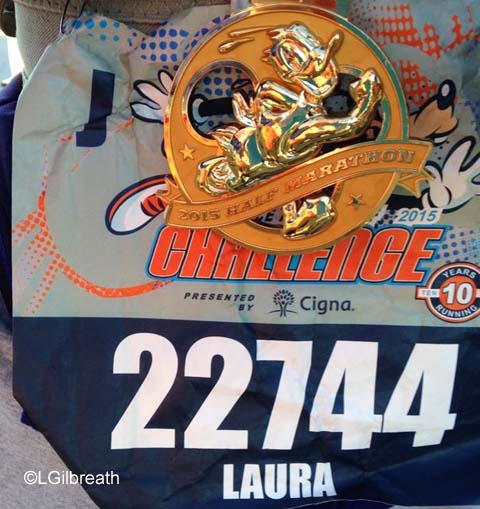 It was a really good race for us. We didn't experience most of the things that have made me write more negatively about this race in the past. The pre-race experience, especially the walk to the corrals, was good, and the on-course crowding wasn't bad at all. There were plenty of water stops, and all of the wonderful volunteers and cast members. Thank you to all of you, and to everyone who came out and cheered on such a cold day.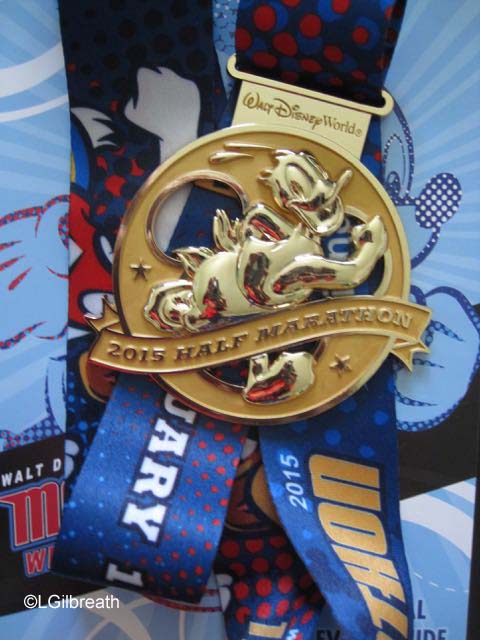 Tonight will be another short night, with another early wakeup call. The weather will be a lot warmer tomorrow. It's supposed to be 56 at the start, with very high humidity, and will be in the 70s by the end of the race. That's pretty warm. We're hoping to get a lot of miles in while it's still cool. Looking forward to running through Animal Kingdom and the Studios!
Learn more about my runDisney experiences on AllEarsNet TV Show #33:
You can follow me on twitter: @AllEarsLaura