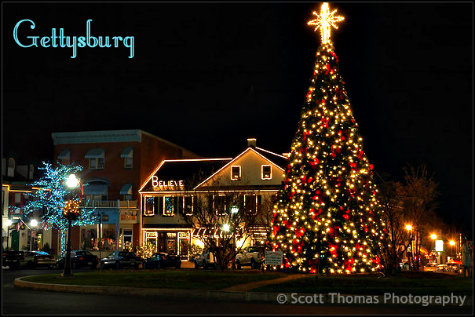 Christmas tree in Gettysburg's Lincoln Square.
Nikon D70/18-70mm, 3s, f/8, ISO 200, EV +0.7, 40mm focal length, tripod.
I write about using today's digital SLR cameras at Disney themeparks and resorts. Keep in mind, you can use the photographic information, techniques and ideas anywhere in the world. Photographing Christmas decorations are just as challenging in your home town or other locations. In 2006, I visited Gettysburg, Pennsylvania close to Christmas and spent an evening photographing around Lincoln Square. The building with the lighted "Believe" sign is the Gettysburg Pub.
Below are links to articles I wrote on Photographing Christmas lights at Walt Disney World. I used the same knowledge in those articles to photograph the scene in Gettysburg. Each of the articles contains links to other Internet resources for more information on specific details, how to's and techniques to use for photographing your Christmas celebrations and lighted decorations:
Photographing Christmas Lights at Disney
Photographing Christmas Lights at Disney II
How to Handle Yellow (or Any) Light Color Casts (Yes, it's about Christmas lights)