SeaWorld Orlando offers so many attractions for the holidays that you easily could spend the better part of a day focusing on just the Christmas activities. So, in that spirit, here is touring plan to map out just how to do that.
My plan has an arrival time of 12:30 p.m., and I am assuming you have already eaten lunch. If you want to eat on property, arrive sooner. Also, my plan is for about 9 hours in the park. If your party is up for a longer day, arrive at park opening to experience some of the other attractions.
Here we go!
12:30 p.m.: Enter SeaWorld Orlando and go straight to the Polar Express, which is an overlay at the Wild Arctic attraction. This experience typically has long lines during the holidays, so be prepared. The Singing Conductors (seen below) perform regularly in front of the queue to keep crowds entertained. Polar Express starts with a short film, and then visitors enter a simulator for the train ride to the North Pole.
Upon arrival, they will see the Beluga whales and, around the bend, Santa Claus dressed just as he is in the popular movie. There may be a short line to meet him, so I'm allowing extra time at this attraction. There also is a beautiful Christmas tree in this area that is a great backdrop for family photos.
Moving on, you can purchase the hot chocolate made popular in the movie and see the walruses before exiting the attraction.
2:45-3 p.m.: Head to Seaport Theater to grab a seat for Elmo's Christmas Wish. This is a must-see for families with little ones. Although my own children are well past the age at which they enjoy Elmo, when they were into the red muppet, they could not get enough of him. The first show starts at 3:15 p.m.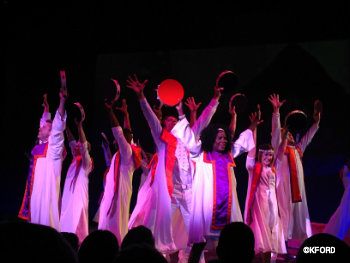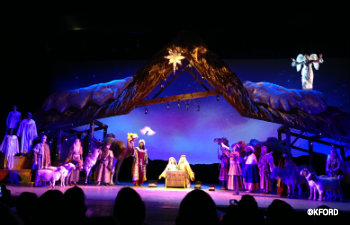 4:30 to 5 p.m.: Time to get in line for the 5:30 p.m. 'O Wondrous Night' performance. This is SeaWorld Orlando's most popular Christmas production, so you may want to check on the queue even sooner if you want to see a particular show. 'O Wondrous Night' is a retelling of Jesus' birth that includes gospel-style singing and dancing, puppeteers and a live Nativity. The finale with three large camels truly is a sight to behold.
6 or 6:35 p.m.: Walk to any spot with a view of Bay Harbor and enjoy the short Sea of Trees show during which the lights on the Christmas trees in the water "dance" to music. If you view the trees from the shops at The Waterfront at 6:35 p.m., you can experience "snow flurries" afterward at that location.
6 to 7 p.m.: Stroll through the Christmas Market, the pathway that runs from the dolphin nursery to Bayside Stadium. This area is jam-packed with fun holiday offerings. See large-scale trains travel through an elaborate display; warm up by a fire pit; listen to roaming carolers; take holiday-themed photos; try your hand at games of chance; shop at the toy kiosks; and sample holiday food and beverages, including hot toddies for the adults.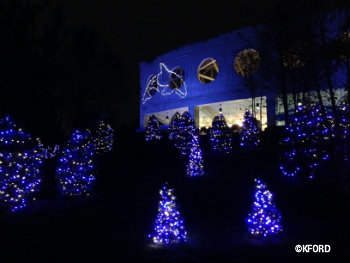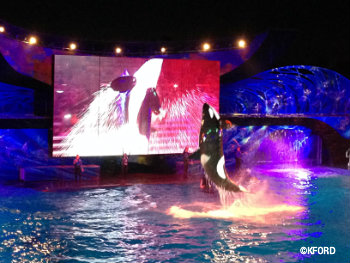 7 to 7:15 p.m.: Start making your way to Shamu Stadium for the night's only performance of Shamu Christmas Miracles at 7:45 p.m. Although the killer whales make an appearance at 7:45 p.m., there is an amazing pre-show by a solo saxophonist that you won't want to miss. The orca show itself is worth seeing, combining the animal's feats with an engaging holiday story.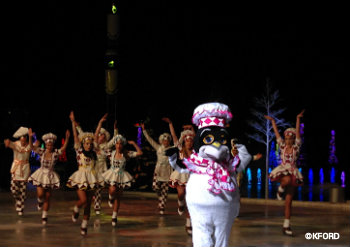 8:15 p.m.: Don't delay after the Shamu show – make your way straight to Bayside Stadium for the best show of the night, Winter Wonderland on Ice, which begins at 8:30 p.m. There is a pre-show here, too, but you likely will miss it if you go to Shamu Christmas Miracles. The main production, which features ice skating to traditional Christmas songs, is my family's favorite holiday experience at SeaWorld Orlando. It's such a feast for the senses that you won't want to look away. Stay seated after the finale for Holiday Reflections, a fountains and fireworks show.
Please be sure to check a daily schedule sheet when you arrive at SeaWorld Orlando because show times are subject to change. Remaining dates for SeaWorld's Christmas Celebration are Dec. 12-14 and Dec. 19-31.
DISCLAIMER: I was a guest of SeaWorld Orlando to experience its Christmas Celebration. This did not influence my story, and my opinions are my own.
Related links:
Santa's Fireside Feast: /blogs/kristin-ford/2012/11/santas_fireside_feast_begins_w.html