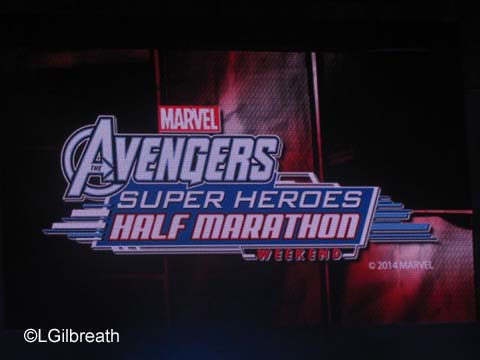 The Avengers Super Heroes Half Marathon Weekend was held at Disneyland November 14-16. This is a new runDisney event, which of course means it has the "I" word, Inaugural, associated with it. 🙂 All events sold out very quickly, but Lee and I were able to register for the half marathon.
This was the third event in what has been a very busy week for us. We ran the Wine and Dine Half Marathon last Saturday night (you can read more about that HERE), then went on a four-night Disney cruise. We flew back to San Diego on Friday, went home, repacked our bags, and drove to Disneyland that night. It was a long day, but it was nice to have all day on Saturday at Disneyland, rather than driving on Saturday and not being able to check into our hotel until the afternoon.
The events for the weekend included the Health and Fitness Expo on Friday and Saturday, the Super Heroes 5K and Kids Races on Saturday, and the Half Marathon on Sunday. We didn't arrive in time to go to the Expo on Friday night (which was one reason we chose not to register for the 5K), so we went on Saturday, around 11:30. We intentionally did not go at opening, since we'd heard what the crowds were like the day before in the merchandise area. At least this time they had a system, with a queue and cast members controlling access to the area (unlike for the Inaugural Dumbo Double Dare in 2013), but still, the lines were long on Friday morning. And, unfortunately, some of the merchandise sold out on Friday morning. I don't know why Disney seems to have so much trouble ordering sufficient merchandise. But it's pretty disappointing to be a registered participant in the race, and not have a chance to purchase items. There's no reason for shirts to be limited editions. I really wish runDisney would allow registered runners to pre-order merchandise other than pins. But that's another topic.
Anyway…The Expo was held at the Disneyland Hotel's Convention Center, like all of the other Disneyland race expos. Packet pickup was a breeze – we had printed our waivers in advance (which is highly recommended – saves a lot of time), and I walked right up to the counter to pick up my number – no line at all!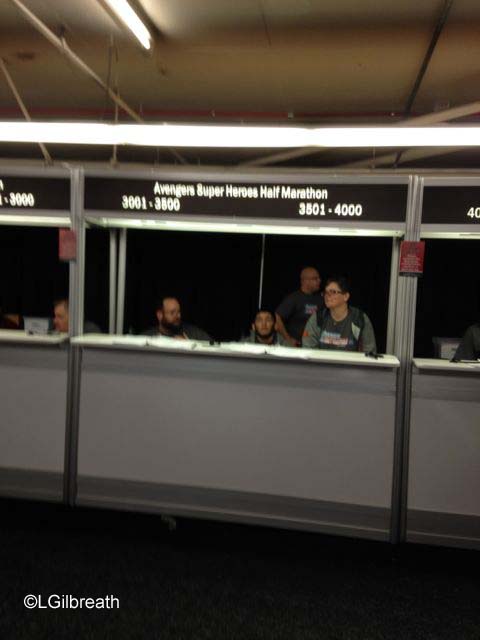 As they did for Wine and Dine, there were photographers in the packet pickup area to photograph those who were going for their Coast-to-Coast medal. This didn't affect us this time but it still was not clear at all that this was something that Coast-to-Coast participants needed to do. The volunteers who give out the Coast-to-Coast wristbands need to be given better directions on this. It was in the race program – but who reads the race program in advance on-line, much less takes the time to read the printed version at the Expo?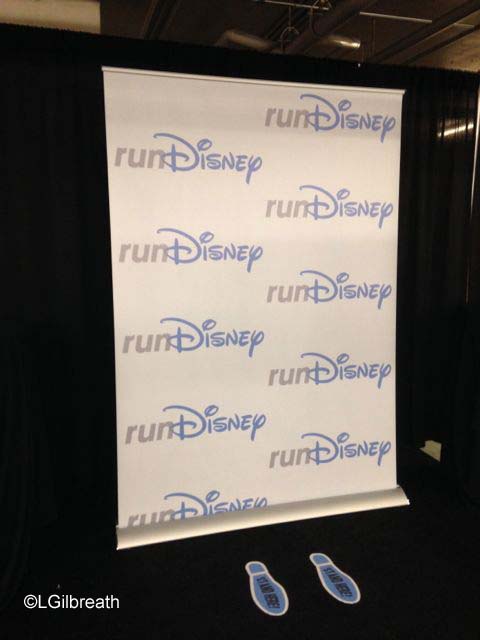 They had some fun banners posted outside the hall.
The shirt pickup was upstairs in the Expo area – that was also a very fast process. I like the shirt fabric. It's the same softer, lighter weight fabric they have been using for other race shirts this year. The design is also nice, and I'm still very happy with the women's cut. Though these are long-sleeve shirts and the sleeves are too long.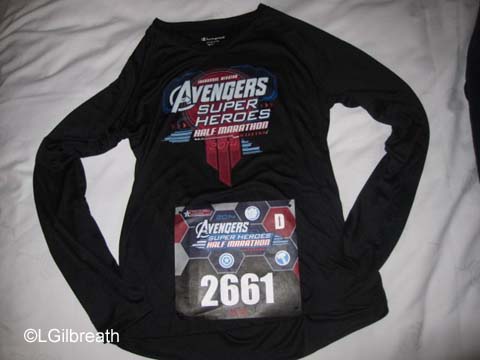 The Expo seemed pretty small to me – not that many vendors, which meant that it felt less crowded and easier to get around. Though it wasn't really that busy when we were there. The vendors that I expected were there, and I couldn't tell you who was "missing".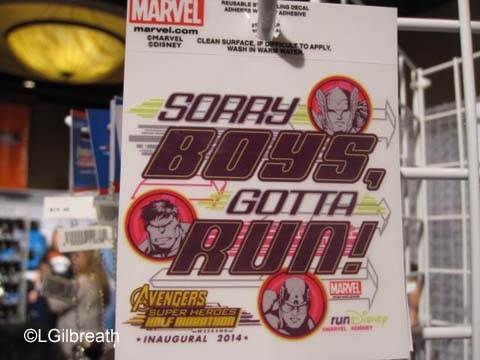 There were no lines at the merchandise area when we got there – I think that really the only busy time was Friday morning. As I mentioned before, some of the merchandise was already sold out, but there was still a pretty good selection remaining, including the "I Did It" shirts, though it looked like they were running low on some of the sizes. There was a unisex version and a women's version. They were cotton this time and not tech shirts. That has received some mixed responses. I personally like the cotton shirts, but others prefer the tech shirts.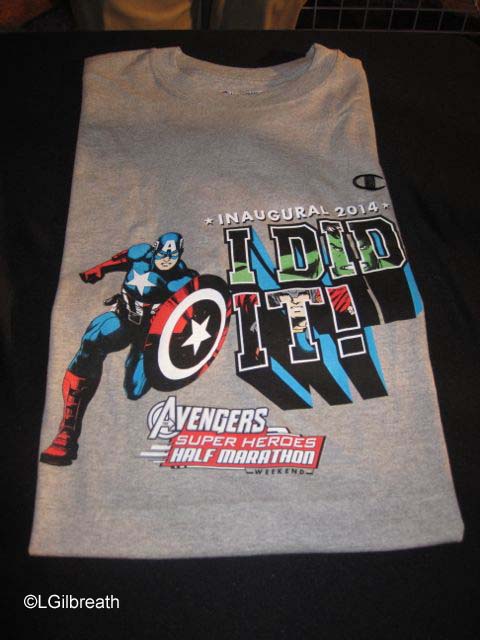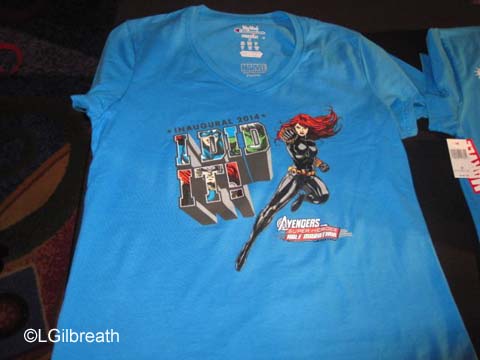 We spent the rest of the day visiting with friends who were also running the half marathon and getting a first look at all of the holiday decorations in the parks. And as usual we ended our day with our traditional pre-race favorite meal: four cheese ravioli from Boardwalk Pizza & Pasta.
One advantage to our travel schedule is that we were on east coast time. So getting up for a race that starts at 5:30 Pacific time isn't that bad when your body thinks it's 8:30. 🙂 We went to bed at 8:45 on Saturday night and set a wakeup call for 3:45 a.m. That's pretty close to a full night's sleep! And I know I've said it before but I LOVE the races at Disneyland because we can walk to the start line instead of taking a bus, so there's no reason to get there insanely early.
No rain in the forecast for this race (for which we were very grateful, after last weekend's rainy Wine and Dine run), and in fact the conditions looked really good, with temperatures of 55-64 predicted for the race itself. We arrived at the pre-race area about 4:40. This was a relatively small race, with only about 12,000 registered. (There were 10,449 official finishers.) The pre-race area was not crowded at all, and there weren't even any lines for the porta-potties!
Lee and I had both dressed in costume. He put together a really nice Hawkeye costume, and even carried a bow for the entire race. There weren't very many Hawkeyes in the race, so he got lots of compliments! I did a "Princess Captain America Winter Soldier" look – but there were hundreds of Captain Americas. 🙂 Lots of Thors, Hulks, and Iron Men, also, not so many Black Widows. Also lots of Supermen, Wonder Women, Batmen and Robins, and Spidermen. I did not see very many runners dressed as traditional Disney characters in this race.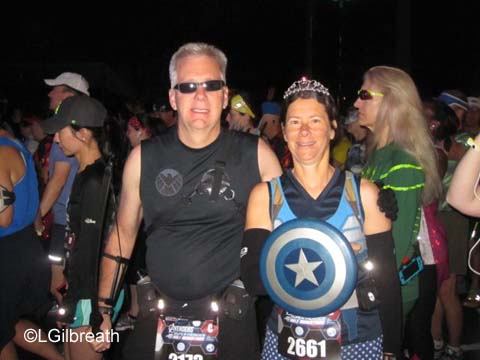 The race started on time – we even had some fireworks at the start, which is unusual for a race at Disneyland. Lee and I were running with our friend Eddie – both Eddie and Lee were in higher corrals, but they came back to Corral D to run with me. As in the Disneyland half marathon, they sent A and B together, then C and D together, then E and F. Those were the smaller corrals. The larger corrals went off individually. As usual, the runners were pretty bunched together at the start, but we started to spread out after about 3/4 of a mile.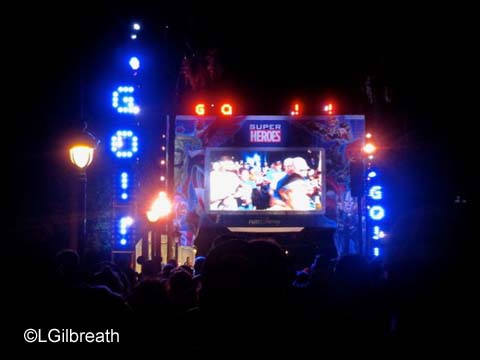 The Avengers Half Marathon is a new course. When I first looked at it I was surprised (and disappointed) to see that we would be out of the parks and off Disney property before we even reached mile 3. By way of comparison, the Disneyland half leaves Disney property just before mile 4, and for the Tinker Bell half it's almost mile 6! Upon leaving the parks the Disneyland half heads basically east, Tinker Bell heads north, and this course went south, then east. About mile 6.5 it turns north again on the Santa Ana River Trail for a couple of miles, exiting at Angel Stadium. From there on it's very similar to the Disneyland half, though it takes a loop around some of the off-site hotels near the park to add a little more distance. The last 1.1 miles of the race is identical to the Disneyland half, and it finishes in the traditional place near the Disneyland hotel.
The course map is HERE.
The first park was DCA, and we entered near "a bug's land" and then ran by Luigi's Flying Tires, and turned right to run through Radiator Springs, then left towards Paradise Pier. Lightning McQueen and D.J. were in Radiator Springs. The photo op for Thor was positioned in front of Blue Sky Cellar, and had a very long line. We did not do the traditional loop around Paradise Bay, which really shortened our time in DCA. But even so I was surprised that the World of Color fountains weren't running, nor was the Fun Wheel lit.
We turned right at the Little Mermaid and ran by Redwood Creek, where I saw Dug and Russell. Then we passed Grizzly River Run, and turned left just before Soarin'. Hawkeye was there, and had a relatively short line. Since Lee was dressed as Hawkeye we had to stop. Though the line seemed relatively short, it still took over 5 minutes.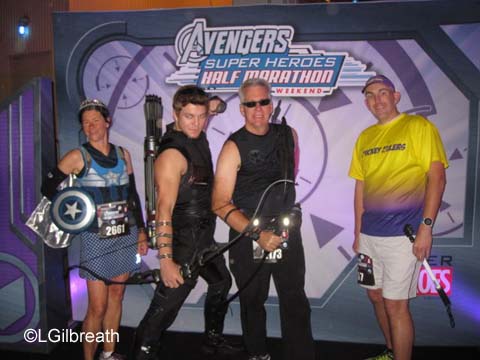 We ran out of DCA and entered the backstage area of Disneyland near the Indiana Jones attraction, then ran into Disneyland itself by Splash Mountain. There were a number of S.H.I.E.L.D. agents (dressed in dark suits) cheering us on. The course took us along the Rivers of America past the Haunted Mansion and Pirates. We saw Black Widow in front of The Golden Horseshoe, but that was the longest line we'd seen and we didn't stop.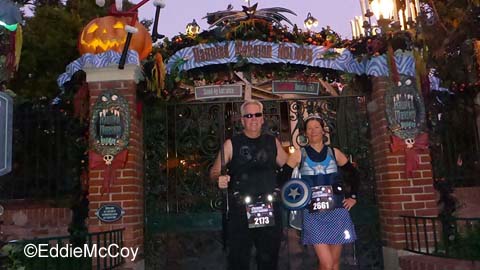 We ran past Big Thunder Mountain and the mile 2 sign, and into Fantasyland.
Snow White and the Seven Dwarfs were on the Carrousel, though they were far enough away that it was hard to pose with them.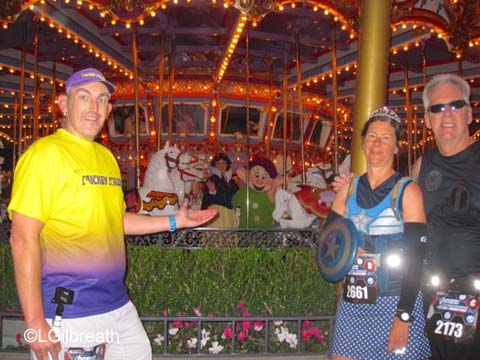 We ran through the castle, which is all covered in its seasonal icicle lights and snow. I do have to say that one very special thing about this race was getting the opportunity to run through the parks when they were decorated for the holidays, though we weren't able to take full advantage of that since we never ran by "it's a small world".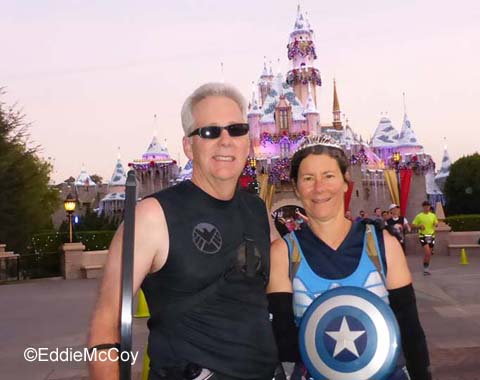 As we ran down Main Street Mickey and Minnie were near the Plaza Inn. Surprisingly they were not dressed in any kind of special costume! I expected some kind of superhero outfit, or at least their runner outfits. Very disappointing. Captain America was near Town Square, and had a huge line – nope, not stopping for that.
From there it was under the train station and out of the park, into the Esplanade, and then left through the shuttle bus/tram area, and out to Harbor Blvd. Done with the parks and we were less than 3 miles into the race. Bummer.
Once we started south on Harbor, we really started to notice the wind. The Santa Ana winds had kicked up, and though at that point it was coming from our left, we could still really feel it. After we ran south on Harbor for about a mile we turned left on Chapman Avenue, and right into the wind. It was blowing leaves and dirt around, especially when the wind gusted, and the going was much more difficult when we were running into the wind. After not quite a mile we turned south into the Christ Cathedral complex (I remember it as the Crystal Cathedral), and that was a huge relief, since we were no longer heading straight into the wind.
The wind really took its toll on the mile markers – starting at mile 3, almost none of them were intact for the rest of the race. Several had blown over completely, and others had just the framework left. Wow.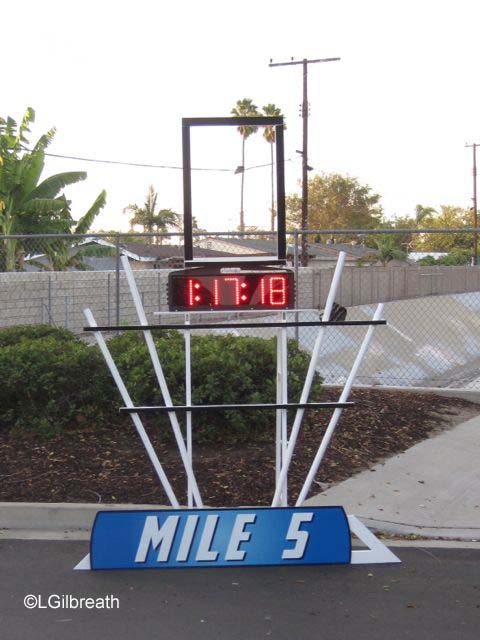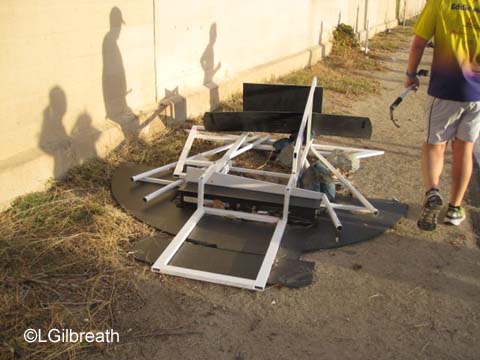 I was wearing a cape, and depending on the wind direction it was either flowing beautifully or trying to strangle me. 🙂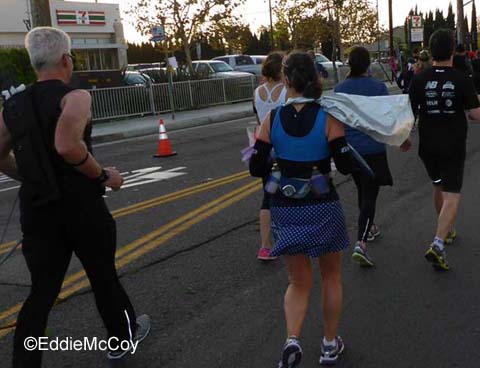 The wind was also a big issue for the volunteers at the water stops, since it was strong enough to blow the tables over! At some locations the tables had been taken down and volunteers were simply pouring water into the cups and handing them out as fast as they could. So it was a difficult day for the volunteers, also.
At about mild 6.5 we went down onto the Santa Ana River Trail. There was a really great mural on the wall!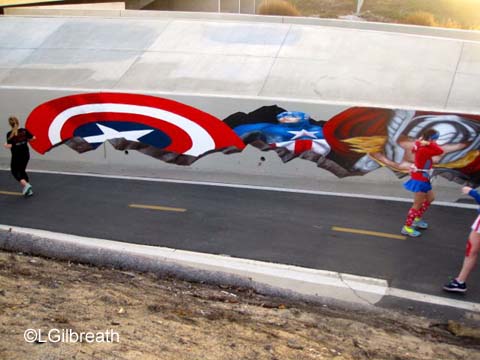 But it was very windy down there, with lots of dust, even though the trail is paved. We even saw a big tumbleweed that was getting blown along. Eddie and I had given Lee a bad time about wearing his sunglasses because it was dark when we started, but we were wishing we had glasses to help keep the dust out of our eyes.
As part of the on-course entertainment Disney had put a call out for volunteers including Costumers (the more authentic, the better), military vehicles and re-enactors to go with them, and veterans.
The Costumers were placed along the Trail. I thought this was a little bit of an odd choice because it was somewhat narrow, but for morale purposes it was a wonderful location for them. They were really terrific – for one thing they looked amazing! So many different and really well-crafted costumes!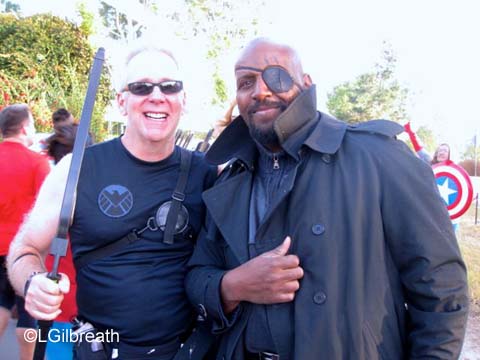 And they were also very enthusiastic, offering plenty of cheers and smiles and high-fives and encouragement. We were really happy to see them, and they made us forget the dust and the wind for a little while.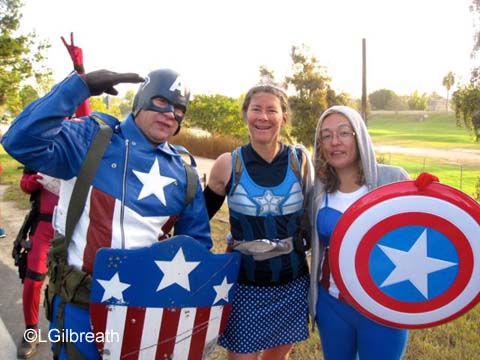 At about mile 8 we exited the trail and went into the parking lot at Angel Stadium, and then into the stadium itself.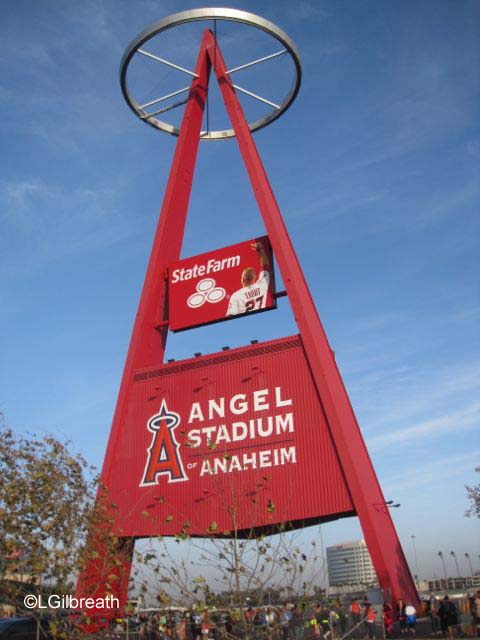 No boy and girl scouts this time, but there were a couple of bands and flag teams, and some other groups in the stands to cheer for us.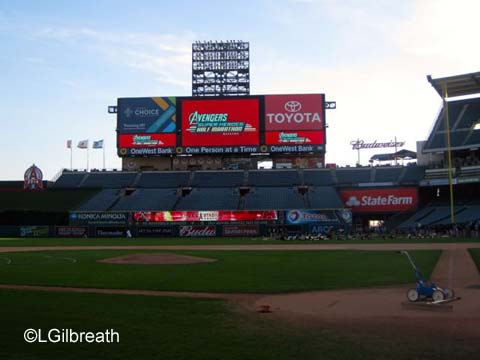 After we left the stadium we ran by the other group of volunteers – those with military vehicles, period uniforms, and veterans in uniform. This was another wonderful group of people, and we also appreciated their support so much!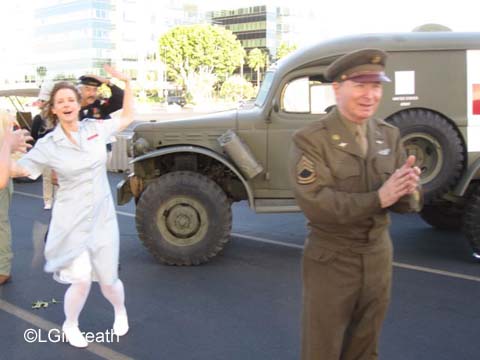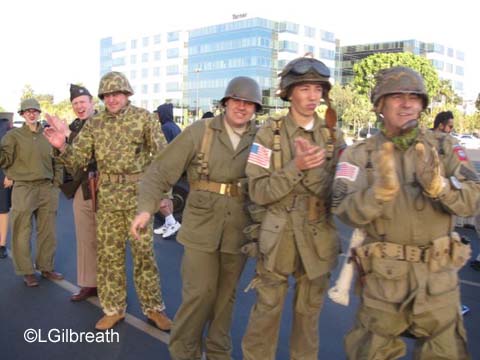 From that point on we were mostly running with the wind at our backs, and that helped, though the gusts were strong enough that I felt like I was going to get blown off my feet several times. Very odd feeling.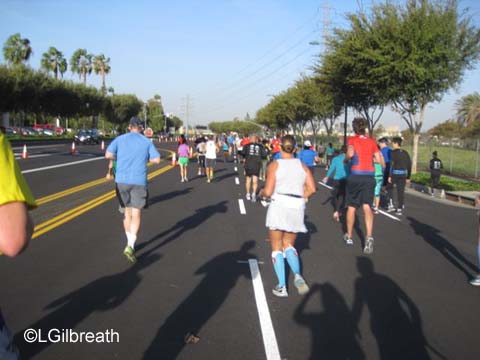 The last 4+ miles back to Disneyland were pretty similar to what we've experienced in the past on the Disneyland half marathon course. Lots of cheerleaders and high school bands to cheer us on. Finally at mile 11 we again saw a mile marker sign that was still standing! Mile 12 was completely gone – replaced by a cast member announcing that we were at mile 12. The mile 13 sign was surrounded by people, and it was ok. But that's when Lee decided to sprint, and I had to beat him to the finish line, so there's no photo of it. 🙂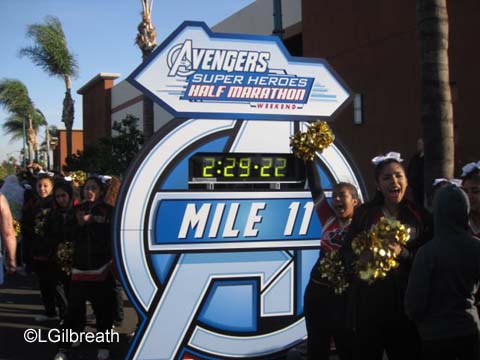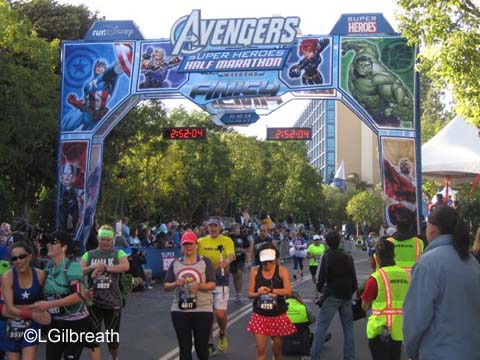 My time was 2:42:27. I was kind of surprised it wasn't better, because we didn't stop for that many photos. But the wind made for a very challenging and tiring run – it was a pretty tough day. That said, I'll still take the wind over the rain we had for the Wine and Dine Half Marathon.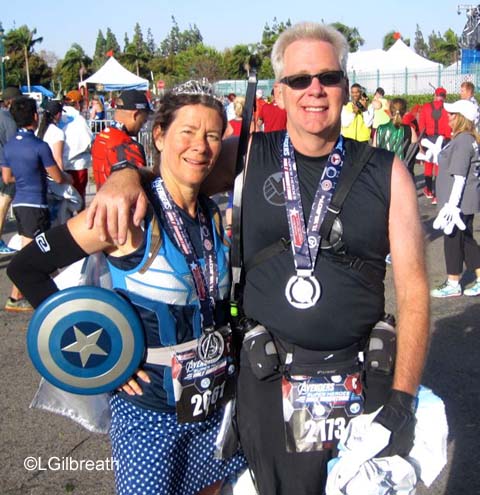 The medal is very nice – it's a spinner.
As usual we received the typical runDisney MRE box at the end. Someone (hello, Lori!) asked me recently why I object so much to the boxes. I couldn't put it into words at the time, but in thinking about it I realized that it's largely because here I've been out doing something healthy, running a race, and at the end I get a box that's filled with a bunch of processed food. That just doesn't seem right – it's almost insulting. Disney could do so much better, and in fact other races, that don't charge nearly so much money, do a whole lot better when it comes to post-race refreshments.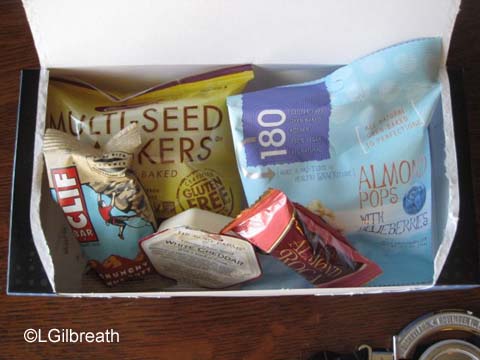 The windy conditions continued to affect things even in the finish area. The photo backdrops used by the official race photographers were missing, and most of the tents in the finish area had to be taken down. The awards ceremony was canceled, and runners were encouraged to leave the area fairly quickly. We didn't really have any reason to linger, so we headed back to our hotel.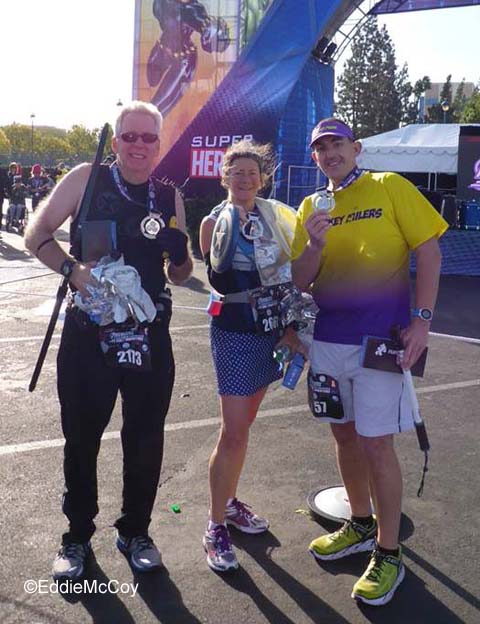 Because of the wind, I'm not entirely sure what I thought about this race, especially the course. I expected to enjoy the Santa Ana River Trail part a lot, but because of the dust, that area was pretty unpleasant. Obviously that's not Disney's fault since they do not control the weather – not yet, at least. 🙂
But they do control the park time, and I'm definitely not a fan of the very limited park time. That aspect of the course was very disappointing. But even so, there were a lot of things that I liked about this course. It was nice to see some different parts of Orange County. In the Disneyland half, I don't really like the tour of the Anaheim industrial park, so I found this course to be an improvement since it gave us a look at some business and residential areas instead. If it weren't for the lack of park time I would choose the Avengers course over the Disneyland course, but the Tinker Bell course is still my overall favorite.
The other area where I see a lot of room for improvement in future Avengers races is the characters. The lines for the characters were so long – you pretty much had to choose which one character you were going to stand in line for. I can't think of any really good way to deal with that, but one thing that I would've loved to have seen was some of the Disney characters in Avengers costumes. They do that with the Star Wars characters – why couldn't they do it with Marvel characters? Or why not bring out the Disney super heroes, like The Incredibles and Frozone? And Rapunzel, Mulan, and Merida are pretty bada$$ princesses.
Other than merchandise, I didn't really experience any issues that I associate with this being an inaugural race. Disneyland has done this before, and they have learned from previous race experiences and made improvements over the years (well, other than the runDisney MREs…).
The volunteers were terrific, and I'm sure it was a more difficult day for them than it would usually be. I really enjoyed the Costumers and the vehicles and all of those in uniform – thank you to all of you for coming out to support us, and a special thank you to the veterans for your service to our country!
We will probably run this race again next year and hope for more typical November conditions. It really is a great time of year for a race weekend, given our usual weather at this time of year.
Thanks for reading, and thank you to all of you who have taken the time to tell me how much you enjoy my running blogs – that means a lot to me. I'm especially humbled by those who have told me that my blogs have inspired them to go out and participate in a Disney race! Good for you, and congratulations on your achievements.