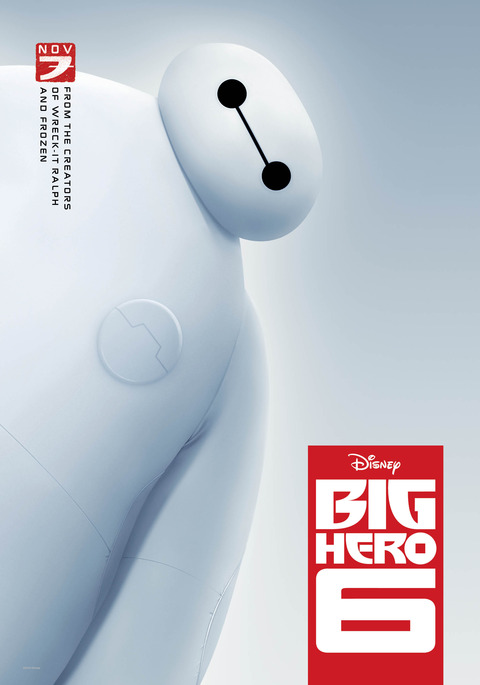 Fresh off their wildly popular "Frozen," Walt Disney Animation Studios presents their latest offering, "Big Hero 6."
*************** THIS REVIEW CONTAINS SOME SPOILERS ***************
"Big Hero 6" tells the exciting action story of young robotics prodigy Hiro Hamada who, with the help of the adorable robot Baymax, his friends GoGo Tamago, Wasabi, Honey Lemon, and Fred, forms the superhero team Big Hero 6. Together, they use their powers to try to fight the mysterious villain Yokai and bring it to justice.
Wait…Maybe that wasn't the story.
OK, "Big Hero 6" is actually the inspiring story of a bunch of young brainiacs that come to realize that technical brilliance can be as good a source for superpowers as any radioactive spider bite, and that cohesive teamwork can create a force far stronger than each individual.
Actually, you know, that might not be it either.
Well, "Big Hero 6" is really a comedy about a sharp and cynical boy who forms a relationship with a naive and compassionate robot, and the funny friction that ends up taking off their rough edges and molding them into friends.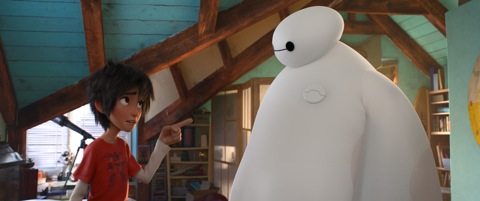 No…
Loosely based on a 1998 comic mini-series (at the press conference, the directors stated "all we took was the name,") "Big Hero 6" is a complicated film with a dazzling array of engaging characters, gorgeous artwork, and multilayered storylines.
While the original source material was set in Japan, the film creators reset it in an amalgamation of San Francisco and Tokyo–the beautiful San Fransokyo. This serves a number of different functions: It differentiates it from the "real world" of the rest of the Marvel Universe, avoiding the inevitable question of why the Avengers don't swoop in and save everyone; and gives it a unique identity as one of the few animated features revolving around a Japanese-American protagonist. With so little Asian representation in entertainment in general, the movie might be significant for that alone.
[Disclaimer: Yes, I might be biased, because the Bot Fighter in the beginning of the picture has the first half of my last name printed on the back of his jacket.]
The voice acting, as we've come to expect from any WDAS production, is top-rate, with Ryan Potter doing an endearingly convincing Hiro. Although his character is often selfish and angry, Potter lets us see the pain and uncertainty behind his actions that keep us firmly on his side. Similarly, Daniel Henney does a lot with a short amount of time to show us how special an older brother Tadashi is to Hiro, and why his understanding and compassion are so important an influence on him. Alan Tudyk provides his usual deft performance as well, moving him one notch closer to John Ratzenberger status with WDAS.
But the heart of the movie is Baymax, and that Baymax is as successful as he is at touching both Hiro and the audience, is due in no small part to Scott Adsit. Taking the newbie robot from his first, child-like beginnings, to a position of parity among the fledgling super-hero team, to an almost parental role for Hiro, Adsit expertly treads a line between expressing the emotionless robot and the soul he must certainly develop through the course of the movie. The relationship between them drives the story, and as Potter said in one of his interviews, it is apparent that as Hiro rebuilds Baymax physically, Baymax rebuilds Hiro emotionally.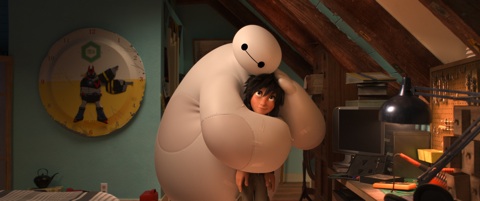 Although the trailers all emphasize the action and comedy inherent in the film (and there is an abundance of both,) the story turns much darker than you might expect. Characters experience loss and must grapple with overcoming all the resultant grief and anger you'd expect. I've seen some question whether it might, in fact, be too much for children–and while every parent certainly should make their own decisions, I would say that although Hiro lives in an imaginary world, and has fantastical technology at his disposal, all of the problems that matter to him, are problems that can exist in real life to anyone–child or adult. I don't think it's giving anything away to say that by the end of the film, Hiro survives and begins recovering from his issues…and I would think that would help encourage any kid facing similar ones to do the same.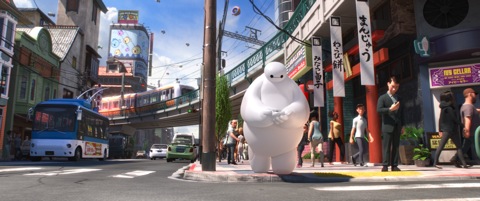 Tragedies happen to everyone, often for no good reason at all. What "Big Hero 6" tells us, is that heartbreak doesn't define us. What we do afterwards, does.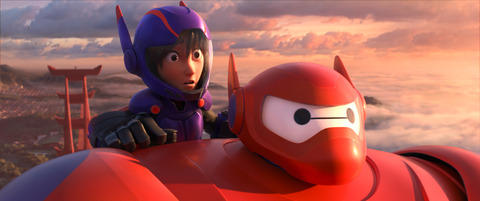 "Big Hero 6," in fact, manages to be both everything and nothing you'd expect. It incorporates all the above storylines, and still, like the team Big Hero 6 itself, ends up being more than the sum of its parts.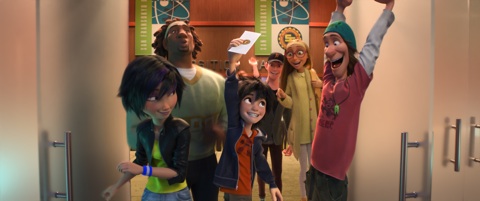 "Big Hero 6" is presented by Walt Disney Animation Studios. Rated PG, it features the voice talents of Scott (Baymax) Adsit, Ryan (Hiro Hamada) Potter, Daniel (Tadashi Hamada) Henney, T.J. (Fred) Miller, Jamie (GoGo Tomago) Chung, Damon (Wasabi)
Wayans Jr., Genesis (Honey Lemon) Rodriguez, James (Professor Robert Callaghan) Cromwell, Alan (Alistair Krei) Tudyk, and Maya (Aunt Cass) Rudolph.
*Always stay to the end of the credits.
Directed by Don Hall and Chris Williams, and produced by Roy Conli.
The film enters general release in 3D on November 7, 2014.
*At the screening I saw, the last moments after the credits were suspiciously blank. This is a movie, at least tangentially from the Marvel Universe, however, so I think any True Believer would probably be safe in expecting a post-credit sequence.