"If all you do is fight for your own life, then your life is worth nothing!"
This week sees the start of a new chapter in the Star Wars saga–"Star Wars Rebels."
This new Disney XD series takes place between "Star Wars Episode III: Revenge of the Sith," and "Star Wars Episode IV: A New Hope." It tells the story of the Galactic Empire's increasingly oppressive rule over its citizens, and the burgeoning sparks of outrage that ultimately kindle into outright rebellion.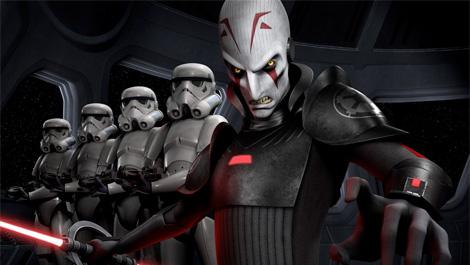 Our entry point into the current state of affairs on the planet Lothal is Ezra Bridger, (voiced by Taylor Gray) a 14-year-old thief and con artist, with a finely developed sense of self-preservation, but an atrophied sense of altruism. A clear analogue to Aladdin, he is introduced in a sequence strikingly similar to "One Jump," even down to the local authorities running him off with the sneer "Loth-rat!"
As a result of his own innate sense of opportunism, and at least partially guided by the Force, Ezra is forced to throw his lot in with the crew of the starship Ghost–a ragtag band working to improve conditions for those downtrodden by the Empire.
While the ship is captained by the motherly but authoratative Twi'lek Hera Syndulla (voiced by Vanessa Marshall,) it is Kanan Jarrus (voiced by Freddie Prinze Jr.) who must resume the Jedi role he abandoned after Order 66 in order to teach the Force-sensitive Ezra. Together, with Sabine Wren (voiced by Tiya Sircar,) a Mandalorian demolition expert and tagger; muscle Zeb Orrelios (voiced by Steve Blum,) a Lasat honor guard; and a disgruntled astromech droid called Chopper, they begin to show Ezra the benefit of being part of a group and the value of caring about others.
Helmed by Dave Filoni, the series can be expected to have a feeling of continuity with his last project, "Star Wars: The Clone Wars." While both series, to some degree, revolve around young protagonists learning the ways of the Force, "Rebels" seems likely to revolve more around the team dynamics, with a less episodic feel than "Clone Wars." The CGI is occasionally a little jarring with a slightly different feel than the past animated series, but that may be due to the art design borrowing from the original Star Wars concept art by Ralph McQuarrie, which may be in turn designed to distinguish the series from the upcoming live-action Star Wars sequels.
Recently, Filoni and the voice cast of "Rebels" met at a press conference to answer questions about the new series:

Ultimately, the series looks to fill in an interesting portion of Star Wars history, as the spirit of rebellion develops both in Ezra and in the galaxy at large. At what point does oppression and injustice become so widespread and intolerable that they overbalance a person's instincts to stay uninvolved? How much suffering does one have to see before deciding to take action against it? Compelling questions for any time, whether it's here and now, or a Long Time Ago.
"Star Wars Rebels" will air its one-hour Movie Premiere on October 3rd, 9pm ET/PT on the Disney Channel. The Series Premiere will air on October 13th, 9pm ET/PT on Disney XD.