The end of another cruise…must mean it's time for a food blog!
We started with the buffet in Parrot Cay after we boarded. There were the usual types of selections. The peel-and-eat shrimp is always one of my favorites, and there were some nice salads, too.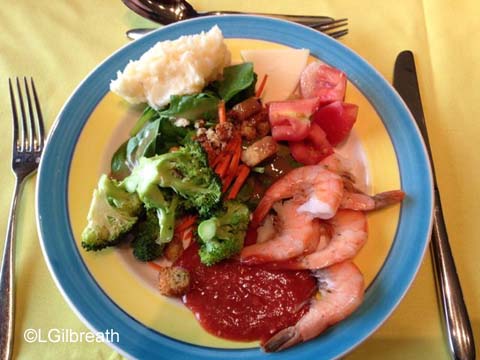 That first evening we were in Parrot Cay for dinner. We met our dining team; Barbie from Serbia was our server, and Tiago from Portugal was our assistant server. They were really good, and worked well together.
I started with the St. Maarten Stack. Layers of grilled squash and mozzarella, with tomato basil vinaigrette. This is one of those dishes I've had several times, but it's always a little different each time. It was quite good – maybe a little bit too much cheese for an appetizer.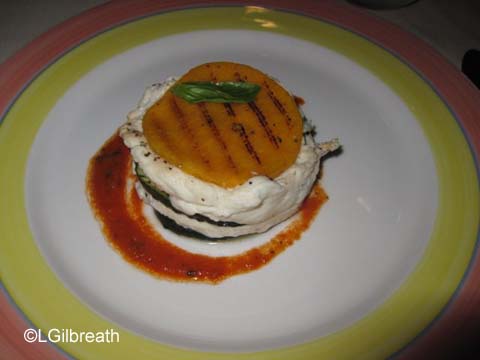 Lee went with one of Barbie's recommendations: Baked Crab Martinique. It's a dip made with crab baked in cheese sauce, served with plantain chips and tortilla chips. He enjoyed it.
My second course was Spiced Tomato Soup. it was nice and hot when it was served to me – I've found that soups are often cooler than I would like. I wouldn't have called it "spiced", but it had a nice flavor.
Lee opted for the Parrot Cay Salad with iceberg, red peppers, cilantro, mandarin oranges and papaya. It was a tasty salad.
I ordered an entree salad: Shrimp and Avocado Salad. I was disappointed in this: the shrimp was not very good, and instead of "field greens" it was mostly iceberg. The snow peas, water chestnuts, and shredded carrots add some nice crunch and freshness.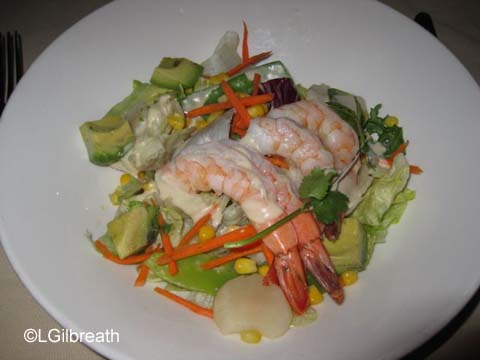 Lee had the Creole Crusted Grouper. I believe this was new on the menu since the last time we'd eaten in Parrot Cay (two years ago aboard the Magic). It was served over shrimp jambalaya rice with Cajun slaw. He really enjoyed it. I had a bite of the grouper and liked it.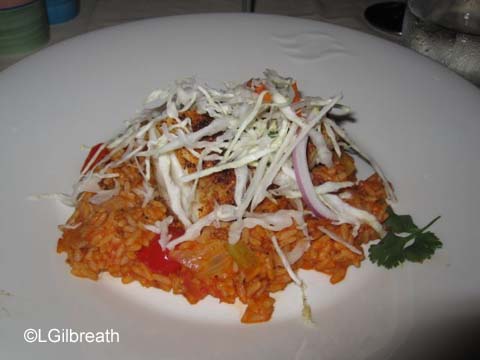 For dessert I ordered one of the "no sugar added" desserts – the Silky Chocolate Mousse. It was good – nice and smooth, but still fairly light. I did not care for the chocolate on top; it was kind of gelatinous and just odd. As it turned out this was the best dessert I had all week.
I also received a bonus dessert because we were celebrating my birthday (it was the day before). This was a chocolate mousse cake. It was decent, but it also had that gelatinous chocolate on top. Ick.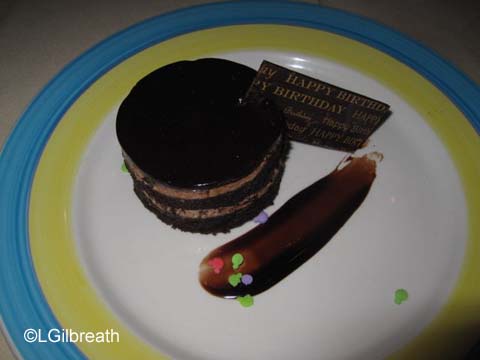 Lee tried the Paradise Coconut Pineapple Layered Cake. Which I think wins an award for longest dessert name ever. 🙂 The cake was moist and nicely coconutty. It was a light and refreshing dessert.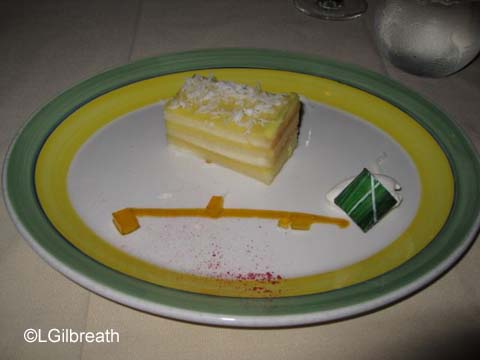 We had breakfast in Beach Blanket Buffet in the morning, but I didn't take any photos. Pretty typical buffet items: scrambled eggs, bacon, sausage, pastries, fruit, cereal, oatmeal.
After we left Victoria that day we went into the Outlook Cafe. There are a couple of refrigerated cases where they put "sweet bite" types of items in the morning and the afternoon. We tried a couple of mini mousse cakes and a brownie. They were pretty good.
That evening we were in Triton's for dinner. It was the regular Triton's menu, featuring Continental cuisine. I started with the Potage Parmentier – which is the fancy term for potato leek soup. It had a good flavor, but I thought it was too thin.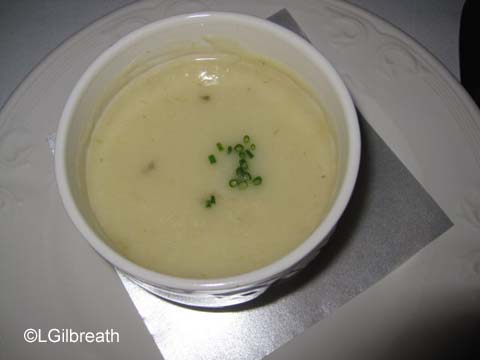 Lee's appetizer was Iced Lobster and Jumbo Shrimp, with asparagus and horseradish cream and dill dressing. He didn't make any particular comments about it one way or another.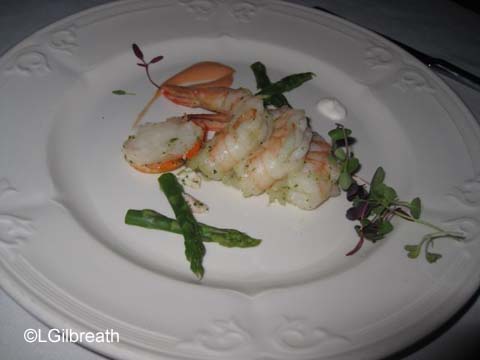 Next I had a very nice salad: Red Wine Bosc Pear Salad. Arugula, sliced onions and crispy lardons topped with sliced pears poached in red wine. I really liked the pears.
Lee had the Onion Soup Gratinee as his second course, and I had it as my entree. This is always good – I think I've ordered it on almost all of my cruises and I have never been disappointed. It's a generous serving, and very filling, which is why I ordered it as an entree. (I also ordered a side of steamed broccoli).
Lee selected Lobster Macaroni as his entree. Elbow macaroni with gruyere and cheddar cheese sauce, and chunks of lobster. It wasn't the most attractive dish but the flavor was good.
I was not inspired by anything on the dessert menu, so I asked Barbie for a dish of the poached pears that had been on my salad. 🙂 They were good, though some of them were a little too crisp. They would have even better with some cinnamon-sugar.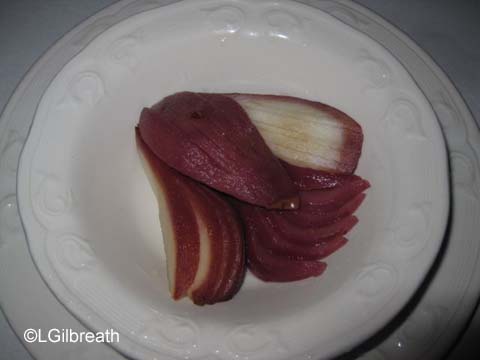 Lee ordered one of his favorites: Tahitian Vanilla Creme Brulee. This is another selection that is always excellent.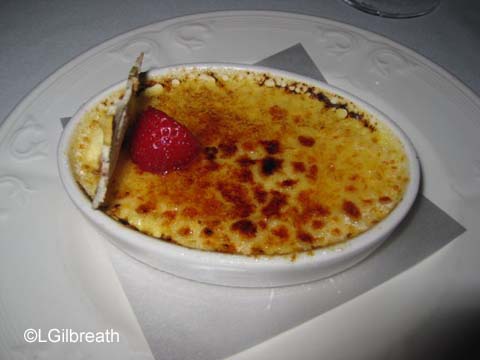 After dinner we went to The Cadillac Lounge and had some Moet Ice Imperial champagne. I talked about this more in my cruise blog, but here's a photo of the glass, with the sliced strawberries, orange, and sprig of mint. It was very pretty.
On our first day at sea we had brunch at Palo. This is always a wonderful experience. We were the first ones in the restaurant, so were the first people to see the buffet, and I was able to take photos before anyone had been through it and messed up the arrangement. 🙂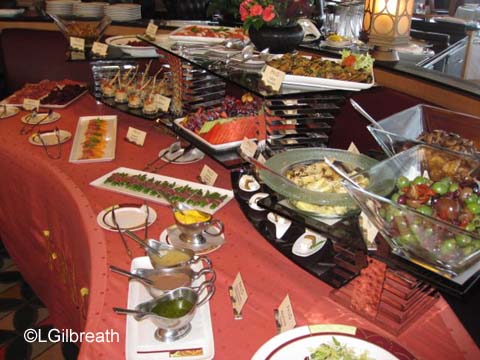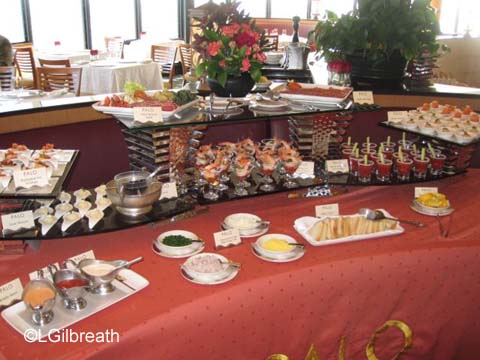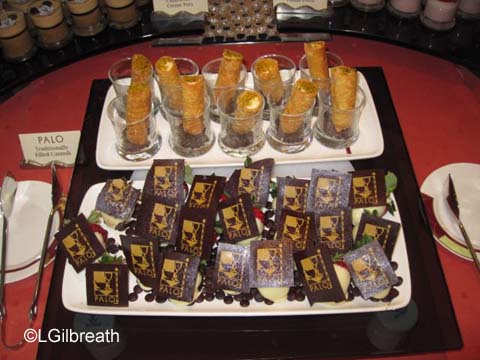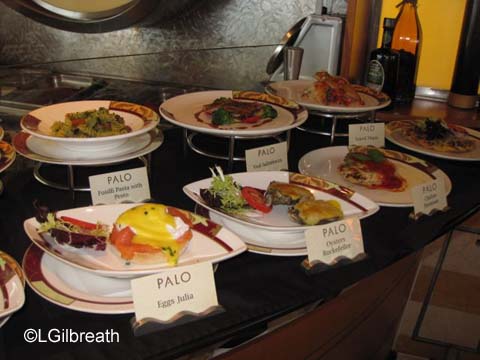 A Peach Almond Souffle is a new offering among the hot entrees. We didn't try it, though now I wish we had – all in the name of research, of course. 🙂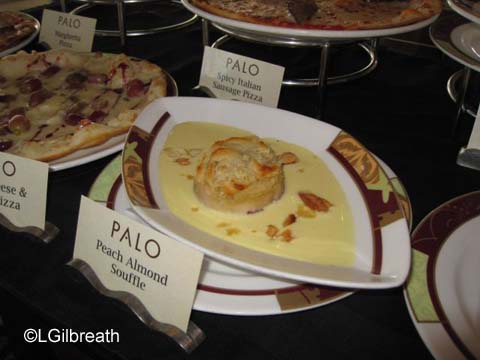 I enjoyed a selection of chilled items, such as jumbo shrimp cocktail, hummus, caprese salad and several pastry items.
Lee's plate was a little more colorful, with a grilled scallop, foccacia, grilled vegetables, cheese, and one of those wonderful sticky buns.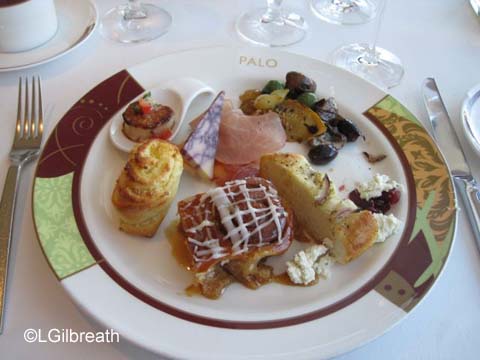 For round 2 I had some fruit, cheese, marinated olives and artichokes, and salmon mousse. The two cheeses (port cheddar and sage cheddar) were especially good. I wasn't a fan of the salmon mousse.
I ordered the Chicken Parmesan. That a specialty at Palo, and it's always good. Nice crunch on the chicken, but it was tender inside, and I like the tomato sauce.
Lee is a pizza fan, so he had the sausage pizza. He must have liked it, because he ate the whole thing.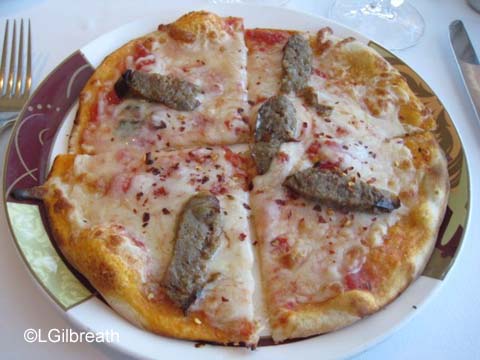 A glass of champagne, mimosa, or sparkling cider is included with brunch. We also ordered some additional wine – Lee had a glass of Rosa Regale and I had a glass of prosecco. Both very nice with brunch items.
And then there was dessert, of course. I tried a champagne fruit cup, chocolate covered strawberry, and a pastry twist filled with Nutella.
It was a really nice way to spend part of our morning. There aren't a lot of tables in Palo to begin with, and then they space the diners out so that not all of the tables are occupied at the same time. It's nice and quiet; a very relaxing dining experience.
No lunch for us that day, since brunch was late and we had the early dinner sitting.
We were back in Triton's for dinner again. Because this was a short cruise, Disney combined Pirate Night with Toy Story Night. We had the Toy Story menu in the dining rooms, and the show in the theater, followed by the Pirate Night deck party and fireworks.
The Toy Story menu was new to us, so I was looking forward to trying something different. Many of the menu items were named after characters from the Toy Story movies.
I started with Al's Miso Chicken Noodle Soup. This was supposed to have parsley dumplings in it, but mine had no dumplings, and Lee's had only one. It had a good flavor, with lots of vegetables, but there was no chicken in it.
Next course was Jessie's Flat Asparagus Salad with new potatoes, mache, and endive. This was not at all what I expected; I was expecting lots of greens, and there were hardly any. I don't believe there was any mache – just endive. And radishes, which were not on the menu. But I like radishes, so that was ok.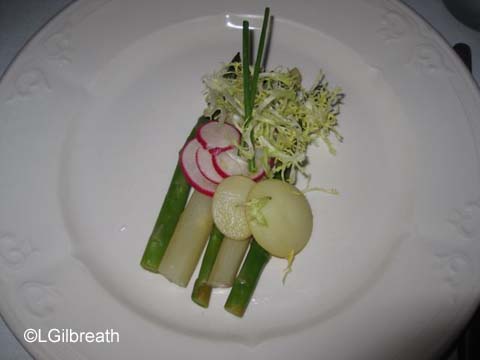 Lee had The Prospector, which was flatbread with chicken, red onion, pears, walnuts and blue cheese. He enjoyed it.
For my entree I chose Pan-seared Filet of Sea Trout "Lotso". This was served with onion puree and sweet pea and herb dressing. This was not what I expected from the description – rather than onion puree it was served over what seemed like mashed potatoes, and the "sweet pea dressing" was just peas. It really needed a sauce as the fish didn't have a lot of flavor. The entire dish was kind of bland. It was also a pretty small serving.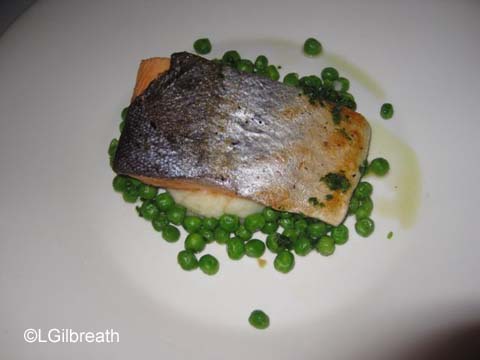 Lee went with Barbie's recommendation: Sheriff Woody's Favorite Marinated Delmonico Rib-Eye Steak This was a large piece of meat served with sweet potato gratin, collard greens, and baby carrots. He enjoyed his dinner though it was a challenge to finish the steak so he could be in the Clean Plate Club and have dessert.
I was uninspired by the dessert menu, but ordered the Sweet Temptations: Opera Slice, Jessie's White Chocolate Raspberry Truffle Cheesecake (which just took the title of longest dessert name), and Poached Bosc Pear Almond Tart. Surprisingly the cheesecake was my favorite – I'm not much of a fan or cheesecake or white chocolate.
But I ended up not eating much of any of it because Barbie brought me a different dessert: the Silky Chocolate Mousse I'd had the first night. Other than the weird chocolate stuff on top it was good – better than the other dessert choices.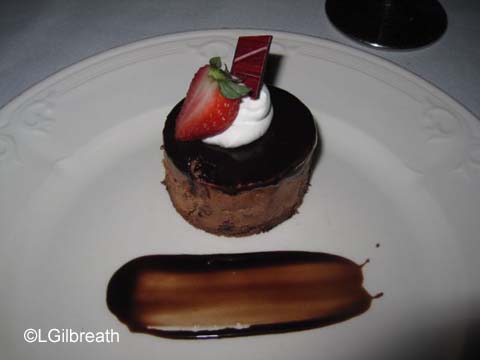 Lee ordered the Buzz Light Ice Cream Sundae, which was bubblegum ice cream, marshmallows, fudge sauce, whipped cream and a cherry. It was very blue. 🙂 And the ice cream really tasted like bubblegum. And Lee's lips and tongue were very blue when he finished it. Lee really enjoyed it. 🙂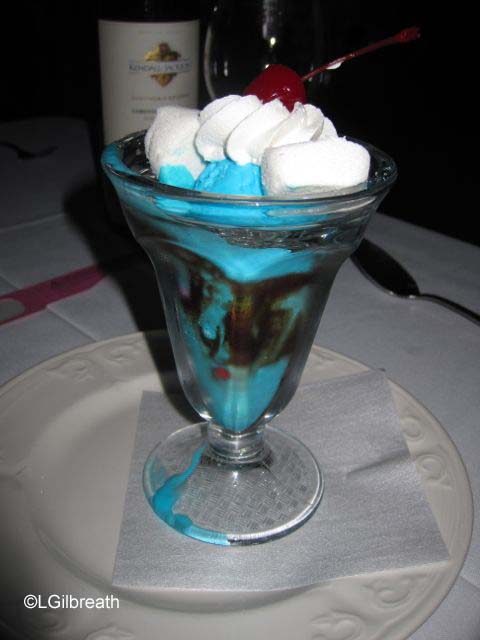 Overall I was disappointed with the Toy Story menu. The menu descriptions didn't match what I received so I didn't get what I was expecting. Also, the serving size of all the items that I had were pretty small. Now, the selections Lee made (with the exception of the soup) were very generous, so perhaps I just didn't make good choices – but still, I normally expect the serving sizes to be pretty consistent.
On our second sea day we went to Triton's for breakfast. I ordered oatmeal, and fresh fruit and yogurt, with a side of scrambled eggs. Nothing too magic about that. 🙂 I expected that the fruit would be berries and raisins and maybe bananas, but it was melon – and mostly watermelon, at that. Melon with yogurt was very odd.
Lee had the Disney Cruise Line Breakfast Trio, with French toast, Belgian waffle, pancake, and bacon. He enjoyed it. The French toast had cinnamon sugar on it, and looked pretty good.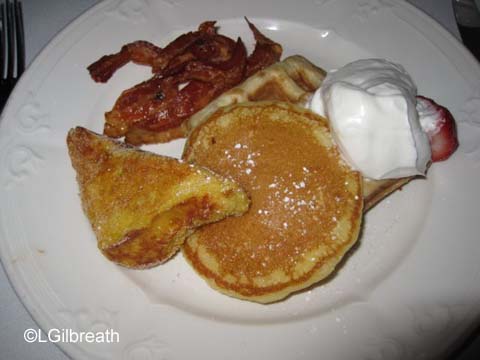 One issue I've had on Disney cruises with hot beverages, especially at breakfast, is that the cups are ridiculously small. The servers are pretty good about coming around with coffee, but I drink tea, and there's a lot of times I'm not even offered additional hot water for my too-small cup. I found the servers on this cruise were much more attentive, and only once was I not offered additional hot water – and a couple of times it was refilled twice. Of course my favorite was Palo, where they brought me a personal pot of hot water, and then refilled that.
We went back to Parrot Cay for lunch. It was a seafood buffet, similar to what was offered on embarkation day. This is actually Lee's plate.
He had a couple of desserts, too.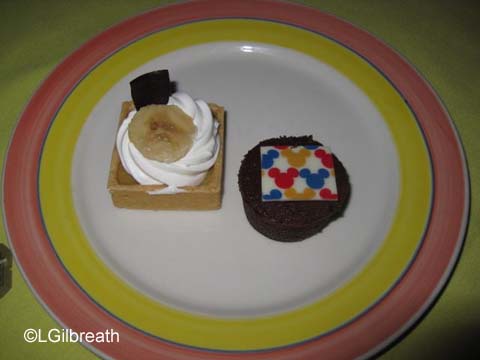 Our final night dinner was in Animator's Palate. The Wonder is the only Disney ship that still has the original technology in Animator's Palate. It still looks good, and had I not seen the newer version of Animator's in the other ships I think I would still be pretty impressed.
The menu has had some changes over the years. I was disappointed that my favorite appetizer, the Rock Shrimp and Caramelized Onion Cheesecake, is no longer on the menu. Barbie said that too many guests were confused by it, and expected it to be sweet when it was savory. Instead I ordered the Tomato Tarte with goat cheese and radish salad. It was excellent – maybe the best appetizer that I had. The crust was puff pastry, and it was nice and crispy. It was also a good-sized serving. I shared a little with Lee, but I ate most of it.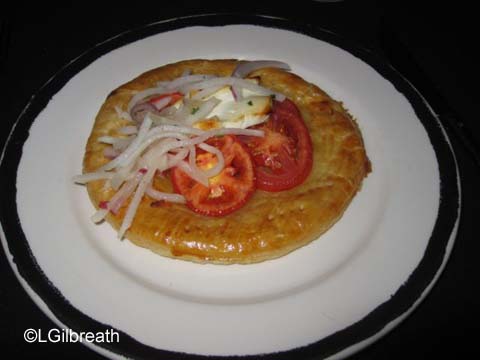 Lee had the Black Truffle Pasta Purseittes. It was tortellini filled with truffle-scented cheese and served with a champagne sauce. He enjoyed them.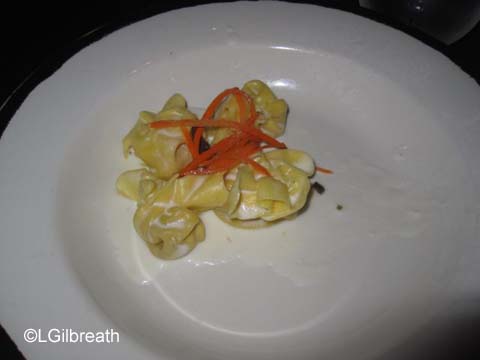 Next for me was Arugula and Curly Endive Salad with chorizo, dried figs, and a cider dressing, though I requested that the chorizo be left off. The greens were good and I liked the dressing, but the figs were a bit odd.
Lee ordered the Baked Potato and Cheddar Cheese Soup. This one has been on the menu as long as I've been cruising, and it's always been pretty good.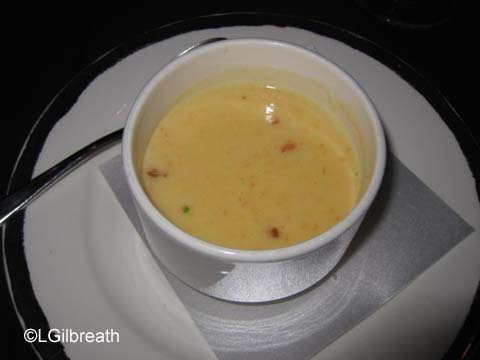 As my entree I had the Seared Red Snapper with scallops, served over crushed potatoes. The menu said it was served with salsa verde, but as you'll see in the photo, that's a red sauce and not a green sauce. 🙂 I don't care for scallops, so I gave that to Lee, but the fish was good. (And Lee says the scallop was very good.)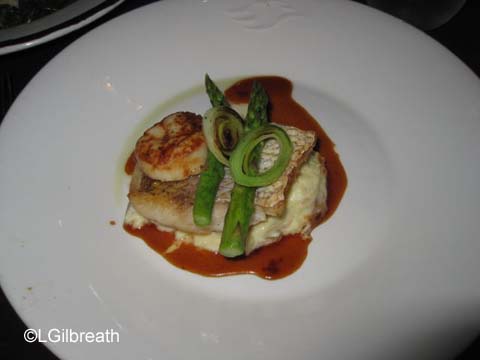 Lee had the Ginger-Teriyaki Dusted Angus Beef Tenderloin, served with bok choy, wasabi mashed potatoes and a tamarind-BBQ reduction which he really enjoyed.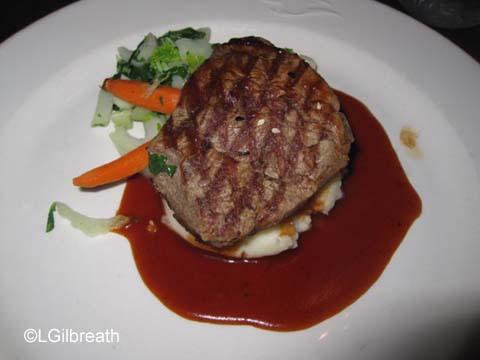 There was a new item on the menu that looked very interesting: Potato, Celeriac, and Onion Gratin, so I ordered that too. It was served over collard greens, which did not appeal to me, but the gratin was very good. Rich and cheesy and very filling. I would order this again, but request steamed broccoli in place of the collard greens.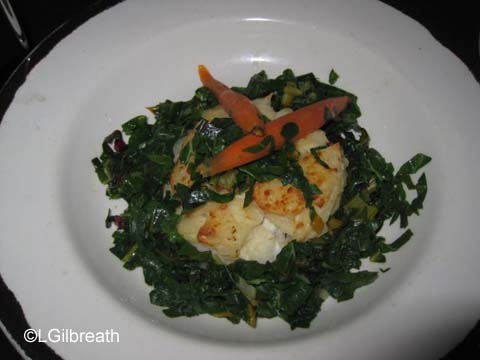 Lee and I both ordered the Crunchy Walnut Cake. The name of this does not at all describe it – it's quite misleading. It's really a pretty nice dark chocolate mousse cake with a nut and chocolate crust. It was pretty good. And it didn't have that weird layer of chocolate gelatin on top. 🙂
The next morning we were back in Animator's Palate for our early (7:00) breakfast. As usual, there weren't a lot of early morning diners; only one other couple from our table was there. This is a pretty basic menu – they want to feed us fast and get us off the ship. 🙂
I was pretty boring – just had granola and yogurt.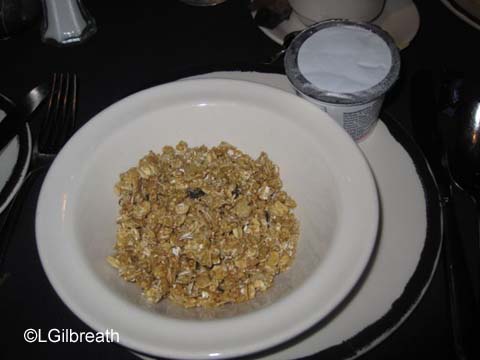 Lee ordered his usual: The Chef's Farewell. It's an open-faced omelet with peppers, BBQ chicken, onions, and Swiss cheese that he really enjoys.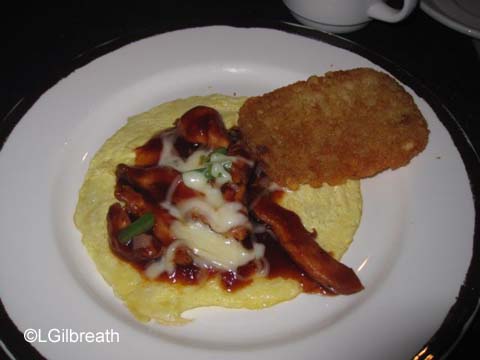 And that was our last meal aboard a Disney ship until November, when we'll be back on the Dream for a four-night cruise.
I'd say that overall the food was good but not outstanding. As I mentioned I was pretty disappointed in the Toy Story menu, though the Animator's Palate menu had some new (to me) offerings that I really enjoyed. I wish that the descriptions on the dessert menus were more accurate. There's menu items that aren't at all what I expect based on the writeup, some that when I see them I wish I'd ordered them, and others that I'm disappointed in because they don't live up to my expectations. Lee and I talked some about this after the cruise and he has a theory that sometimes the food that gets delivered to the ship for a given cruise either doesn't have enough of some ingredients or they are not of good enough quality, so the chefs improvise and swap ingredients.