Contributing photographer Jason of disneygeek.com sends us these photos from his trip to the parks on Friday, September 12, 2014 featuring a first look at HalloweenTime.
Halloween Time kicked off at the Disneyland Resort today. In this picture set I feature the Halloween related pictures. There will be an additional update with other photos.
The Mickey and Friends Tram Stop features Halloween Time Billboards
Some Downtown Disney Banners feature Halloween (the reverse side Cars Land).
The entrance turnstile work is complete and the character pumpkins are out in their usual places.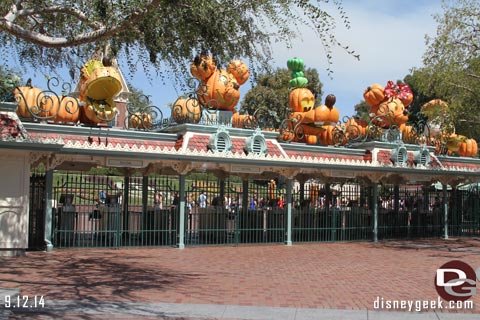 Main Street is home to the pumpkin festival. The red, white and blue of summer is gone and orange, yellow and pumpkins now on the buildings. These are atop the Mad Hatter shop.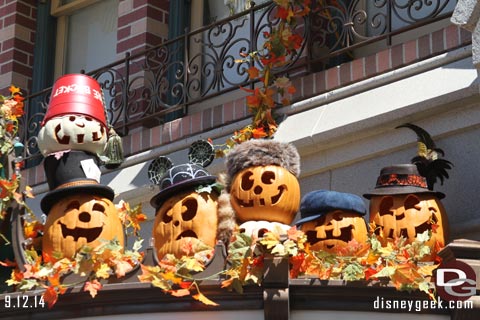 The large pumpkin Mickey in town square has returned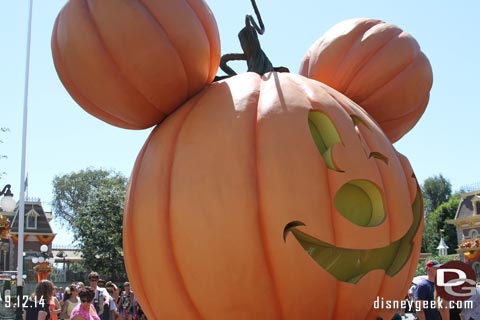 As I walked up Main Street took pictures of the pumpkins on the buildings.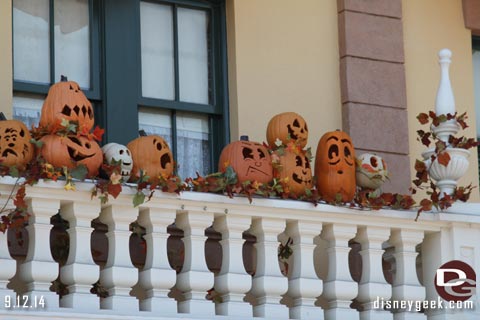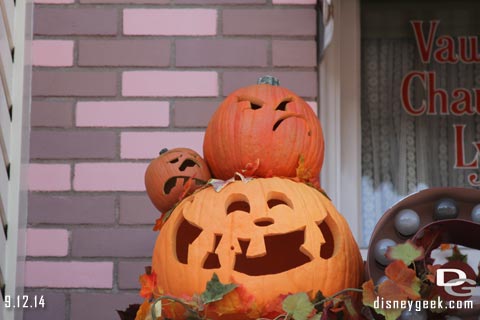 A travel mug is available at several locations. This one in Coke Corner.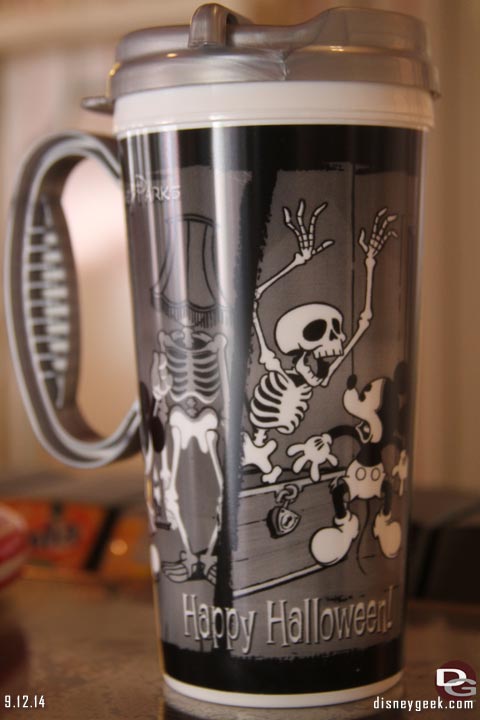 Approaching the Big Thunder Ranch BBQ, it is decked out for Halloween as usual.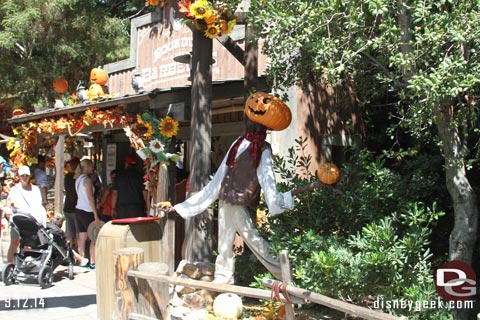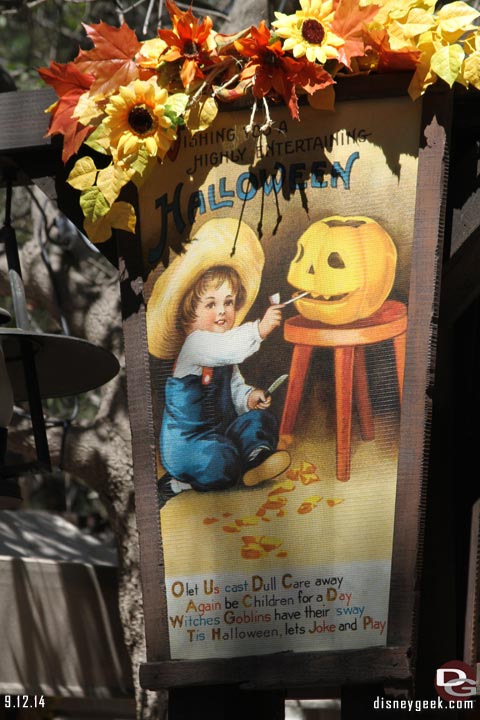 The Halloween Carnival takes place daily in the Big Thunder Ranch Jamboree area. Here is the schedule.
The Pirates League is present again.
A favorite of mine…the pumpkin carvers.
Since it was the first day not a lot done yet…but a couple.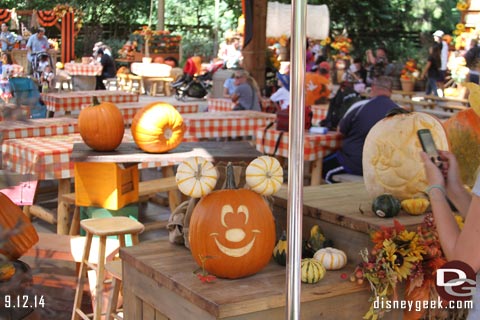 Elvis Stitch carved into this pumpkin.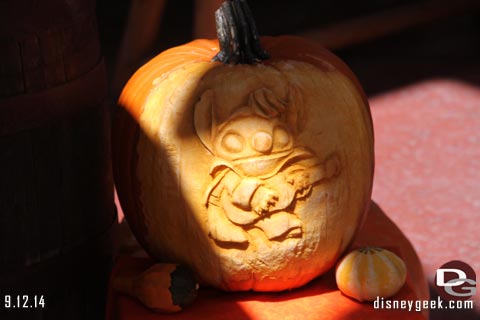 Characters were roaming around as usual. Here Minnie is signing a picture for a guest.
Halloween Crafts have returned so you can color a mask to use in the parade.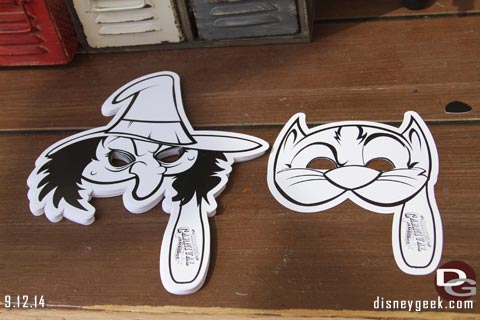 The Games of Fun have returned. This year Cast a Spell ring toss and Wheel of Fortune.
Carnival Treats is between the games and tent.
The menu. The only Halloween themed item is the Candy Corn Cotton Candy.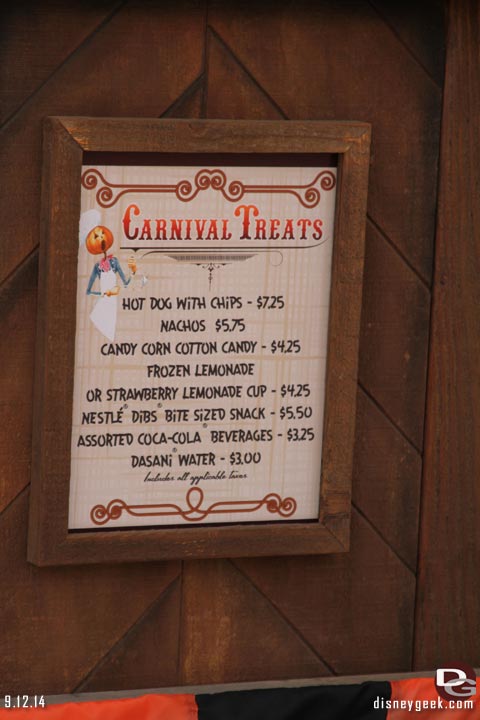 Pirates League is available in the Jamboree area during Halloween Time. There were plenty of cast members waiting for guests. None stopped by while I was in the area.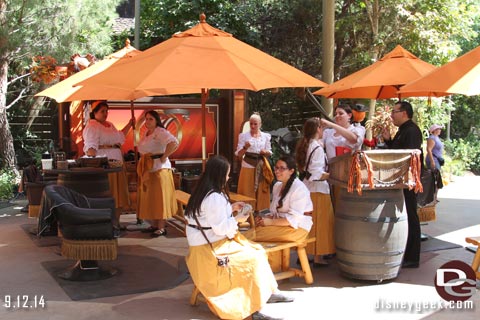 There was a Disney film crew and photographer on hand. Guessing we will see a Parks Blog posting soon.
The Scare-Dy-Crow Shack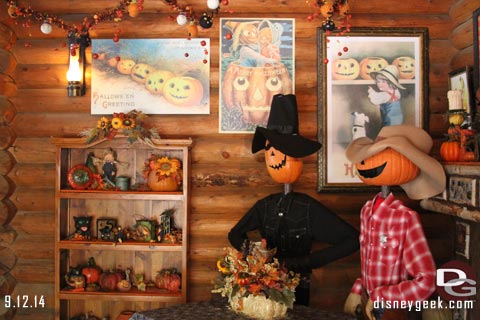 Frontierland is celebrating Dia De Los Muertos in Zocalo Park again.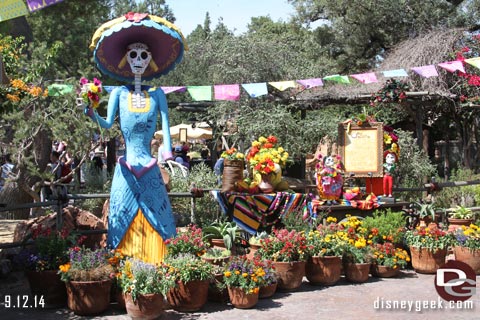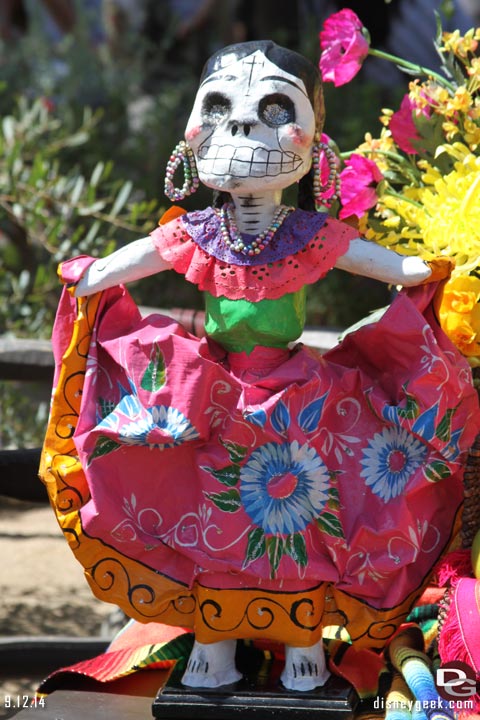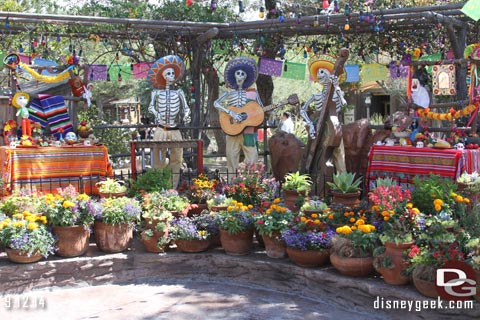 The Ray Bradbury Halloween Tree is back in Frontierland.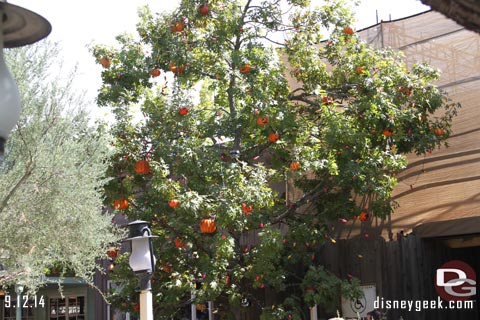 There are several locations with special offerings for Halloween Time. Here is a Maleficent Dragon Sipper.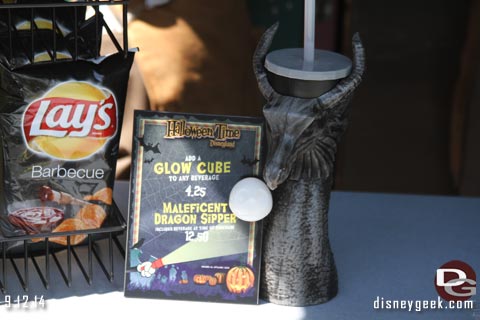 The Haunted Mansion Holiday reopened today. It had a posted 40 min wait, so just some exterior pictures as I walked by. No FastPass on Friday (and guessing none this year)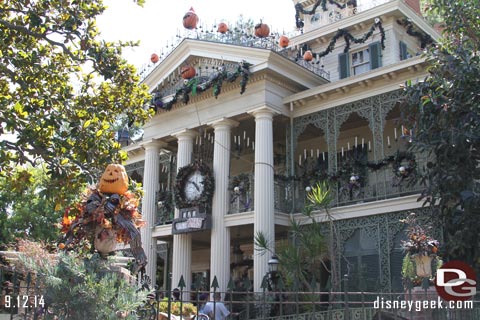 At the Royal St. Veranda. Their Halloween Time offerings.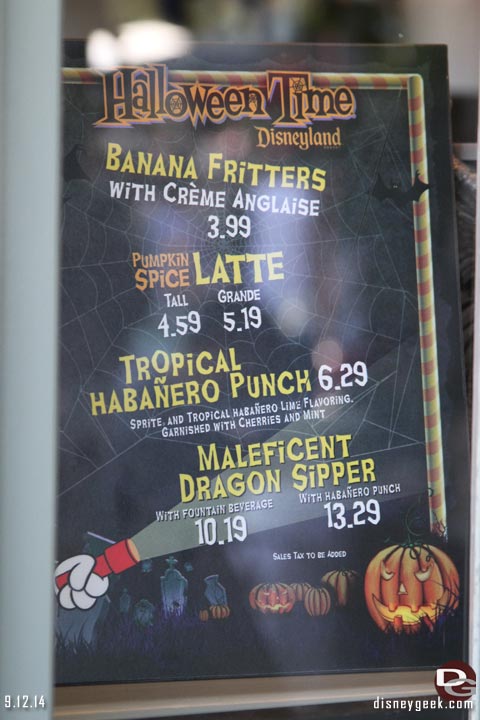 Bengal BBQ Halloween Time Treat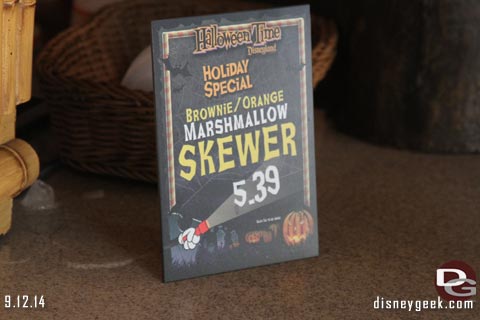 Bengal BBQ Halloween Time Treat
Halloween popcorn buckets.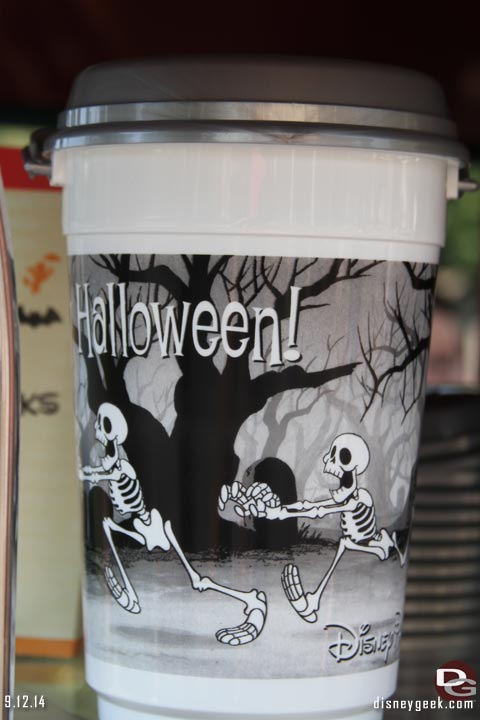 Back to the Halloween Carnival. Conjure a Villain is back again and had a long line just like the previous years. This year a fortune teller/mind reader was out to entertain those waiting.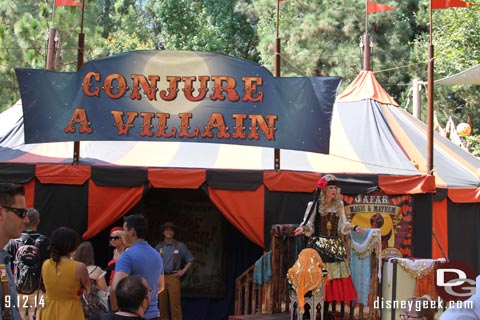 Donald dressed up as a pumpkin.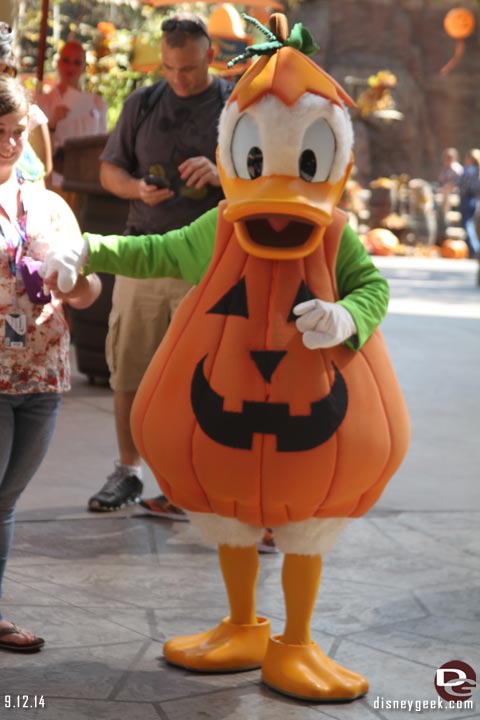 Show time. A jester takes the stage to introduce the mask-arade
Time for the mask-arade.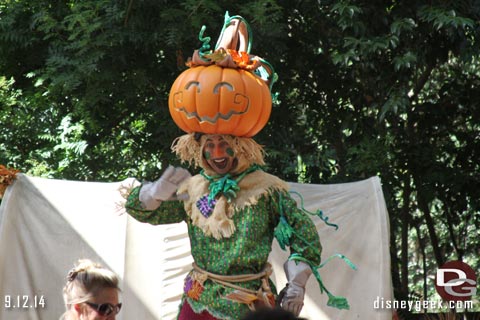 Here is a video of Mickey's Mask-arade
Next up a Magician takes the stage to perform. Here is a clip of his rope trick routine
A clip of a levitation illusion.
A clip of his finale trick.
A random ghost on the loose…it bumped right into me.
Then went on to scare/chase this cast member.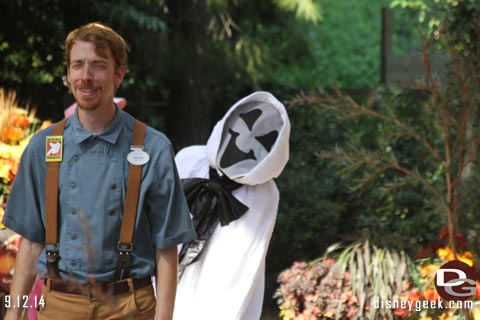 Goofy in his Halloween Costume.
Mickey was helping some guests color.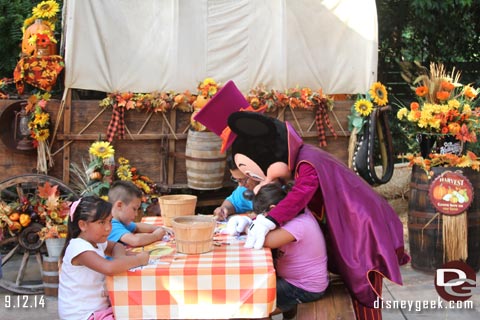 Thought this was funny. A guest was taking a picture of Mickey and Minnie photo-bombed in the background.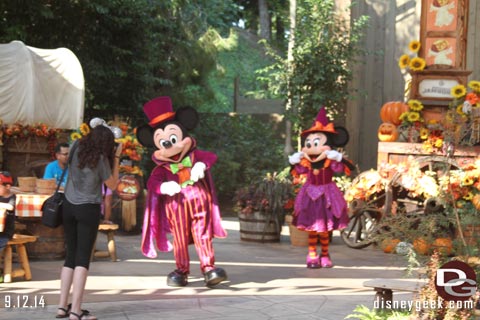 Time for the Mask-arade again.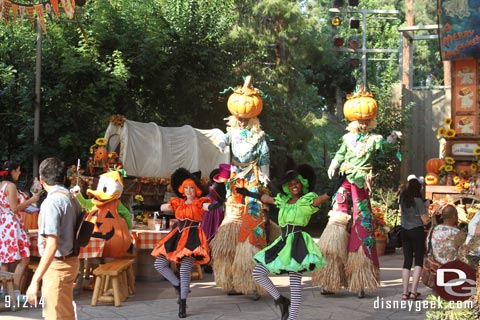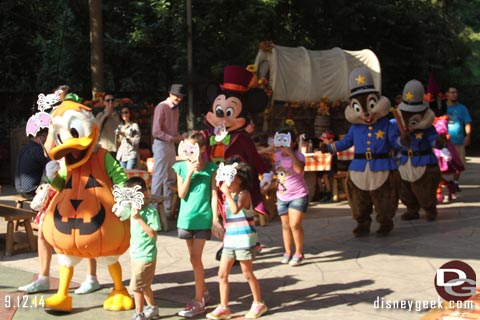 Noticed this sign near the entrance. It was re-used from last year. Still lists the Haunted Hillbillies.
Paid a visit to the Haunted Mansion Holiday that opened today.
Here is a video I took last year (this trip through I just did stills). It was the same this year.
A quick look at the gingerbread house.. it opens to reveal a gingerbread man inside.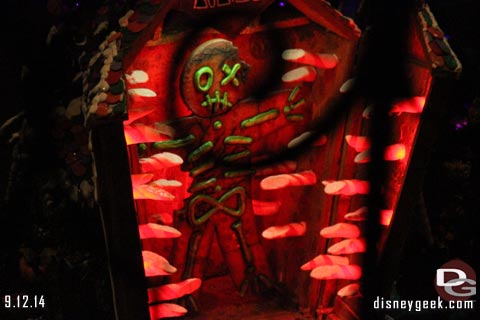 Entering the graveyard.
Tomorrowland Terrace Halloween Time special.. a Monster U Style burger
Next stop Buena Vista Street. Some Halloween inspired treats at Trolley Treats.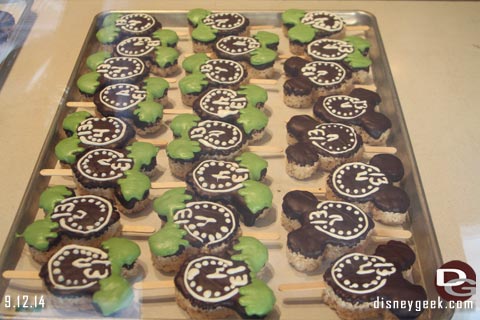 Popcorn bucket offerings on Buena Vista Street.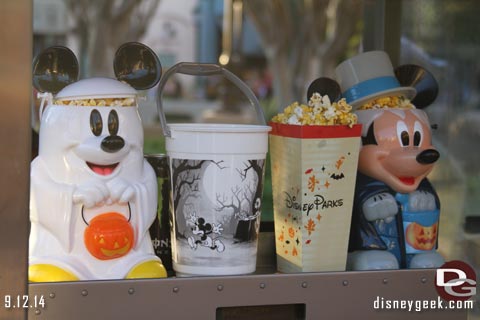 Out at Boardwalk Pizza and Pasta a Halloween Time offering.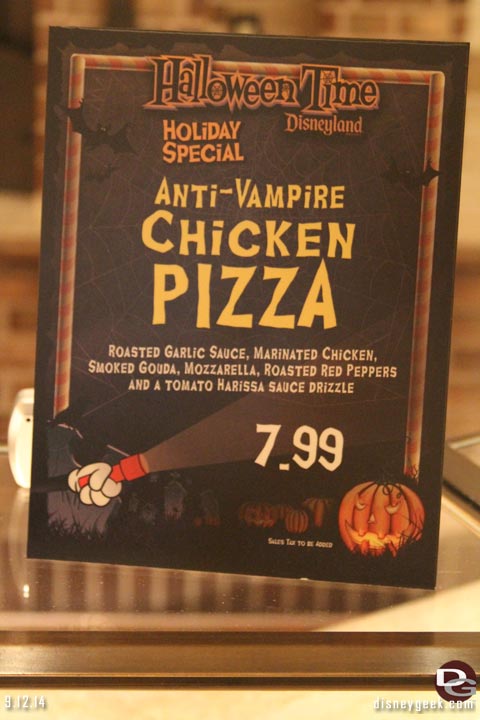 Note it is now a slice of pizza. The flatbreads are gone.
The Mad T Party is decked out for Halloween again.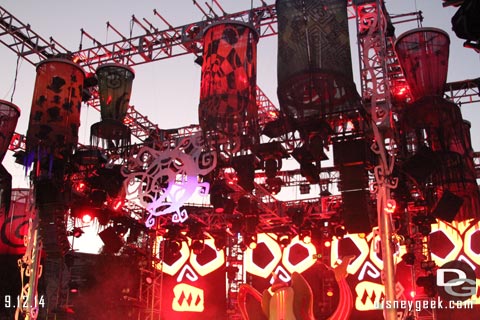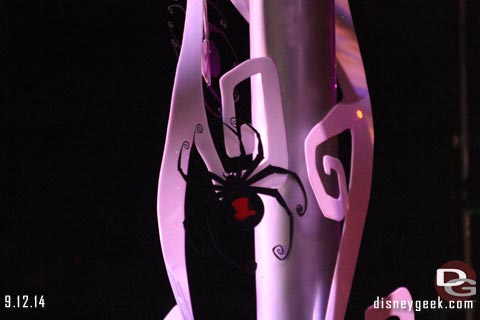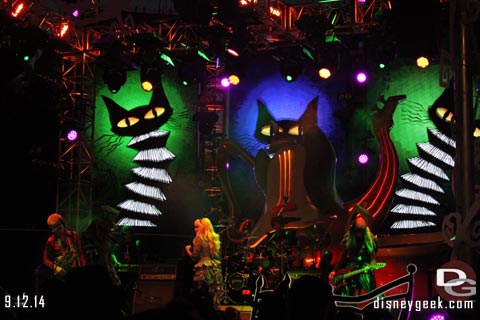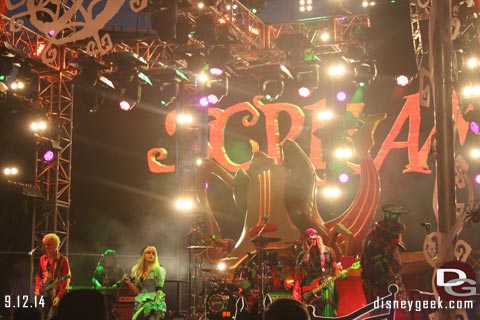 Pizza Port has a Halloween Time offering.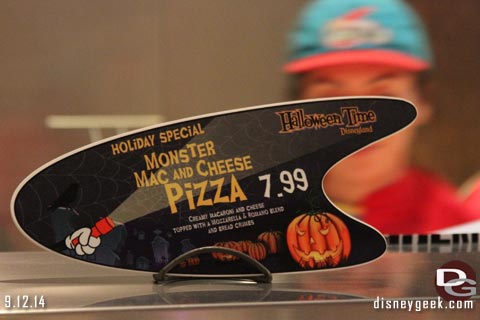 The Monster Mac and Cheese Pizza.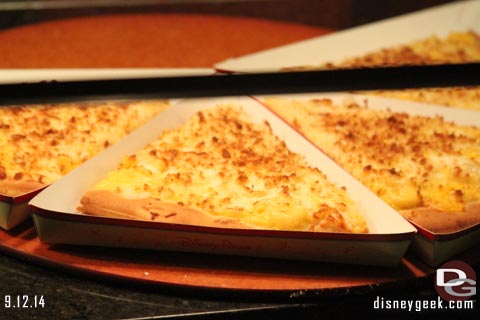 Hope you enjoyed this highlight tour of the Disneyland Resort. For additional photos and details from this trip you can check out the full Disneyland Update I posted on my site, http://disneygeek.com Also be sure to follow me on twitter @disneygeekcom for pictures from the parks.