Recently, my family was excited to see that one of my daughter's friends was pictured in a full-page color ad for Walt Disney World in the Orlando Sentinel. And that piqued my curiosity about how child models are chosen for the company's advertising campaigns and what is involved with that experience.
In this case, Kayla Davis, who will turn 9 next month, is living out her own fairy tale. She began modeling at age 4, and her first photo shoot was for Disney, portraying a princess story time.
"It was truly a magical moment for Kayla," said her mother, Tammy Davis. "She was able to meet Jasmine and Snow White that day."
Tammy said that when Kayla expressed an interest in modeling at a young age, she decided to research what she and her husband could do to facilitate their daughter's dream. She cautions other parents who have children interested in modeling to take the time to find a reputable talent agency. One sign of trustworthy representation is that no fees are collected up front, she said.
The talent agency then handles the interaction between clients, such as Walt Disney World, and its talent, such as Kayla. So, for all the work Kayla has done for Disney World ads, she has not had to audition. Her agency forwards her information and photos when they see a job she might be qualified for, and then the client makes a request for certain models.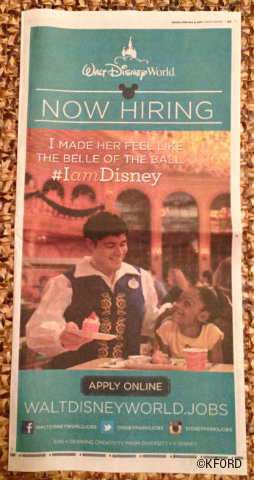 For this most recent ad, Kayla had to be at the Magic Kingdom at 1 a.m. and work until 9 that morning. And although she was able to rest in between shoots, that's still a long night for a third-grader. To prepare, Tammy said she went to bed at 7 p.m.
Once she arrived on Disney property, her job began with having her hair styled and light makeup applied, plus a trip to the wardrobe department for the Belle shirt she is wearing in the ad. Kayla wore several different Disney Princess-themed outfits during the course of the shoot and thoroughly enjoyed that part of the experience, Tammy said.
During this particular shoot, Walt Disney World was showcasing its newest restaurant in the Magic Kingdom, Be Our Guest, as the backdrop for a hiring campaign. The ad reads, "I made her feel like the Belle of the ball. #IamDisney"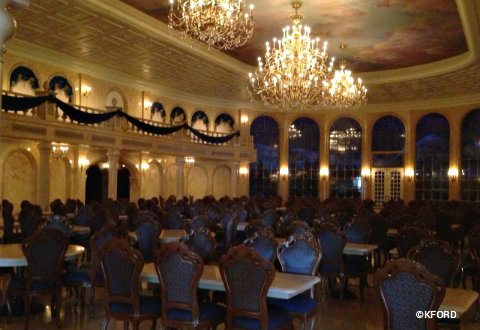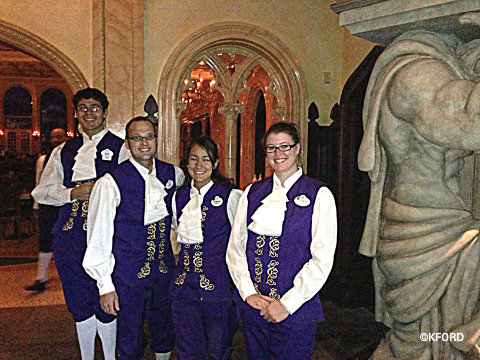 Kayla was required to pretend she was eating in the Fantasyland restaurant, which can be seen in the final full-page ad. She also had to pose for a slew of photos in front of the entrance to the castle. While she was on the job, Kayla got to see a big scene of Beauty and the Beast dancing. She said that interacting with the characters is one of her favorite parts about Disney modeling jobs. The Florida native also was infatuated with the windows in the ballroom of Beast's Castle that depict snow falling.
Kayla has done more shoots for Disney than any other company, her mother said. It certainly would seem that Disney has a way of making dreams come true for both theme-park guests and even others living out their own fairy tales.