To all who come to this photo trivia game, Welcome! Along the way, the photos can make us relive memories and see details Walt's Imagineers put into everything we love in Walt Disney World!
Thank you for the anniversary wishes. 🙂
Tom Buck, thank you for sending warmer weather from Walt Disney World! Mike Venere and I are not like Queen Elsa; we can't say "The cold never bothered me anyway."

From last week: Challenge #319: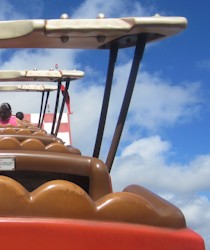 And here's the answer:


Copyright © Erin Blackwell
It's the Barnstormer in the Magic Kingdom! I love this ride and always have! Previously, The Barnstormer at Goofy's Wiseacre Farm and now it's The Barnstormer featuring the Great Goofini. Anyone who has ridden it knows one very important thing: brace yourself for the brakes at the end. 😉
This is a lot of people's first rollercoaster, grownups and kids, while in the Fishman Family, it's a great place to petrify a kid. Awesome. 🙂 My big brother did that to me with the Haunted Mansion. I go in but I still hide behind my husband until we're reach Madame Liotta. 😉
Bruce Jones were the first to send in the correct answer! Congratulations to Bruce and to all our winners this week! Jennifer Rowell, Kristi Strembicki, Leigh Mertz, Murr Family, Kris Nixon, The Kahle Family, Emily Hudson, Donnafrank, Sharon Pierce, Renee, Olszak Family, Linda K Ranatza, Bill Mckim, Carol Ney, Rob Blundin, Lauren Blundin, Tricia Petty, Mary Beth Tarbet, Dee Dee Kenney, Melissa Such, Ed Elder, Jack Lynch, Angie Blair, Scott Greenbaum, Stu Horowitz, Joe Derecola, Erick Jauregui, Sheryl Hicks, Gallagher Family, Mickey Eckert, Nicki Seay, T. J., Leigh, Teddy And Carleigh Moos, Tracy Ludwig, Joy Laughlin, Ken Daube, Jen Eacret, Kathleen Bast, Michele Schlenker, Dave Freemyer, Kerri Coggins, Amber Slifer, Kristy Creeden , Carly &Colin, Andy Hickey, Chasady Mirkes, Annie Keane, Tinkerbellwells, Michelle Palazzo, Susan Hewell, Candice Grimes, Sarah Francis, Cindy Shatzel, Sherry L Dougherty, Gail Reller, Scott Precise, Matthew Jadro, Anjanette Tournillon, Lauren Thomas, Taylor, Nicki Joseph, Carla C, Liz Mckinnell, Michelle Darabaris, Virginia Pierce, Jeff Schoeling, Amber P, Deb Gallo, Deb Ragno, Jason L, Beth Mcmeekin, Andrew Schneider, Christie Linard, Stuart Savage, Jonathan Thomas, Anne H., Theresa Rucando, Christa Loss, Elaine Kleinhenz, The Frisbee Family, Amy Hayes, Lee Anastasi, Krista Serpi, Erin Hammer, Mike O'brien, Michele Smith, Kris Blamphin , Stefanie Hendley, Mark Avis, The Tisdale Family, Stephanie Peterson, Sand Family, Janice Enli, Vanessa Gordon, Kathy Morris, Patty Carty, Sandie Albrecht, Gina Smith, Carolyn Como, Dawn Miller, Sarah Goulding, Gabriella, Terry And Matthieu, Jim Finley, Leanne Seeman, Paul Dickson, Tara Williams, David Hahner, Kathryn Perkins, Matthews Family , Team Hill, Steve Morin, Alex Popek, Clay Anthony, Patti Gumiela, The Chamberlain Family, The Kertes Family, Morag Lemon, Mark Schaefer, Al Ganter, Linda Scrivano, Lorine Landon, Belicia Cullen, Jennifer Harmon, Scott Cullen, Amiee Augustine, Tina G., Gerald Skanes, Lauren Holcomb, Steph Isham, Rebecca Smith, Chris Kelly, The Williamson Fanily, Amy B, Cindy Pink, Jodi Lupp, Brandie Baughman, Sharynne Smith, Jodi Lupp, Bill Schmid , Teala Van De Ven, Paul Robuck, Joseline Hernandez, The Fosbender's, Suzanne Baker, Laurie Murray, Jason And Melinda Lenz, John Baker, Andrea Kruszewski, Pat Schwier, Ken Jackson, Meredith Wall, Wendy Bedard, Lisa, Josh Weiss, Shawn, Paul Knott, Liz S., Ryan Mccorristin, Peg Readinger, Eric Enli, Laura V. , Trina Noggle, Dave And Liz Fullerton, Andrew Carrieri, Terry Blair, Lindsay Koren, Patty Newton, Robert Hildebrandt, Susie Howard, Blunk Family, Diane Emberton, Kathleen Glovna, Tina Gottron, The Gunnels Family, Michele Mongeon, Meghan Gleason-vollmer, Annie Niece, Louise Barton, Brian Miller, Ed Mahoney, Weaselmouse, Dawn Fiege, Paul Moore, Bruce Hinterleitner, Trisha Johnson, Lisa Zitek, Paul Silagyi, Roger Vollmer, Mary Kay Samluk, Danielle Ciotti Harsley, Torrey Beasley, Ashley Tomlinson, Nathaniel Clements, Janet T Thorn, Tracy Discher, Linda College, Ruben Omeara, Doug Kopp, Judy Simonsen, Stefanie Vandiver, Jim &Lorie Sonnen, Shari Prater, Vera Dercole, Allison Forson, Angela Beaulieu, Jill, Tommy Montgomery, Chloe Mayhew, Sisk Family, Maureen Handy, Julie And Kody Rider, Suzanne Deffendall, Suzanne Caris, Demetrios Makres, Kelly Deleon, Tessa Flanagan, Kevin Zieger, Pete Dragstrem, Karen Marsich, Ken Clark, Tim Keenan, Karla, Karen Adamakis, Beth Beecy, Julia Wickware, Vicki Britt, Chuck Sands, Darlene Haven, Barbara Ajak , Jason Skow, Pam Vanaustin, Christine Dagney, Erin Dagney, Phil Vickers, Malampy Family, Amy Urton, Diane Curfman, Clayton Dymond, Amanda Campbell, Linda Lundsten, Karla Lefan, Karla Lefan, Chris, Gretchen, And Katie Barnes, Tyler Otts, Chris Thacker, Richard Tyre, Morgan M., Hobbes And Snorky, Kevin Scott, Karen Schlumpf, Gina Perrone, Hunter Armstrong, Betsy Silvestri, Gail States, Kerri Kobylka , Ally Faber, Doug Olson Family, Dawn Bach, Bryan Kruse, Nicole Amidon, Mark A. Santora, Maryann Eckenrode, Christi Ison, Tammi Trout, Kenny, Daniel Record, The Parker Family, Yvonne Marchione, Diane Butler, Matt Wildey, Sarah Orman, Chris Nichols, Fishman Family, Bruce Nash, Paige Angermaier, Lindsay Coram, Pollyanna Buff, Les Stewart, Cindy Wilhite, Megan Krainski, Sara Holloway, Kathy Sinniger, Kirsten Miller, Jen Cerce, Michelle B. , Erin Connell, Heather Pedulla, Emily Esker, Craig, Wayne Beck, Jim Nitschke, Brad Magaha, Chris Thomas, Larry Sprenkle, Jeff Blank, Tom Buck, Karen Ramirez, Brenda, Wayne Chadourne, Sarah And Chris, Caitlin Lewis, The Reichl Family, Robert Wescovich, Karen Costa, Brian Mcwithey, Shannon Murray, Duskin Henard, Dallas Hamilton, Karen Davis, Brenda H, Bonnie Tulenko, Sean Diven, Jeremy Reichelt, Dawn Simpson, Chris Bauman, Kelly Smith, Melody Odonnell, Annie Snodgrass, Kate Fischer, Rebecca Keenan, Robin Fitts, Shelly Borella, Mike Haven, Caryn Schill, Jenn Steele, Terry Fleming, Ryan Dimeo , The Patterson Family, Karrie Duffey, Michael Dale Pennington, Vicki Vaught, Karen Spreitzer, Wayne Witherspoon, Regina Allen, Barclay Bakkum, Josh Carney, Kathy Huckabee, Mike Venere, Erin Loring, Dennis Loring, Melodye Berry, Team Meeker, Anastasia Macneil, Russ Morgan, Wendy Snelgrove, Bonnie , Gail Geiser, Karen Bellamy, Nathan York, Jen Tremley, Nan Amor, Ashley Collins, Les Whitten, Tim Johansen, Mark Proper, Herb Miller, Kara Jones, Ron Harper, Matt Cofone, Danielle Murgia, Julie Harris, The Hulse Family, The Carrera Family, Shelby Watson, Susan Doucette, Cathy Connors, Allison Caputa, Diane Ramos, Ed Suscreba, Vicki Shearman, Amanda Kenney, Ashley P. , Carri Marotto, Kara Morton, The Holmes Family, Renee Hardiman, Smitty, Scott Sangsaton, Tricia Noble, Joseph M. Zafia, Luis Rodriguez, Jennifer Bogdan, Walter N. Clark, Kent Hustead, Jackie Graebel, Kim Hamilton, Maryann Daly, Melesia Love, Melissa Littman, Jean Bussell, Scott, Kelli Sangston, Robert P. Flaherty, Diane Furtado, Sonya A., Tom Higbee, Amy Scott, Alan Mize, Stacy Guarracino, Matthew Earl, Kirk Hardy, Hillary Waldroop, Mike Amor, Sabrina Kenney, Noah Schweizer (10 Years Old Now – ), Amy Fleming, Matt Holley, Eleanor Karwowski, Mark Franklin, Claire Gregory, Maggie Klotz, Agnes Ciotti, Cheryl Costello, Mike Haeberle, Davida, Mike Kaczanowski, Maryann Romagnnao, Amy Filliben, Kelly Reynolds, Patti Mccaffrey, Jane Johnson, Jackie Klafeta, Billie Jean Albolino, Scott Heffren, and Patrick Thomas. Each of you are entered in this month's winners' drawing.
__________________________________ _____________________
Challenge #320 Where in the world is this?
We got Josh Carney's Carrot Cake Cookie (my husband get's one every trip) and Claire Gregory's cupcake before we left the Studios last week. I'm going to the eggroll cart before we leave Magic Kingdom for this week's challenge. Anybody else want something?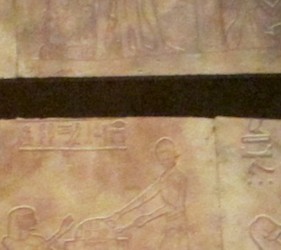 Do you know? Do you have a guess? Please send in your answer, before the end of the day on Thursday, February 27th, by clicking on the blue box below. Please do not post answers using the Feedback Form link at the bottom of this post.
See you next week, Players!


_______________________________________________________________________
Everyone who sends in a correct answer to a Where in the World Challenge this month will be entered in a drawing at the end of the month for some special AllEars® goodies!