Recently, a parent at my children's elementary school told me she would never take her kids to Epcot because there just isn't anything for them to do at that Walt Disney World theme park.
Huh? As an annual passholder who takes her young children to Epcot on a regular basis, I was really surprised to hear another local resident express this viewpoint. Sure, first-time visitors sometimes are under the impression that Epcot is designed with adults in mind. There's often the misconception among new visitors that the park can be a collection of educational exhibits grouped by nations around the world or tech sponsors at the front of the park. But surely locals know better, right?
Well, for those who don't and who might harbor the same misconception, let me offer a few ideas for some of the family friendly activities that can fill your day at the park.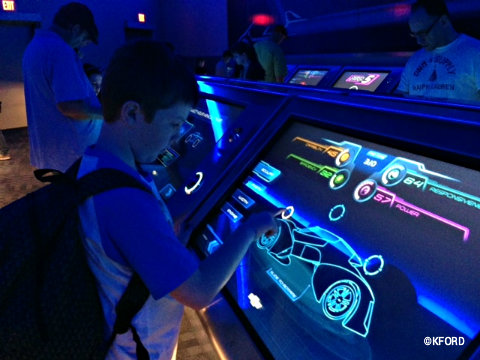 ** Thrill-ride attractions. For those who love a thrill, there are several rides every bit as heart-pounding as Space Mountain or Expedition Everest: Test Track, Soarin' and Mission: SPACE. Be sure to book a FastPass for these rides because the stand-by lines can get really long.
** Fun but not-so-fast rides. These are perfect for younger kids or those who prefer tamer experiences. Spaceship Earth offers guests an easy time-travel ride inside the iconic geodesic sphere; The Land ride takes guests through a futuristic greenhouse; Gran Fiesta Tour is a gentle boat ride in the Mexico pavilion; and Maelstrom in Norway is another boat ride with a single, small drop.
** Movies. Many of the pavilions at various nations play shows in theaters. OK, so they are educational. But they are quite interesting in showing other parts of the world, and several are even presented in breathtaking surround-screen formats. Canada and China take guests on tours with short 360-degree movies. Other pavilions, such as France and Norway, have more traditional theaters.
** Scavenger hunts. During the last few years, Disney World has added several self-guided quests in its parks. Epcot features Phineas and Ferb: Agent P's World Showcase Adventure, which is a great way to explore the nations at your own pace.
** Create a free souvenir. Younger kids may enjoy the Kidcot Spots, which allow them to color a mask in the shape of Perry the Platypus or Duffy the Disney Bear. Each country has a table for the coloring activity, and cast members will stamp the handle, so guests will have a collection of stamps, as well. Some also will write the child's name in the country's native language. My kids, like so many others, always want to stop at the Kidcot Spots, even though they've participated in this activity repeatedly.
** Character meet-and-greets. Epcot features some unique opportunities, the most recent of which is Anna and Elsa from "Frozen." The royal sisters still are drawing hours-long lines in Norway, and this is the only place to have a photo taken with the pair and get their autographs. Anna and Elsa are scheduled to remain at Epcot through the end of January, so now is the time to plan your visit.
** Food! Even picky eaters may enjoy the opportunity to sample snacks from different countries that they might not ordinarily be exposed to. This is especially true during Epcot's two large festivals — Flower and Garden in the spring and Food and Wine in the fall — which feature kiosks of appetizer-size portions. As my kids have gotten older and have started exploring different flavors beyond burgers and chicken nuggets, they look forward to our family days of sharing different dishes at Epcot.
** Fireworks. IllumiNations: Reflections of Earth takes place around World Showcase Lagoon and is a spectacular laser light and fireworks show set to dramatic music. What a way to close out your day!
These are just some of the fun things you and your family might enjoy at Epcot. At various times throughout the year, the park also hosts different concerts and seasonal events that you won't find in the other parks.
And, yes, Epcot lives up to its premise as a so-called Experimental Prototype Community of Tomorrow that offers plenty of educational opportunities for young and old alike. Practically every attraction inside the park is a learning experience. But most every tech demonstration or national-heritage lesson is accompanied by a fun activity or attraction, as well.
So, for those who have not been to Epcot, rest assured that the first and foremost lesson you might learn is that the park is no different than Magic Kingdom when it comes to the amount of fun you can have there.