Tough days at the office and difficult times in personal lives are among the moments that we wish ourselves back at The Happiest Place on Earth or The Most Magical Place on Earth. In between flashbacks we plan actual vacations or at least daydream about the things we yearn to experience for the first time and relive the good times of previous trips.
This year I made two trips to Walt Disney World and decided that would be it for a while. Stop clutching your chest, it's not the end of mankind. I am planning to keep my Disney Fanatic Membership. Next year I would like to revisit Disneyland and check out all of the new additions to California Adventure. I was last there in February 2012 when Cars Land was being built and trolley tracks were just being laid on Buena Vista Street.

Walls and signs were everywhere. I felt so lost upon entering Disney's California Adventure.
The question is when will I fly out to Anaheim. Right now, I'm not sure but I am toying with the idea of being there for New Year's Eve 2015. The greatest New Year's Eve fun I ever had was ringing in 2003 at Disneyland with a few friends.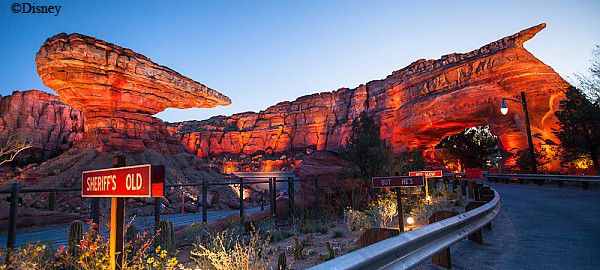 Radiator Springs in Cars Land taunts me. I saw it from a window in Paradise Pier Hotel.
Next year I will be celebrating a numerically significant birthday and can't decide what to do. Should my friends, who are scattered across the United States of America, not be available to gather in one spot, I will have to venture out alone, meet up with someone, or drag a relative along for the ride. I could go on a Disney Cruise for a few days if the price is right. Disneyland Paris is high on my Must See List but I'm not flying to France and running around yelling "Oui!" by myself.

I want to see the dragon!! Elliott, is that you?
The idea of delving into more history suggests visits to San Francisco, CA and Marceline, MO to see The Walt Disney Family Museum and Walt Disney Hometown Museum, respectfully. My friend Yoli is up for those trips as well. We just haven't decided when to go.
Of course I'm not forgetting about Disneyland Hong Kong and Tokyo Disneyland. Those are pipeline dreams that require quite a lot of savings and strategy. It might also help to learn some Japanese and I don't know any at the moment.
Enough about me. What are your future Disney vacation plans?
Come on over and "Like" my Facebook page or follow me on Twitter, my handle is lisano1.