Family traditions are a large part of celebrating holidays, of course. And these things that we do year after year become ingrained in our collective memories. Among the most memorable traditions are the foods we eat, the decorations we cherish, and even the movies and television specials we watch.
Like so many others, our family looks forward to certain shows in December — even though we have them on DVD and could watch them at any time during the rest of the year. Must-see holiday TV for our family includes "Frosty the Snowman," "Rudolph the Red-Nosed Reindeer" and "How the Grinch Stole Christmas." And my husband and I always watch the 24-hour marathon of "A Christmas Story" late on Christmas Eve.
When my son was very little, though, he became fascinated with a Christmas special on the Travel Channel, "Walt Disney World Holidays with Samantha Brown." It first aired in 2003, though I think we caught it a year or two after that. During those 45 minutes, host Samantha Brown takes viewers on a tour of many of the popular Christmas-themed activities at Walt Disney World. Plus, she also goes behind the scenes, showing the audience where all those gorgeous Christmas decorations are stored, how the popular poinsettia balls and topiaries are created and more. For my young son, the special was a little slice of heaven, combining his love of Walt Disney World and Christmas with an energetic TV personality.
We have watched "Walt Disney World Holidays with Samantha Brown" so many times that my son and I can quote the one-liners to each other. "At 3 a.m. "¦ not a creature is stirring, not even a Mouse," we say in unison.
After one holiday season of watching the show repeatedly, the next year I decided that I would surprise my son with a day at Walt Disney World during which we would do many of the things Samantha Brown does in the show. We primarily focused on visiting the amazing decorations at the resorts. We stopped by the Grand Floridian to see the life-size gingerbread house and reminded each other what Sam says: "Please don't eat the house!" My children remembered that she peers into the coin purses hanging from the Victorian tree in the lobby, and they did the same.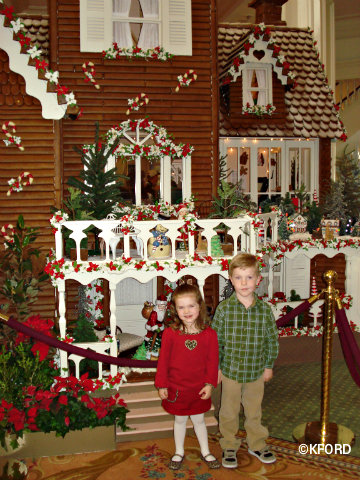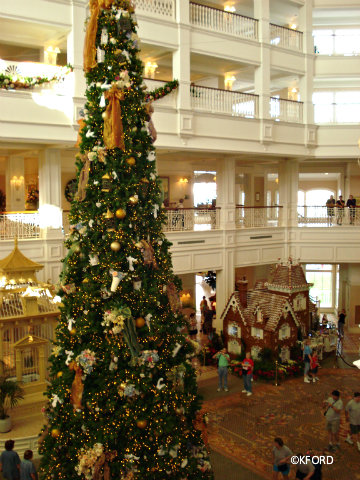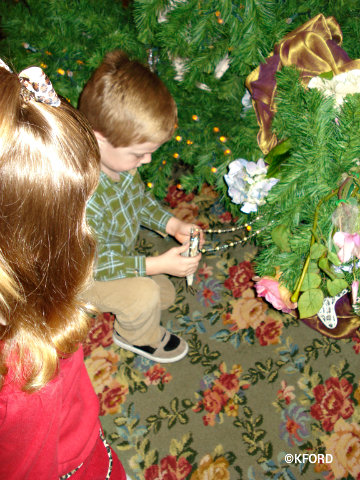 From there, we headed to another edible display at Disney's Beach Club — a gingerbread carousel. This display actually spins and, if you look closely, you might find a Hidden Mickey or two. Nearby, the BoardWalk Inn has its own gingerbread display. The show depicts an old-fashioned boardwalk amusement park, though it has morphed into a gazebo scene since then. Boma at Animal Kingdom Lodge has a gingerbread display, too. This one is of an African marketplace. "Vegetables made out of chocolate. Isn't that the way it should be?" Sam asks.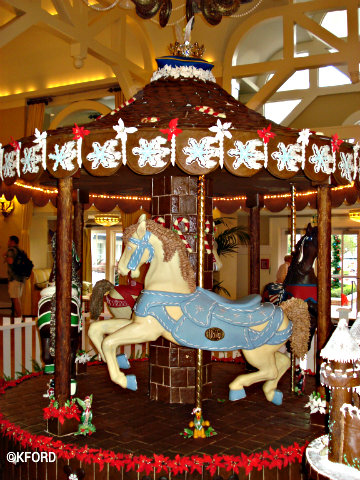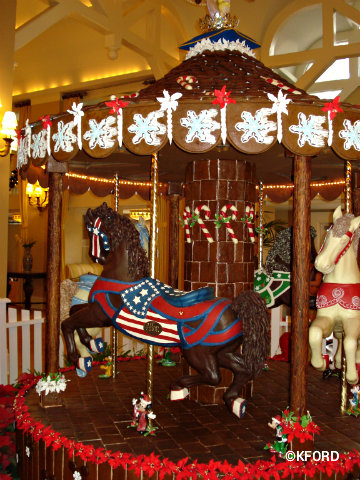 The Travel Channel special highlights activities in the theme parks, as well, some of which no longer take place. So, watching the show now is a fun way to remember old favorites, such as the Epcot Tree-Lighting Ceremony and the Lights of Winter. As Sam says, "I think this is one of the very best holiday presentations in all of Walt Disney World. Whatever you do, don't miss it!" Many of us agree with her and wish those events still took place.
Still, plenty of the holiday celebrations in the theme parks remain the same since the show debuted. Like Samantha, we have enjoyed a family dinner at Liberty Tree Tavern, which serves a traditional holiday meal of turkey and all the fixings, and we have celebrated at Mickey's Very Merry Christmas Party. At Epcot, we have journeyed through the countries to experience "Holidays Around the World" and have attended the moving Candlelight Processional.
There is one holiday-themed activity at Walt Disney World that is shown in the special that we haven't done — tour the Holiday Services Warehouse, where all the decorations are stored. That experience actually is available as part of Disney's Holiday D-Lights tour, but the minimum age is 16 and my son is 11. Clearly, that just might become a holiday activity in the future.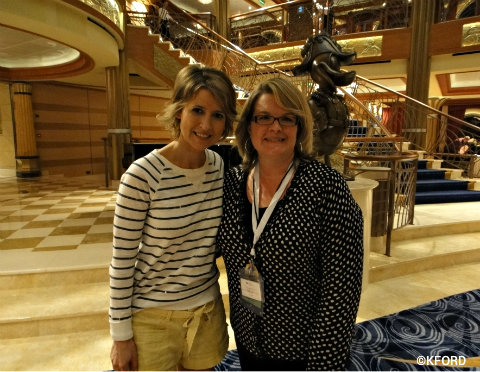 Years later, I actually met Samantha Brown on the media preview sailing aboard the Disney Dream. It was a fangirl moment for me, and I wished my son had been with me. Samantha was just as nice as she appears to be on TV, and she even wrote my son a note for his autograph book.
The Travel Channel no longer shows "Walt Disney World Holidays with Samantha Brown" in its rotation. It was replaced by "Disney Holiday Magic with Samantha Brown," which was filmed in 2007 and updates the resort's activities, including The Osbourne Family Spectacle of Dancing Lights. Surely, it's time again for the host to come back for another sequel!
Does your family have a special holiday tradition at Walt Disney World? What about a favorite Disney-themed holiday special on TV? We'd love to hear about it in the comments.