If you have read some of my previous blogs, you will know that Carol and I are huge fans of Disney's Fort Wilderness Resort & Campground. We just love spending time there in our RV . . . but I've often wondered what it would be like staying in one of the cabins. Carol stayed there many years ago, but I've never had the pleasure.
I follow a couple of online communities which are focused on camping at "The Fort" and I was delighted to read a trip report posted by Shelly E. from Minnesota. She and her family took their first trip to Walt Disney World last year and stayed in the cabins. I strongly suspect that there will be many more trips to Fort Wilderness in Shelly's future.
Here's how Shelly described the experience in her trip report:
This was our family's first trip to Walt Disney World. Actually it was our family's first and only trip ANYWHERE for more than two nights in all our time together as a family! It was February of 2012- we chose to stay in the cabins because with six of us it seemed the cheapest way to go. At that time we had NO idea how much we would fall in love with the Fort. This first picture is arriving at the Fort . . .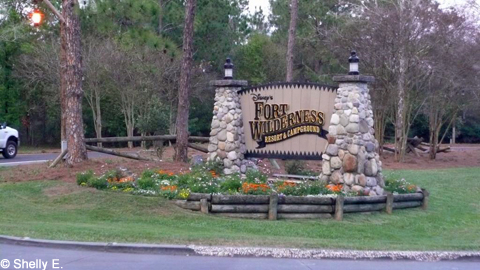 Here is another . . .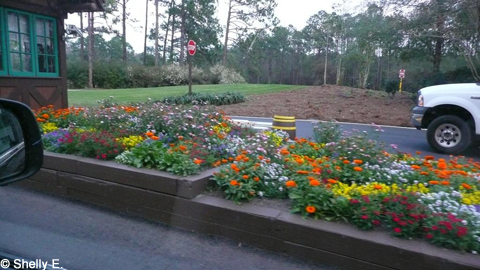 The kids totally fell in love with the pool (of course!) . . .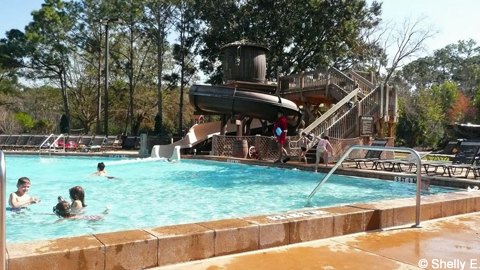 We did the penny machines in front of Pioneer Hall and the Hoop Dee Doo Musical Revue!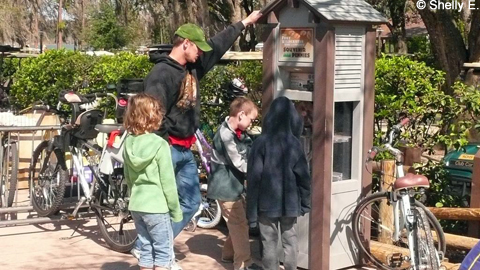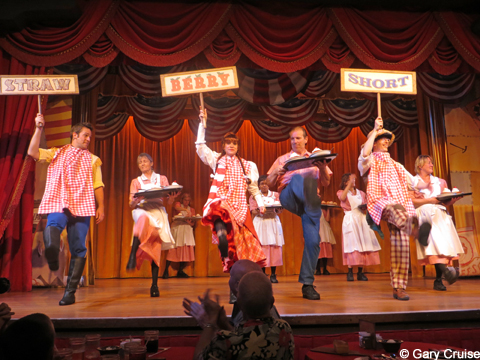 We had no idea what to expect when we made our reservations. We made them there simply because we wanted to qualify for free dining, and it was one of the few ways we could all stay in one room. After staying there for 10 days, we completely fell in love with the Fort.
There is just something special about it there. I think for every family, it's probably different things that make it special. For us, I'll tell you what some of the things were.
Getting up in the morning and being surrounded by nature. Beautiful trees all around us, chipmunks, little lizards, birds, sunshine, flowers and most of all peacefulness. There is so much peacefulness at the Fort. Driving a golf cart to the laundry facility, passing people who are out walking dogs or biking – everyone is friendly and happy to be there. It's just such a "welcome home" kind of feeling.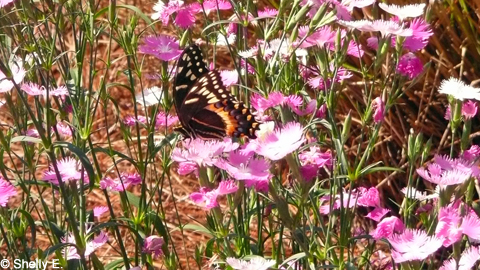 The gardens at "The Outpost" (check-in) are designed to attract butterflies.
The boat ride to the Magic Kingdom is simply amazing. We never got tired of it! Compared to riding a bus, the boat is magic in itself.
Being able to sit on the beach at night, with not too many people around, and watch the Wishes fireworks and the Electrical Water Pageant. I know so many people say there's nothing like watching it from Main Street, but I feel there is nothing like watching it from a beautiful sandy beach, laying in a lounge chair, holding your husband's hand in the quiet of the moonlit night, watching and listening to the magic all around us.
Being able to walk in the barns, and actually see the working horses at Disney in their home environment – it was so cool! Of course, we own a horse boarding and training facility in Minnesota, so this was right up our alley! But even for others, this seemed like a beautiful and interesting place to visit.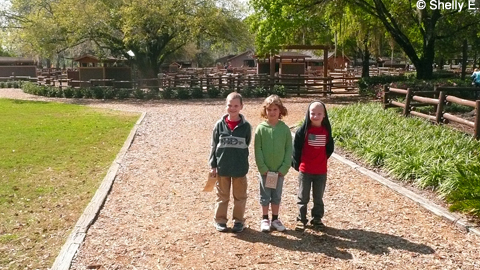 Those are just a few of the things.
The cabins themselves were wonderful – we loved them! The kids all slept in the back bedroom, and we had the pull down bed, which we both thought was REALLY comfortable. It's not super big, but it was soft and nice! The dishes were clean, the housekeeping was wonderful, and it was just nice to be able to come back each day to a place that felt like a "home" and not just a "room".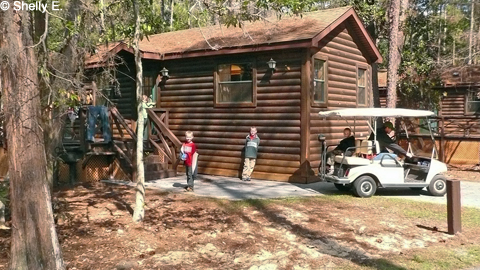 The kids couldn't wait to get back each day to see what Arnold (our Mousekeeper) had created.
A reader from the United Kingdom who is planning to stay in the cabins posted a few questions. She asking if Shelly's family had rented a golf cart and whether there were good places to eat at Fort Wilderness. Here is Shelly's reply:
We are a family of six. My husband, myself and two sets of twins ages eight and eleven. For us, having a golf cart was wonderful. We used it each time we went to Epcot, Hollywood Studios, Animal Kingdom or Downtown Disney. We took the golf cart up to the area where all the buses come for the other parks, and then later on it was waiting for us when we came back.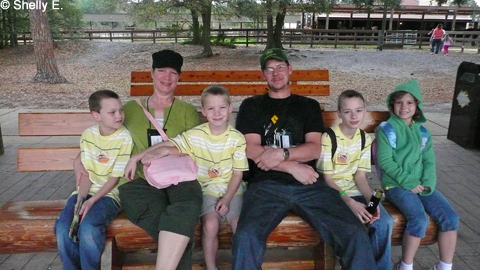 It saved a lot of time waiting for the internal buses, which is nice when you have younger kids. We also used the golf cart when we went to the pools or the campfire sing-a-long and movie. It was especially handy when it was time to do laundry. And this year when we go at Christmas, we are actually renting TWO golf carts, just because our kids are a little bigger, and instead of a 6-seater, we reserved two 4-seaters. It will allow us a little more freedom; we won't all have to be ready at the same time to go anywhere. And we're really excited about just exploring the whole Fort – we didn't have enough time to do that our first trip.
As for eating – we were VERY lucky in having free dining and we tried so many wonderful restaurants all over the parks. But there were a few times we did eat at the Fort – we got pizza once and ate it down by the lake – there were tables set up down there. I think they were actually on part of the dock, but I could be wrong. We got chicken there once too, and they had some other choices there, but we didn't get a chance to try a lot of them. There seemed to be enough things that everyone should be able to have a nice meal there. And we actually had a few things at the Meadows Pool snack bar – they had a chicken sandwich there that was really good! There were a few other sandwiches that I thought sounded good too! Another thing I remember about eating at either place was the people working there; they were always so NICE!! Sometimes, to me, that's more important than how big or how many choices a place has.
Since returning home the family's love of Fort Wilderness has not diminished a bit. In fact, they bought a motor home and will be driving "The Beast" over 1,700 miles, arriving at The Fort December 22, 2013 to spend a magical family Christmas in their new favourite place. Then they drive another 1,700 miles home! WOW!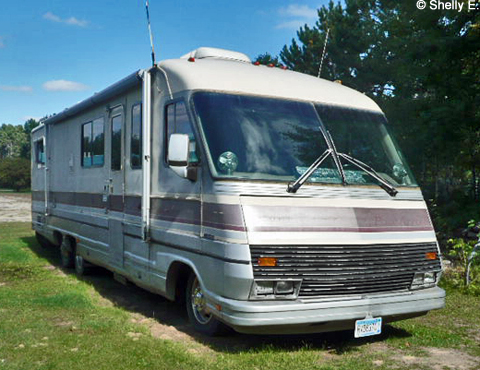 How about you? If you're looking for an economical vacation option and a very laid back, rustic, homey environment – the cabins at Fort Wilderness might be for you.
You can find more details about Fort Wilderness cabins and plenty of pictures from the campground here.