To all who come to this photo trivia game, Welcome! Along the way, the photos can make us relive memories and see details Walt's Imagineers put into everything we love in Walt Disney World!
Rob And April Vanderpool, thank you for your note!
Patti Mccaffrey, oh no! I hope you're feeling better!

From last week: Challenge #298: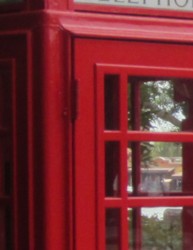 And here's the answer: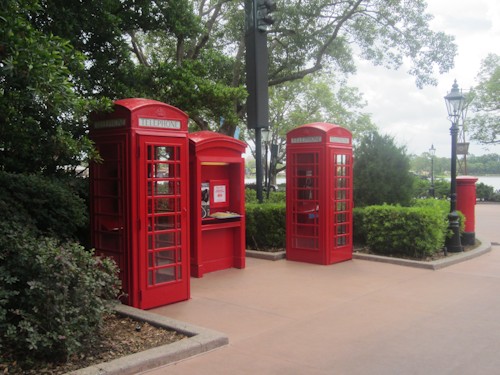 Copyright © 2013 Erin Blackwell
This is one of the phone boxes in the UK Pavilion in Epcot! Can you believe I didn't know you can CALL them?! One Player thinks the numbers have been disconnected; I'll try to find out. OR! If one of you who is in the World could find out and report back, we'd be grateful!
You Players are impressive! You used the hinges, reflections in the windows, and more to pinpoint where this one was. Wow!
I read an article saying some communities in the UK are converting these to free small libraries where you "Take A Book, Leave a Book" since public phones aren't needed with mobiles. Good for you!
In the UK pavilion, one of them has been converted for the Agent P adventures; if you haven't tried this yet, this pavilion has a great one. And the others are great photo ops and for pretending to call places like the Ministry of Magic.
I have the Mickey t-shirt where he's using one of these phone boxes. Love it. 🙂
As for me, Stacy Lee and John Bickers, we keep hoping this will show up:

The Kahle Family were the first to send in the correct answer! Congratulations to The Kahle Family and all our winners this week! Theresa Rucando, Ed Suscreba, Linda Ranatza, Phyllis, Carol Ney, Dee Dee Kenney, Bruce Jones, Donna Frank, Chris Nichols, Team Hill, Ashley Arndt, Jeff Schoeling, Steve And Ruby Jordan, Paul Dickson, Josh Carney, Tina G, Kris Nixon, Christina Lutes, David Dawson, Andrea Lai , Meghan Gleason-vollmer, Chris Horne, Melissa Such, Trisha Johnson, Jamie Stepp, Melissa Darling, Roger Vollmer, Vanessa Stjohn, Michael Nelson, Robert Graham, Tammy Wright, Dianne Mercer, Dave Wang, Fishman Family, Laura Nicholes, Joy Serio, Colette Stanton , Sara Colwell, Jon Landis, Kristi Strembicki, Mike M., Cheryl Jung, Jennifer Walker, Jennifer Newhouse , Ken Clark, Jodi Civill, Robert Wescovich, Morgan M, Carrie Kiger, Paige Meeker, Russ Morgan, Carla C, Hayley Lawson, Janet Stavrides, Dylan Newhouse , John Sharpe, The Kertes Family, Andrew Carrieri, Laura, Lucy, Janet T Thorn, Heather Odom, Tom Koval, Sharon Sejda, Shea Martin, Kenny, Kelly Beckner, Mike Mondoux, Barbra Crabtree, Nancy B, Leach Family, Chris Schrider, Dave Gerber, Karen Ramirez, K Beasley, Jimmy Wiley, Richard Atwood , Kathy Davies, Rob And April – Team Vanderpool, Lynette Michalos, Sharon Pierce, Marcus Davies, Jd Conti, Mike Rotkiske, Cindy Pink, Tammy Tidmore, Vera Williams, Mike Walter, Liz Moreau, Sharynne Smith, Scott Greenbaum, Bill Cudney , Donald Leblanc, Vera Dercole, Barb O'malley, Jennifer Rowell, Jenna Setticasi, Demetrios Makres, Ken Maikowski, Ed Elder, Leigh Mertz, Jill Sisk, Lorine Landon, Jennifer Page, Tammy Wilson, David Uchtman, Tim Jeltes, Cory Wilson, Debbie Desimone, Wendy Barney, Al Desimone, Virginia Pierce, Brittany Jaynes, Gabrielle Carpino, Ellen Sullivan, Linda College, Ann Wittemann, Patty Carty, Lauren Wambach, Andrew Mulino, Kye Layton, Terry Blair, The Parker Family , Erin Hammer, Lindsay Coram, Jonathan Ward, Robert Hildebrandt , Lyle Stevens, Jen Cerce, Mike Haeberle, Tina Himaya, Sydnee Tisdale , Lori Rienhardt, Stuart Hale, Anne Heffentreyer, Pam Vanaustin, Noah Schweizer, Christina R, Wayne , India, Lois Lynch, Robert Fancher, Jeanette Luce, Double Family, Debbie Marielle, Josh Weiss, Amber Penske, Kerry Mccaffrey, Louise Barton, Betsy Silvestri, Jen Eacret, Matt Hanlon, Ed Hogan, Deb Ragno, Elizabeth And Vicki Edwards, Kathy Huckabee, Wendy Beaudoin, Amy Filliben, Elaine Kleinhenz, The O'meara Family, Melissa Beatty, Carol Gamill, Stefan Owens, Belicia Cullen, Tinkerbell Wells, Stefan Owens, Scott Cullen, Lisa Bohannon, Jason &Melinda Lenz, Laurie Walker, Kathy Morris, Mickey Eckert, Ruth Woodhouse, Anjanette Tournillon, Mildred Popp, Nathalie Periard, Karen Adamakis, Marshall Stevens, The Malesky Family, Marguerite Garofalo, Brittany Chichester, Sheri Hall, Chris Kelly, Maureen Handy, Ellie Argaluza, Maryann Romagnano, Anita Jodouin, Antoinette Leblanc, Michelle Wilinski, Lynne Lafrance, Amanda Campbell, Diane Tredore, James Steele, Julie Wickware, Kelly Cummings, Heather Young, Erin Hendricks, Annette Nuenke, Gabriella, Terry And Matthieu, Mary Ann Eckenrode, Wayne Chadourne, Marisa Swinford, Pollyanna Buff, Stefanie Vandiver, John Bickers, Carolyn Poirier, Brenda Strohmeyer, Paula Massarelli, Pat Morin, Brian Miller, Bruce Arnold, Paul Scimeca, Deb Audette, Deme Grabert, Joann Albrecht, Michelle Boewe, Chuck Sands, Eric Enli, Jeremy Hardy, Phil Badcock, Sandie Albrecht, Zach Szymko, Nicole Nimon, Megan Krainski, Michael Mclucas And Jackie Mclucas, Scott Precise, Matt Wildey, Kerryann , Jessica B., Dusty Cheatham, Hobbes And Snorky, Dan And Elizabeth Johnston, Dana Hall, Jenny Stoneburner, Pat Schwier, Ashley Martz, Amber Slifer, Aaron Sakovich, Brian Mickle, Lee Deroia, Darlene Haven, Larry Scarafile, Jeffrey Hunt, Andrea Kruszewski, Sharon Emich, Rob Blundin, Mary Ann Lamay, Roxanne Kliebert, Lisa Cash, Janet Chocky, Chris Connors, C.j. Connors, Debbie Connors, Jodi Cook, Jacquelyn Law, Karen Schlumpf, Ed Krol, Jim Thompson, Claire Gregory, Rebecca Smith, Carol Baranowsky, Stephanie Newell, Gina Smith, Diane Ramos, Les Whitten, Tracey Mayfield, Jeff Thomas, Rebecca Weaver, Billie Jean Albolino, Beth Mcmeekin, Candice Grimes, Heather Sabatino, Nicole Amidon, Les Stewart, Larry Sprenkle, Jess Batchelor, Heidi , Dawn Rutter, Chris, Gretchen, And Katie Barnes, Paul Knott, Joe Armeni, Earl Wilcher, Cheryl Newman, Linda Scrivano, Jed Orth, Al Popek, Susan Thompson, Michelle Norris, Randi Balch, Sarah Calvario, Kirsten Miller, Dwayne Fontenot, Clay Anthony, Nathan York , Kathryn Perkins, Darren Morehead, Carolyn Como, Susan Higginbotham, Melody O'donnell, Jennifer Harmon, Bruce Hinterleitner, Gail States, Cathy Connors, Josette Gabel, Craig Livingston, Lj Mathis, Sarah Orman, Luis Rodriguez, Jackie Purcell, Jeff Blank, Laura V., Nigel Mcquire, Bob Patterson, Blake Schmidt, Brian Gallant, Dallas Hamilton, Jennifer Shaw, Michael Pennington, Andrew Pettit, Karen Davis, Karen Costa, Alison Rosenberger, Chris Bauman, Tom Hermes, Karen Aguiar, Chloe Mayhew, Mike Haven, Anastasia Macneil, Randy Thomas, Bonnie Cumming, Ken Rhinehart, Jennifer Snook, Miguel Gonzalez, Kate Fischer, Karrie Duffey, Bob Henriksen, Craig Lordan, The Holmes Family, Matt Holley, Gallagher Family, Mike Kaczanowski, Zachary Ott, Sara Alaimo, Jennifer Mercier, Elizabeth Scarborough, Michelle Boykin, Steve Narel, Schuyler Stewart, Sharon Dale, Scott Sangston, Hunter Armstrong, Tricia Petty, Paul Ignudo, Jr., Jim Finley, Sara Holloway, Barclay Bakkum, Erin Loring, Dennis Loring, Terry Fleming, Nancy Johansen, Elizabeth Caruso, Patrick Broaddus, Carri Marotto, Kate Kozlowski, Matthew Jadro, Mark Franklin, Mike Gillardi, Jullie Pudem, Vicki Britt, Team Meeker, Caitlin Lewis, Doug Olson Family, Karen Bellamy, Deb V., Hillary Waldroop, Diane Batista, Wayne Witherspoon, Jeff Finger, Maggie Klotz, Mike Barlow, Jeremy Reichelt, Al Sandal, Mary Greger, Jim Logue, Susie Howard, Judy Simonsen, Michael Rudge, Kristen Mccoy, Gloria Martin, Lynn Lofton, Tom Buck, Nicole Shuler, Heidi Goodhue, Jim Riddle, Terri Thorntoon, Trina Noggle, Chris Thomas, Amy Scott, Wayne Beck, Team Bonnie Sue, Diane Curfman, Morag Lemon, Jason Skow, John Arena Jr, Michele Mongeon, The Patterson Family, Ron Harper, Jeff Brashear, Karen Smith, Kerrie Hogan, George Mundy Jr, Rachel Hoover, Annie Snodgrass, Andy Hickey, Caryn Schill, Tim Johansen, Carla Leger, Steve Knapp, Mary Ann Kozlowski, Scott, Joe Pfrangle, Ben, Lizanne Fisk, Cheri Palmisano, John Menjes, Tricia Noble, Jen Tremley, Mark Proper, Carol Rodrigue, Phil Vickers, Nichola Day, Ashley Hill, David Ballard, Tom Higbee, Patti Mccaffrey , Robert Bostic, Matt Cofone, Lindsay Morris, Jackie Graebel, Bob Whittier, Derek Carty, Stacy Lee, Robert P. Flaherty, Walter N. Clark, Evald Olson, Wendy Snelgrove, Christi Ison, Jo Ann Bailey, Nicole Paniccia, Joseph M. Zafia, Melissa Littman, Remus , Barb Welshhans, Amanda Garrett, Karen Hotchkiss, Abigail Grasso, Nancy Crossman, Shirley Garcowski, Karen Ford, Emily Hudson, Margie Larmon, Mike Venere, Sherri Pell, Stacy Guarracino, Alan Mize, Dee Riccio, Colin Jones, Wendy T Faler, P.j. Popsuj, Ashley Collins, Nathaniel Clements, Peggy Saeger, John Pasqueralli, Cheryl Costello, Lisa Z., Kyle Burdo, John And Tracey Roerty, Alicia Littleton, Dave Kanigowski, Sandy Kanigowski, Heather Pedulla, Melissa Bradley, Betsy Dross, Sandra Loveless, Ronald Delorey, and Jackie Klafeta. Each of you are entered in this month's winners' drawing.
_____________________________________________________ _____________________
Challenge #299 Where in the world is this?
Changing parks again!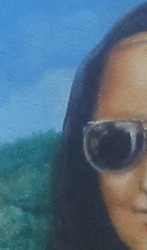 Do you know? Do you have a guess? Please send in your answer, before the end of the day on Thursday, October 3rd, by clicking on the blue box below. Please do not post answers using the Feedback Form link at the bottom of this post.
See you next week, Players!


_______________________________________________________________________
Everyone who sends in a correct answer to a Where in the World Challenge this month will be entered in a drawing at the end of the month for some special AllEars® goodies!