Do you have a Disney Room?
I think every Disney fan should have one. If you are an obsessive Disney collector, like Carol, a Disney Room is imperative!
When Carol and I first started dating she proudly showed me a small cabinet containing her collection of Disney music boxes. They were displayed in a bookcase, about three shelves, with glass doors. Nice! She also showed me her Disney themed Collector Plates and some very nice porcelain Mickey Mouse Figurines.
Little did I realize that I was just seeing the tip of the iceberg that the "Disney collection" would become!
Over the years we took quite a few trips to our Happy Place . . . and the collection grew. There were Disney Classic Collection figurines, Jim Shore pieces, plush toys, snow globes, boxed sets of Disney Pins, and so much more.
Carol combed the nearby thrift shops and garage sales, always on the look-out for new Disney treasures. And, of course, each year we made at least one trip to Walt Disney World, home to all those wonderful stores!
By 2004 things began to look a bit cluttered! What could we do? We (she) decided that my nifty little office and den in the basement, my "man cave", would make a terrific Disney Room. We could concentrate the collection in one area and organize it. I began to put up more shelving and she began arranging her treasures.
I must admit that I enjoyed the end result!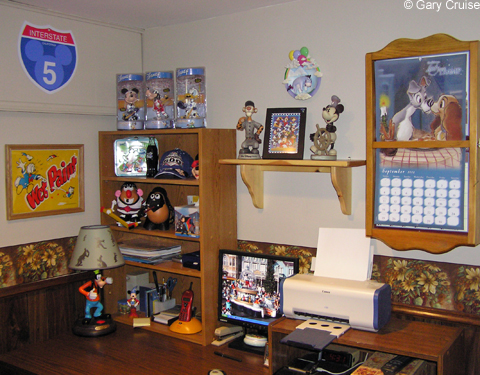 Gary's workstation – 2004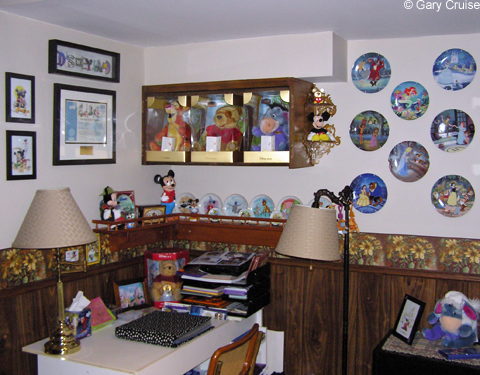 Carol's craft table – 2004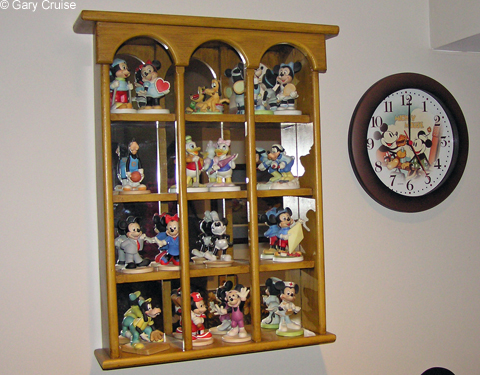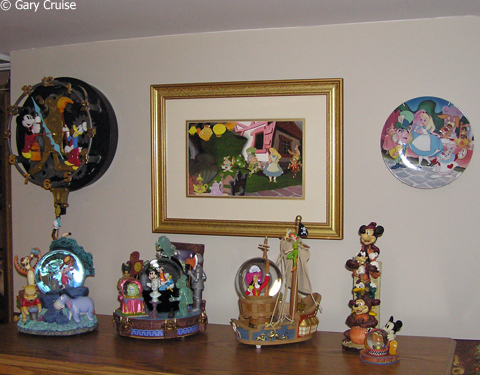 By 2006 both Carol and I had retired. The good news – we could head south several times a year! The bad news – more shopping! With all those trips to Walt Disney World and Disneyland, plus a few Disney cruises, her Disney collection kept growing at an astonishing rate! Our Disney Room was becoming a bit cluttered.
Fortunately, shortly after retiring, we moved to Carol's home town where we had a new home built. It wasn't long before I was at work in the basement. Our elevated bungalow has big, bright windows in the basement and within a few months our brand new Disney Room was done! We had 650 square feet – that should be enough to showcase our collection beautifully! Soon it was furnished and all those cartons full of Disney treasures were unpacked. Carol was a happy collector!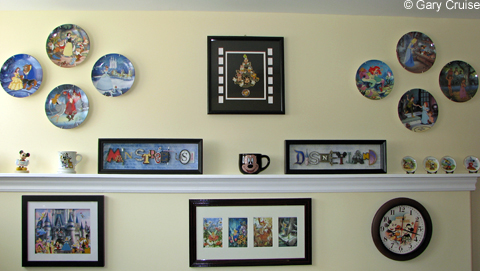 Wow . . . in 2007 we were thrilled to have all that space . . . it should last us forever! But of course seven years have gone by since the Disney Room was finished . . . and we have taken 24 Disney vacations in those seven years! The room is full!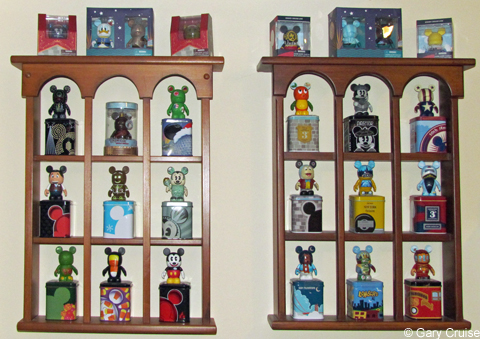 A shadowbox full of Vinylmations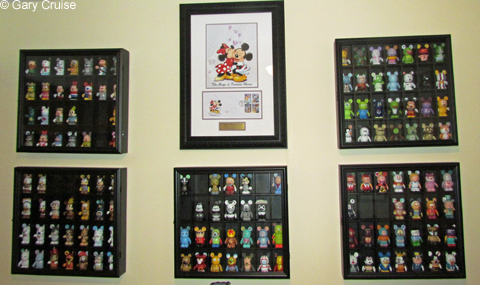 More Vinylmations
I've added plate rails so the plates could be relocated – this freed up some wall space for new prints by Larry Dotson and Ducky Williams.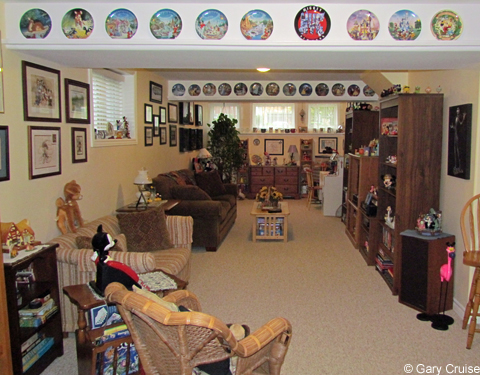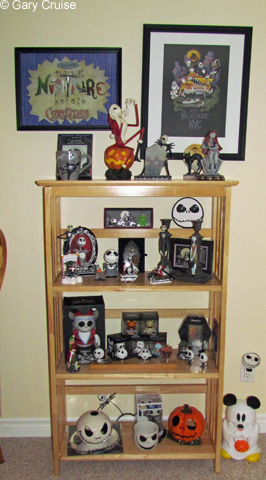 Halloweentown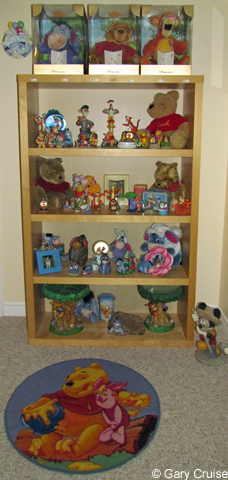 Pooh Corner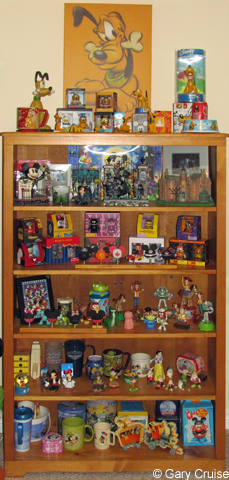 A bookcase full of Disneyana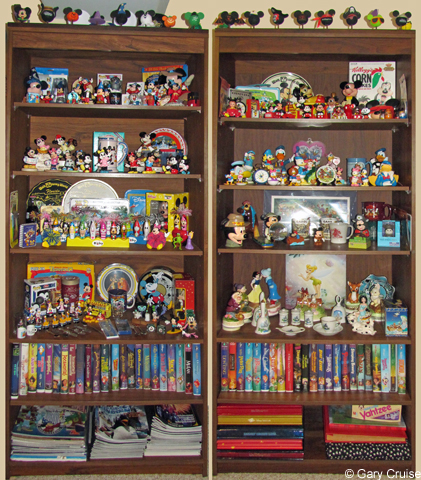 Two bookcases crowned with antenna toppers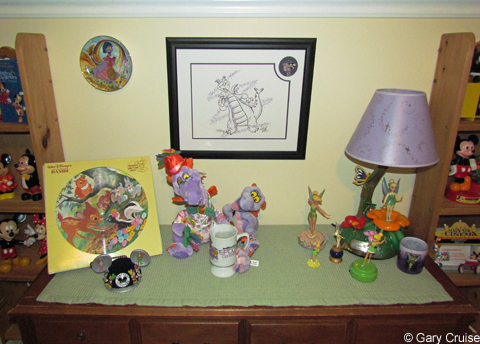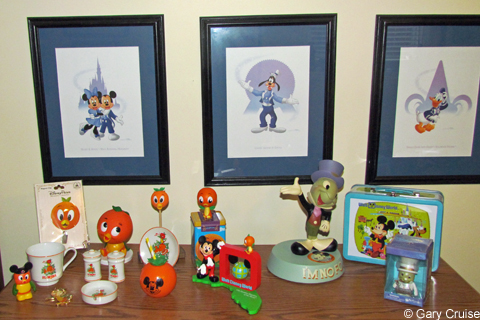 Try as we might though, we just can't make it all fit . . . the Animation cels have spilled out to the walls of the Family Room. The Disney Classic Collection pieces and the Jim Shore figures are in curio cabinets in the Living Room.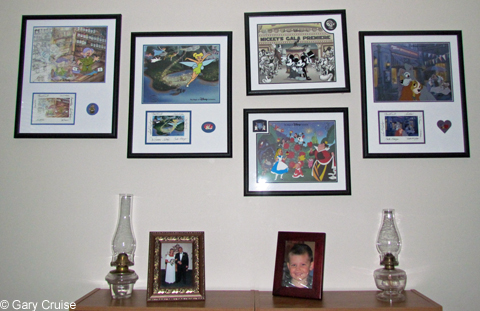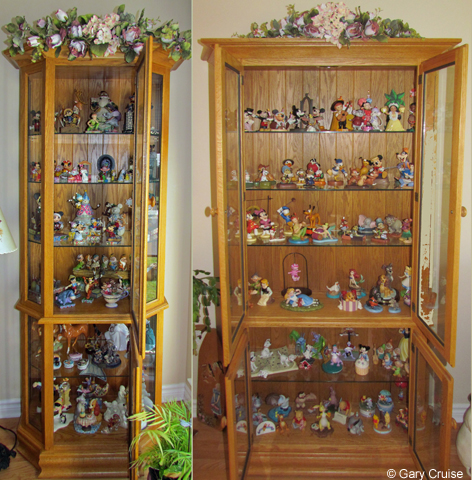 We are running out of space . . . and there's no room to expand! Looks like we'll just have to get more creative in the way we display things!
How about you? Do you have a Disney Room? How do you display your Disney treasures?