May 20, 2013
This will be our second time on the repositioning cruise from Los Angeles to Vancouver. We enjoyed the trip two years ago so much that we just had to repeat it.
If you have been following along on our personal web site you know that we just enjoyed a 5 night stay at the beautiful Candy Cane Inn and 5 days of almost non-stop fun at the Disneyland Resort. If you have just joined us on AllEars you can read about our Disneyland adventures by clicking on this link.
Carol booked an SUV to take us from the Candy Cane Inn to nearby San Pedro where we boarded the Disney Wonder. We shared the ride with Charlene and Brittney, a mother and daughter from Louisiana who Carol connected with online.
The limousine company Carol booked, So Cal Limousine Service, did not show up for the 10:00 a.m. pick-up time and didn't answer the phone when Carol called to ask where they were. After a half hour of waiting we spoke to James who has always taken great care of us at the Candy Cane Inn front desk. He tried to contact SoCal and they still didn't answer. Within five minutes he had a van from Grand Transportation booked. They arrived in under ten minutes and whisked us to the port. Thanks James . . . you're a lifesaver!
The boarding process went very smoothly. Our baggage went directly from the Grand Transportation van to the porter's cart and within seconds we entered the terminal building. The biggest delay was waiting for Carol as she snapped a few pictures.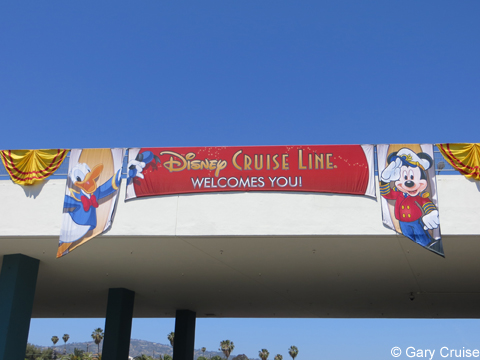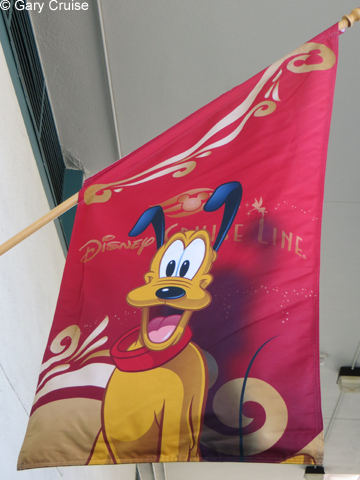 There was a very short line in the terminal; we were issued our "Key to the World" cards within five minutes of stepping out of the van. We were in boarding group number 7 so we sat and relaxed in the terminal for about a half hour until our group was called and then walked directly aboard, entering the grand foyer at Deck 3 Mid Ship. What a treat to hear them announce our arrival and welcome the Cruise family aboard.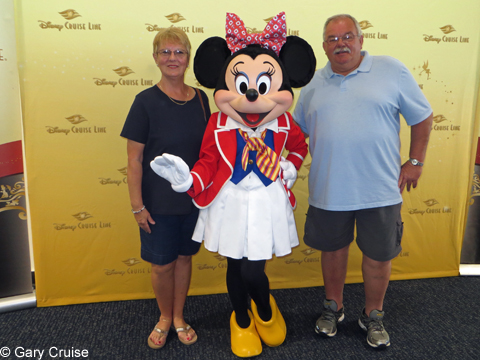 Lunch was being served in two locations, Parrot Cay on Deck 3 and Beach Blanket Buffet on Deck 9. We opted for Parrot Cay and were soon seated with a couple from Victoria, BC as well as a couple and a solo traveler, all three from the San Francisco area. Seems like everyone but us booked a cruise so they can enjoy a port adventure in their home town!
We had a nice chat with everyone over lunch and then set off to reacquaint ourselves with the ship. We strolled around Deck 9 and Deck 10 snapping a few pictures of the surrounding port area and some shots of provisions being loaded on the ship. Naturally Carol had to stop for an ice cream as we passed the self-serve station!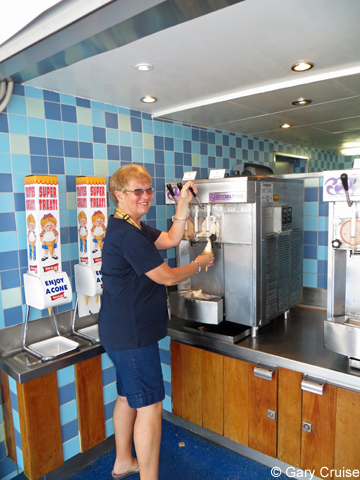 By 1:15 our stateroom was ready and our luggage had arrived so Carol unpacked and we were soon all settled in for the next week.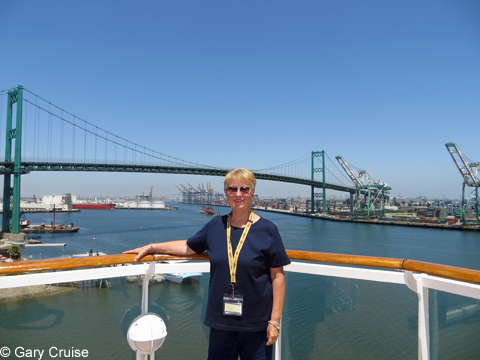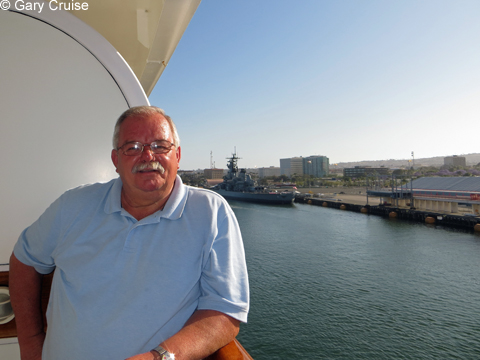 At 3:00 p.m. there was a "meet and greet" session in the Promenade Lounge for a Facebook group Carol had been involved in. We said hello to some new acquaintances and recognized quite a few faces from previous cruises.
Soon it was time for the mandatory life boat drill so we mustered at Animator's Palate with the rest of our group to hear safety instructions and review emergency procedures.
By 4:20 we were on Deck 10 watching the Adventures Away party. The cruise entertainment staff and several Disney characters put on a spirited show. It was a high energy song and dance spectacular which had me sweating, even though I was sitting in a deck chair.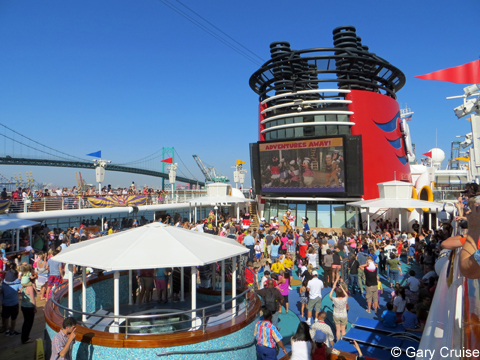 The ship cast off just a few minutes after 5:00 and we sailed slowly out of the Port of Los Angeles. Along the way we passed the USS Iowa, a decommissioned battleship. It sure was a powerful looking vessel!
We elected early dining for this cruise so by 5:45 we were entering the Parrot Cay Restaurant to meet our servers and our tablemates. Our service team consists of Head Server Sedat from Turkey and Assistant Server Yukiko from Japan. They will follow us from dining room to dining room as we rotate around the ship for the rest of the cruise. At our table were nine passengers, Carol and I, three American couples and Donna, a surprise Disney Cruise Line Celebrity.
Donna is a fellow Canadian, from Brampton Ontario and is currently on her 49th Disney Cruise. She boarded the Wonder a few weeks ago in Miami, transited the Panama Canal, stayed on for this cruise and once we reach Vancouver she will stay aboard again and enjoy the Alaska Cruise the following week. By the time she is done the Alaska voyage in early June she will have completed 51 Disney cruises, with another 5 already booked for 2014.
During the Panama Canal crossing she celebrated her 365th night aboard a Disney ship and to celebrate the occasion Captain Thord and his senior crew surprised her with a party and a very special cake in the Cove Café. Tonight at dinner Donna enjoyed the last piece of that cake. Here is a picture of Donna and the beautifully hand crafted chocolate Donald which decorated the cake. It almost feels like we're dining with royalty!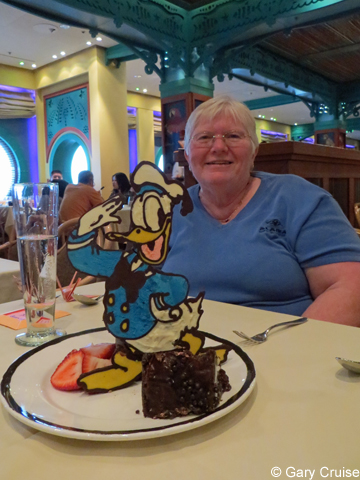 After dinner we visited the Future Cruise desk where Tai from Australia booked our stateroom for the 2014 AllEars group cruise sailing May 10, 2014 on the Fantasy. Hooray . . . we're booked on another. It will be our 10th Disney cruise and we thought we were doing well until we met Donna!
Carol had a few minutes to spare before the evening show in the Walt Disney Theatre so she headed to the Mickey's Mates shop where she purchased a few pins and a vinylmation. By 8:30 we were seated for the show, "Let the Magic Begin". The final act in the show was Magic Dave who conscripted four children from the audience and put on a hilarious performance of magic and ad-lib comedy. It was a great time.
On our way back to our stateroom we spotted Frano in Triton's dining room. Frano was our server when Carol and I sailed the Panama Canal crossing with friends John & Cathy, Mike & Pam in 2011. Here is a gratuitous picture of Frano.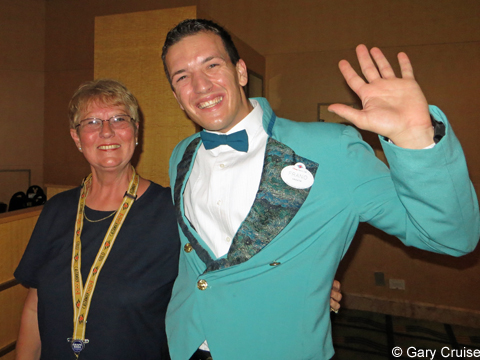 We headed to Wavebands at 10:30 for the Buckets N Boards percussion comedy show. They were hilarious . . . they played plastic barrels and buckets as drums, strummed on guitars and ukuleles, tap danced and sang classic country and bluegrass tunes such as, "If my nose was runnin' money, I'd blow it all on you." Very high-class stuff, and very funny!
We were back in our stateroom by 11:15, tired out after a long but very enjoyable day.
We are looking forward to a relaxing day at sea tomorrow, with a brunch booked at Palo. It's our favourite dining venue on the Wonder. We'll post some pictures from Palo tomorrow.