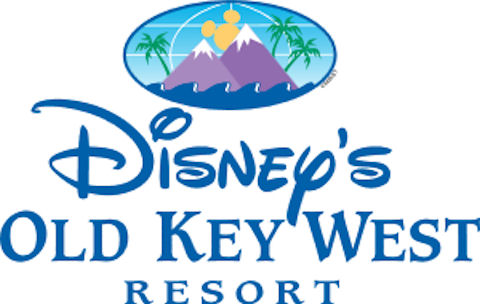 Yesterday I discussed the basic services and recreation offered at Old Key West. Today I will be covering a one and two-bedroom unit.
The rooms at Old Key West are considerably larger than at any other Walt Disney World DVC. Considerably. In addition, the rooms have more character as the architects used angled walls rather than every corner being 90 degrees. This makes Old Key West a sought after property with those knowledgeable of these differences.
Just to give you an idea, here is a comparison of the basic room sizes between Old Key West and Saratoga Springs. You might not think it, but these differences are significant when you're actually in the rooms.
Old Key West
Studio: 390 square feet
One Bedroom: 942 square feet
Two Bedroom: 1,395 square feet
Three Bedroom: 2,375 square feet
Saratoga Springs
Studio: 355 square feet
One Bedroom: 714 square feet
Two Bedroom: 1,075 square feet
Three Bedroom: 2,113 square feet
Let's first take a look at a studio unit. Studio accommodations are similar to rooms found at one of Disney's deluxe resorts, with the addition of a small kitchenette. They are well-appointed and spacious enough to comfortably sleep four without feeling crowded. The rooms have two queen-sized beds, a nightstand, a table and two chairs, a chest of drawers, a flat screen TV, and a decent sized closet.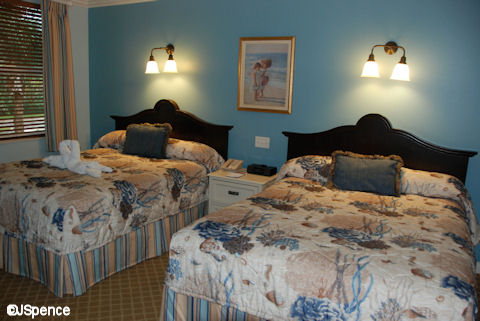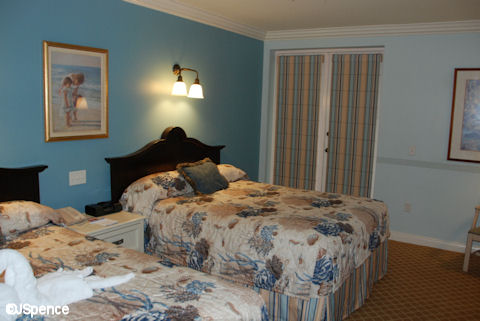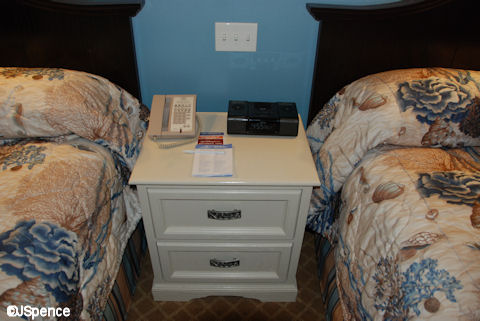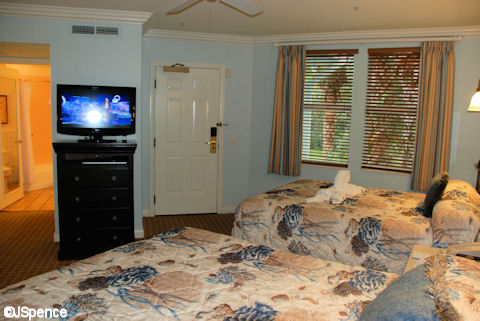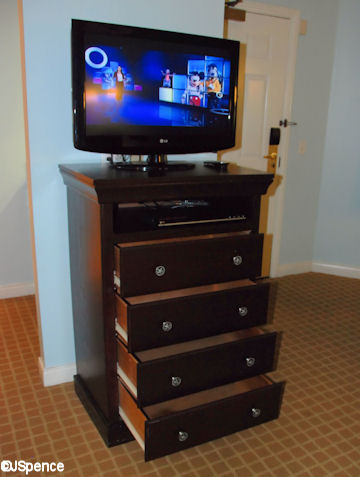 The kitchenette is located in a hallway that separates the bedroom from the bathroom. The kitchenette is intended for light snacks and quick-preparation meals. It comes with a toaster, microwave, under-counter refrigerator, coffeemaker, and a small sink. Disposable cups, plates, and flatware are also provided.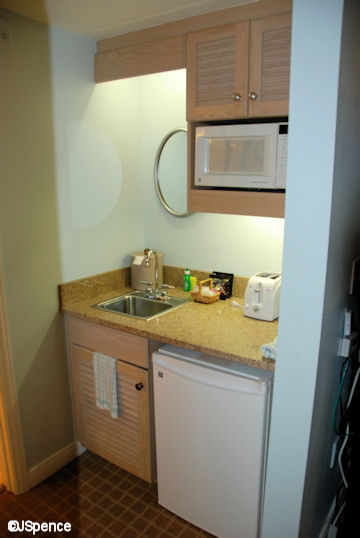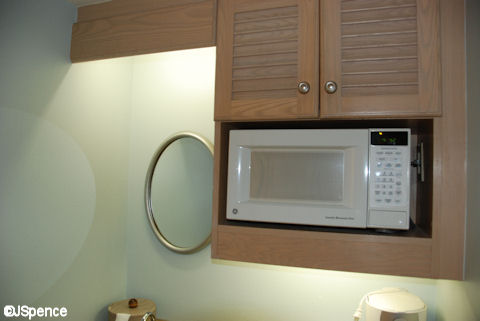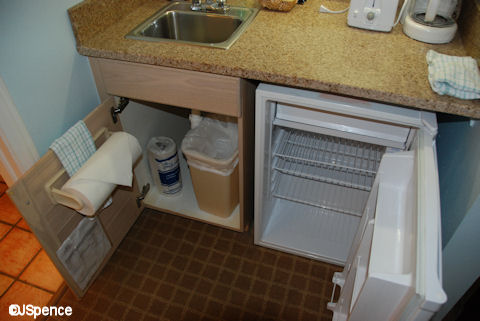 In a second closet, guests will find a vacuum, small safe, playpen, and more hangers.
The bathroom can easily accommodate two people, even though it only has one sink.
A hair dryer can be found on the wall and the countertop is big enough for an array of toiletries.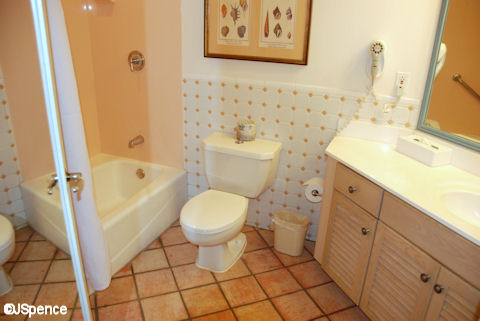 All studio units have a patio or balcony with two chairs and small a table. Studio units sleep four, plus one child under the age of 3 in a crib.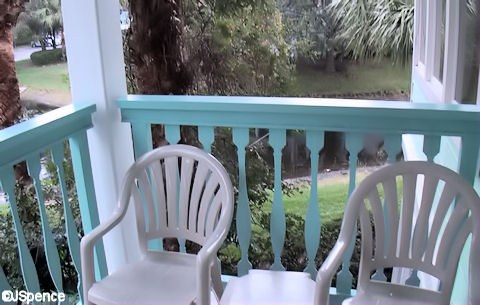 To see a short film of a studio unit, check out the video below.
Next I'm going to look at a two-bedroom unit. These offer a "great room" where a family can really spread out and feel at home. At all other Disney DVC's, I've never forgotten the fact that I'm in a "hotel" room. At Old Key West, I really feel like I'm staying in someone's vacation home. They are spacious beyond compare. I have friends who regularly spend Christmas in a two-bedroom unit and have parties during their stay. I've seen up to fourteen people in the kitchen/living room and not felt the least bit crowded.
In the living room you'll find a couch, love seat, chair, end table, and coffee table. The couch opens into a queen-sized sleeper and the chair into a single bed.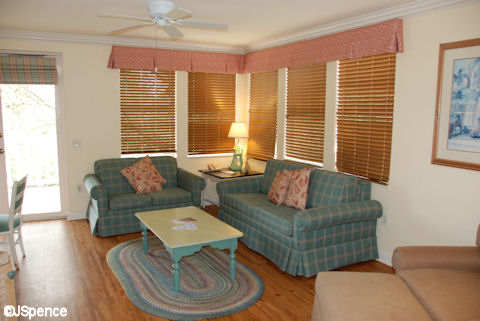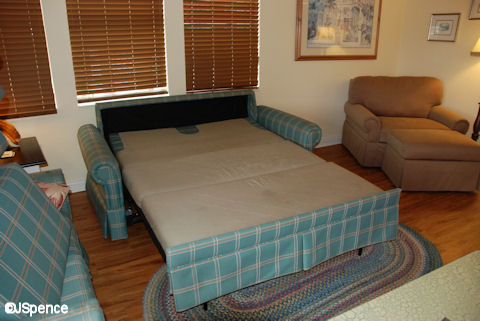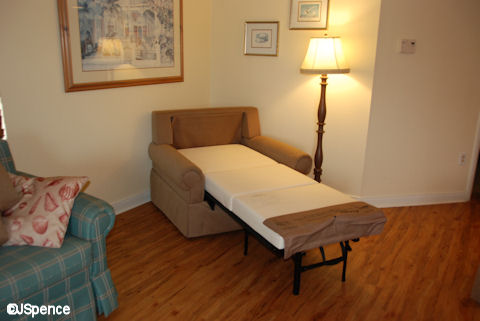 The living room is separated from the kitchen with an island that opens up to reveal a TV.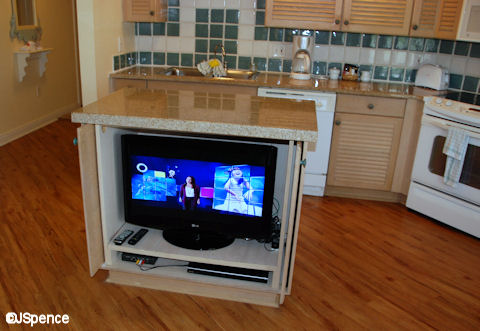 The kitchen is large – large enough for two cooks to both do their own thing without getting in each other's way.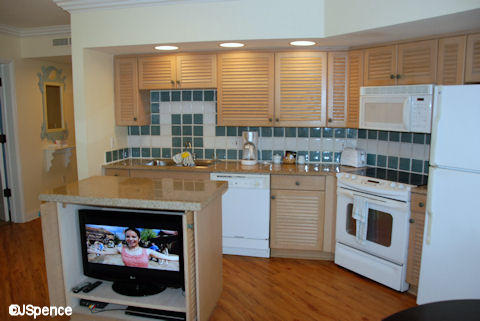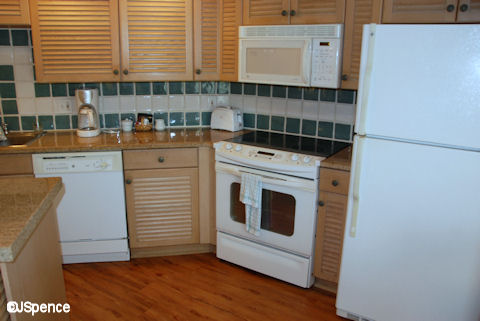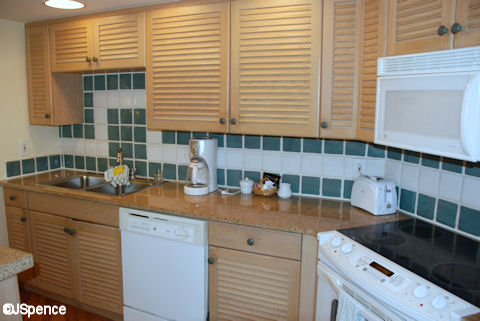 These kitchens come fully stocked. Everything you would need to fix a complete Christmas dinner is provided (except the food). How do I know? I know because I have had a complete Christmas dinner with friends at Old Key West for the last five years. Here's what's provided: small appliances, wine glasses, mixing bowls, pots & pans, utensils, dishware, a full size refrigerator with icemaker, dishwasher, stove & oven, microwave, and a double sink with disposal.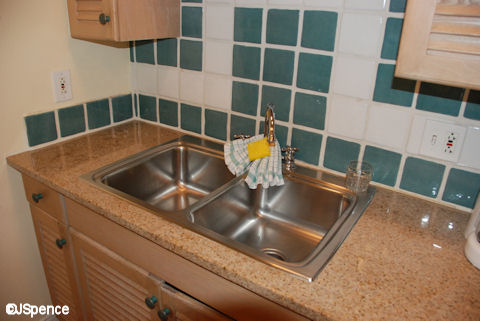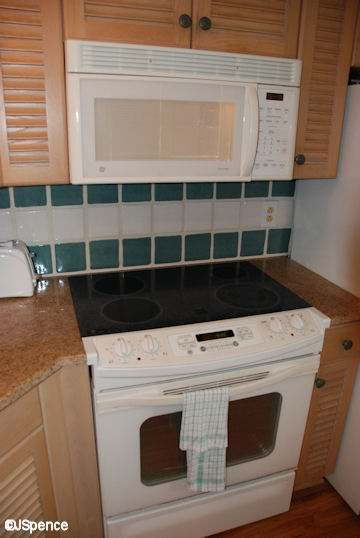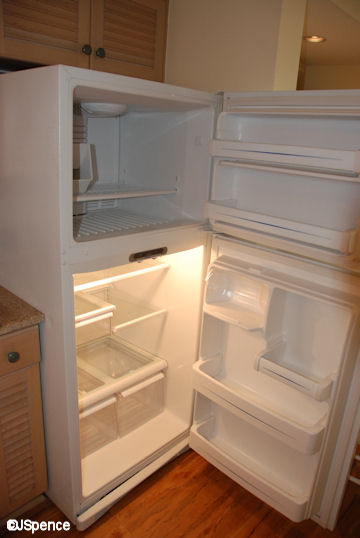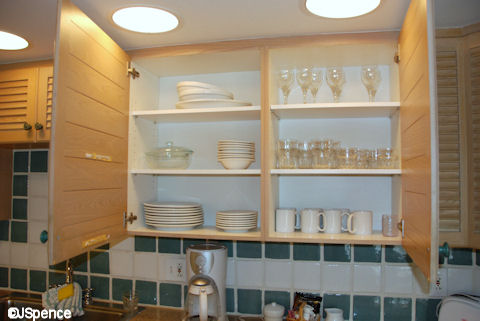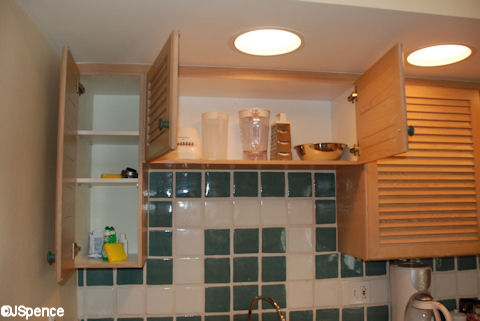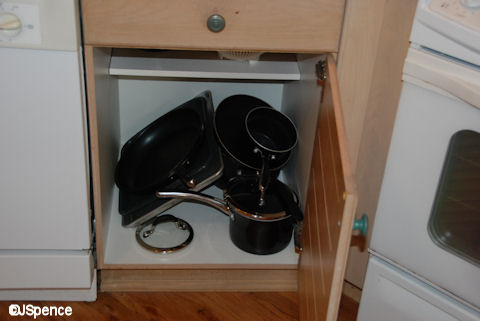 Next to the kitchen is a large table that comfortably seats four. Behind it is a countertop bar with additional storage above and below.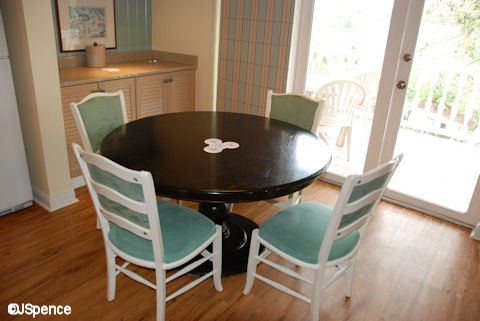 Off of the dining area is a spacious patio with another table and chairs.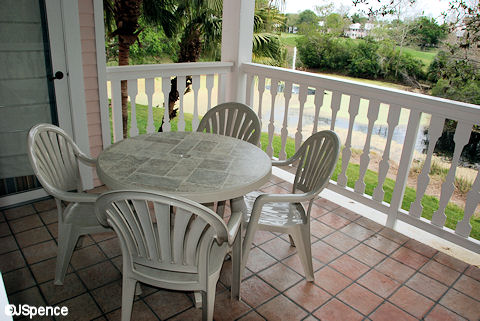 A hallway leads to the master bedroom. Off of this hall is a real laundry room. Unlike the other Disney World DVC's that offer a stackable washer and dryer in a closet, this is a real laundry room with a side by side washer and dryer. The iron and board hang on the wall in this room.
The master bedroom is quite luxurious. It features a king bed, chair & ottoman, two nightstands, armoire with 32 inch flat screen TV, hope chest with storage, and a ceiling fan. The master bedroom also has its own door out to the patio/balcony.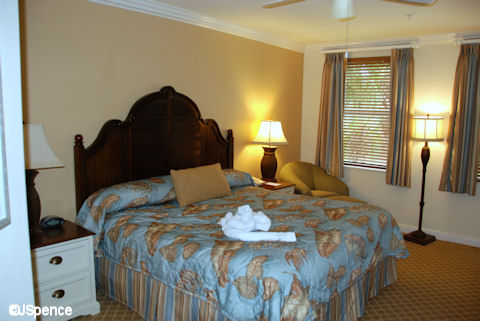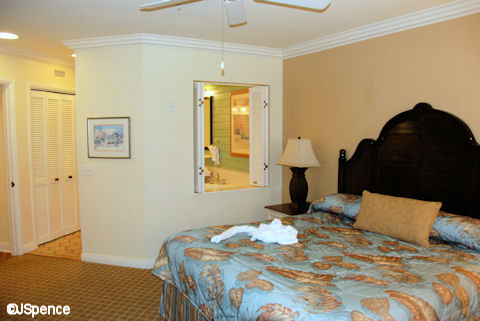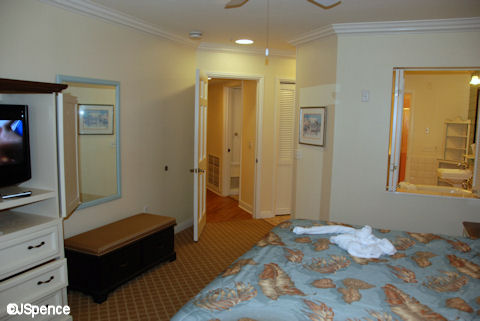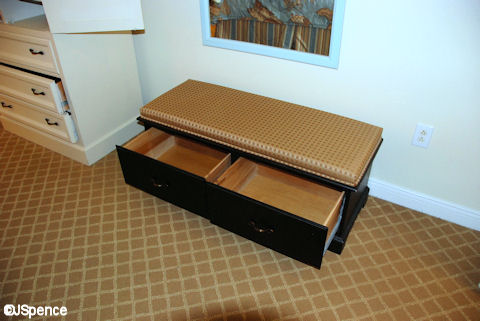 Off of the bedroom is a two-room bath. In the first room you'll find a Jacuzzi-type tub large enough for two. A pedestal sink and an attractive shelving unit complete the room.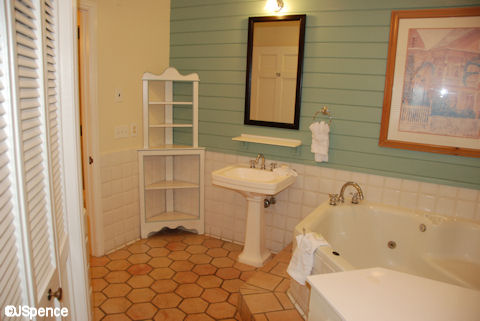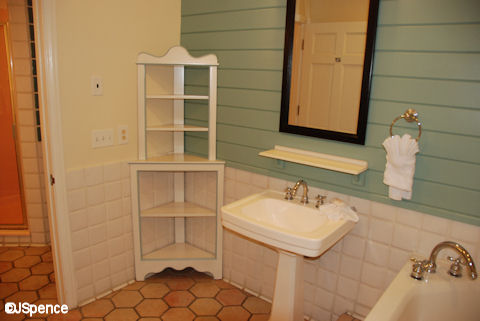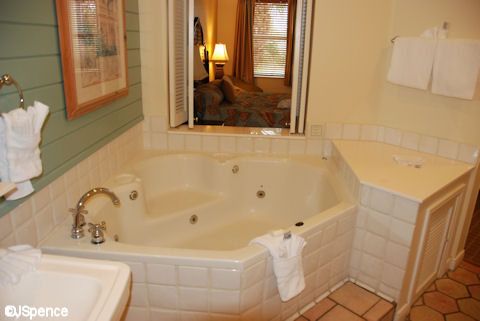 The second room of the bath houses the toilet, a shower, and a second sink with plenty of counter space.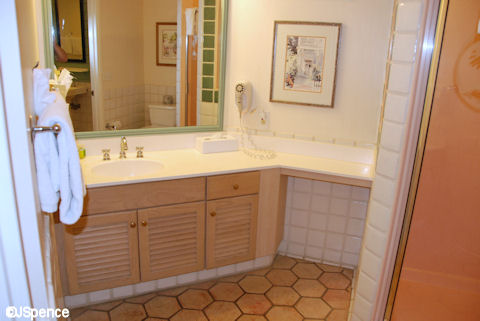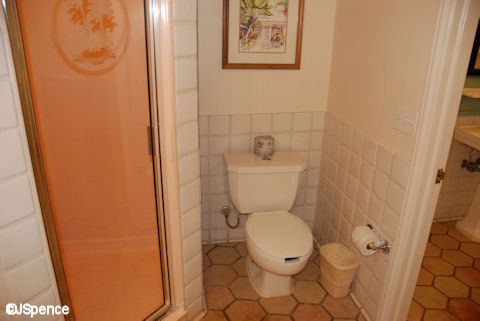 Those staying in the second bedroom of a two-bedroom unit will not feel short changed. It is also well appointed and comfortable. With two queen beds, a nightstand, table and two chairs, and a chest of drawers with a TV, this room is spacious and comfortable.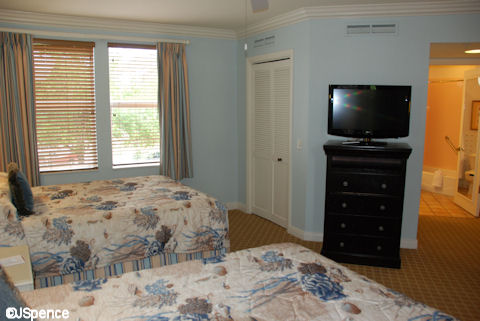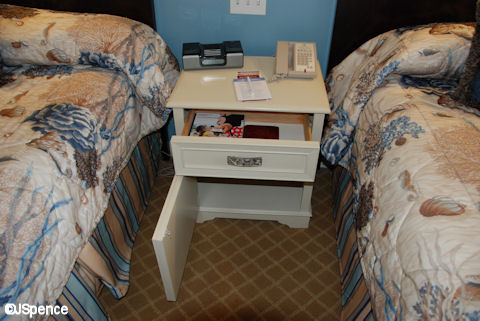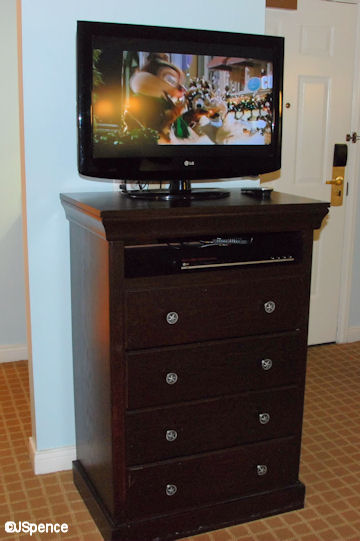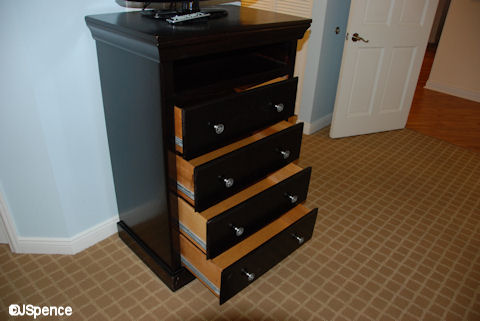 Off of the bedroom is a hallway which contains a small vanity area and a decent-sized closet.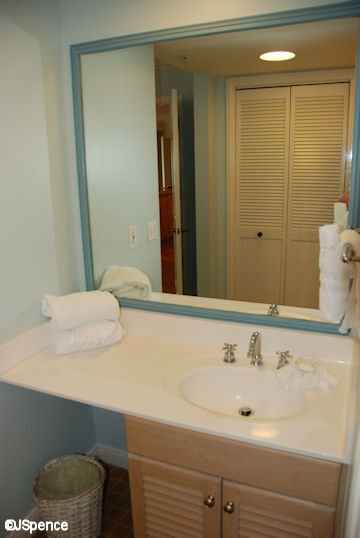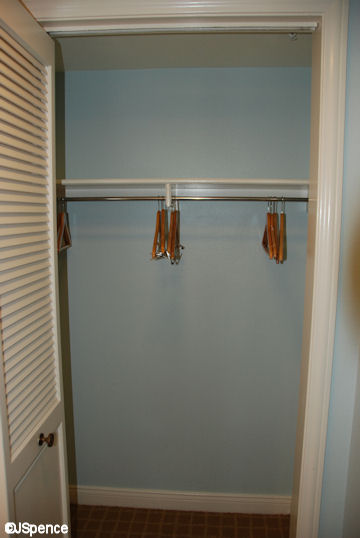 The bathroom is large and has a sink with plenty of counter space, a toilet, and a tub/shower.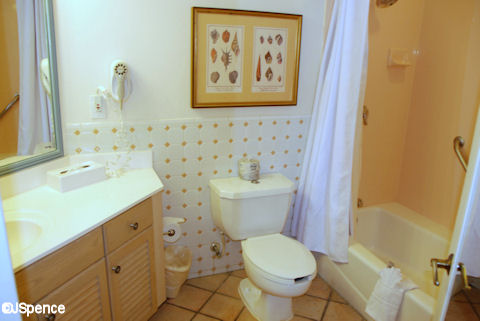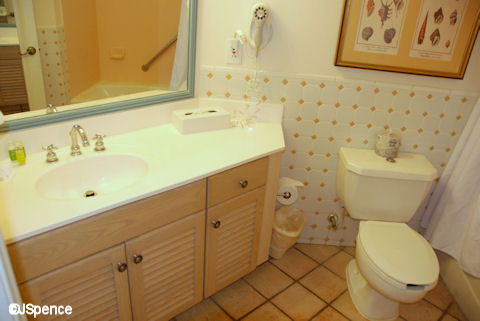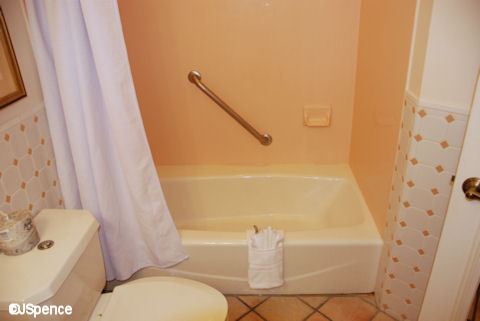 To see a movie of a two-bedroom unit, check out the video below.
For more information on these rooms along with the one and three bedroom units, check out the AllEars Fact Sheet for Old Key West by clicking here.
I like the rooms at Old Key West. And so do many others. Because of their larger size, these rooms book fast. DVC members who call Old Key West "home" can book rooms here eleven months in advance. DVC members of other Disney properties can book rooms here seven months in advance. Remember, non-members can also rent rooms at DVC properties, but Old Key West will be more of a challenge due to the resort's high demand.
That's it for my look at Old Key West. Although it is not located next to a theme park, it still has a lot to offer. There is a comfort level found at Old Key West that is hard to beat. When the cast members welcome you home to Old Key West, you really will feel like you're at your own private retreat.

Answer to yesterday's question:
My blog about Old Key West completes my reviews of all the Disney owned and operated properties at Walt Disney World (plus the Swan and Dolphin). Now Deb Wills wants me to start at the beginning and do it all over again. Whew. When will I ever get some rest? I know, while staying at all the resorts at Walt Disney World.
It's a tough job, but someone has to do it.