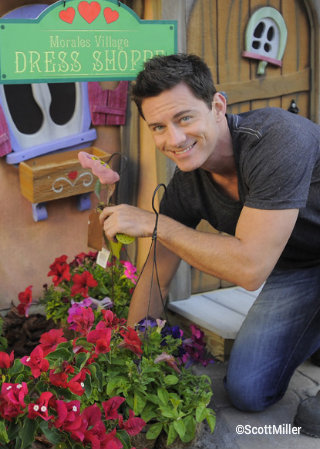 Brandon Johnson, host of "My Yard Goes Disney," returns to the Epcot International Flower & Garden Festival this weekend as one of the featured speakers from HGTV, which sponsors the annual Walt Disney World event. Last year, he gave Home & Garden Television viewers a sneak peek at some of the amazing backyard makeovers that were featured on the second season of "My Yard Goes Disney."
This year, Johnson will offer festival-goers a more in-depth look at what it took to create those over-the-top, Disney-themed yards that made fans so ecstatic. Of course, the resources available for each yard were extensive. Lucky families chosen for the makeovers were given Mickey-shaped swimming pools, zip lines and even treehouses and campgrounds that were inspired by the families' favorite attractions at Walt Disney World and Disney Cruise Line. (Unfortunately, "My Yard Goes Disney" has not been renewed for a third season.)
Johnson will give 30-minute presentations on ways to make your own yard go Disney at noon and 3 p.m. March 29 to 31. Johnson will explain how to recreate some of the design elements featured on the show that blend Disney imagination with HGTV design. After each presentation, he will meet and greet the audience. I recently spoke with Johnson about his upcoming visit.
Can you tell us more about the beyond-the-scenes details you'll be revealing about those fantastic "My Yard Goes Disney" makeovers?
This time I'll be featuring three new families and going a little deeper into the creation process. I've tripled the amount of [photos] from last year — so much to show! But you'll just have to come to the festival to see it all unfold.
What do you think most prohibits homeowners from redoing their backyards themselves?
It's a combination of "¦ cost, time, resources and experience. I'm sure there are families that have the capability, but to execute the design to its fullest extent is where most get stuck. Our job is to take [their] most precious Disney memories and bring them to life in [their] backyard in a way a family never thought possible. These families have access to some of the most talented craftsmen in the business. Plus, having a huge crew cuts the installation time in half.
How can Disney guests take the magic of the festival home and apply it to their own homes and yards?
I'd do a brainstorm session of all your favorite Disney memories, narrow down a theme, color palette and then begin making sketches of what you'd like to create. Think about what you're willing to let go of in your backyard and how the new space could be used in the most efficient way. Give each space a function: A play area, dining area, relaxation area, etc. Incorporate family memories with the landscape. An example: Perhaps you plant specific flowers because they remind you of your wedding or a time you took a trip to one of the various Disney destinations.

What do you most enjoy about the Epcot International Flower & Garden Festival?
It's such a gift to share the joy I've experienced while working on MYGD with the attendees. Of course, Epcot's topiaries are sensational and the food is incredible. Disney and HGTV take good care of me so I'm very grateful for the opportunity to participate in the festival.
When you come to Walt Disney World, what is your favorite thing to do?
I'm an adrenaline junky so I head for The Rock 'n' Roller coaster, Star Tours and Tower of Terror at Disney Hollywood Studios. Then, I pop over to Animal Kingdom to ride Expedition Everest or Mission: SPACE at Epcot. I truly love just walking around the parks and getting lost in all the incredible stimuli. [There is] so much to do and see. My time is usually limited, so I squeeze in as much fun as fast as I can!
Disney Channel fans recently saw you return to "Shake It Up" for the season finale. What other projects are you involved with now?
My next project is quite a departure from my character Gary Wilde on "Shake It Up." This time I'm the host a brand new adventure, reality competition show called, "72 Hours" premiering at 9 p.m. EST on June 6 on TNT. This has, by far, been one of the most incredible experiences of my life. We drop nine strangers into the wild of some of the most remote locations on the planet. They're then divided into three teams of three and given 72 hours to find a briefcase full of $100,000 using only a GPS unit, a two-way radio and a bottle of water. Every episode is a new location and new cast. We shot the show in Fiji, New Zealand, Tasmania, Hawaii and the Southern Rockies. "¦ From the second the show starts, buckle in, because it's full throttle from then on!