In reflecting back on my two trips to Walt Disney World and a Disney Dream cruise, I found these three photos illustrated my favorite times from each of the three different Disney adventures.
The first trip was broken up by the cruise in the middle and featured two Star Wars Weekends. If you are even a casual fan of the Star Wars movies or the animated television series, you should consider attending one of these fun filled days. You can visit with many of the popular Star Wars characters, celebrities from the franchise are on hand to sign autographs or take part in special behind the scene presentations and shows and see the amazing Hyperspace Hoopla performed each night. Below is a photo I feel shows the fun of Star Wars Weekends at Disney's Hollywood Studios.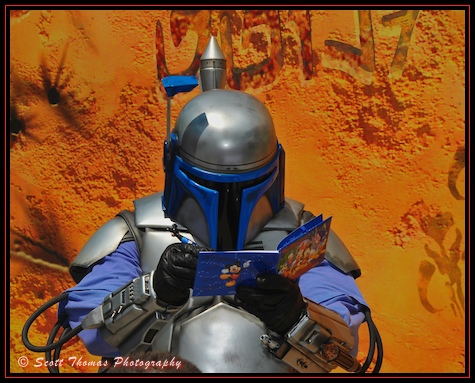 Janga Fett signs his autograph during Star Wars Weekend in Disney's Hollywood Studios.
Nikon D700/28-300VR, 1/250s, f/18, ISO 200, EV 0, 116mm focal length, fill flash.
As a couple, my wife and I enjoyed a 4-night cruise on the Disney Dream. We found that even on a cruise ship full of families, an adult couple can find plenty of magical and romantic things to do on a Disney Cruise. Below is the Disney Dream sandwiched between the smaller Disney Magic and another cruise ship at Nassau, Bahamas.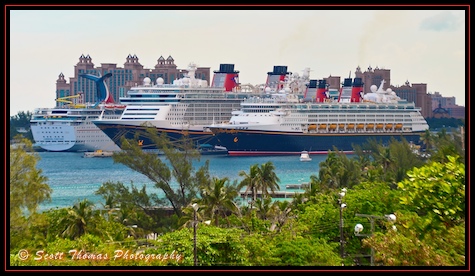 The Disney Dream (middle) and Disney Magic in Nassau, Bahamas.
Nikon D700/28-300VR, 1/200s, f/8, ISO 200, EV 0, 170mm focal length.
Later in the year, I returned to Walt Disney World for Epcot's 30th Anniversary and reminisced about the EPCOT Center I first saw back in 1983 compared to the one I visited 29 years later. While things have changed in the photo below of Future World, the mission of Epcot remains the same: to entertain, inform and inspire.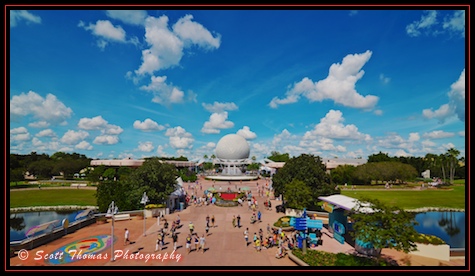 Future World from the monorail over Epcot.
Nikon D700/Tokina 11-16mm, 1/125s, f/16, ISO 200, EV -0.6, 16mm focal length, fill flash.
Hope you enjoyed my Disney Pic of the Week of My Favorite Three Photos of 2012.
2012 was a very good Disney year for me and I look forward to 2013 with plans to return to Walt Disney World and to take a trip to Anaheim, California to enjoy and photograph all the new and old wonders of Disneyland and California Adventure. Happy New Year!