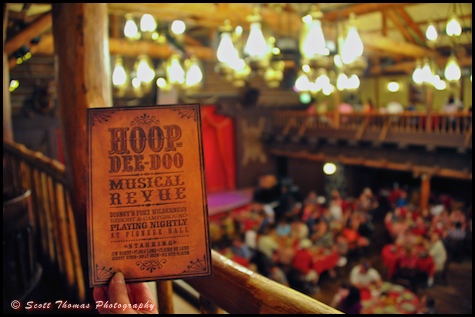 The Hoop-Dee-Doo Musical Revue dinner show playbill from the Pioneer Hall balcony.
Nikon D700/28-300VR, 1/50s, f/3.5, ISO 4000, EV 0, 28mm focal length.
My wife and I have attended the Hoop-Dee-Doo Musical Revue dinner show at the Fort Wilderness Resort and Campground six times since our honeymoon back in 1983. Back then the Hoop-Dee-Doo was considered a hidden treasure most people not staying at Fort Wilderness knew about. I will not go into a lot of detail about the show. Jack Spence wrote up an excellent guide (click here to read) which covers everything you need to know about going and enjoying the show.
The Pioneer Hall is the location for the three nightly Hoop-Dee-Doo Musical Revue dinner shows. It is a rustic log building themed after the theaters found in pioneer towns during the time of Davey Crockett. Inside is setup to make you feel like you've entered another time and place. Servers dressed in pioneer garb take you to your table where a garden salad already awaits with red and white checkered napkins.
Tip: When you first check in, your party will be asked to have a souvenir photo taken which you can later purchase at your table. The photo package consists of one 6×8, four 4×6 inch prints and a souvenir folder and costs $29.95. There is no obligation to buy.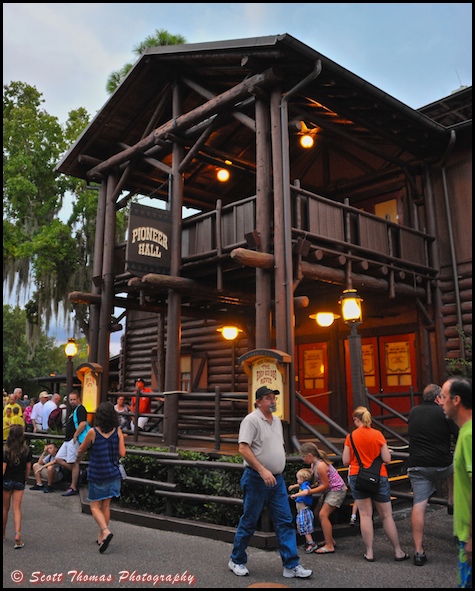 Pioneer Hall has been home to the Hoop-Dee-Doo Musical Revue since 1974.
Nikon D700/28-300VR, 1/100s, f/3.5, ISO 1600, EV 0, 28mm focal length.
Once all are seated and drinks have been served, the Pioneer Hall Players enter from the front doors everyone came through. Whooping it up and making noise as they make their way to the stage. There they launch into the Hoop-Dee-Doo song encouraging all to clap and sing along. You'll get the chorus pretty fast.
Tip: During any stage show you are photographing, you need to take your exposures directly from a performer's face. I use spot metering to do so and adjust the exposure using the EV button. Notice all the stage photos in this article are set to EV -0.6 (-2/3). That properly exposed for the performer's skin.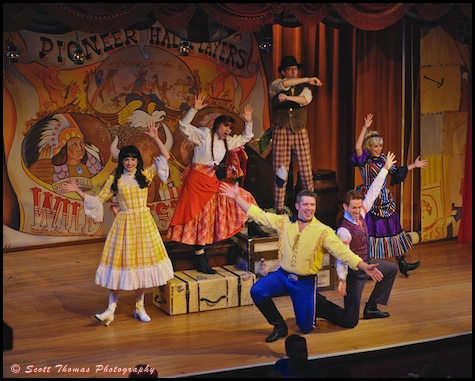 The Pioneer Hall Players on stage performing the Hoop-Dee-Doo Musical Revue.
Nikon D700/28-300VR, 1/125s, f/5, ISO 1400, EV -0.6, 82mm focal length.
The Pioneer Hall Players are Jim Handy (out front in yellow shirt) and Johnny Ringo. In back from left, Flora Long (yellow dress), Dolly Drew (red dress), Six Bits Slocum (brown suit) and Claire de Lune (purple dress). You will get to know all of them throughout the course of the show.
During dinner, Flora Long and Jim Handy sang a couple of songs accompanied by a banjo player in the middle of the lower dining area. They even got everyone to join in and twirl their napkins overhead. You will also be asked to clap, stomp your feet, yell and even toot at various times during the show.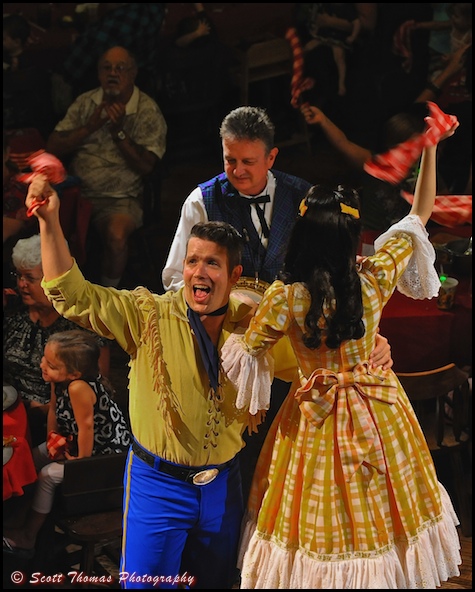 Pioneer Hall Players whoop it up with the audience..
Nikon D700/28-300VR, 1/125s, f/5, ISO 1800, EV -0.6, 85mm focal length.
Before a skit of the Legend of Davey Crockett, a few audience members were asked to volunteer for a part in the play. They were taken backstage and given costumes to wear. All the ones who were at this show did great from the little Davey Crockett to the Can-Can dancer.
Tip: Wait for the performers to stop on stage to photograph them. This happens at the end of songs or, in the case of the Hoop-Dee-Doo, after a really bad joke or pun (see below).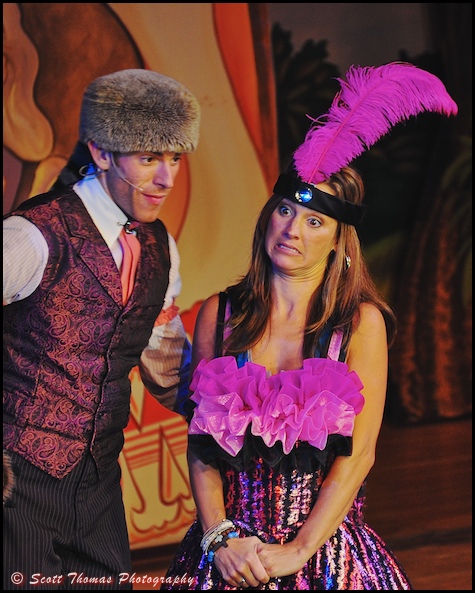 A volunteer guest on stage during the Hoop-Dee-Doo Musical Revue.
Nikon D700/28-300VR, 1/125s, f/5.6, ISO 1400, EV -0.6, 300mm focal length.
Even after 29 years, this show still is as entertaining and funny as ever. The food is very good and is all you can eat. We sat in the Balcony (Category 3) which is set up so you can swivel your chair around and look down at the stage. Performers even come up to visit at times so everyone feels like they are a part of the show.