Visiting the Epcot International Food & Wine Festival can be a wonderful evening for adults. In fact, many Disney fans and local residents look forward to this special event all year. But the fun isn't just limited to the grown-ups. For children who are at least elementary-school-age and a little adventurous in their tastes, there's quite a lot to explore. (And if your kids are younger, they may be happy to stay in the stroller, while you sample the adult foods and beverages.)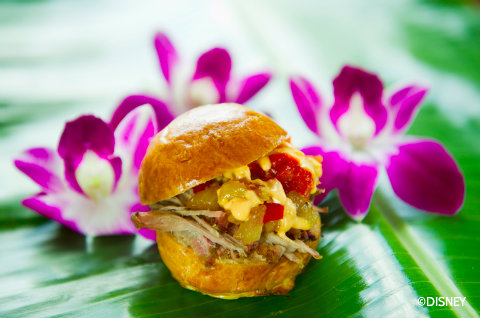 For families, it's likely to be more about the food than the wine and beer. Repeat visitors will, no doubt, be looking to see if their favorites have returned. My own children are happy to see these specialties on the menus again:
** Hawaii marketplace: Kalua pork slider with sweet and sour Dole pineapple chutney and spicy mayonnaise
** Argentina marketplace: Beef Empanada
** Canada marketplace: Canadian Cheddar Cheese Soup
** Scandinavia marketplace: Swedish Meatballs with Lingonberries
** Germany marketplace: Roast Bratwurst in a Pretzel Roll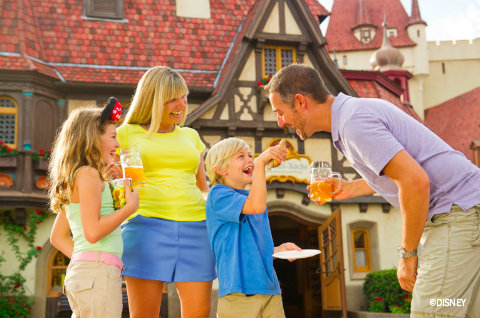 I think their absolute favorite was the Kalua pork slider. I say that because my daughter wanted to go through that line three times. The one dish they tried and really didn't care for was the Cheese Fondue at the Cheese marketplace. My son and daughter, like many kids, love to eat finger foods that come with a dip of some sort, so they were drawn to the fondue. But when they discovered the cheese wasn't cheddar or American, they were ready to feed it to the birds. (The melted cheese has a sour taste, which probably is more suited to adult palates.)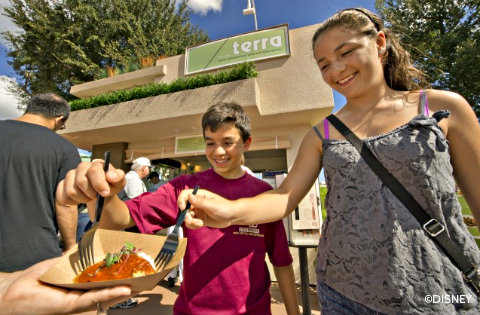 Jennie Hess, a Disney spokeswoman for the Food & Wine Festival and mother of two sons who attend the festival each year, recommends these new, kid-friendly dishes:
** Terra marketplace: Trick'n Chick'n with Curry and Basmati Rice (vegan dish)
** Florida Local marketplace: White Corn Arepa with Mangalitsa pork and Zellwood sweet corn salad
** Germany marketplace: Schinken Nudel
** New Zealand marketplace: Lamb Meatball with Spicy Tomato Chutney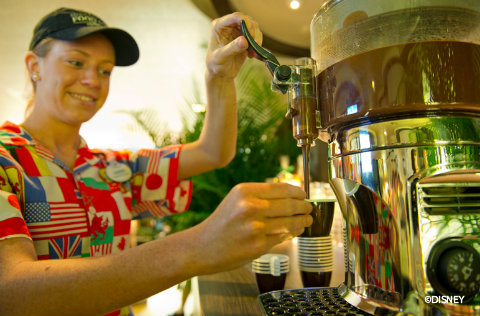 Be sure to save room for dessert, which is offered at several marketplace locations. Or, live dangerously and stop by the Festival Center on your way in and check out the Bean to the Bar Chocolate Experience by Ghirardelli. Guests will receive free chocolate samples and can purchase an inexpensive cup of delicious drinking chocolate that tastes like a liquid candy bar. How many kids do you know who would turn that down?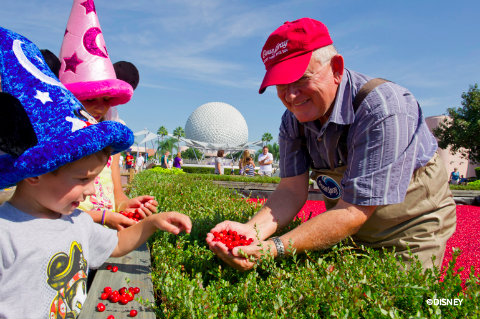 Another fun, and educational, exhibit is the Ocean Spray "Discover the Cranberry Bog" in Future World, where guests can see how cranberries are harvested and learn more about their history. Plus, there are free Craisins for the kids! Â Not far from there, the Mr. Food Watermelon Patch features the giant fruits growing on vines and storyboards about watermelons.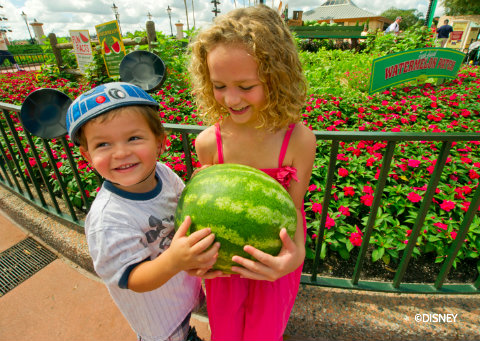 Families who enjoy cooking together really seem to like the culinary demonstrations at the Festival Center, which cost $11 or $14 per person, and the complimentary Authentic Taste Seminars hosted by Driscoll's each Friday through Sunday, Hess said. Also, at the Port of Entry merchandise location families can enjoy a seminar featuring Epcot chefs and industry pros at 3:15 p.m. daily. For an updated schedule of events, see the AllEars festival page.
There's no doubt that the Epcot International Food & Wine Festival offers a fun and delicious diversion for adults. But don't hesitate to take your children on an adventurous discovery of different foods from around the globe, either. It just might open up a whole new world of dining options for your family.
All Ears is your one stop shop or Epcot's Food and Wine Festival Information
Rate the Festival Marketplaces
See how Others Rate the Marketplace items