To all who come to this photo trivia game, Welcome! Along the way, the photos can make us relive memories and see details Walt's Imagineers put into everything we love in Walt Disney World!
We had birthdays this week, Players! Here's to you:
Jeremy Mccaffrey who is now 11!
Daniel Schweizer who is now 13!
Sebastian Stjohn who is now 1!

To Les Stewart, who is now in Walt Disney World: have a magical vacation!
Chris Kelly, what you said about pictures? Thought about it for last week, but… soon.
Carolyn Duff, thank you so much for your wonderful note!
Here was the September 16th challenge: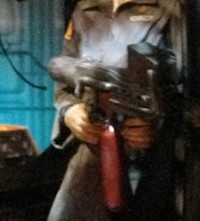 And here's the answer: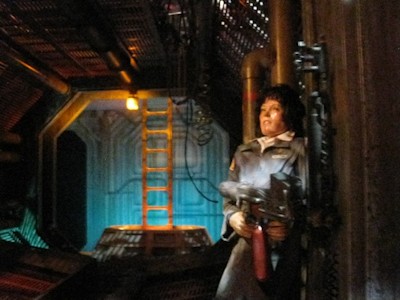 Copyright © Erin Blackwell
Alan Mize, Matt Holley, and Mickey Eckert: you said it so well. Why don't you wait.
Mary Dunnett, I know this section of the ride gives you the heebie jeebies. So, time to close your eyes. Mackenzie D., you sit with her.
Ok, take it away, guys: "This is Alien. You are with Sigourney Weaver aboard the spaceship Nostromo. Something has gone wrong. One by one, the crew has vanished, and somewhere in the ship, a terrifying creature waits to claim its next victim."
It's the Warrant Officer Ellen Ripley figure in the Great Movie Ride in Disney's Hollywood Studios!
Be careful of the alien in the wall and the one in the ceiling, because tell them, Patrick Broaddus: To quote a popular blue Disney genie, "Watch out, they spit!"
Speaking of which, Maggie Klotz told the funniest story: The first time I went on this ride, i was six. I felt bits of water drip onto my legs and told my mom, she looked at me completely serious and told me "That's not water, that's acid. It's the Alien's blood." Yeah, freaked me right out.
You can open your eyes again, Mary. The nasties are gone.
Deborah Boucher, aren't you glad you listened to your son? 😉
Chris Masse was the first to send in the correct answer! Congratulations to Chris and to all the readers who got the answer right: Diane Curfman, Emily Jabas, Ed Elder, Scott Greenaum, Linda Scrivano, Scott Greenbaum, Kenny, Theresa Rucando, Suzanne C Denham, Larissa Huda, James And Kathy Berry, Nicole Amidon, Evanna Huda, Craig, Alan Mize, Chris And Alison, Beth Mcmeekin, Jennifer Rowell, Renee, Vera Williams, Linda College, Bruce Jones, Hayden Pronto-hussey, Tinkerbellw, Jennifer Bourg, Jason &Melinda Lenz, Katie Bray, Annette Nuenke, Mary Beth Tarbet, Ken Maikowski, Cathy Connors, Matt Holley, Alien scene from Great Movie Ride in Hollywood Studios., Karen Adamakis, Sharon Pierce, Kye Layton, Belicia Cullen, Carla C, Emily Hudson, Kris Nixon, Scott Cullen, Rob Blundin, The Parker Family, Erin Dagney, Megan Krainski, Christine Dagney, Sam Shotick, Hannah Couture, Joanna, Josh Weiss, Dave Wang, Stephanie Visco, Krystal Pound, Krystal Pound, Kim Kusser, Virginia Pierce , Bob Patterson, Jen Cerce, Deb Ragno, Kerrie Hogan, Barbara Sims, Charlie Scheer, Mona Hornbuckle, Staci Plunkett, Kris Blamphin, Tim Johjansen, Laura Fallon, Regina Seaner, Arlene Forbes, Taylor, Alex Gamill, Callie Conrad, Jared D., Anthony Parisi, Samantha Phillips, Greg Gallo, Elizabeth Caruso, Wendy Mowery, Theresa Shanor, Kathy Opitz, Doug Reichl, Elizabeth Hall, Mary Davis, Chrissie Smith, Andreas Beer, Crystal Kunzel, Craig Grillo, Melissa Such, Susan Karberg, Ellen Sullivan, Tammi Trout, Hayley Valk, Diane Albernaz , Penny Gibson, Jason, Tiffany Wesner, Keith Mcdow, Chris Matejka, Amanda M Zulkowski , Roger Vollmer, Dawn Lamothe, Kim Mobley, Vanessa Gordon, Sabrina Allen, Louise Barton, Ann Marie, Leigh Mertz, Kevin Carter, James Dezern, Sharynne Smith, Natalie Waldorf, Ed Suscreba, Kathleen Page, Tricia Petty, Orlaith Ferguson, Vicki Edwards, Lisa Simons, Pecosace, Juli W, Julie Manchester, Dani, Marsha Waidelich, Maggie Meszaros, Debbie Desimone, Brandi, Al Desimone, John Menjes, Tim Tjarks, Mike O'brien , Diana Harris, Jennifer Snook, Anne Marie Cronin, Chris Matejka, Allie Reckendorf, Betsy Silvestri, Double Family, C. Smith, Kelly Cummings, Meredith Dean, The Moore Family, Stephanie Newell, Mike Davids, Erin Loring, Dennis Loring, Claire Gregory, Beth Kennedy, Allie Foster, Janet F, Erin Hammer, Jeffrey Martin, Veronica Peterson, Phil Badcock, Dawn Bach, Bill Mckim, Kimhowe, Maggie Klotz, K Beasley, Lisa Carder, Paul Moore, Meghann Zanotta, Melissa Thomas, Nicole Shuler, Marcie Moss, Dan Mangini, Jodi Cook, Kevin Jones, Melissa Rookard, Tanya Hinnes, Derek Carty, Courtney Payne, Jeff Schoeling, Patty Carty, Mary Dunnett, Jerry Felder, Marissa F, Addison Welp, Morag Lemon, The Kertes Family, Kameo Crea, Becky Tyrrell, Amy Weber, Candace Dymond, Sharon Dale, The Kahle Family , Michelle Mcspadden, Jamie K, Laura V, Brenda, The Malesky Family, Curtis Bille, Karen Ramirez, Angie Young, The Strukel Family, Pam Vanaustin, Karla Callen, Stephanie Mcnamee, Millie Tenreiro, Carolyn Como, Stephanie Farneth, Rebecca Smith, Kerri Coggins, Patti Gumiela, Caryn Schill, The O'meara Family, Susie Howard, Janet Fishman, Jeffrey Dunne, Linda Lundsten, Leach Family, Karen Schlumpf, Jeff &Cheryl Simmons, Carla Nale, Brian Gallant, Whitney Miller, Lauren Thomas, David Vreeland, Marjorie Gvist, Wendy Barney, Susana Dominguez, Mary Brennan, Dan Johnston, Andrea Kruszewski, Michael Gainey, Deborah Boucher, Jennifer A. Mcfarland, Kristi Strembicki, Olivia, Nathalie Periard, Kathleen Thornton, Mark Benton, Tom Koval, Chloe Lachance, Bruce Arnold, Elaine Tomko-deluca, Ian Loft, Kathy Rubin, Misty Mehelic, Lee Anastasi, Kristen Noel, Michelle Brown, Kerry A., Team Hill, The Perras Family, Paul Sankey, Patti Mccaffrey, Hillary Waldroop, Sara Holloway, The Emich Family, Jennifer Chartier, Bill And Jack Foley, Antoinette Leblanc, Chris Linscott, Veda Ackerman, Candy Dadswell, Davidw, Jessica Gruhlke, Julie Wickware, Dan Matheke, Mary Virginia Clause, Jennifer Rupert, Maureen Handy, Susan Doucette, Gerald Skanes, Elyssa H., Elyssa H., Hannah M, Michelle Raimist , Madison Hovan, Daniel Schweizer , Noah Schweizer 8 Years Old, Will Gates, Jenny Stoneburner, Debbie Kichline, Jim Logue, Donna Currier, Penny, Daniel Meagher, Michelle Gorman, Jennifer Pulver, Christina Trigiani, Gregg Mcglasson, Marshall Stevens, Jeremy Hardy, Kevin Scott, Derek Brown , Kellie Harpel, Eva Mayhew, Mickey Mouse , Clay Anthony, Jamee Smith, Kelly Mager, Susan Higginbotham, Bill Cudney , Tom Hermes, Julie And Kody Rider, Mark Proper, Hoekzema Family, Brian Yesutis, Gabriella And Matthieu, Kimberly Kruszewski, Andrew Swiatowicz, Chloe Mayhew, Lindsay Kasawski, Jennifer Mccurry, Bonnie Jenkins, Doug Olson Family, Vanessa Stjohn, Robert Jacob, Maryann Romagnano, Nicole Duddy, Deana Wiggins, Megan W, Jennifer Harmon, Mike Mondoux, Jason Hocker, Herb Miller, Mackenzie D., Kathryn Perkins, Jackie Purcell, Jorge R. Caso, Pollyanna Buff, Phil Vickers, Wayne Chadourne, Les Stewart, April Haddock, Kristyn Scibienski, Wade A. Williams, Ken Clark, Paula Massarelli, Jeff Cloutier, Melesia Love, Linda Kasych, Dallas Hamilton, Karen Smith, Andrew Pettit, Dana, Blake Schmidt, Jessica Folan, Karen Davis, Marikay Piazza, Brian Sheets, Alison Rosenberger, Fred S, Tj Mahan, Paul Ignudo Jr, Diane Ramos, Mike Haven, Carolyn Duff, Michelle Roth-smoot, Kelly Smith, Jeremy Reichelt, Shelly Borella, Steve Cummings, Stephanie Linares, Kristen Carde, Larry Jones, Steve Narel, Kate Fischer, Gail Hirsch, Chris Bauman, Billie Jean Albolino, Mike Schultz, Jennifer Townsend, Liana Imbrogno, Zachary Ott, , Morgan M. , Carrie Rampy, Melissa Dye, Timothy Hutchinson, Kelly Feeko, Jason Skow, Ashley Elizabeth, Anastasia Macneil, Amber Slifer, Scott Sangston, Jenn Steele, Jim Finley, Kevin Weidenweber, Lauri Phillips, Jeanette, Brian Nale, Mike Venere, Joey Price, Sarah Holodick, Debbie Hicks, Emily Watson, Patrick Broaddus, Michelle Wilinski, Anne-marie Crabtree, Lindsey Nozal, Michelle Lenihan, Cameron Lange, Mike Pennington, Russ Morgan, Michelle Lenihan, Jullie Pudem, Mike Berryhill, Rebecca Keenan, Kristen Mccoy, Jeff Finger, Anna Keene, Kathryn Willer, Melissa Kirk, John Snider, thanks for doing this, it's always fun., Kathryn Willer, Kathryn Willer, Kelly Todd, Stephen Whitlock, , Karen Bellamy, Jared Orth, Carri Marotto, Josh Carney, Vickie Smialkowski, Tricia Noble, Vincent Maltese, Michael Piacente, Heather Pedulla, Lizanne Fisk, Paula B, Tom Buck, Jamie Gardner, Jessica Iglesias, Mickey Eckert, Dale Knight, Christopher Barnes, Angela And David Blevins, Erika Loboda, Emma Ramsey, John Pasqueralli, Wendy Snelgrove, Carol Bolger, Mike Haeberle, Kelly Montgomery, Keith, Rick Shea, Kathryn Willer, David B., Danielle Ciotti, Katherine Gast, Maureen Ohare, Earl Wilcher, Candice Grimes, Tommy Montgomery, Kurt Knappman, Paul Knott, Linda Mac, Hobbes And Snorky, Brian Grabowski, Heather Hynes, Sarah Haas, Bob Henriksen, Kim Steiner, Caroline Burmester, Rachel Hoover, Melissa K, Rich Esker, Brianne F, Mike Hitzel, Chris Rooney, The Palmer Family, Linda Grau, Mark Franklin, John, Stephanie Dollar, Tracy Cegielski, Ed Hogan, Rick R., Kerry Mccaffrey, Suzanne, Jeremy Mccaffrey, Patty Newton, David Ballard , Vickie Scioneaux, Craig Powell, Pam Jewett, Gene, Gene, Rebecca Baker, Jo Ann Bailey, Jo Ann Bailey, Christie Robinson, Evald Olson, Stefan Owens, Walter N. Clark, Walter N. Clark, Denasedlak, Laura Crawford, Larry Brooks, Tina Cole, Les Whitten, Natalia D., Scott, Maureen Butynski, Jamie Peterson, Ella, Robin Meredyk, George Mundy Jr, Jen Snapp, Teri Michalski, Jennifer Cravener, Pam Knoop, Karen Cacciavillani, Jackie, Trish Babler, Shaun Leake, Kristin Dormuth, Felice Ciccione, Monica Owens, Doug Andrews, Whitney M, Neill Macaulay, Janet Thorn, Gordy Martin, Agnes Ciotti, Amanda T Murphy, Tammy Kallenbach, Michael Nanney, Elizabeth Goodman, Georgette Mcevoy, Dave Kanigowski, Sandy Kanigowski, Dan Owens, Shirley Garcowski, Steven, Michael Smart, Laurie Wilkey, Rich Ciullo, Ed Bene, James Hammack, Tom Higbee, Paul Newman, Walter Webber, Jenny Brennan, Jenifer Moyer, Joseph Grau, Jon Cohen, Kirsten Miller, Allison Caputa, Angela Fennell, Andrew Weed, Jaclyn Kelch, Mandy, Bill Sherwood, Erica Zielewski, Stephen Ritzler, John Foggo, Bob, Sherri , Chandra Mccall, Stu Pedazhol, and Julie Stott,. Each of you are entered in this month's winners' drawing.
_____________________________________________________ _____________________
Challenge #248: Where in the world is this?
Still in the parks. But is it the SAME park? 🙂
Do you know? Do you have a guess? Please send in your answer, before the end of the day on Thursday, September 27th, by clicking on the blue box below. Please do not post answers using the Feedback Form link at the bottom of this post.
See you next week, Players!


_______________________________________________________________________
Everyone who sends in a correct answer to a Where in the World Challenge this month will be entered in a drawing at the end of the month for some special AllEars® goodies!