When it's time for kids head back to school, like it is here in Orlando this week, parents are faced with new challenges and schedules. Disney's FamilyFun magazine and its companion website help make the transition easier with lots of fun ideas for back-to-school crafts, fashions, homework charts, breakfasts and lunches, and even tips for parents.
I always look forward to my new issue of FamilyFun and, over the years, have adapted many of the writers' clever ideas. Here are some of my favorites in the September 2012 issue.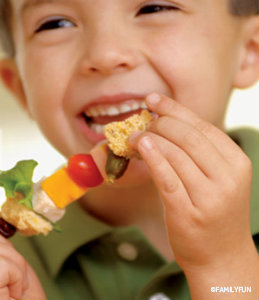 Sandwich on a Stick
Make a school lunch interesting by turning the centerpiece sandwich into a Sandwich on a Stick. It's such a simple idea that I can't believe I haven't tried this. I feel certain my kids wouldn't let this main course go to waste.
Ingredients:
** bread
** cheese
** lunch meat
** grape tomatoes
** lettuce
** pickles
** olive
Instructions:
** Cut up cubes of bread, cheese, and lunch meat. (We ordered 1/2-inch-thick slices of ham and turkey at the deli counter).
**Slide the cubes onto a skewer with other foods your child likes, such as a grape tomato, a piece of lettuce, a pickle, or an olive.
** Set out a side of mayo or mustard for dipping.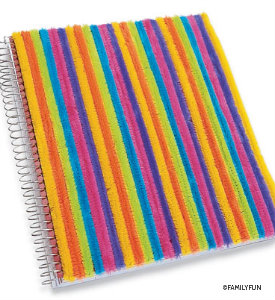 Colorful Coverup Notebook
The bright colors of this notebook remind me of stepping into the trendy girls clothing store, Justice. Color is everywhere and mixed in bright combinations. This notebook can be made at a fraction of the price one sells for at Justice, however. And, building on the idea from FamilyFun, you could help your child personalize it by adding her initial, which is popular with Justice products.
Materials:
** Spiral-bound notebook
** Tacky glue
** Pipe cleaner
** Colored paper
Instructions:
** Spruce up a plain spiralbound notebook with bold stripes by using tacky glue to stick pipe cleaners (the extrawide, fuzzy type work especially well) onto the cover.
** Fold the pipe cleaner ends against the top and bottom edges of the inner cover, then conceal them with a glued-on sheet of colored paper.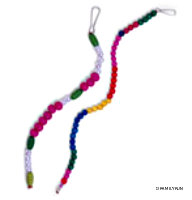 Secret Code Backpack Chains
Sometimes it's hard to commit a phone number or locker combination to memory. Here are a couple of innovative ways your child can use letters or colors to remember those digits. This clever idea looks like it would work best with older kids.
Materials:
** Beading cord or hemp
** Lanyard hooks or key rings
** Assorted lettered or colored beads
Instructions:
** Tie a long piece of beading cord or hemp to a lanyard hook or key ring.
** Write the telephone number or locker combination your child needs to remember on a piece of paper. Then have her choose one of the codes below and string on beads as described.
** Tie a secure knot at the end of the strand and trim the ends.
** Letter Codes: For a phone number, follow the key (A-1; B-2; C-3; D-4; E-5; F-6; G-7; H-8; I-9; J-0) to select the appropriate letter for each numeral, and use ornamental beads as spacers between the area code, exchange, and last 4 digits. For a locker combination, use the letters to form double-digit numbers, if needed, stringing spacer beads between them.
** Color Codes: To represent a locker combination with colored beads, use one hue to represent units of 10, another for units of 1, and a third as a spacer. For a phone number, simply string together the same color beads so they add up to the correct digit, where 4 green beads in a row equals the number 4 and so on.